AI Blogging: How to Use AI to Write Better Blog Posts
As more and more businesses are using AI to automate their processes, it makes sense that AI would also be used to help with content creation. In this blog post, we will discuss how AI can be used to help write better blog posts.
We'll look at the benefits of using AI for blogging, tips on how to get started, and what to avoid. Stay tuned – whether you're a beginner or a seasoned pro, you're about to learn everything you need to know about AI and blogging!
Disclaimer: Because the site is reader-supported, we may earn a commission if you use our affiliate links.
What Is AI for Blogging?
AI blogging is a way of artificial intelligence that helps you create better blog posts. AI can be used to analyze data and suggest topics or titles, provide feedback on writing style, grammar, and spelling check, find images or videos to support your content, or even generate an entire post from scratch. All of this can help you create more engaging, higher-quality blog posts with less time and effort.
And NO, it's not about you assigning blogging tasks to actual robots… Yet!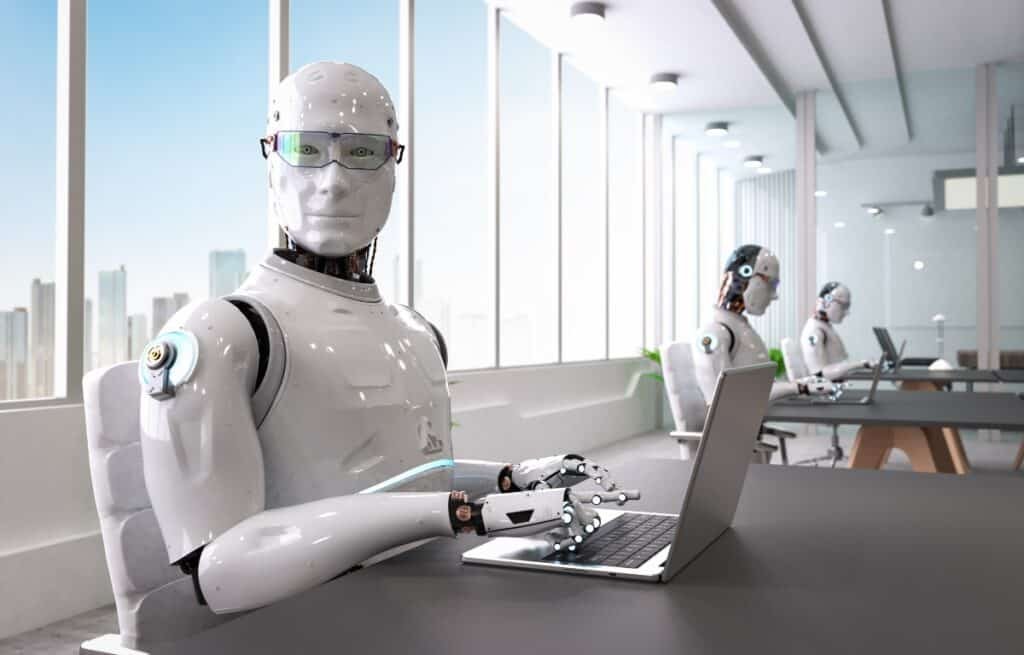 What Are the Best AI Tools for Blogging?
Numerous AI blogging software tools can help you speed up content creation and achieve in a few minutes or hours, what you would in days. I'll highlight some essential AI-based tools that bloggers can use.
Jasper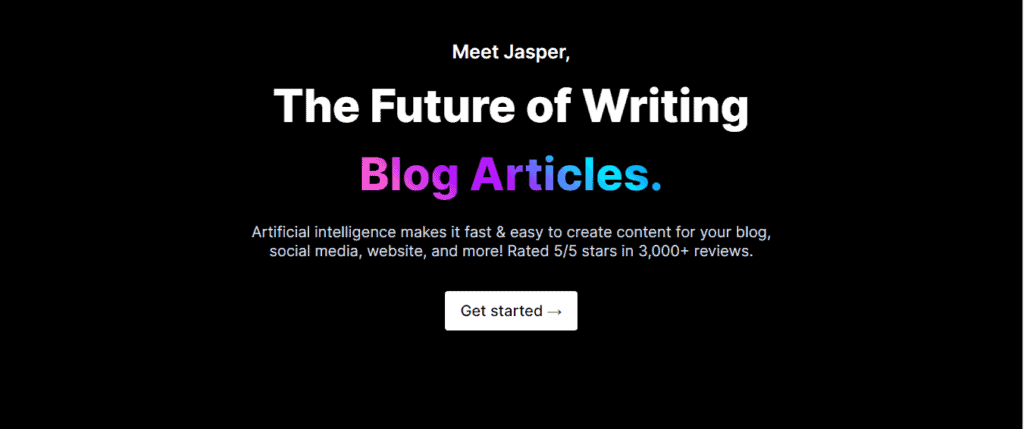 Jasper is an AI-powered tool that helps you come up with content for your blog in seconds. To use this AI text generator, what you do is pick a template and describe what you need, along with the tone and applicable keywords.
Besides writing entire blog posts, Jasper is useful for writing website copy. You can use it to come up with text for your landing pages, social media, and more. It also has a plagiarism checker and integrates with Grammarly, an advanced grammar-checking tool.
As if that's not enough, Jasper Art is an AI text-to-image tool that can create digital art for your blog. It offers settings such as style, medium, and mood for the image you need.
Surfer SEO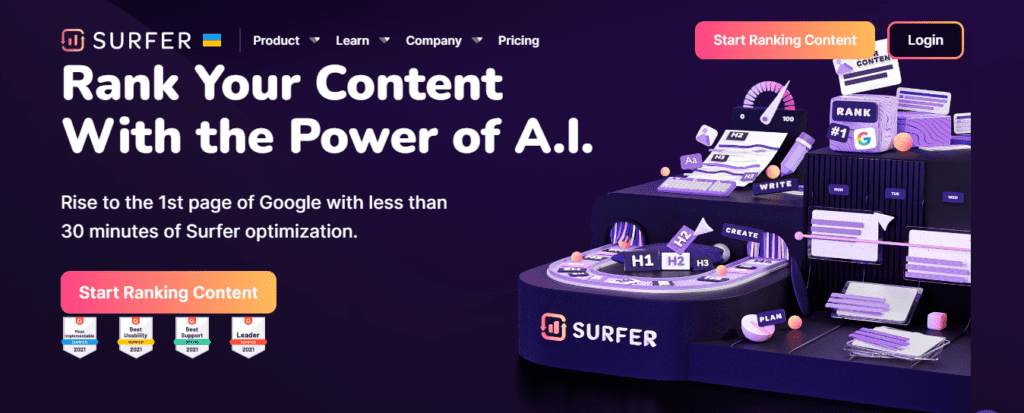 Surfer SEO is a content intelligence and optimization platform that helps you optimize your content for keywords. This AI SEO tool shows you the trends in SERPs for specific topics, so you can create better-targeted blog posts that rank higher in search engine results pages.
It's also equipped with an AI-powered editor that helps you refine your writing style. It suggests changes that will improve the readability of your content, making it easier for Google to crawl and index.
Grammarly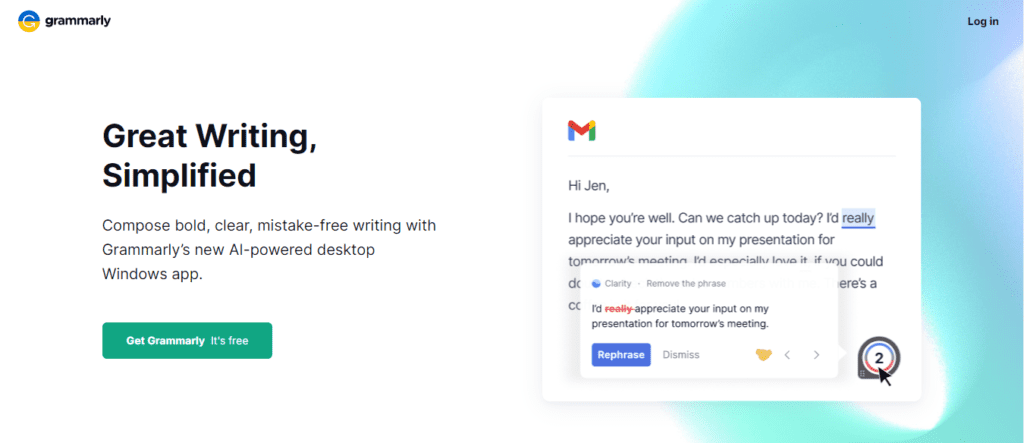 Grammarly is an advanced writing assistant that helps you write better blog posts by checking grammar, spelling, and punctuation mistakes. It also makes sure your wording is clear and concise so readers can understand it clearly.
It's useful for both newbies and experienced bloggers since it can help you refine your writing style, no matter the level of experience. Plus, it has a plagiarism checker to detect copied content in your posts.
How to Use AI in Blogging
There are several ways that you can use AI in your blogging and be more productive. Below is a list of ways you can use AI tools for blogging:
Coming up with blog topic ideas
Creating titles and meta descriptions
Generating blog outlines
Checking grammar and sentence structure
Writing blog content
Optimizing blog posts for search engines
Producing visuals for your content
More details on these uses are below.
1. Coming up with Blog Topic Ideas
AI can be used to create blog post ideas by suggesting topics related to your industry or niche. By using AI tools, you can brainstorm on a wider range of topics, more quickly come up with ideas for blog posts, and make sure that the topics you choose are relevant to your audience.
It doesn't matter whether you need ideas for list posts, how-to posts, tutorials, or any other. In most cases, you just need to describe what kind of article ideas you need. You do this by just entering a broad topic into an AI blog idea generator and it finds suitable things you can write about.
2. Creating Titles and Meta Descriptions
AI tools can help you craft titles and meta descriptions for your blog posts that are optimized for search engine ranking. AI tools can take your input and suggest titles or phrases that will grab the attention of readers and maximize click-through rates from search engines.
What happens is that the tools analyze different well-performing search engine result pages (SERPs) and then suggest something similar to those titles and descriptions that have been successful in getting clicks.
3. Generating Blog Outlines
AI tools can help make the writing process easier by providing you with outlines for blog posts. These tools can find information related to the topic you want to write about and then suggest the structure and subheadings for it based on what they find.
This can be especially helpful if you're struggling to organize your post's structure. It's just like having a virtual assistant come up with a blueprint for the post, with all the main points and arguments, which can help you write faster and be more organized.
4. Checking Grammar and Sentence Structure
Using AI tools to check your grammar and sentence structure can be a big time saver. It's especially useful if you need to quickly write blog posts but don't have the time or energy to go through them manually. In fact, you're likely to miss several errors manually editing your documents unless you do it thoroughly and severally.
But with a suitable AI tool, you can simply copy and paste your content into the editor and let the tool detect any spelling or grammar errors. It can then suggest corrections that you can make to improve the quality of your posts.
5. Writing Blog Content
AI tools can also be used for writing blog content from the beginning to the end. These AI writing assistants are able to understand natural language and come up with unique and original sentences. They do so by combining multiple sources of information to come up with something new.
You can use these tools for generating paragraphs for posts, from the intro to the body and conclusion. This can be a great help if you're suffering from writer's block. Plus, they are usually quite accurate when it comes to the tone of your post and ensuring that the language used is appropriate for your targeted reader.
However, you need to be careful when using AI for writing because the tools aren't perfect. Here are some problems you could face:
Repeated sentences or concepts
Inaccurate or outdated information
Lacking a human voice
What you can do to remedy the situation is not to rely 100 percent on AI writing tools. You need to edit your documents, check whether all data, stats, or quotes are accurate, and add a human touch to them as much as possible before publishing.
Some AI content writers offer low-quality writing. If you don't want your text to sound robotic, be sure to use an AI content detection tool to identify areas that need your own human writing.
Below is a video on how to use Jasper's Chat feature to produce quality blog content:
6. Optimizing Blog Posts for Search Engines
AI tools can be used to optimize your blog posts for search engines. Besides optimizing the title and meta description, an SEO tool using AI can also provide your page content with relevant keywords that match user queries on Google and other popular search engines.
The thing is, AI tools use natural language processing (NLP) technology to help you choose the right words in the text and make sure those words are used in the right places. This will help you fend off the competition in organic search and move up the rankings for the topics you want to be found for.
7. Producing Visuals for Your Content
AI can also be used to create visuals for your content, such as images and videos. AI image generators create a digital visual out of your text input or description. You can use these images to accompany your blog posts and make them visually appealing.
Also, some tools have the ability to analyze the text from your article or blog post and then convert it into a visual representation. This can be a great idea to repurpose your text-based content into videos and upload it on other visual platforms like Instagram, TikTok, and YouTube.
Benefits of AI for Blogging
There are numerous benefits to using AI for blogging.
Save time: You could cut the hours spent blogging per week since AI-based software automates many of the tasks traditionally done by humans. Some examples are editing, proofreading, and researching new content ideas.
Bulk content creation: AI can help you generate content in bulk, which is great for busy bloggers who need to quickly produce content. You need to be wary here because while quantity matters, it's always better to focus on quality.
Improve accuracy: AI tools can detect errors and typos more accurately than humans and make sure your posts are written according to a professional standard.
Better optimization: AI can help you optimize your blog posts for search engines, giving you the opportunity to outrank your competitors and be visible to more potential readers or customers.
Save money: Using AI can lower your content creation budget. You won't need a large team of experts. Even if it's necessary for you to have an actual human assistant, you just need one or two of them and an efficient AI tool (or a few).
Tips to Use AI for Blogging
Here are some tips that you should keep in mind when using AI for blogging.
Choose the right tool: First, choose an AI writing assistant, AI SEO tool, or any other type of AI-based content creation tool that suits your needs. Consider things like the features and your business budget.
Test and experiment: Test out the features of a few AI tools to see which ones work best for you and experiment with different ways to use them. Most tools have free plans and trial periods for this purpose.
Adjust your prompts: When generating content with AI, enter the right inputs and set the most appropriate styles, tones, or any other applicable settings. Being more specific allows an AI content creation tool to generate something that's relevant to your blog topic and target audience.
Review the output: Go through all content generated by the AI tools to ensure accuracy. Don't just assume and publish anything blindly.
Do manual adjustments: You shouldn't forget to manually adjust the content produced by the AI tools where necessary, like adding a personal touch or making any other adjustments required before publishing.
FAQs
Is AI Good for Blogging?
AI can be very helpful if you want to reduce the time it takes to manually create your content. A good AI tool can generate content and optimize your posts for search engine rankings, and save you money on content creation.
Do Bloggers Use AI?
Yes, AI is becoming increasingly popular among bloggers. It can help with tasks like editing, proofreading, researching content ideas, generating paragraphs and even optimizing posts for SEO.
Can AI Replace Human Writers?
No, while AI can help with various aspects of blog writing and optimizing, it cannot replace human writers completely. There will always be a need for humans to produce quality content that resonates with readers and adds value. AI is just a tool that can help you make the process faster and more efficient.
That being said, if you're seeking to hire writers for the human touch in your writing projects, you can use TopTal. Such a platform has well-experienced writing experts who can enhance your content marketing efforts.
Conclusion: Should You Use AI for Blogging?
Using AI for blogging can be a great way to save time and boost your productivity. You're able to come up with new content faster and optimize your existing posts for search engine rankings effortlessly.
Despite all the advantages, it's important to remember that AI tools still have their flaws and can't replace a human's creativity and storytelling skills, specifically in writing. So while they're great for optimizing and editing your posts, you should always be sure to add a personal touch to them before publishing. That way, you'll ensure that your blog is both an interesting and reliable source of information.
The great thing about AI is that it's constantly evolving and growing. You can always expect to see more features on AI-based tools in the future that make your blogging journey even easier and more efficient. And with a little bit of effort on your part, the rewards could be immense!