7 Best AI Content Detectors (2023)
Artificial intelligence (AI) tools for generating content are on the rise. And now, there are even AI content detection tools that can identify text written using AI.
Truly, a good number of writing tools using AI can help you generate ideas and even create content faster and more easily. However, without editing and adding a human touch to it, the document may sound robotic or contain inaccurate data, depending on the quality of the tool used.
This is why AI content detection is necessary. You can use this concept to identify anything that was created using AI and spot any errors or inconsistencies.
For that reason, I'm going to list the best AI content detectors available online today. You'll find out how they work, the best features, and the costs.
Disclaimer: Because the site is reader-supported, we may earn a commission if you use our affiliate links.
What Is the Best AI Content Detection Tool?
Below are my top picks for tools to detect AI-generated content.
1. Originality.AI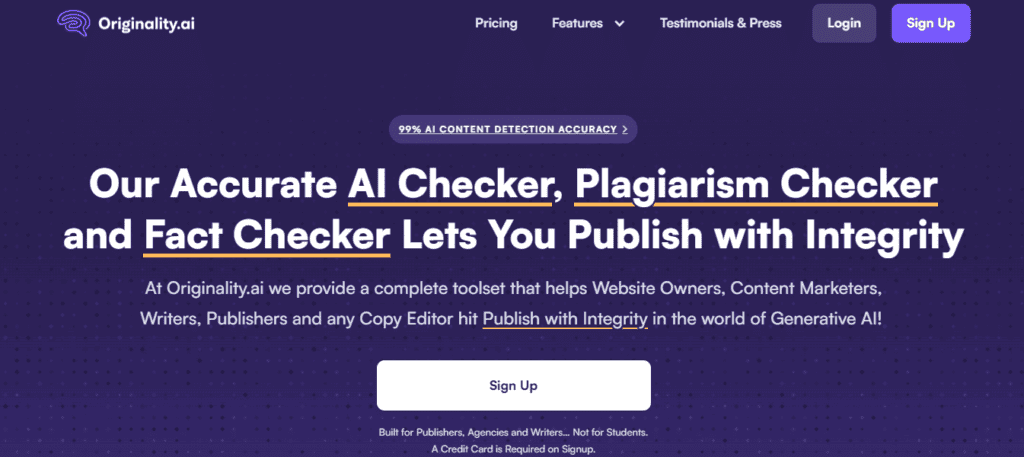 Originality.AI is an AI content-checking tool that also detects plagiarism in texts. It uses advanced algorithms to scan through billions of documents in real time to find any trace of copied material. It uses this technology as well to detect whether a piece of text was generated using another AI tool.
Now, Originality.AI's detector can identify a variety of GPT content. These include GPT-3, GPT-3.5, and ChatGPT-generated texts.
What you do is simply copy and paste your document into its editor and it will give you two reports. You'll be able to see both the plagiarism and AI detection scores, expressed as percentages. Also, if the text was copied, Originality.AI will show you the source.
Here's the full Originality.AI review.
Originality.AI Features
AI content detection of various types of GPT-generated texts
URL scanning for bulk detection
Team collaboration
Originality.AI Pricing
Originality.AI costs $30 for 3,000 credits. You can also get a subscription of $14.95.
Keep in mind that 1 credit equals 100 words.
2. Winston AI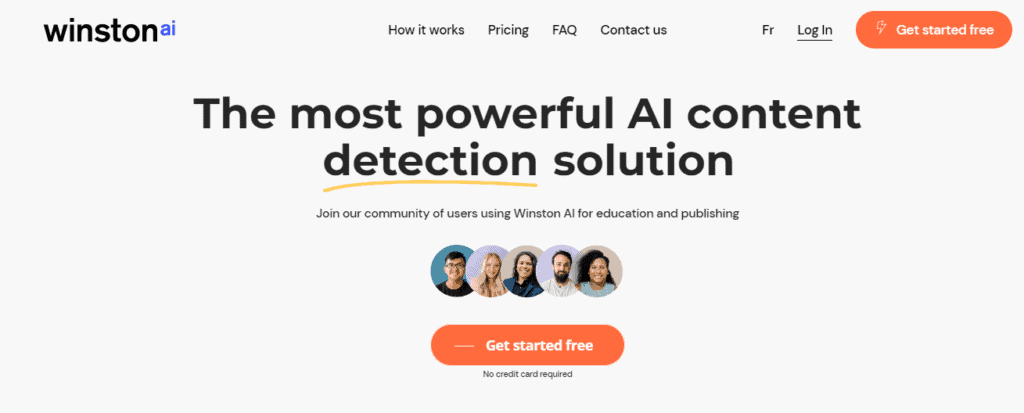 If you need another AI content detection solution that can discover content directly copied from popular AI writers like ChatGPT, Winston AI may interest you. This platform can help you instantly know whether a human wrote your post and has an accuracy of 94 percent. And so, besides content creators, it suits web publishers handling drafts from different writers, and even educators.
Winston AI is easy to use. Assuming you've set up an account, all you need to do is create a project in your new profile, input the text you need to check and start the scan. Winston AI supports uploads in formats such as DOCX and PDF.
What's more, this AI detector utilizes OCR (Optical Character Recognition) technology to read and obtain text from images and scanned documents, e.g. those written by hand. In other words, you can also import PNG or JPG files that have text on them and know whether AI wrote them.
Winston AI Features
AI content detector for writings and images (containing text)
Gives you results on a scale of 0 to 100
Can detect regular plagiarism and duplicate content
Winston AI Pricing

Winston AI has three options. Free is $0 a month for 2,000 words scanned while Growth costs $18 a month for up to 80,000 words scanned. The last option is Custom with custom pricing and quantity of scans.
3. Content at Scale
Content at Scale has a free AI text checker tool that uses deep learning to detect whether a text was generated by AI or not. When you paste the text into its editor it only takes seconds to get the results.
Content at Scale's AI detector will show you what it calls a human content score. This is the percentage of the text that the tool detected was written by a human. The remaining percentage of a given result is how much of the writing is fake or written by an automated tool.
Content at Scale is more than just an AI detection tool. It's a content automation tool for scaling content marketing. The company has an AI that can create original content for businesses, meaning you won't need a huge team of writers anymore. You just upload the required keywords and get blog posts of 2,500+ words.
Content at Scale Features
AI content automation
Integrated with Copyscape for plagiarism checking
WordPress plugin
Content at Scale Pricing

Content at Scale's AI detector is free. If you need more Content at Scale's features, you can pay from $0.005 to $0.009 a word.
4. Writer

Writer is a content platform that also has a powerful AI text detection tool. It works similarly to Originality.ai and Content at Scale, where you paste the text into its editor and it will detect whether the writing was generated using AI means. You can also enter a URL for it to scan.
Writer's AI detector analyzes the text and provides a score showing how much of it is human-generated. Besides that, Writer is a platform you can use to automate your writing process.
Using Writer, you and your team are able to brainstorm, write drafts, and distribute them faster. In other words, you create content in minutes and not days or weeks. What makes Writer different from other writing tools is that it can be trained to write according to your top-performing content and branding style.
Writer Features
Human-generated content checker
Trainable AI writer
Integrations with Google Docs and Word
Reports and analytics
Writer Pricing

While the AI detector is free, you need a plan for unlimited access to Writer's features. The first plan is Team (1 to 5 people) and costs $18 per user a month. The other plan is Enterprise, which has custom pricing.
5. Copyleaks
Copyleaks is a plagiarism detection and AI content detection tool. Its AI text detector will scan any document and give accurate results, with up to 99 percent accuracy. It takes seconds to tell you whether or not the text you've entered is from a human.
Copyleaks' plagiarism checker can find any instances of not only copying but also paraphrasing. What makes it stand out is that it's extensive and can access over 60 trillion websites, 1 million internal documents, 15,000 academic journals, and even code data repositories. So, besides businesses that are involved in content marketing, educators and learners can also benefit from the tool.
Copyleaks Features
Human content verification
Extensive plagiarism checker
Code plagiarism scanning
File comparison tool
Chrome extension
Copyleaks Pricing

Copyleaks' AI detection tool is free. You can get more by using one of its plans. There's a trial plan for 10 pages, after which you can subscribe for starting from 100 pages at $10.99 a month.
6. Sapling

Need another option? Sapling is an AI-driven tool that can detect whether specific content was written by a human or a machine. It helps you find out if the content you want to publish on your website, blog post, or social media platform was automatically generated and not hand-crafted.
Once you paste the document into its editor, Sapling gives you the probability of the text being real versus fake. Real probability has to be higher and closer to 1 as much as possible to mean that the writing was written by an actual person.
Other than that, Sapling serves as an AI messaging assistant. It enables businesses to offer better customer support by responding twice as fast. It offers response suggestions, spelling and grammar checking, and an autocomplete feature.
Sapling Features
AI-automated content detection
Probability scores
Messaging assistant for customer relationship management (CRM)
Sapling Pricing
Sapling is free to use as an AI content detector and messaging assistant for CRM. If you need additional features, you can pay $25 a month for Sapling's Pro plan or get custom pricing on the Enterprise plan.
7. Crossplag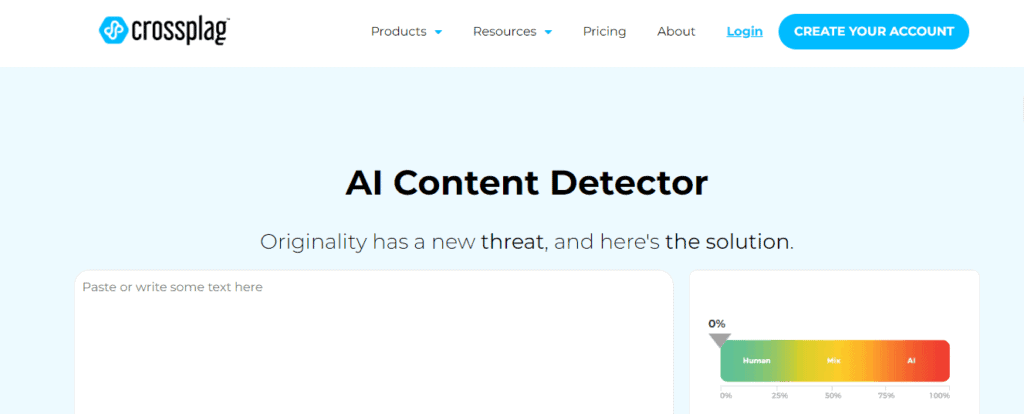 Crossplag is a plagiarism detector that also has an AI content checker. It's a tool that businesses, writers, and individuals in the education sector can benefit from in the quest to uphold integrity in writing. Crossplag is trained with vast data of human and AI text to discover any patterns and differentiate the two types of writing.
Crossplag's AI detector can easily show you AI-generated content in terms of a confidence percentage. This percentage is such that a high confidence percentage means it's likely AI-written while a low confidence percentage means it's likely human-written.
Crossplag Features
A plagiarism-detecting tool with AI content-checking abilities
Know whether any text is human or AI-written with the help of a percentage scale
Supports 100+ languages
Crossplag Pricing

Crossplag has a free plan of up to 1,000 words for individuals. The Pay-as-you-go option costs $9.99 per 5,000 words and the Bundle option costs $149.99 for up to 100,000 words. Custom pricing is also available.
Why Do You Need an AI Content Detector?
Content marketers, publishers, and educators are just a few examples of people and organizations who could benefit from using AI content detection tools. With these tools, you no longer need to worry about whether or not the text will be valuable to readers or be seen as genuine.
Whether you're looking for more efficient ways to create content or protect yourself from legal issues related to plagiarism, AI content detection tools can help. Not only do they save you time and effort, but also keep you compliant with industry regulations. Besides that, anything you publish online has to be of value and not spammy, or else you risk losing your rank on search engine results.
So, if your business or organization involves creating text-based content in any way, don't hesitate to try one of the AI content detectors I've discussed. They could be just what you need to give extra value and security to your content.
Tips for Using AI Content Detectors
Below, I'll share some tips for using AI content detectors effectively:
Know these tools have limitations: You have to keep in mind that AI content detectors are not 100 percent perfect. You may even notice that they mislabel content written by humans as AI-written, depending on the tool you use. So, don't rely on them entirely.
Use multiple tools: Different AI content detectors use different algorithms and data sets and this can lead to varying results. Checking content through more than a single tool is how you can improve the accuracy of your content detection efforts.
Input entire documents or larger portions of texts: These tools work better when they can analyze more text rather than individual sentences. So, be sure to copy and paste or upload several paragraphs if not the whole document into a particular AI content-checking tool.
Combine AI with human review: Although they can be powerful tools, it doesn't mean you should rely on AI text checkers completely. Incorporate your human editing skills into the process to catch any missed mistakes or false positives.
Stay in the know: AI content detectors, just like other AI-based tools, improve from time to time. You'll find that new models and updates are released regularly. So, keep yourself up-to-date with the latest developments in AI to ensure you're using the best technology available.
Conclusion
All in all, AI content detection tools are invaluable for those who produce text-based content like blog posts and marketing copy. They help protect against poorly written and automated texts and can provide accurate results within seconds.
If your text is high-quality and contains actual human input and real experiences, you'll improve the relationship between you and your audience. Remember to test a few tools to know which one fits your needs best!