5 Best AI Copywriting Software (Tools of 2022)
Looking for the best AI copywriting software for your business? Wonder no more! You're about to find out the best AI copy generators that are currently available on the market.
AI for copywriting has become popular and it can be useful in increasing productivity in your business. It doesn't matter whether you're a freelancer, an online seller, a digital marketer, or any other online business owner.
Now, each of these AI-based copywriter tools has its own unique set of features and benefits and this article will help you decide which one is right for you. Keep reading to learn more about each tool and find out which one is the best fit for your business needs.
What Is The Best AI Copywriting Software Tool?
Below are my picks for the top AI copy generator tools to use today.
1. Copy.ai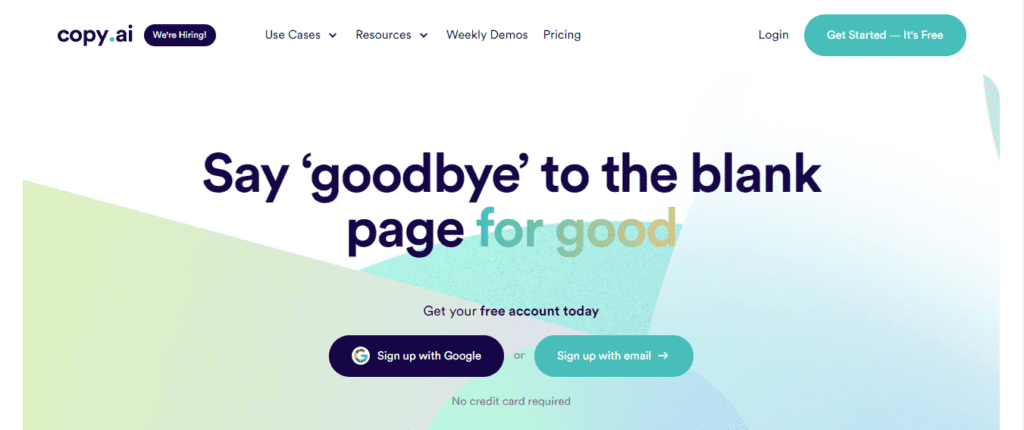 Copy.ai is a great copywriting tool for those who are looking to generate high-quality copies quickly and efficiently. Over 1 million professionals and teams such as Microsoft use the copy generator.
With this tool, you can create various types of long-form and short-form content within a short time. Such content includes blog posts, social media posts, email marketing content, and more. Using Copy.ai for writing sales copies is a perfect way to boost conversions and get more sales.
One of the best things about Copy.ai is that it offers a wide range of tools and templates to choose from, so you can easily create content that is relevant to your business. You simply choose the copywriting project, give the generator some context, and go through the results.
Check this Copy.ai review for more information.
Best Copy.ai Features
Over 90 content types
Wide variety of templates for emails, letters, plans, and more
Access to tools such as sentence rewriter, content idea generator, and paraphraser
Over 25 languages are available
Copy.ai Pricing
Copy.ai has a free plan and a Pro plan that costs $49 per month or $35 when billed annually.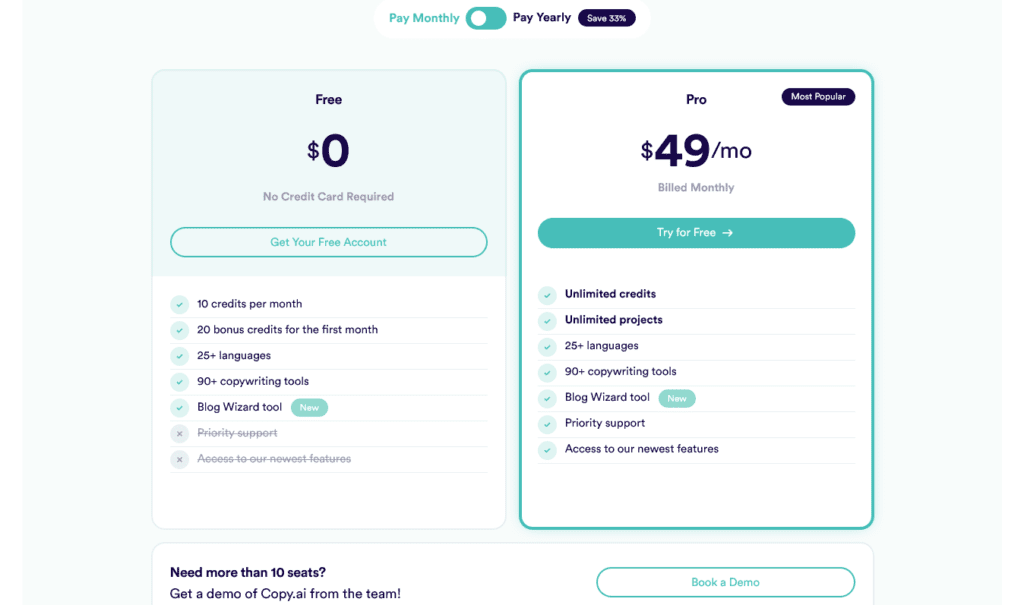 2. Jasper.ai

Here comes one of the best AI writing assistants on the Web. Jasper.ai is a great AI-powered copywriting tool for those who want to enhance their writing skills and get more done in less time. Content marketers working with big brands like Airbnb trust Jasper.ai when it comes to creating high-quality copies.
Jasper.ai is easy to use and can help you finish your first drafts up to ten times faster. If you use the software for copywriting, you get a chance to boost conversions from your ads online.
Other than copies, this tool is perfect if you need to write long-form blog posts and other original content that can rank on Google. You won't have to worry about plagiarism.
Check this Jasper.ai review for more information.
Best Jasper.ai Features
Lots of templates to choose from such as emails, ads, and SEO
Grammar checking through Grammarly
Plagiarism detector
Tone detection
Read also: Best Plagiarism Checking Tools
Jasper.ai Pricing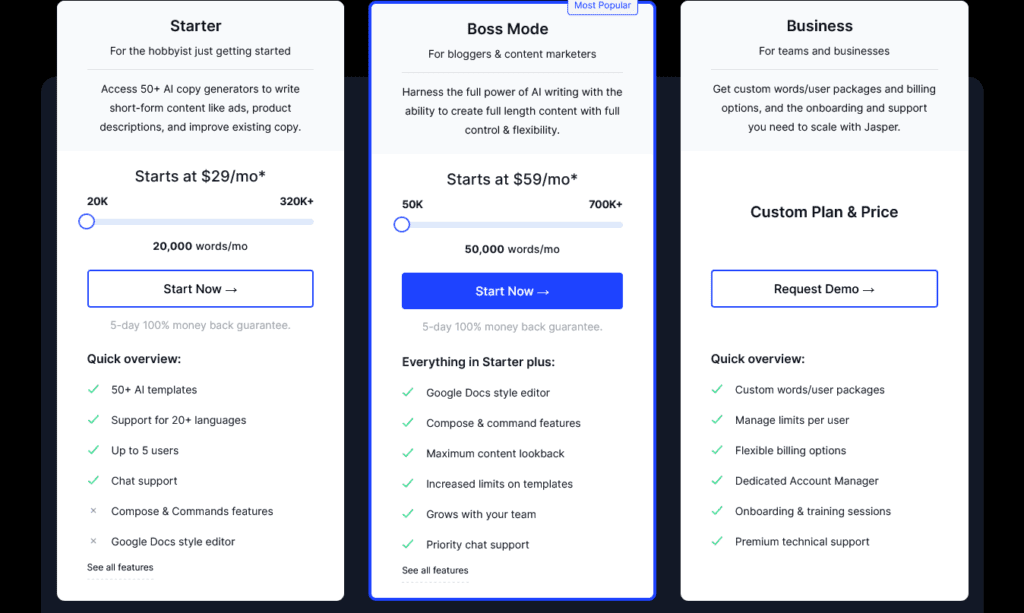 Starter: Starting from $29/month
Boss Mode: Starting from $59/month
Business: With a custom price
3. Copysmith.ai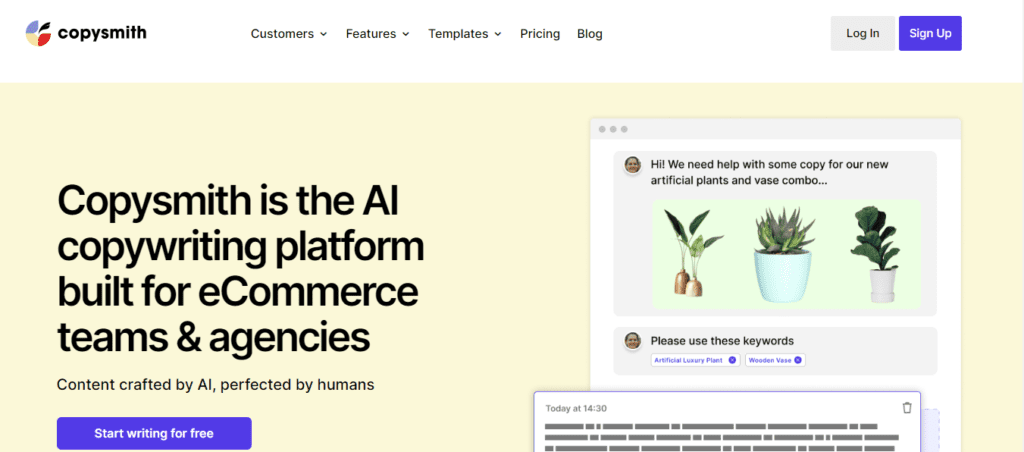 If you're looking for another AI copywriting tool for creating quality copies, Copysmith.ai can be the solution for you. This tool can help you reduce the time you spend on copywriting projects, whether you're running an e-commerce business or are part of a marketing team.
You'll spend less time feeling stuck and more time being productive. You get a chance to focus on other aspects of your business.
Copysmith.ai is useful if you want to create high-converting ad copies, product descriptions, emails, and other promotional content. In other words, you'll be able to write better copies that can turn your audience into recurring customers.
In addition, Copysmith.ai also offers a team collaboration capability, which allows you to work with other team members on your content. This is a great feature for businesses that want to increase efficiency and success by working together.
Check this Copysmith.ai review for more information.
Best Copysmith.ai Features
Ad copywriting
Social media post writing
Email marketing content writing
Content enhancement
Integrations with other platforms like WooCommerce, Zapier, and Hootsuite
Copysmith.ai Pricing
Starter: $19/month
Professional: $59/month
Enterprise: Custom pricing
4. Rytr

Rytr is a great tool for copywriting that can suit someone who wants to achieve more for every hour they get. This AI-powered copywriting tool can help you create quality content that suits your business needs, whether you want a landing page, Instagram post, or profile bio. Over 2 million copywriters, marketers, and entrepreneurs use it.
Using Rytr is quite simple. You choose a use case, add some text for it to get the context, and get your written copies in no time. There's a Rytr Chrome extension for users that want to take the copy-generating tool anywhere they visit online.
Best Rytr Features
Over 30 use cases
Over 30 languages
Over 20 tones
Built-in plagiarism checking
Rytr Pricing

Rytr has a Free plan, a Saver plan that costs $9 per month, and an Unlimited plan that costs $29 per month. This pricing makes Rytr one of the most affordable AI copywriting software.
5. Writesonic

Maybe you haven't gotten enough of the best AI copy generator available to use online. If so, Writesonic may interest you. It makes it easier to write Google and Facebook ad content, sales emails, landing pages, and more.
This tool can also help you create SEO-optimized content of 1,500 words in a fraction of the time it would take you to write it yourself. So, Writesonic is a software tool that can boost your productivity as a writer, entrepreneur, or e-commerce business owner. You'll get more done and will be able to expand your business without hiring additional staff.
Best Writesonic Features
Paraphraser
Sentence expander
Content shortener
Writesonic Pricing
Writesonic has a free trial that costs $0 as well as two other plans, Short-form at $15 a month and the Long-form at $19 a month.
What Is AI Copywriting Software?
AI copywriting software is a tool that can generate various types of copies for you by leveraging advanced computer technology. Such a tool can help you write copies such as ads, social media posts, product descriptions, emails, and letters.
You just need to input some text for context and let the copy generator do the work for you. You may have to get rid of some unnecessary texts and add your own.
Why Should You Use AI for Copywriting?
What AI copywriters do is help you save time and even money when it comes to copywriting. You'll write your copies faster than usual and won't have to pay huge amounts to freelancers to help you with the work.
Other than that, you can improve the wording of your writing. This means paraphrasing, shortening, and expanding sentences. Most of the tools have grammar and plagiarism checkers to ensure quality and originality.
Conclusion
In case you didn't know that you can use AI to improve your copywriting, now you do. There you have some of the best AI copywriting software of the year. These are Copy.ai, Jasper.ai, Copysmith.ai, Rytr, and Writesonic.
All these tools can help you create quality ad content in a shorter while to produce more copies and spend your time on other things. So, don't wait any longer. Pick your favorite one and test how it works for you!