7 of the Best AI SEO Software (Rank Faster in 2023)
If you're looking for a way to make your website rank faster in this age, then you need to check out the best AI SEO software. This type of software uses artificial intelligence to help you optimize your website and rank higher on search engine results pages.
AI SEO tools are becoming more and more popular as businesses strive to stay ahead of the competition. You're going to discover the top AI SEO software programs available right now in this article. We'll talk about how they can help you improve your website's performance and more.
Disclaimer: Because the site is reader supported, we may earn a commission if you use our affiliate links.
What Is AI SEO?
AI SEO is the process of optimizing a website to appear and rank on search engines using artificial intelligence. AI SEO software is a tool that uses computer systems to help you with site optimization.
What Is the Best AI SEO Tool?
Here comes a list of the best AI SEO software available online to use.
1. Surfer SEO (Best in General)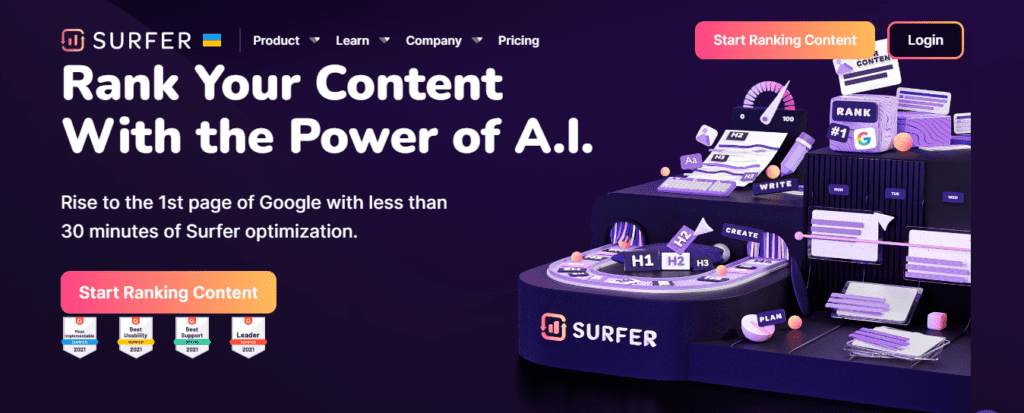 This is one of the most popular AI SEO tools out there. Surfer SEO optimization can help you go to page 1 of Google. You simply follow its data-driven recommendations on how to improve your website's ranking.
This AI SEO tool gives you a content strategy optimized for your niche, site, and audience. It uses artificial intelligence to help you analyze your competitors and find the best keywords to use on your website. You can also get article outlines within a fraction of the time so you can write and publish content consistently.
If you need more, you can try Surfer SEO's audit. This feature will help you fix numerous SEO mistakes your site may have and start seeing organic traffic growth.
Key Features
Content planner: Get a plan and content ideas that fit your site niche.
Article outline: Surfer SEO provides you with headers and paragraphs that perfectly display what you want to pass across.
Content editor: Find out the best word count, image count, keywords, and article structure for your blog content.
Keyword surfer: Research keywords fast using the chrome extension available on Surfer SEO for free.
SEO audit: Get insights on what you need to fix on your site to improve your ranks.
Integrations: You can integrate Surfer SEO with tools like Jasper, one of the top AI writing assistants.
Surfer SEO Pricing

Surfer SEO has 3 paid plans. You can pick a plan depending on the number of sites, pages, and articles you need to optimize.
Basic: $49/month for one website, 20 pages, and 10 articles monthly
Pro: $99/month for 5 websites, 60 pages, and 30 articles monthly
Business: $199/month for 10 websites, 140 pages, and 70 articles monthly
2. Semrush (Best for Technical SEO)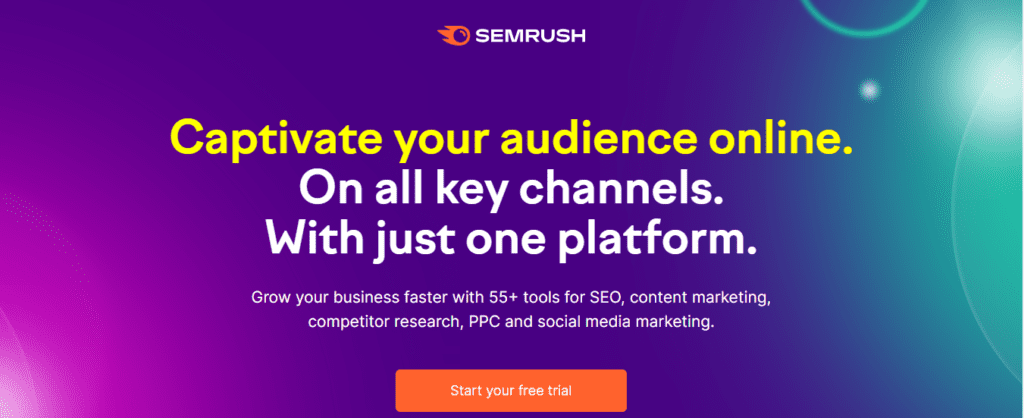 This is an SEO platform widely used by businesses of all sizes to improve their online visibility. It has over 10 million registered users and received several international awards as an SEO software suite.
Semrush has numerous features that can help you boost your search visibility online. One of the most popular is its technical SEO audit. This feature will help you find and fix complex on-site issues that are affecting your website's ranking.
The Semrush dashboard is quite easy to understand. You can create multiple projects and the tool will show you your sites' health, backlinks, and organic traffic, among other elements.
The tool also has a position-tracking feature that allows you to track your progress and ranking over time. You can also use this tool to do keyword research, competitor analysis, and more.
Key Features
All-in-one marketing platform: Over 55 tools for SEO, content marketing, competitor research, PPC, and social media marketing.
Site audit: Discover technical SEO issues affecting your website's ranking.
On-page SEO checker: Improve your website's content and structure for better ranking.
Keyword research: Find the best keywords to use for your website.
Competitive research: Understand what your competitors are doing to rank higher on search engines.
Position tracking: Track your progress and ranking over time.
Link building: Build high-quality backlinks to improve your website's authority.
Semrush Pricing
Semrush has a free trial of 7 days. You can choose a paid plan to try out for free from the first two of the three available ones.
Pro: $119.95/month
Guru: $229.95/month
Business: $449.95/month
3. Outranking (Best for Content Strategy in SEO)

Outranking is a tool that combines the power of human intelligence and machine learning to deliver the best results for your SEO campaigns. It's designed to help content teams and agencies save time and money while improving their client's ranking.
Among the things that Outranking focuses on is content strategy. The tool will help you plan, create, and optimize your content for better ranking. It also has features for on-page SEO, rank tracking, and more. Outranking has a team of experts who are always working on new features and improvements.
Key Features
AI writing: Get help with writing high-quality and in-depth content.
Content strategy: Discover the right topics and keywords to go after for niche domination.
Content optimization: Automatically get SEO suggestions from your previous ranking data to make search engines easily understand your content.
Outranking Pricing
You can pick from three plans.

Solo: $99/month and suits a small site
Pro: $189/month and suits a medium site
Company: $279/month and suites a large site
4. RankIQ (Best for SEO Writing)

RankIQ is an AI-driven SEO software that helps you improve your website's ranking in search engines. It uses machine learning to analyze data from Google and other sources to determine how search engine algorithms work. This way, it can provide you with accurate predictions about the changes you need to make on your website for better ranking.
RankIQ helps you come up with a well-optimized blog post. Using the tool, you'll be able to find the right keywords from its keyword library and the most appropriate title and outline. You'll know what you need to add or remove from existing posts to make them appear higher in search results.
Also with this SEO toolset, you can track your website's ranking and performance using real-time data from Google and other search engines. You can also use this tool to get insights into how competitors are performing on SERPs to help you improve your SEO strategy.
Key Features
AI-driven SEO: Get accurate predictions about the changes you need to make on your website for better ranking.
SEO writing: Come up with a well-optimized blog post in just 30 minutes or less.
Keyword library: Find the right keywords with less competition depending on your niche from its keyword library.
Real-time rank tracking: Track your website's ranking and performance with the most recent data from Google and other search engines.
Competitor analysis: Know your competitors' positions on SERPs and improve your SEO strategy accordingly.
RankIQ Pricing
Usually, RankIQ costs $99 a month. At the moment, there's 50 percent off and you only pay $49.

5. GrowthBar (Best for Blogging)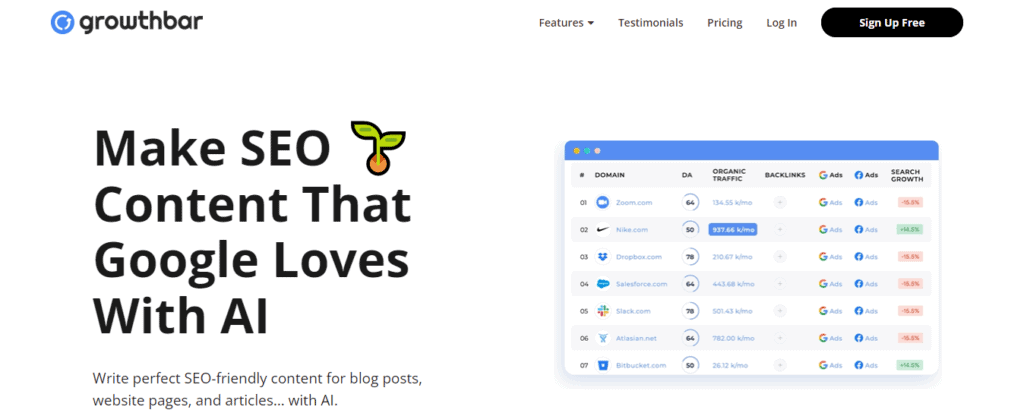 GrowthBar is an AI-powered SEO tool that you can use to increase your website's organic traffic and rankings. It helps you create SEO-friendly web pages and blog posts that Google as well as your audience can easily understand.
What GrowthBar does is assist you right from when you're planning your content up to when it's ready for publishing. The tool will generate titles, outlines, intros, and paragraphs for your blog post. It can help you find the best keywords to increase your chances of ranking well.
As if that's not enough, you also get well-written and optimized meta descriptions. It's also possible to check any site's authority score, keywords, and backlinks using GrowthBar.
Key Features
SEO content writing platform: Get AI-generated titles, outlines, and text for your upcoming blog posts.
Domain authority checker: Check a website's authority score
Backlink checker: Find out what backlinks your competitors have and discover opportunities to get new links too.
Keyword research: Access billions of keyword suggestions and track the ones any site ranks for.
GrowthBar Pricing
GrowthBar offers a free trial of 5 days for all its plans.

Standard: $48/month
Pro: $99month
Agency: $199/month
6. Diib (Best for Affordable SEO)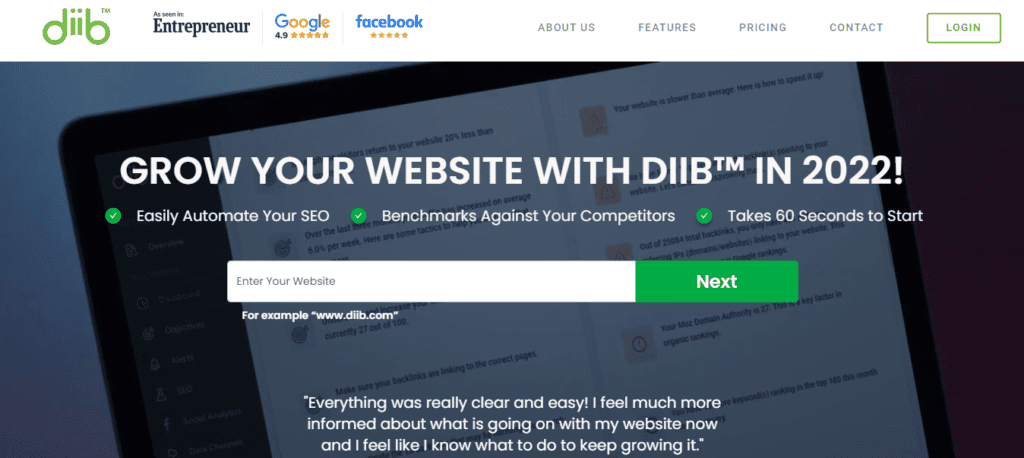 Diib is an SEO tool that uses artificial intelligence and advanced algorithms to help you grow your business. Over 250,000 website owners across the world use it.
Diib is useful for automating the SEO process. You won't have to spend countless hours trying to correct SEO problems like in a regular case.
You can also use Diib to see what your competitors are doing. It's an easy way to know what can work for you too in the SEO game without much trial and error.
The best thing about Diib is that it barely consumes any time to set up. It takes seconds to analyze your site and that of your competitors.
Key Features
SEO automation: Set up the tool and let it work for you in growing your online presence.
Competitor analysis: Benchmark yourself against others in your niche and level.
Keyword explorer: Find out which keywords you're ranking for on Google and new ones as well.
Backlink analysis: Check your current backlinks and site authority and discover new link opportunities.
Website monitoring: Know where you are in terms of daily and weekly performance.
Diib Pricing
Diib has a free and paid plan.

Free: $0/month with limited features
Pro: 7.99/month (and renews at 29.99/month) with full features
7. Can I Rank? (Best for Traffic Building)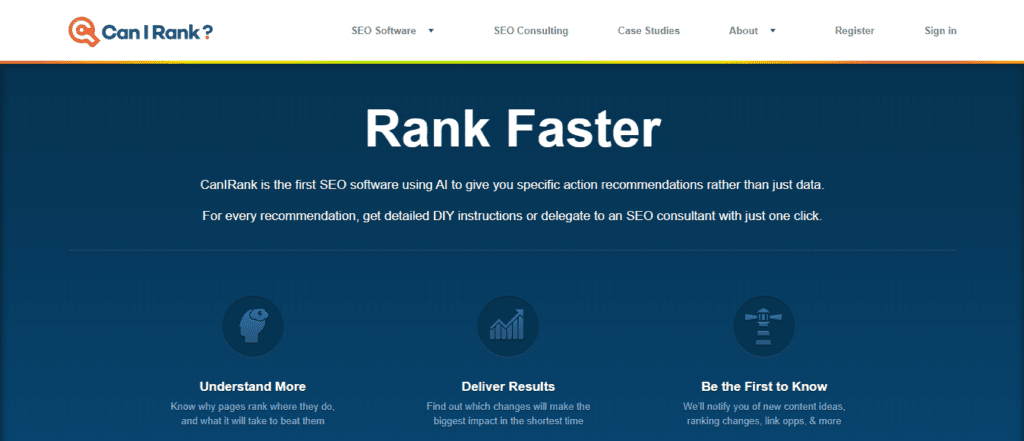 CanIRank is another one of the best AI SEO tools to use for getting more organic traffic. This SEO tool is among the ones to use artificial intelligence in boosting business growth.
CanIRank provides recommendations as well as actual data on the best ways to increase your rankings online. You get a chance to understand why you aren't ranking and what to do about it.
Also, CanIRank notifies when it comes to ranking changes and new link opportunities. You also receive content ideas and know what to write next to get more traffic and conversions. With CanIRank, you can either follow the well-articulated suggestions or access an SEO consultant to help you.
Key Features
SEO competitor analysis: Understand how ranking works and get a personalized SEO strategy.
Link building: Discover and analyze new link prospects for your site to boost your authority.
Keyword research: The tool that helps you find keyword gaps and topics to write about.
Keyword difficulty: Know whether or not going after a specific keyword is the best option for you.
CanIRank Pricing
There's a free version with limited features. The paid versions offer increased features.
Free: $0 for 1 website (limited features)
DIY individual: $49 for 1 website and 25+ keywords/site
DIY Pro: $79 for 7 websites and 100+ keywords/site
DIY Agency: $299 for 25 websites and 200+ keywords/site
How AI Can Be Used in SEO?
Artificial intelligence can be used in SEO in a number of ways. Here are some examples:
Automated keyword research: AI can be used to help you find the best keywords to target for your SEO campaigns.
Automated content generation: AI can be used to generate new and unique content for your website or blog.
Automated link building: AI can be used to discover new backlink opportunities and build links to your website.
Automated rank tracking: AI can be used to track your position on Google and other search engines.
These are just some of the ways that AI can be used in SEO. If you're looking to get a leg up on the competition, then you should definitely consider using AI in your SEO campaigns.
What Is the Future of AI in SEO?
The future of AI in SEO is very exciting. As artificial intelligence continues to evolve, it will become even more useful for SEO professionals. Some things that we can expect to see in the future of AI in SEO are more sophisticated keyword research, content generation, link-building, and rank-tracking tools, among others.
And so, AI will become even better at finding the best keywords to chase, generating well-written content for your site, locating new link opportunities, and notifying you of your content ranking.
Conclusion
Now, these are the best AI SEO software to use in order to rank faster and get more organic traffic this year. With these tools, you can save time and automate the SEO process while getting insights into what your competitors are doing.
So, here's what to do next. Simply choose a tool that best fits your needs and budget and start growing your business today!