5 Best AI Transcription Software in 2023 (Fast & Accurate)
Transcribing is a task that can consume time, possibly 3 or 4 times as long as the audio file itself. But it's possible to reduce the time spent by using AI-based transcription services. If you are looking for the best AI transcription software to use today, you're in the right place.
I've compiled a list of the top-rated transcribing software tools that use artificial intelligence. They are fast and accurate, and you can rely on them for your business needs.
Disclaimer: Because the site is reader supported, we may earn a commission if you use our affiliate links.
Read also: Best AI Writing Software
What Is AI Transcription?
AI transcription is the process of converting audio and video files into a text format using artificial intelligence. There are various AI-based transcription tools that you can use to get high-quality transcripts in no time.
What Is the Best AI Transcription Software?
Check out the AI-powered transcribing tools online below.
1. Otter.ai
(Best in General)

Otter.ai is among the best AI transcription software that anyone can use to turn their conversations into smart notes. You can use it to transcribe meetings, lectures, and interviews. It can also transcribe existing audio records.
Otter.ai creates a searchable record of your team meeting that you can share with others or export as a PDF or text document. It also has a chrome extension that you can use to transcribe meetings in real time on Google Meet.
The app integrates with Zoom, Dropbox, and Google Calendar as well. There's a mobile app available for both Android and iOS devices.
Otter.ai Features
Real-time transcription: Get live transcripts for in-person or virtual conversations.
Multiple devices: Transcribe anywhere and anytime using the Otter.ai web app, mobile apps, or Chrome extension.
Integrations: Use Otter.ai with Zoom, Dropbox, Google Meet, Google Calendar, and more.
Collaboration features: Highlight or insert comments and images.
Super index of Conversations: Easily search and find all your important conversations in one place.
Otter.ai Pricing
You can use Otter.ai for free with limited features or subscribe to a paid plan for all the benefits.

Basic (Free)
A plan you can start with to see how Otter.ai works for you.
300 transcription minutes monthly, 30 minutes per conversation
Otter.ai Assistant for Zoom, Google Meet, and Microsoft Teams joins meetings to take and share notes even when you can't
Record and transcribe live
Search and playback recordings
Highlights and insert comments
Pro ($16.99/month)
Suits individuals that need more Otter.ai features.
Everything in basic
1,200 transcription minutes monthly, 90 minutes per conversation
Otter.ai Assistant for Zoom, Google Meet, and Microsoft Teams joins meetings when you're double-booked
Import per-recorded files
Add custom vocabulary
Advanced search and export
Business ($30/month)
Best for small businesses and teams.
Everything in Pro
6,000 transcription minutes monthly, 4 hours per conversation
Otter.ai Assistant for Zoom, Google Meet, and Microsoft Teams joins meetings when you're triple-booked
Team collaboration tools
Outline summary
Priority support
Enterprise (Custom)
Works well for large businesses.
Everything in Business
Single Sign-On
Organization-wide deployment
More payment methods
Remember, you can save more by choosing the annual (and not monthly) billing options.
2. Sonix
(Best for Multiple Languages)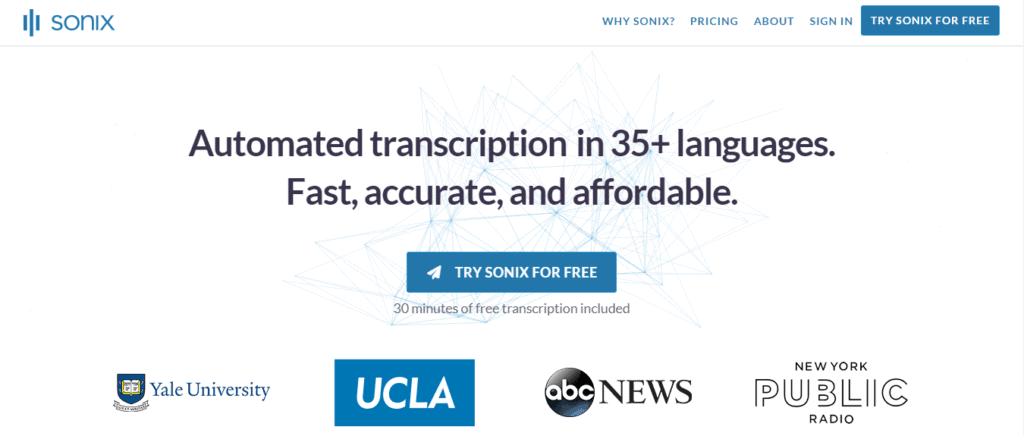 Sonix is another great AI-based transcription tool that can transcribe audio and video files in various languages. It can help you turn meetings, lectures, and other audio or video files into text.
You can also transcribe directly from your browser using the Sonix web app. The browser editor enables you to view, edit and share transcripts with others wherever and on any device.
Sonix integrates with popular tools such as Zapier, Evernote, and Google Drive for easy accessibility of files. You can also use Sonix in translation and subtitling.
Sonix's translation feature is automated and can help you convert your transcripts to another language within minutes. When it comes to subtitling, you make your videos more engaging and searchable online. The best part is that you can start with a free trial and get 30 minutes of transcription to test how it works.
Sonix Features
Web app for transcription in the browser
35+ languages including Hindi, French, and Spanish
Integrations with Dropbox, Google Drive, and more
Transcript translation
Add subtitles for videos
Sonix Pricing

Standard ($10/hour): Pay-as-you-go transcription for project-based work.
Premium ($5/hour+ $22/user/month): A plan for individuals and businesses that need more transcripts and advanced collaboration tools.
Enterprise (Custom): Suitable for high-volume transcription and comes with better user controls and billing options.
3. Trint
(Best for Team Collaboration)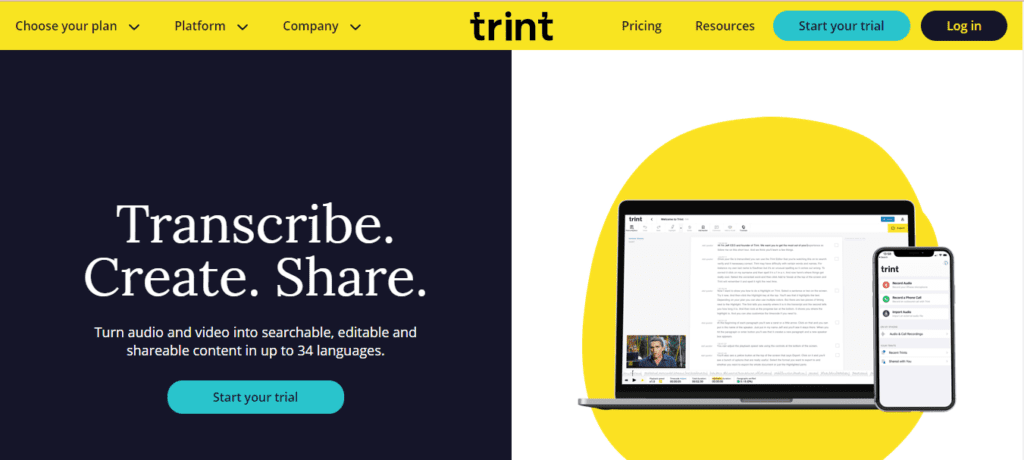 If you need another one of the best AI transcription services, Trint may interest you. It is an AI-powered tool that can automatically convert your audio and video files into searchable and editable textual content. With Trint, it becomes easier to transcribe events like webinars on your computer in real-time.
Trint is well known for its team collaboration features that enable you to work on projects with other team members in one place. It can also suit individual freelancers. In addition, Trint integrates with popular tools such as Zoom, Zapier, and Adobe Premiere for easy accessibility of files.
Trint Features
Automated transcription and editing
30+ languages like Dutch, German, and Italian
Team collaboration features for seamless workflow
Integrations with other tools like Zoom
Trint Pricing

Starter ($60/month): Works for individuals and teams transcribing up to 7 files monthly.
Advanced ($75/month): Best for unlimited transcription.
Enterprise (Custom): Offers team features, advanced management, dedicated customer support., and more.
4. Verbit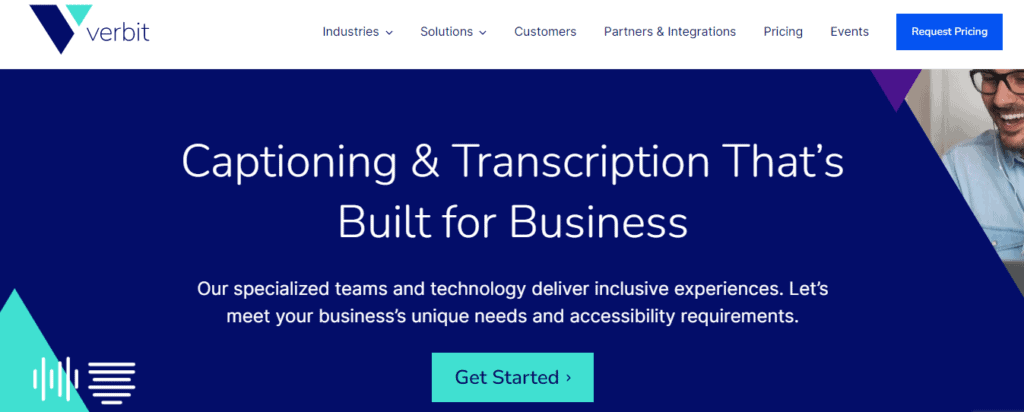 Verbit is a great AI transcribing tool that can help you save time when it comes to audio transcription. It has over 95 million hours total hours transcribed and captioned.
Verbit offers human transcription services if you need more accuracy for your project. There are over 35,000 expert human transcribers on Verbit.
You can use it with video conferencing software like Zoom and WebEx to get live captions for your viewers. Other video-sharing platforms that Verbit works with are YouTube and Vimeo.
Verbit also offers various file formats such as MS Word documents, CSV, and JSON. Transcripts carry information like speaker identification and SMPTE time codes for better reference.
Verbit Features
Fast and easy transcription
Human proofreading
Live captioning
Audio description
Translation
Integrations with popular platforms like Zoom, Vimeo, and YouTube
Verbit Pricing
Verbit offers custom prices depending on your transcription needs. You just need to fill out a form on the Verbit pricing page and request pricing to get a personalized plan and service.
5. Speechtext.ai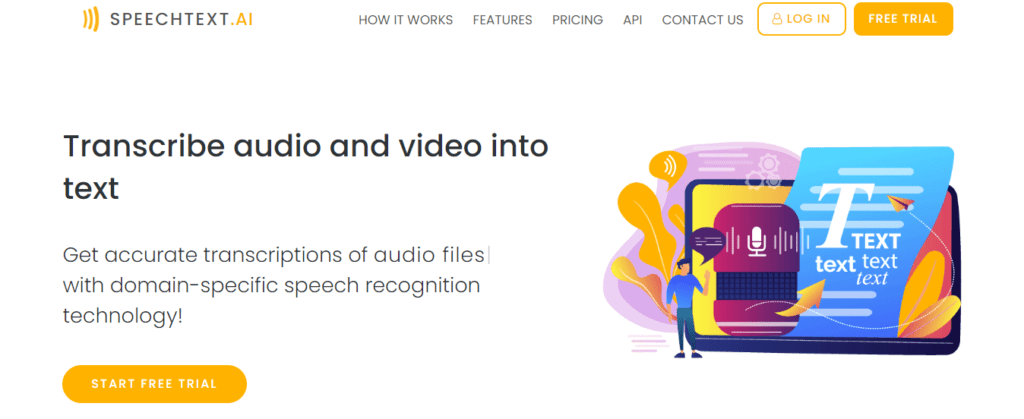 Speechtext.ai is an AI-powered transcription platform that can transcribe audio and video files for various industries. Its domain-specific speech recognition technology allows users to get accurate transcripts.
This is one of the best AI transcription software that allows you to upload various file formats. It can be a podcast, interview, meeting, or any other file.
Aside from the audio type, you need to select the industry domain and generate a transcript that's dedicated to your industry. Speechtext.ai allows you to modify the text as you need and export it to your device.
Speechtext.ai Features
Domain-specific speech recognition
Multiple languages (30+)
Speaker identification
Various upload and download file formats
Interactive editing tool
Speechtext.ai Pricing
Speechtext.ai offers pay-as-you-go plans.
Starter ($10)
180 transcription minutes
30 MB maximum file size
General model
Personal ($19)
380 transcription minutes
60 MB maximum file size
Domain-specific models
Standard ($49)
990 transcription minutes
200 MB maximum file size
Domain-specific models
Business ($99)
2,000 transcription minutes
1 GB maximum file size
Domain-specific model
Conclusion
There you have it! The best AI transcription software that can help you transcribe your audio and video files quickly and accurately.
With these tools, you can get transcripts for various purposes such as business meetings, webinars, interviews, and more. Pick the one that best suits your needs and budget and start converting your audio to text.