6 Best AI Profile Picture Generators Online
Nowadays, having a strong online presence is essential for success in both personal and professional settings. One of the key components of a solid digital presence is a good profile picture.
A profile picture can convey a lot about a person and make a lasting impression on those who view it. However, not everyone has the skills or resources to make a high-quality profile picture.
That's where AI profile picture generators come in. These tools can effortlessly create outstanding and visually appealing profile pictures for you in minutes.
In this article, you'll discover some of the best AI profile picture generators online, their features, benefits, and pricing options. By the end of this article, you'll have all the information you need to create a stunning profile picture that makes you stand out online.
What Is the Best AI Profile Picture Generator?
Below are my picks for the top profile picture generators you need to check out.
1. Photo AI
Photo AI is an AI profile picture generator that allows you to create photography by training your AI character. You get a chance to come up with quality images without ever standing in front of a camera.
What happens is that you upload 30 selfies of you in various locations, clothing, and times of the day. These images are the ones that will teach and develop your photorealistic AI character.
You only need to train this character once (in around 20 to 40 minutes). From there, you're able to design any scene you wish to appear in, all with the help of Photo AI's powerful Photo Diffusion model.
For instance, you can import your favorite clothes from the Web and have the AI develop images of you wearing them. You can also create photos of you in numerous settings doing various actions with different facial expressions.
Photo AI also has an advanced editor that allows you to change any aspects you don't like in any generated profile picture. You just need to enter a prompt of what you wish to be corrected.
Here are some examples of photos that Photo AI generated: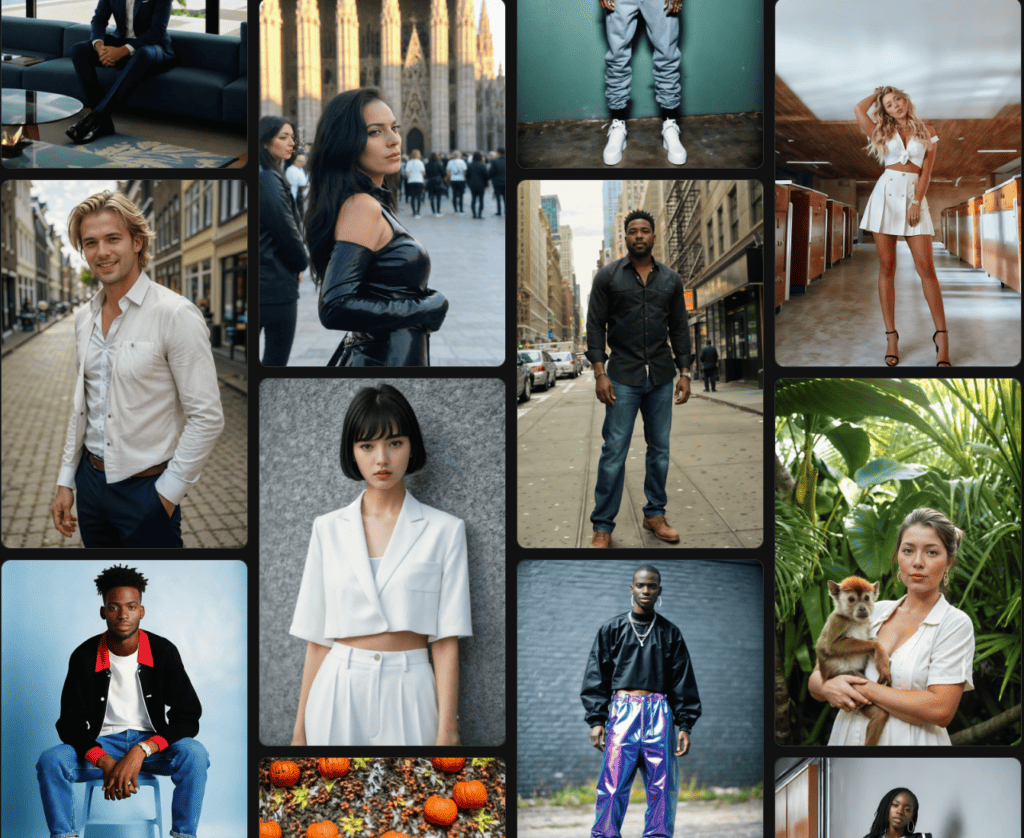 Photo AI Features
AI profile photo generator from prompts
Photo AI's Sketch2Image turns your raw fashion sketch ideas into photorealistic photos to share with vendors, customers, and suppliers
Magic Editor enhances generated photos as per your needs and corrects any errors in them
40+ photo packs available that serve as ready-made templates to remove the need to enter prompts or set parameters (such as AI Yearbook, Swimsuit, and Virtual suits try on)
120+ avatar styles to choose from
Photo AI Pricing
Photo AI has 3 plans.
Pro: $39/month
Premium: $99/month
Business: $299/month
If you choose the annual billing option, you get 2 months free and can cancel your subscription at any time!
2. Profile Picture AI
Next on this list of the top AI profile picture makers is Profile Picture AI. This platform has generated millions of profile images for more than 20,000 customers.
The thing I like about Profile Picture AI, something I like, is that it caters to all types of users. Whether you're a photorealistic kind of person or are more into high-quality avatars with various styles, this tool suits you.
Profile Picture AI's model works by analyzing input photos. It uses them to design your avatar for you.
You just have to upload around 20 images with a mix of close-ups, side profiles, chest-ups, and full-body shots. For the best result, make sure that these photos have varying locations, backgrounds, facial expressions, and angles.
Now, this website values user privacy. When you've generated your images, it deletes them from its servers within 7 days and you can also delete your data from your account at any given moment.
Check out some examples of this tool's styles and results below:

Profile Picture AI Features
350+ styles to choose from (a mix of realistic, 3D, cartoon, and sketches) such as Tuxedo, Anime, and Line art
Up to 900+ photos
Up to 4K image resolution
Profile Picture AI Pricing
The packages of Profile Picture AI are listed below.
Small: $6.40 (12 styles, 96 photos, small format)
XL: $11.80 (35 styles, 280 photos, 4K format)
All: $19.80 (all styles, 900+ photos, 4K format)
These are one-time payments. There's a 14-day refund policy on all purchases.
3. ProPhotos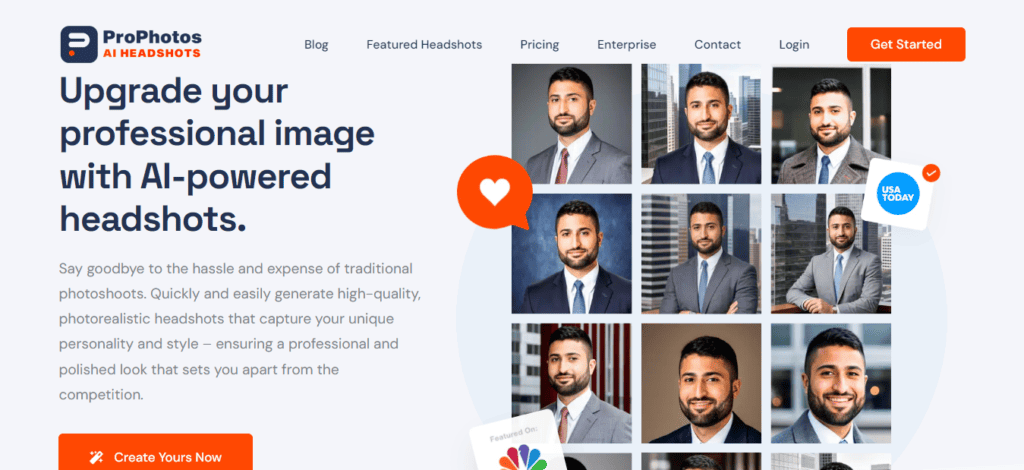 Do you need AI profile pictures for LinkedIn and other professional purposes? If so, ProPhotos, a tool that has created over 2 million headshots, is what you need.
This AI photo generator for headshots can help your CV, portfolio, or business card stand out. All the generated images look real and are indistinguishable from a studio shoot.
ProPhotos has one of the quickest turnaround times as well. You can get your photos in 30 to 90 minutes, depending on the package you select.
Something worth noting is that the tool will provide a mix of different backgrounds for your headshots. These include studio backdrops and corporate or office backgrounds.
This tool, I would say, also suits team professional pictures. You can create headshots for each person within your enterprise to use online and on the company website.
Below are ProPhoto's image samples to inspire you: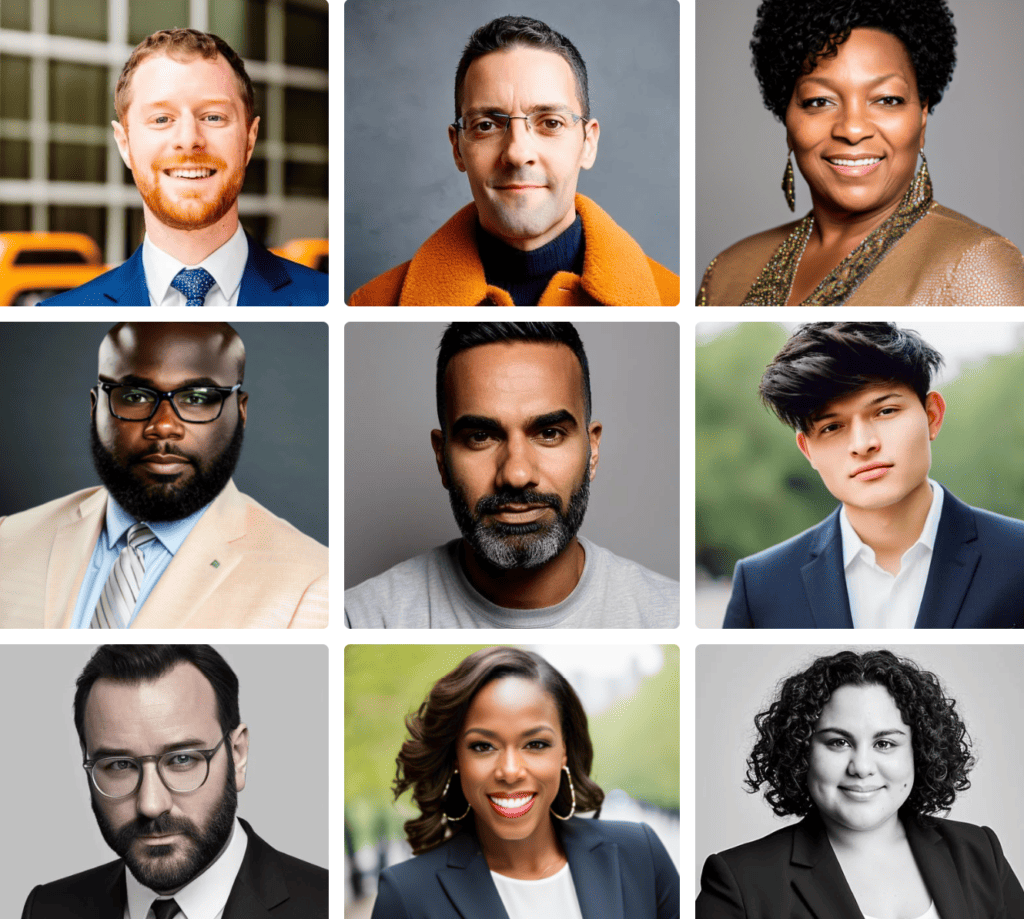 ProPhotos Features
Up to 160 unique AI professional profile pictures
Up to 8 clothing styles
12 background styles
Generates pictures in as little as 30 minutes
ProPhotos Pricing
Here's the cost of using ProPhotos.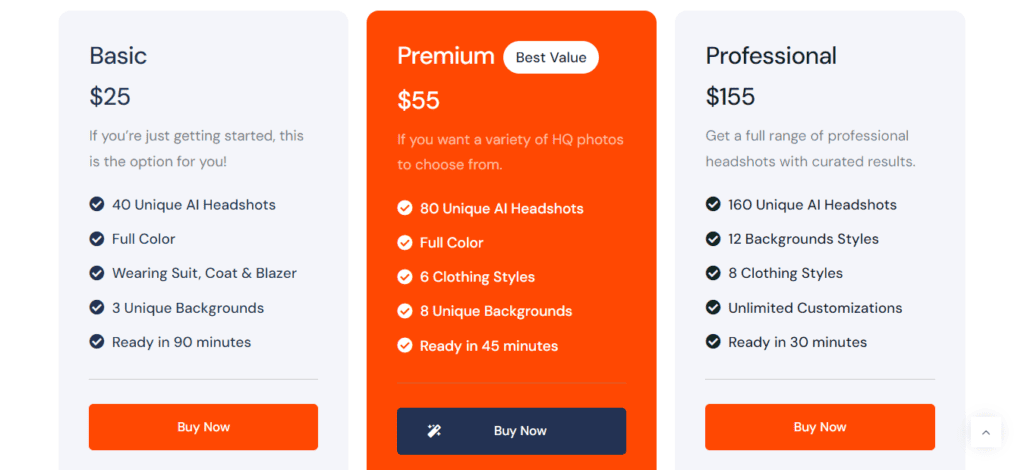 Basic: $25 (40 images, 3 backgrounds, 90 minutes)
Premium: $55 (80 images, 8 backgrounds, 45 minutes)
Professional: $155 (160 images, 12 backgrounds, 30 minutes)
4. Media.io Profile Picture Maker

Media.io is a full media toolkit that offers a profile picture maker that uses AI. You can use it to create the perfect photo for displaying on your favorite social media platform.
Media.io's PFP maker allows you to create professional, outdoor, and artistic images out of regular selfies using your phone. You even can retouch the generated images to improve their look using the platform's AI photo enhancer.
With this tool, you simply need to select a style, upload your selfie, and get ready to receive your results.
Media.io Features
Creates up to 150 photos
Professional, artistic, and sketch styles for profile pictures
Multiple styles, including
AI background remover
Media.io Pricing
This tool offers a couple of pricing options.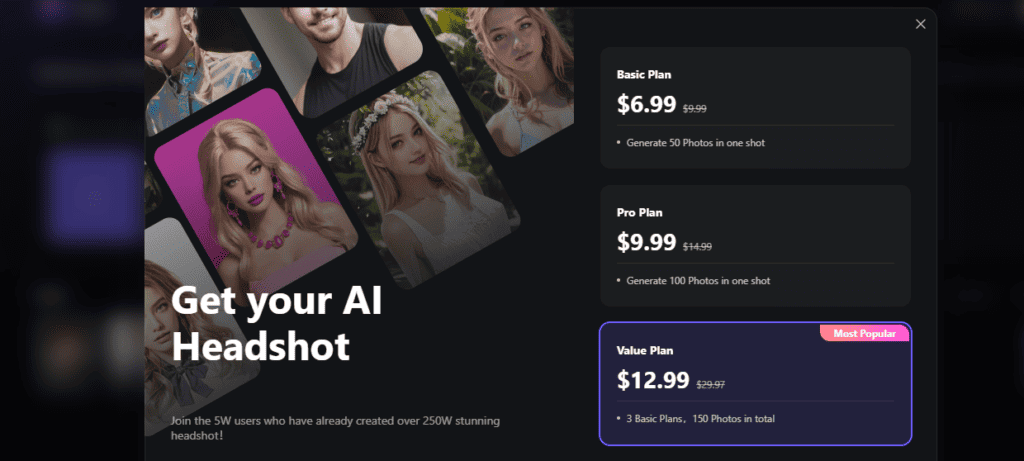 Basic: $6.99 (50 photos)
Pro: $9.99 (100 photos)
Value: $12.99 (150 photos)
5. TheDream.ai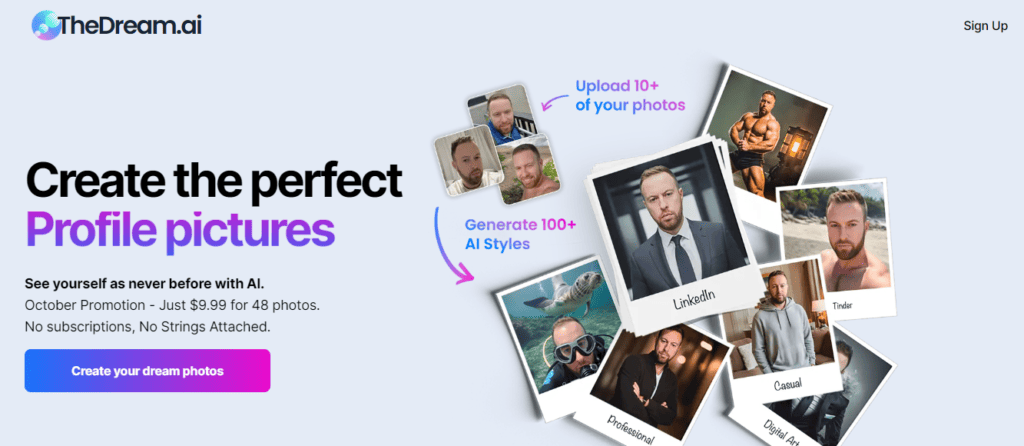 How would you like to teach artificial intelligence image generation models to produce profile pictures for any platform online? TheDream.ai does that for you.
This tool can create quality photos to use on social networks like LinkedIn, items like business cards, or even dating sites. It uses one of the latest text-to-image AI models known as Dreambooth technology.
All you have to do to train the AI is upload 10 or more singular portrait photos that show your face without any barriers like sunglasses. Since TheDream.ai is also privacy-focused, all uploads are erased in 24 hours and results remain private.
TheDream.ai Features
Generates up to 200 photo results
50+ portrait profile picture styles, including realistic, business, and artistic options
AI selfies
TheDream.ai Pricing
TheDream.ai offers 4K AI profile pictures in a couple of packages: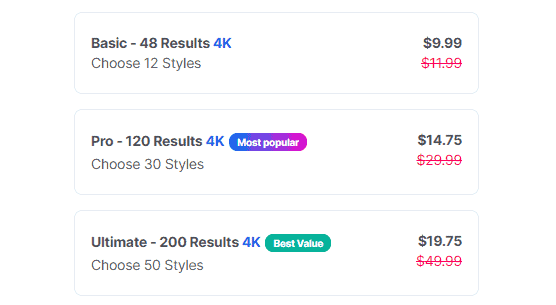 Basic: $9.99 (48 photos)
Pro: $14.75 (120 photos)
Ultimate: $19.75 (200 photos)
6. PFPMaker
This is yet another useful tool that you can use to create AI-generated profile photos. PFPMaker can provide you with a wide variety of styles and scenes for your images.
All you have to do is upload 10 or more of your images in various settings so that the AI can refer to them when generating the profile pictures. It takes up to 60 minutes for the AI to recreate an image of you.
I noticed that PFPMaker's profile picture maker's images don't match the quality of the likes of Photo AI. It's a generator that's more suited for casual use.
Still, it has a separate AI headshot background generator that can create AI images for professional networks like LinkedIn. It changes the backgrounds of your uploaded images to any color or style of your choice.
PFMaker Features
Up to 240 AI photos
30 styles
Creative and professional styles for profile photos
Picture background changer
Background remover
Laser eyes maker
PFPMaker Pricing
This tool has a free version. However, you can only generate different backgrounds for the image you upload as a free user. But if you want more creative and professional styles, you have to choose a paid package.
Creative package: Basic at $9 and Premium at $16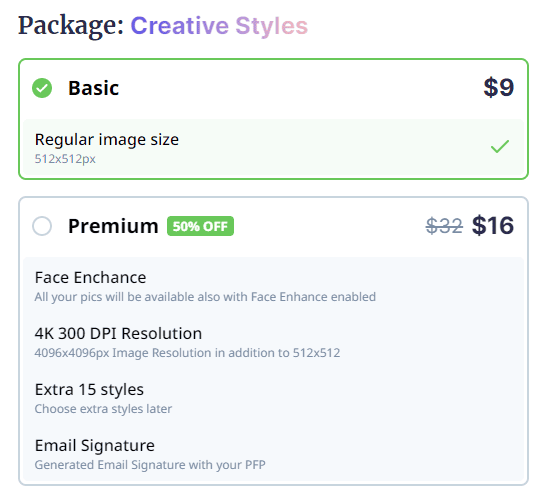 Professional package: Basic at $15 and Premium at $25
What Is an AI Profile Picture Generator?
An AI profile picture generator is a tool that uses artificial intelligence to create unique profile pictures for use on platforms like Facebook, Instagram, X (Twitter), and LinkedIn. These generators use a variety of algorithms and techniques to analyze the user's input, such as facial features, hair color, and skin tone, and then generate an image that matches the user's preferences.
The generated images can range from realistic portraits to abstract designs, depending on your desired style. AI profile picture generators have grown in popularity as they offer an easy and affordable way for individuals and businesses to create professional-looking profile photos without expensive equipment or professional photography skills.
Why Do You Need an AI Profile Picture Generator?
These tools carry various benefits, as highlighted below:
Professional image: An AI profile picture generator can help you create a polished and professional-looking image for your online profiles, whether it's for social media, professional networking, or personal branding.
Time-saving: Instead of spending time and resources on arranging a professional photo shoot or editing a photo yourself, an AI profile picture generator can quickly create a high-quality image for you.
Customization: These generators often offer a range of customization options, allowing you to tailor the generated image to your preferences, such as style, colors, and facial features.
Accessibility: AI profile photo generators are accessible to anyone with an Internet connection. It becomes easy for individuals who may not have access to professional photography services to create a quality profile picture.
Cost saving: These tools cost a fraction of the amount you would spend hiring a professional to take your photos. There are free versions too that remove the need to pay an editor to polish your images.
Tips for Using Profile Picture Generators
Follow these tips to have the best experience using an AI generator for profile pictures:
Select a profile picture maker with different image styles
Provide high-quality selfies or regular casual photos that clearly show your face
Make sure that your uploaded photos have good lighting
Submit selfies with different perspectives, clothing, and locations
Add as many images as you can to train the AI and get the best results
Conclusion
There are various AI apps that can help you create beautiful photos for your social profiles, website, and other platforms. These tools only take minutes to generate quality images with different styles.
You can choose from professional styles to more artistic, creative, and casual styles depending on your needs. You do all this while saving the time and money of going to a photographer or using an expensive photo editor.