10 Best Business Name Generators in 2023 (Free)
Looking for a unique and catchy name for your business? A business name generator can help you get name ideas for free.
Coming up with a great business name can be tough. You want something that is distinctive and memorable. You also need to make sure that it is available as a domain name and social media handle.
Lucky for you, there are a number of great business name generators out there that can help you come up with the best possible options. In this blog post, you'll discover the best business name generators available online. These tools are free to use, so don't hesitate to give them a try!
Read also: Best .ai Domain Registrars
What Is the Best Business Name Generator?
If you need unique business name ideas, use any of these business name generators.
1. Shopify Business Name Generator

Shopify is a popular e-commerce platform that also offers a business name generator. To use it, simply enter some keywords related to the business you want to start.
Shopify will then generate a list of potential names for you to choose from. When you click on a specific name, Shopify takes you to a page where you can create your store. This option suits you if you're looking to sell products online.
2. Oberlo Business Name Generator
Oberlo is an online marketplace that connects entrepreneurs with suppliers. It also offers a business name generator to help you come up with ideas for your store.
To use the Oberlo business name generator, simply enter a word you want to have in your business name. It all depends on the niche you're in.
Oberlo will then list some generated names that you can choose from. Clicking on a particular name takes you to Shopify, Oberlo's partner, to set up a store with the name.
3. Mike Stuzzi Business Name Generator

The Mike Stuzzi business name generator is another great option for you to pick a unique brand name instantly. This tool is available on the site and anyone can use it for free. You can get cute business names, feminine business names, or any other.
To start, you need to:
Go to the business name generator page
Type in a keyword in the search box
Click on the "Generate" button
Select any of the listed names
Buy an affordable domain name for your new business on Namecheap
You may find that some domain names are already taken. But you can always pick a different domain extension or go back and tweak your name a little.
4. Wix Business Name Generator

Wix is a software company that deals with web development. Wix's business name generator is great for coming up with company names within seconds.
All you need to do is enter a keyword or phrase relevant to your brand and choose the industry. Once the names have been generated, you can click on the one you like to get a free website for your business. Another option is to check domain availability and purchase one for your business.
5. TRUiC Business Name Generator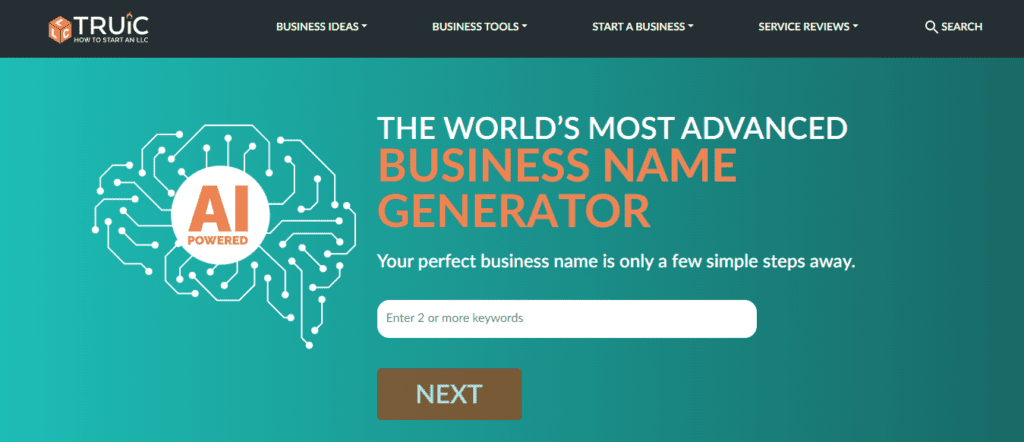 This is yet another of the best shop name generators to use. TRUiC How to start an LLC is a website that offers business ideas, business tools, and service reviews.
You can quickly name your business using their free tool for generating brand names. What you do is enter 2 or more keywords and click on the Next button. You need to enter your location on the next page.
After you generate the names, you'll see options to get the domain, create a logo, or start your business. You can pick what suits you and get your business up and running.
6. Business Name Generator

This site is entirely about giving you business name ideas. You can go to Businessnamegenerator.com to discover thousands of free names to choose from for your business.
The tool is free and you just need to enter a word to include in your brand's name. It can be fashion, fitness, tech, or anything else. You'll then see some great names with the option to purchase the available domains from GoDaddy.
7. BusinessNameZone Business Name Generator

BusinessNameZone (BNZ) uses advanced AI algorithms to craft creative and unique business name ideas based on your specific needs. Just input your keywords, and a brief venture description, and a host of unique names will be generated for you, all free.
BNZ uses the world's most advanced AI to generate name suggestions. The AI rigorously evaluates each proposed name against ten critical naming factors, delivering a comprehensive written assessment for each. This ensures that you get name ideas that are not only relevant but also score high on various crucial parameters.
8. Namelix

Namelix is another tool that's powered by AI to generate business names. You can easily get a short and brandable name to use for free.
When you get various name ideas, you can filter the results depending on the length, keywords, and domain extension you prefer. You're free to save names and come back to check them later.
9. Looka Business Name Generator
Looka is an AI-powered platform that you can use to design your brand. You can get an attractive logo to use for your business. With Looka's business name generator tool, you can also get name ideas if you feel stuck.
Looka gives you a chance to generate the names depending on the abstract idea eg. excellent and industry e.g. advertising. You'll be able to check the domain availability and see logos that align with your desired business name.
10. Novanym

Novanym is a company that helps users name their businesses. You can use Novanym's business name generator to get ideas and (.)com domain extension options.
Simply type a keyword in the box and select the business type and name style. Name styles can be traditional, corporate, or informal names, among others.
Bonus: NameSnack

This free name generator can help you uncover distinctive name ideas that are easy to remember. The NameSnack AI naming tool suits all types of businesses.
You can use it for an instant domain search to grab that website address before anyone else does. NameSnack's name styles include short names, creative names, startup names, and more. It's also possible to instantly create a beautiful logo that matches your new business name using NameSnack.
Want more online generators for business-related purposes? Check out: