7 Best ChatGPT Alternatives of 2023 (Free & Paid)
Thanks to AI chatbots like ChatGPT, you can now have human-like conversations with artificial intelligence. These chatbots are easily able to simulate how we interact with each other and offer personalized responses to our queries. ChatGPT, one of the most advanced AI chatbots, uses the recent GPT-4 technology and is trained on an enormous dataset of human language.
But it's not the only one out there! There are several other highly capable AI chatbots that come with similar abilities. They work in the same way, whereby you just input your command or question and get a carefully considered answer.
In this article, we're going to explore some of the best ChatGPT alternatives available online. It doesn't matter whether you need one for personal, educational, or business purposes. So, buckle up as we dive into the exciting world of AI chatbots!
What Is ChatGPT and How Does It Work?
ChatGPT, short for Chat-based Generative Pretrained Transformer, is an AI-based chatbot platform created by OpenAI. It was launched using the GPT-3 language model and is now available in a GPT-4 version.
This conversational AI tool is a result of exposure to large amounts of data. It then learned to generate responses based on patterns and structures observed in the text data.
ChatGPT has a few applications, including working as a chatbot, text generation, and translation. It can answer questions, apologize for mistakes, and is smart enough to reject processing inappropriate input.
Read also:
ChatGPT Pricing
ChatGPT is currently available for free and also has a subscription option.
ChatGPT Free: The regular version that is available to all users.
ChatGPT Plus: The paid version that costs $20 per month.
There are a few differences between the two that warrant the pricing. ChatGPT free is not available during high demand. ChatGPT Plus offers full-time access, faster responses, and priority access to new features.
Limitations of ChatGPT
At the moment, ChatGPT has a few limitations, as listed below:
Occasionally provides inaccurate information. The tool, while accurate in most cases, can fail to accurately process complex input. You can't fully rely on everything that ChatGPT says.
Limited to 2021. ChatGPT was fed with data up to 2021. This means that you may get outdated information or not be able to get its assistance when you need something more recent.
Can provide harmful content. ChatGPT has been designed to detect any inappropriate requests and not process them. Still, a user may be able to bypass this restriction depending on how they interact with the tool.
Cannot generate images. Generative artificial intelligence (or simply generative AI) allows for the generation of text, images, and even videos. However, ChatGPT cannot process requests for AI-generated images at the moment, unlike a few other AI chatbots that you'll find in the article.
Now, the above are some reasons you may be looking for an AI chatbot similar to ChatGPT, but without the listed limitations.
What are the Best AI ChatBots Like ChatGPT?
The best AI chatbot software like ChatGPT for you depends on a few things. You have to know that several AI chatbot software exist and some are suited for specific purposes than others.
I've categorized the types of free and paid AI-powered Chatbot software like ChatGPT as follows:
ChatGPT alternatives for writing
ChatGPT alternatives for research
ChatGPT Alternatives for personal use
Best AI ChatGPT Alternatives for Writing
These are the top ChatGPT alternatives that have a wide variety of uses in writing, such as crafting blog content, marketing copy, and literature pieces.
1. Jasper Chat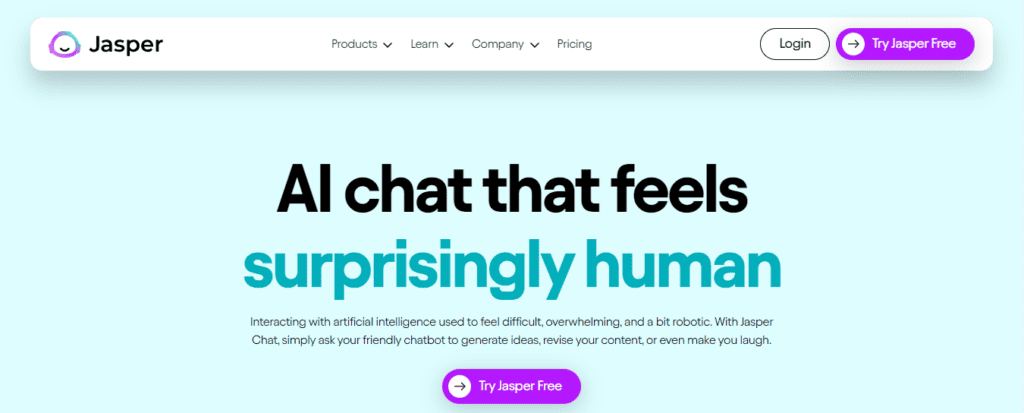 Jasper Chat is an AI chat assistant from Jasper AI, an AI-powered content creation platform. With Jasper AI, you can quickly write copy for your ads, social media posts, emails, products, and landing pages without a problem.
Jasper as an AI writing tool can help you come up with blog post ideas, outlines, and even paragraphs. What's more, besides the AI writer, users of Jasper can also access Jasper Art.
This is an art generation tool that uses AI. You can use it to create digital visuals like cartoons, anime, or paintings.
Jasper Chat makes your work easier and you won't have to switch between tabs or move from one Jasper template to another depending on what you need. You just instruct it what you need and get a result.
Here are a few prompts for Jasper Chat:
Jasper Chat's Top Features
AI text-based assistant: You can use Jasper Chat for all writing purposes. All you need to do is specify what you need.
Ability to continue with the dialogue: You can make Jasper Chat continue providing you with responses that follow up from the previous one. You just need to use words like "continue" and "more."
29+ supported languages: You can use Jasper to generate text in several different languages besides English. The chatbot responds in the language you ask using, whether French, Spanish, Portuguese or any other popular one.
Turn a chat into a document: If you were generating a piece of copy or other content, you can convert it into a document that opens in Jasper's editor. You just click on the little doc icon (named "open in document") at the bottom of the generated text. Here, you'll be able to tweak it as needed and make it ready for publishing.
Jasper Chat Pricing
To use Jasper Chat, you need a subscription to Jasper. The good thing is that there's a free Jasper trial where you get 7 days for free.
Jasper offers these plans:

Creator: $49/month
Teams: $125/month
Business: Comes with custom pricing
2. ChatSonic
Chatsonic is a powerful ChatGPT alternative from Writesonic, an AI writer for generating SEO-optimized and plagiarism-free text. Writesonic can write things like product descriptions, tweets, Google ads, LinkedIn posts, and blog articles.
ChatSonic uses GPT-4, which is the latest technology in generative AI. The AI chatbot prides itself on helping you overcome the limitations of ChatGPT.
Some of the things that ChatSonic focuses on are factual text generation and trending content. This means that you're able to get accurate outputs from the chatbot as well as the most recent information available to the public, no matter the topic. In other words, ChatSonic can be your go-to chat assistant for doing research, solving Math problems, getting relationship-related, financial, or wellness tips, and more.
ChatSonic's Top Features
AI art-generating ability: Besides text, ChatSonic can also create visually appealing artwork for your marketing campaigns or other uses.
Personality avatars: Did you know that you can switch ChatSonic to the Personality (use case) you need, such as Math Teacher, English Translator, Motivational Coach, and more?
Voice commands: ChatSonic is able to process voice commands besides written prompts. It can similarly respond to you just like Google Assistant.
Chrome extension: Use ChatSonic anywhere you are on the Internet using its browser extension for Chrome.
API access: Integrate ChatSonic and its abilities into your systems or apps.
ChatSonic Pricing
Because ChatSonic is a part of Writesonic, you'll need to be on a Writesonic plan to get started. You get 10,000 words and there's no credit required when starting out.
The plans are: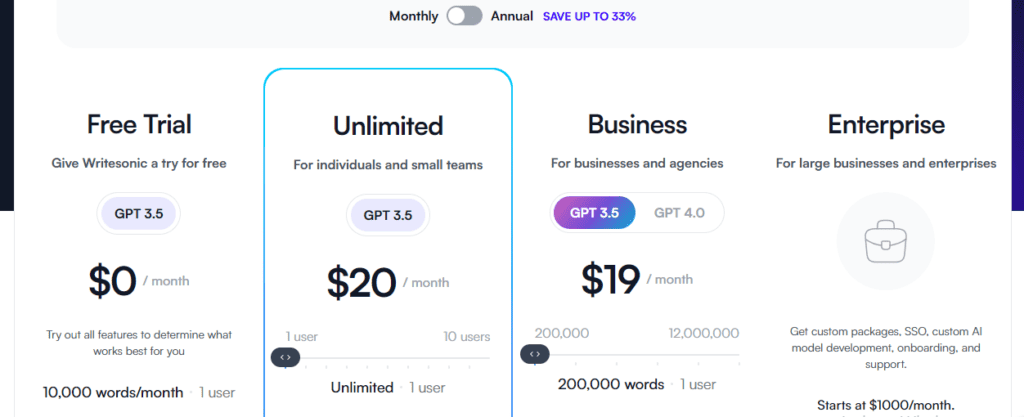 Free Trial: $0/month
Unlimited: Starts at $20/month
Business: Starts at $19/month
Enterprise: Custom packages starting at $1,000/month
3. Chat by Copy.ai
Copy.ai is another AI tool like Jasper that also offers a chat assistant. This chatbot can do most of the things that Copy.ai is designed to do.
And so, you don't have to switch between templates when you want to write social media posts, bios, product descriptions, or other texts.
Chat by Copy.ai Top Features
Readily available prompts: Create any content you need using these prompts
5+ Tones of voice: Generate content in casual, professional, and creative tones
29+ languages: A chance to write for any user worldwide
Chat by Copy.ai Pricing
You can use Copy.ai for free or get the Pro version.

Free: $0/month
Pro: $49/month
Enterprise: Custom pricing
Top ChatGPT Alternatives for Research
These tools can help you do your research, whether it's personal, academic, or professional.
4. Bing Chat

Microsoft partnered with OpenAI to introduce a few AI-based features to Bing. As you may know, Bing is a search engine owned by Microsoft that provides search results based on user queries just like Google.
And now, Microsoft Bing can deliver better results and even generate content for you. Bing Chat allows you to ask questions, either short or long, and it'll be able to gather answers for you. Being more precise helps the chatbot give you exactly the responses you need.
You can ask Bing to help plan your trip, write something, find you a nearby event, and more. It's good that Bing can give you up-to-date replies to your queries and cite the sources for you.
Bing Chat's Top Features
Allows you to ask actual questions: Previously, you would need to enter a search query and not be able to personalize it. Bing Chat enables you to ask complex questions that matter to you and you get a personalized and well-detailed reply.
Generates answers rather than options: The old Bing would offer you a list of websites so that you pick one depending on your preferences. Now, you can get a direct answer when you ask something.
Room for creativity: You can now get ideas, jokes, poems, motivational content, or other pieces of writing from Bing without having to browse deeper into the Web.
Bing Chat Pricing
Bing is free to use.
5. Bard

How about a ChatGPT alternative from Google? Unlike many other conversational AI services that use OpenAI's API, this particular one is powered by LaMDA.
Bard is a chatbot that you can collaborate with to gather new ideas and enhance your work productivity. Unlike many other ChatGPT alternatives that use OpenAI, this particular conversational AI service is powered by LaMDA.
The Bard personal assistant can do even more. Whether you need to write a novel or plan for a fishing trip, Bard will give you the information you need to get started. However, at the moment, it's in the experimental phase and isn't available in all countries but just selected ones like the US and UK.
Bard's Top Features
Complement your Google searches: The aim of Bard is to make your Google searches more fulfilling. You can even explore the information sources to learn more.
Simplify complex topics: Bard is a tool you can use to break down complicated subjects into more understandable points.
Variations: Depending on what you want crafted, Bard gives you multiple drafts so you choose the most fitting one for your needs.
Bard Pricing
You can enjoy Google's Bard for free.
ChatGPT Alternatives for Personal Use
These tools are best suited for serving as a personal assistant. They work just the way you'd use Alexa, Google Assistant, or Siri. Chat, use them for entertainment or advice, have fun, and more.
6. Replika

Replika calls itself the "AI companion who cares." This AI chatbot works not like the other ones I've listed in that it's there to listen and chat with you.
Rather than helping you in a professional way, Replika is designed to be your virtual friend. In other words, the platform is best suited for people in need of a buddy online but not an actual person.
You're able to customize how your Replika looks using a 3D avatar. The more you talk to your Replika, the better it will serve you.
Replika's Top Features
AI companion: A virtual entity to interact with privately and safely without getting judged.
Video chat: You can even call Replika and see its friendly face.
Coaching: Get advice on life, relationship, and even work matters.
Replica Pricing
Chatting with Replika is free.
7. Chai
Chai from Chai Research is an AI-powered chatting app. As a user, you get a chance to chat with chatbots from around the world and make virtual friends.
Chai is best for normal daily conversations. And so, you can engage with it when you're free and need to talk to someone "existing" artificially. It's available on Google Play and the App Store.
Chai's Top Features
Multiple chatbots: Chai isn't just one bot but a collection of several ones that you can choose from depending on what you need to talk about.
Swiping option: You can swipe to access the specific AI chatbot you need on Chai.
Bot-making: With Chai, you can even create your own bot for other users.
Chai Pricing
Chai has a free limited version and a premium one. Premium costs $13.99 per month.
Conclusion
As you can see, there are multiple ChatGPT alternatives that you can use for writing, doing research, or just having some fun with AI.
Free options allow you to access basic chat features. With a paid AI chatbot, you can access premium features and achieve more using it.
These platforms like ChatGPT are likely to advance in the future and be more capable of processing your requests. Be on the lookout and you may discover new ways to interact with your favorite ChatGPT alternative.