5 Best Digital Business Cards for Teams
The digital revolution has ushered in a new era of networking with innovative digital business card solutions. These digital alternatives to paper cards offer a convenient and eco-friendly way to exchange contact information. They also offer additional functionalities and customization options that their traditional counterparts lack.
For teams and professionals looking to optimize their networking efforts, choosing the right digital business card platform is crucial. You want an option that allows for seamless collaboration and sharing of generated lead contacts among members.
I did my research to bring you a list of the top digital business cards for teams. I'll list their features, pricing, and other details that can help you make your decision. Let's get started.
Disclaimer: Because the site is reader-supported, we may earn a commission if you use our affiliate links.
Best Overall: Wave Connect
Wave Connect is the ultimate solution for modern professionals seeking efficient and effective networking. Say goodbye to traditional paper business cards and embrace a smarter way to connect with Wave Connect's digital networking platform for teams.

➤ Read Full Review
➤ Visit Site

Why Choose a Digital Business Card App for Teams?
Digital business cards for teams offer numerous advantages that make them valuable assets for modern businesses. Below are some reasons why companies need to consider a virtual business card platform that supports team collaboration:
Centralized management: Digital business card platforms designed for teams allow for smooth collaboration and centralized management of all new contacts. Consistency is upheld as any updates or changes applied to particular contact details occur in one place. It becomes easier to organize leads, follow up, and import all data to a CRM system without any confusion.
Brand consistency: Digital business cards can be customized to align with the team's branding guidelines. This ensures a consistent and professional representation of the team's identity during networking. Customizable templates often include options for adding company or team logos, colors, and other brand elements to reinforce a cohesive visual identity.
Interactive and multimedia features: Clickable links to the company website and social media pages provides an opportunity to showcase the team's work, expertise, and achievements. What this does is leave a more memorable and engaging impression on recipients.
Analytics: With a virtual business card that offers team analytics, the team leader is able to measure the effectiveness of each team member's networking efforts.
What Is the Best Digital Business Card for Teams?
Below are my top picks for team digital business card apps.
1. Wave Connect
First on this guide to the best electronic business cards for teams is Wave Connect.
I found that Wave Connect allows you to build customized profiles for members of your team and save time that would be spent on individual data entry. The app makes it easy to collect contact information from potential customers, clients, or partners as a team and manage them all on a single platform.
Users can add all their basic information on the Wave Connect digital business card as well as secondary details like social profiles, links, and files. There's enough space to talk about yourself in the provided bio section of the card.
What's more, Wave Connect offers unlimited ways to share a virtual card. Besides sending it online or using a QR code, you can link your profile with an NFC product from Wave Connect itself. From there, all you do is tap the product onto someone's mobile device to give them your info and have them share theirs.
Features
Option to embed videos and other interactive elements that engage recipients
Supports custom forms that you can set up so that recipients can share other details besides primary contact information
NFC business cards and wristbands from Wave Connect make in-person networking a wholly new experience
Pricing
Wave Connect offers a free plan and paid one that unlocks extras.
Free: $0
Pro: $6.99/month (CAD)
2. Popl

Popl is a popular team digital business card app that offers a quick way to share business info with others. In fact, it's trusted by teams and professionals from big brands like Disney, The Home Depot, and Google.
Popl Teams allows you to manage each member's digital business card individually and in bulk. It's possible to view all generated leads, link clicks, card views, and other metrics. You can also add or remove members at any time of your choice.
When it comes to capturing leads, there's a special QR code called Popcode as well as Popl devices for that. These devices use NFC to enable information exchange when placed close to a smartphone, either Android or iPhone.
Features
Instant push notifications to let your team know how they're doing
Unlimited business card scanning that turns paper cards into digital contacts
A wide variety of Popl devices, including NFC-embedded plastic, metallic, and gold business cards, phone tags (attached to the back of your phone), and badges.
Numerous ways to share, including virtual backgrounds for Zoom
Switch between two digital business card modes, "lead capture" for collecting new contact details through a form and "direct" for directing the recipients to a specified URL
Automatic follow-up with new contacts whereby they get a custom message from you
Pricing
Popl has plans for teams and individuals too.
Free: $0/month
Pro: $7.99/month
Pro+: $14.99/month
Teams: Dynamic pricing
3. mTap

mTap is another app that allows teams to effectively network and prospect. It's a great platform for connecting with not only potential product or service buyers but also colleagues.
The good thing about this virtual business card app for teams is that it can also help you gain more friends or followers on your social media pages. It provides users with a prominent section for adding all profiles, whether it's Instagram, Twitter, or Apple Podcasts. Your recipients will easily locate the social networking app they would like to follow you on!
Also, there's more than one profile layout to choose from for your cards depending on your brand identity and color preferences. This platform offers numerous NFC products too.
Features
Multiple profiles, meaning you can have a digital business card for more than one field of work or occasion
Networking hub that allows you to add more contacts right on the app through business card scanning, manual input, or exporting them from your device
Offline QR code that makes it possible to share your card when there isn't an Internet connection
Pricing
There are 4 options:
Free: $0/month
Pro: $4.99/month
Business Lite: $3.99/member/month
Business Pro: $9.59/member/month
4. Mobilo Card

If you need another digital business card for teams specifically, Mobilo Card may interest you. This app, which has served over 25,000 small and big companies, prides itself on helping you get more leads at a lower cost. It works for the majority of departments, including marketing, data, security, sales, and HR.
Mobilo Card comes with an admin control panel to manage your team and cards from one place. You will be able to track key metrics and compare team data to better guide each member's networking efforts.
Features
Four modes: business card (displays your contact info and links), landing page (leads viewers to your personalized page), lead generation (collects and sends leads to your CRM), and link to any URL
Various NFC-based card options, including recyclable plastic, wood, and stainless steel metal
NFC key fobs for your keys and NFC smart buttons for the back of your phone
Fully customizable QR code with a shape of your liking (square or circle), brand colors, and logo
Pricing
Mobilo pricing depends on the product you select. There are separate prices for individuals. As for teams, below is the pricing:
Custom Designed Classic: $10 one-time
Custom Designed Wood: $20 on-time
Custom Designed Metal: $50 one-time
User License: $39/employee/year
5. Linq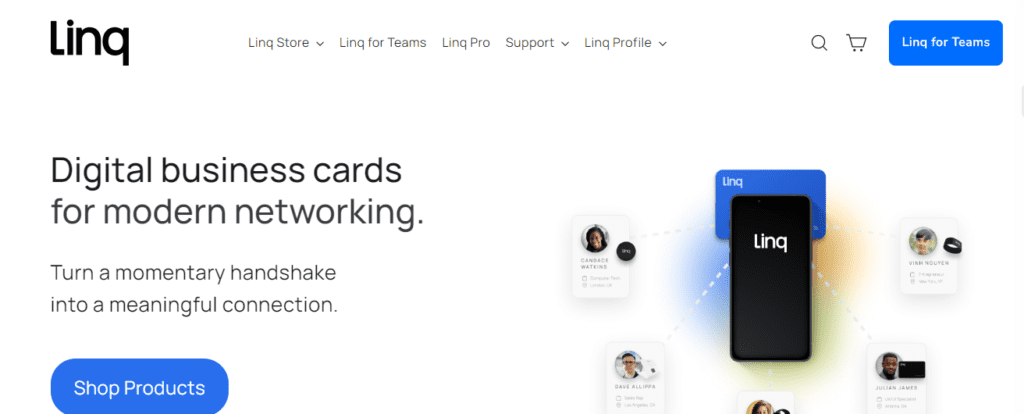 Linq for Teams is a version of the Linq app that allows small and large businesses to brand, collect leads, and analyze real-time data from networking. It can work for you no matter the industry you're in. whether recruiting, sales, or real estate.
It's also one of the easiest apps to use when it comes to onboarding new team members. You can quickly add their information in bulk and they automatically get an invite to join the platform.
Features
Ability to set up more than one profile in one account and attach products to them
Reminders for following up with new leads
Ability to remotely reprogram Linq products for team members
Pricing
Linq has 3 plans.
Free: $0/month
Pro: $6.99/month
Linq for Teams: (Custom pricing)
Conclusion
Teams can elevate their networking game by embracing the power of digital business cards. Adopting these innovative tools enables teams to streamline their contact management processes, ensure consistency in their branding, engage new contacts with interactive elements, reduce costs associated with traditional printing, and contribute to a sustainable networking approach.
Leveraging the best digital business cards for teams empowers professionals to make lasting impressions, forge meaningful connections, and enhance their networking strategies in today's business setting. With the right digital business card platform, teams can unlock new opportunities that lead to growth and long-term success.