How to Make a YouTube Intro: Ultimate 2023 Guide
Do you want to create a YouTube intro for your channel but don't know where to start? Or maybe you've tried and just can't seem to get it right.
Well, this guide will walk you through the process of creating a YouTube intro that is both creative and professional. It covers everything from finding the right software to using templates to create your intro. I'll provide also tips on the design, audio, and animation for creating your own intro.
So, whether you're a beginner or an experienced YouTuber, you'll find everything you need in this guide! Let's get started!
Why Is a YouTube Intro Important?
A YouTube intro, simply a short video at the beginning of the main video, is important because it helps to brand your channel and make it stand out from the rest. It also gives viewers a sense of what your channel is about and what they can expect to see.
A good intro will also help to set the tone for your videos and make them more engaging and entertaining.
Creating a YouTube intro may seem like a daunting task, but it's not that difficult. And, with a little practice, you'll be able to create an intro that is both creative and professional.
After all, it's mostly dragging and dropping different elements. Now let's take a look at how to make a YouTube intro step-by-step!
Step 1: Choosing the Right Software
The first step in creating your YouTube intro is to choose the right software. There are a variety of different options available, but not all of them are created equal.
For example, some software is better for beginners while others are more suited for experienced users. And, some software is better for creating simple intros while others allow you to create more complex animations, graphics, or AI art.
So, how do you know which software is right for you? Well, that depends on a few factors.
Read about the best YouTube intro creators here.
Your skill level
First, you have to consider your skill level. In case you're a beginner, you'll want to choose a software tool that is easy to use and comes with a lot of tutorials and chat or email support. On the other hand, if you're more experienced, you may want to choose a tool that allows you to create more complex graphics and animations.
Your budget
Second, you need to consider your budget. Some software is free while others can be quite expensive.
If you're just starting out on YouTube, it's a good strategy to use as little investment as possible and invest more later after seeing some results. You can as well invest in a high-quality tool if your budget is fine.
The features
Third, you should decide what features are most important to you. For example, some YouTube intro makers offer a wide range of templates while others even allow you to create your own graphics from scratch. Here are a few other features:
Fonts and color variations
Text animations
Stock footage
Royalty-free music
Cloud storage in online editors
Once you've considered all of these factors, you'll be able to narrow down your choices and choose the right intro-making software for your needs.
Step 2: Finding a Suitable Template
The next step is to find a template that you can use to create your intro. There are a few different places you can look for templates, including:
YouTube intro makers: This is the best option to start creating everything about your intro in one place. Many of the software tools like Canva, RenderForest, Invideo, and Filmora offer a wide range of templates that you can use to create your intro. Simply browse through a specific video editor's template library and choose the one that you like the most.
Envato Market: Envato Market is a great resource for finding all sorts of creative assets, including YouTube video intro templates. Simply create an account and browse through the template section to find something that suits your needs.
GraphicRiver: GraphicRiver is another option for finding intro templates for Youtube. Thousands of video template graphics that you can easily acquire are available on the platform.
Once you've found a template that you like, it's time to start customizing it to create your own unique intro!
Step 3: Adding Your Logo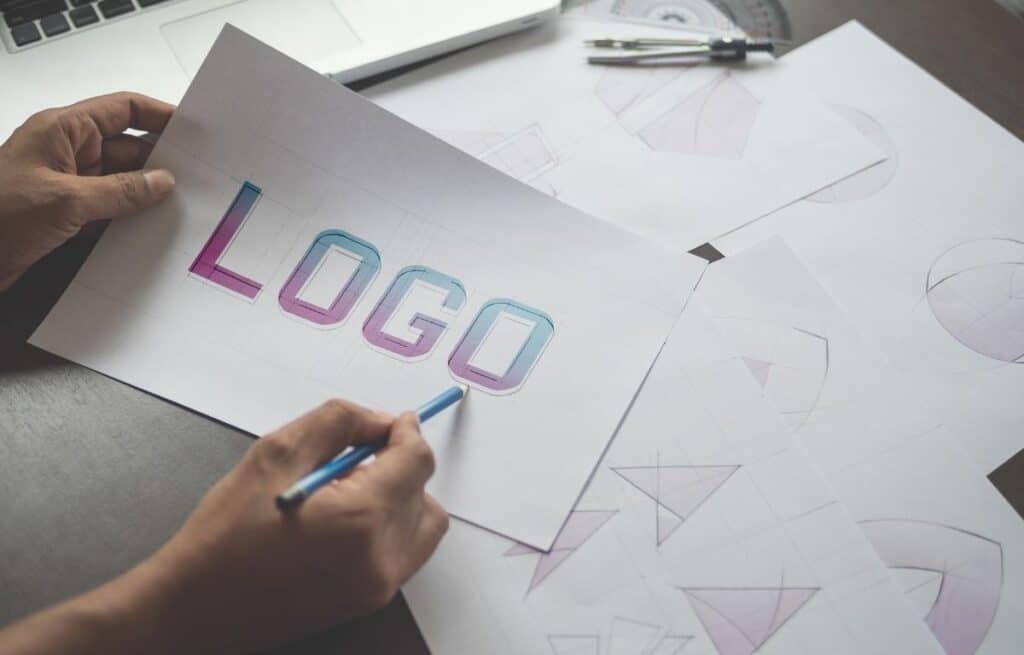 Adding your logo to the intro template is a crucial step to help viewers to identify your brand and remember your channel. It can either be your professional headshot (personal brand) or a company logo.
Most YouTube intro makers make it easy to add your logo by providing a space for you to upload it directly into the template. If you're not sure how to do this, simply check the software tool's user guide or the available video tutorials.
In some cases, you may need to add your logo to the intro video in a separate session on the same or even a different video editing tool. This is usually the case if you're using a video graphic that you got somewhere else and doesn't come from a particular YouTube intro maker.
Also, there are plenty of free video tutorials that can help you depending on the tool you use. A quick search on YouTube or Google will reveal all sorts of helpful video guides.
Step 4: Inserting Your Slogan or Tagline
After adding your logo, the next step is to insert your slogan or tagline if you have one. This is optional in most cases. But it can go hand-in-hand with your logo and help viewers to remember what your channel is all about.
Just like with your logo, most YouTube intro makers will provide a space for you to insert your slogan or tagline directly into the template. However, if you can't find a space for it, you may need to use another video editing tool to add it separately as you would with your logo.
Step 5: Including the Intro in Your Video
The final step is to have the YouTube intro on your video. Many YouTube intro makers make it easy to export your intro video by providing a download link. Back then, YouTube studio allowed users to add intros.
But now, what you do is add your customized intro to all your videos while editing them using your desired tool. This approach allows you to tweak your intro a little for each video.
How to Make Intro for YouTube on Some Popular Tools
Below, you'll find instructions on how to create YouTube video intros using tools like Canva.
How to Make a YouTube Intro on Canva

Canva is a powerful online graphic design tool with a variety of features. It has video editing capabilities like YouTube intro-making and more. The good thing is that you can use it to create a YouTube intro for free as a beginner.
Here's how:
Go to Canva: Visit Canva.com and search "YouTube Intro" to find a wide variety of templates you can use. You'll need to create an account if you don't have one.
Select a template: Decide on which template you'll use from the options that pop up. You're also free to create a blank template and do your thing from scratch.
Customize the intro: Play with the text and fonts as you like and discover more Canva features like images, stickers, graphics, and music.
Share: Preview your new intro and share it with the world. You can either download it or copy its link.
One of the best reasons to use Canva is that you can make a free intro for YouTube with no watermarks. However, the free version lacks some features. You'll need to upgrade to unlock premium templates, graphics, and music, among other content.
How to Make a YouTube Intro with Filmora
Filmora is another great video editor that can create professional-looking YouTube intros. Follow the steps below:
Download and install Filmora: Start by downloading the software on your computer from the official website. Install it, then launch it when you're done.
Add the background content: Go to the "media" tab to add a solid color, image, or video clip to your intro's background. While there's a media library on Filmora, a user can import their own media.
Include audio: Filmora has an audio library from which you can choose music and sound effects. You can select and listen to each audio file before deciding which one you like.
Put the text or logo: Add the name of your YouTube channel, your brand, or simply a logo.
Choose some effects: You can include video effects in your intro under the"effects tab.
Export: Finally when through with it, click on the "export" button and choose video format e.g. MP4.
It's worth noting that you can use Filmora freely and explore its various features. But you'll get a watermarked exported video.
Tips on Making YouTube Intros
Read the best practices on how to create a winning YouTube intro below.
Include the Essential Elements
Your YouTube intro talks a lot about your brand. That's why it needs to have some elements that speak about your channel.
They are as follows:
Logo: You need to include your channel's logo in the intro as it's important in building brand awareness and recognition.
YouTube channel name: Inserting the channel name is essential especially when your logo is just graphic and not text-based, i.e. not mentioning your brand.
Tagline: Some brands go well with taglines. While it's not a must-have, a tagline helps viewers understand what your channel is all about at a glance.
Color scheme: The colors you use in the intro affect how viewers perceive your brand. If you already have a brand color (like on your website), you can use it in the intro.
Audio: If you never thought about it, audio is even better for brand recognition among YouTube viewers. You could change your intro video clip but still use the same music and sound effects and people will recognize your brand.
Animate the Text
Text animation works like charm. And that's the reason why many YouTube intro creators have the feature. So, make use of it.
If you're a regular YouTube user, you may have noticed that many YouTube use animated texts. It can be utilized in the YouTube channel name, tagline, or other text such as "Subscribe." You can as well use the feature when naming hosts in your YouTube videos.
Be Stylish without Overdoing It
Lots of people, especially newer YouTubers, make the mistake of going too crazy with their YouTube intros. They deploy all sorts of graphics, colors, and animations, which in most cases turns out to be a mess.
Your intro should be stylish but not overdone. A good rule of thumb is to keep it simple and clean without compromising on quality. You want your YouTube intro to be professional and not appear as if it's a child that made it (no hard feelings!).
FAQs
Do you need a YouTube intro?
YouTube intros are optional. YouTube allows you to create a video the way you like as long as you don't go against any guidelines.
Having a YouTube intro is a great way to introduce yourself or your brand to viewers. Many people won't know about you while starting out, and you can connect with them through a properly-made YouTube intro. As for your fans, they'll be elevated in moods when they see that nice short clip and hear the music anytime they click on your videos.
How long is a YouTube intro?
Many experts suggest keeping your YouTube intro 3 to 10 seconds long. Something close to 5 seconds works well. Making it lengthy would bring boredom to people who really wanted to watch your video but sadly clicked away.
How do I make a Youtube intro with pictures and music?
You can make a high-quality YouTube intro with image graphics and audio using an intro maker. A good example is Canva. Many other tools will just work as well if not close.
What is the best free intro maker?
Canva is among the top free intro makers for YouTube without a watermark. However, you'll be limited when it comes to features.
You can also use Filmora, a tool that gives you access to numerous templates and graphics but comes with a watermark on your videos.
Conclusion
You now know how to make a YouTube intro and the best practices for creating one. So, what are you waiting for? Go ahead and create an amazing intro for your YouTube channel.
And if you need help, don't hesitate to inquire in the comments. I'll gladly help where possible!