Motion (Usemotion) Review: AI App to Manage Tasks & Meetings
Do you have a lot of things to do and not enough time? Are you struggling to keep track of your tasks and meetings? If so, you need to check out Motion.
Motion is an intelligent app that allows you to manage all your tasks and meetings in one place. It is really easy to use and can help you become more organized and productive.
In this motion review, we'll discuss how Motion works, the pros and cons of using this app, and help you decide whether or not it can help you be more productive in your business.
Disclaimer: Because the site is reader supported, we may earn a commission if you use our affiliate links.
Motion Overview
Let's see what Motion is, how it works, and who it's best for.
What Is Motion?
Motion (or Usemotion) is a tool that uses artificial intelligence (AI) to plan your day for you. The software can take care of your daily tasks, meetings, and projects. If you've ever wanted to automate planning, this may be the app you need.
Motion is trusted by top tech and media companies such as Airbnb, Spotify, and Forbes. At the moment, over 20,000 people use Motion to automatically organize their schedules.
Read also: Best Task Management Software for Teams
How Does Motion Work?
Motion allows you to manage various aspects of your day in one place. It uses an intelligent algorithm to do this.
To start, you simply need to create a Motion account. Currently, there's a 7-day free trial for new users.
Setting up Motion isn't difficult and here are the steps:
Choose whether you'll use motion as an individual or team
Connect all your calendars on Motion
Select your work hours
Invite team members if any
Complete onboarding tasks
Once you're done with the steps, the Motion set-up will be complete.
Who is Motion Best for?
Motion can suit individuals well as teams. Here are a few professions where the software comes in handy:
Business owners
C-suite executives like CEOs, CFOs, COOs, and CMOs
Freelancers such as writers, web designers, and graphic designers
Marketing teams
In other words, Motion can work for you if you have a busy daily schedule and need to ease yourself a little.
Motion Features
We'll explore what features Motion has below.
Intelligent Calendar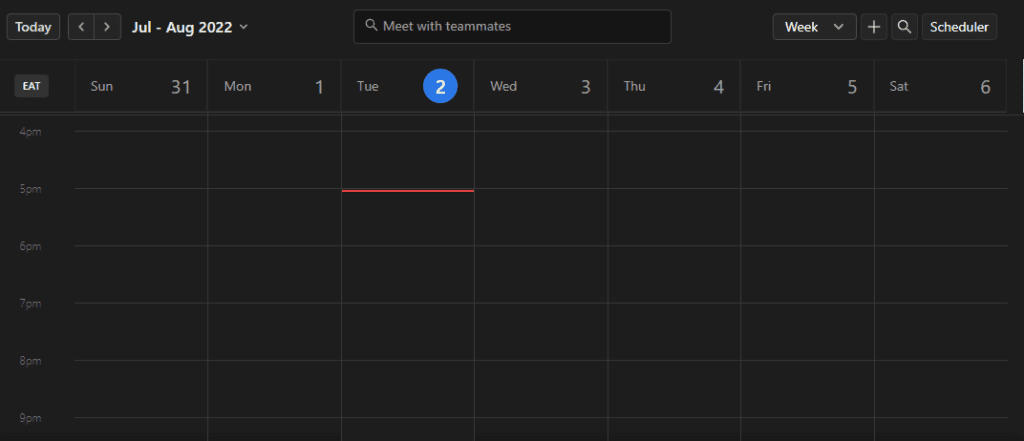 The primary feature of Motion is the ability to automate your schedule. The software looks at all your upcoming tasks, meetings, and projects. It then creates a daily plan for you. All you need to do is follow the plan and check off items as you complete them.
This can be a big timesaver if you have a lot on your plate. You can also use the calendar to reschedule or cancel items.
If you need to make changes to the schedule like in the case of emergencies, you can do so easily. Motion will automatically adjust the rest of your day accordingly. Motion allows you to see your team's calendar and know the things they need to do and when.
Project and Task Manager

Motion also has features for managing projects and tasks. This includes creating and assigning tasks to people in your team, chatting with them, and tracking the progress.
When you add a task, you can set the starting date, deadline, and even subtasks. You can also add files, notes, and links to tasks. This makes it easy to collaborate with team members on projects.
Meeting Scheduler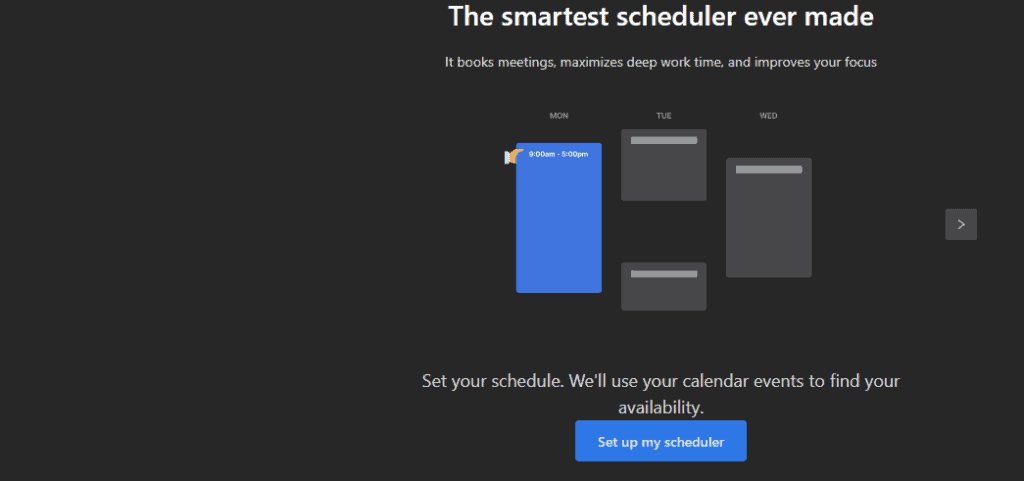 The meeting scheduler feature serves as a virtual personal assistant. It allows you to book meetings effortlessly and get more time to focus.
Motion makes it easy to create a booking link and share it with your guests. You just need to show up.
This feature also allows you to make meeting templates. These are the ones you'll use for the meetings that you host from time to time.
Motion Apps
Besides the web app, Motion offers you ways to use it on other devices.
Motion Mobile App
You can use the Motion task manager app on your phone, whether on an Android or iOS device.
The app lets you view your calendar, schedule meetings, add tasks, and more. You can also receive notifications about upcoming events and deadlines.
Motion Chrome Extension

There's a browser extension for Motion on the Chrome web store. You're free to download it for use on your computer. This way, you can access Motion's features while browsing and enhance the experience.
Motion Pricing
Let's move on to how much it costs to use Motion.
Motion Free Trial
Motion has a 7-day free trial for anyone that joins the platform as a new member. You can take advantage of this to learn how Motion works. Experiment with the features and see how it goes for you.
Money-Back Guarantee
There's a 30-day money-back guarantee on Motion. This means you can cancel your Motion membership anytime during this period without any worries.
Motion Plans
Motion has two plans, the Individual and Team options.

Individual
$34/month (billed monthly) and $19/month (billed yearly)
Task management
Project management
Automated scheduling and planning with A.I.
Calendar syncing
Calendar management
Meeting booking pages
Meeting booking templates
1-click email assistant
Mobile app
Web app
Browser extension
Dedicated customer support
Team
$25/month/user (billed monthly) and $15/month/user (billed yearly)
Everything in Individual
Collaborate on projects and tasks with your entire team
Automated planning and prioritization of tasks for each team member
Central billing
25% discount per member
Motion Pros and Cons
Here's what I like and what I dislike about Motion.
What I Like
Free trial
Affordable plans
Automated scheduling
Easy project and task management
Effective collaboration capabilities
What I Don't Like
The mobile version needs work
Few integrations with other tools
Motion Review (Verdict)
Motion is a great task manager and calendar app that uses artificial intelligence. You can easily manage your tasks and meetings and significantly reduce your stress levels. It's affordable, easy to use, and has features that can help you boost your productivity.
The free trial is also a nice touch. You're free to use it to explore the platform and see if Motion is the right software for organizing your daily activities.