Popl Business Card App Review (2023)
Popl business cards are not your average cards. They are not just pieces of paper with your name and contact information printed on them. These business cards are the epitome of innovation in the new age of networking and brand marketing.
Gone are the days of carrying around a stack of paper business cards that often end up lost or forgotten. The modern solution, digital business cards, allows for the contactless sharing of information and offers more convenience.
In this Popl business card review, we're going to delve into details about its offerings, the features it carries, and how it can benefit professionals across various industries.
Disclaimer: Because the site is reader-supported, we may earn a commission if you use our affiliate links.
Popl Overview
Let's look at more details about Popl and its business card solutions.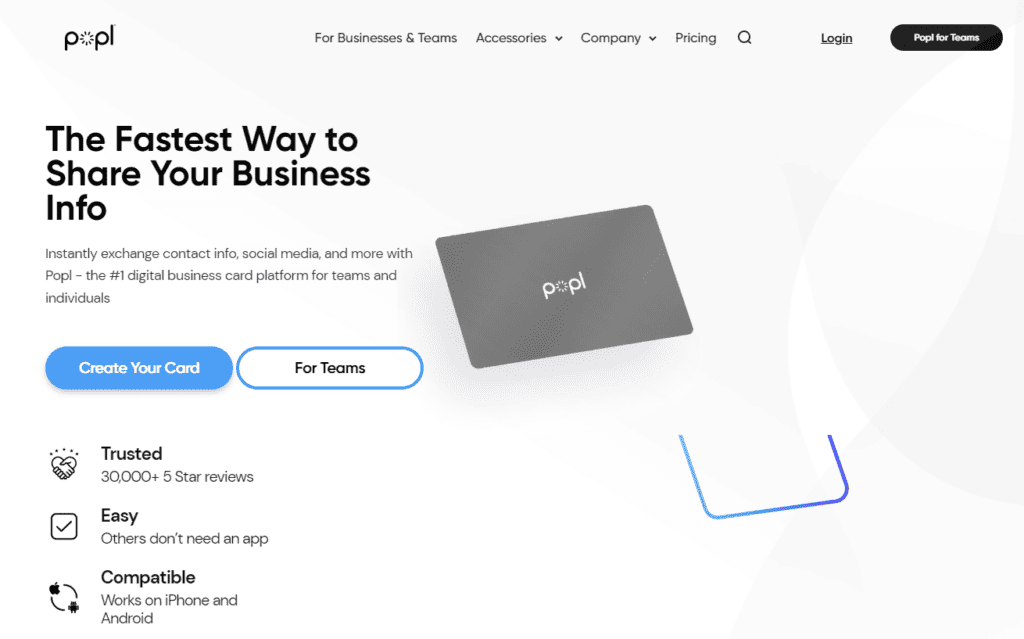 What Is Popl?
Popl is a technology company that creates digital business cards for professionals. Millions of professionals and teams, including Uber, SalesForce, and Tesla, use the Popl app. On Trustpilot, Popl has a rating of 4.5 and over 800 reviews.
Instead of carrying around physical business cards that can easily get lost or thrown away, Popl allows you to create a personalized digital business card that can be easily shared with others. With a Popl digital business card, you can include all your important contact information, social media profiles, and even a personalized message. Popl provides a more modern and eco-friendly way to network and make a lasting impression on potential clients, partners, or investors.
Even though Popl's flagship product is the Popl NFC business card, there are more products for its users. Popl also offers a range of Popl accessories, including Popl phone tags, Popl wristbands, and Popl keychains.
How Do Popl Digital Business Cards Work?
Popl business cards work by utilizing QR codes as well as near-field communication (NFC) technology. When you want to share your Popl digital business card profile with another person, you simply tap your Popl NFC-enabled card or Popl accessory (such as a Popl case or keychain) on the other person's phone. This action will trigger the NFC technology and allow the two devices to exchange information.
The Popl digital business card contains all the relevant contact information and social media profiles that you need to share, as well as any customized messages or call-to-action buttons. When the Popl digital business card is shared, the recipient's phone automatically detects the information and displays it in a user-friendly format.
Popl business cards are compatible with most modern smartphones and don't require any additional apps or software to be installed. The recipient simply needs to have NFC enabled on their phone in order to receive your information.
Check this Popl video explaining what it is and how it works:
Who Is Popl Digital Business Card Good for?
Popl digital business cards are a great tool for anyone who wants to network and make professional connections. They can be especially useful for those who attend business-related events like conferences, trade shows, meetings, or anywhere else with abundant networking opportunities.
That being said, Popl digital business cards are beneficial to professionals like:
Entrepreneurs
Marketers
Realtors
Salespeople
Freelancers
Consultants
Small business owners
In other words, these cards suit anyone who wants to create a strong brand image and make a memorable first impression on potential clients, partners, or investors. Also, Popl cards are for you if you value sustainability and need to reduce your carbon footprint by using eco-friendly alternatives to traditional paper business cards.
Popl Digital Business Card Features
So, what features does a Popl business card have?
1. Card Templates
The Popl platform comes with a wide range of highly customizable templates for their digital business cards, simplifying the process of creating a personalized look that speaks your brand language. These templates include various designs, colors, and layouts, and allow you to come up with a professional and eye-catching digital business card that stands out from the crowd.
You're able to easily customize a card design with relevant contact information, social media profiles, and other important details. Also, images and logos can be added to Popl card templates, allowing you to showcase your brand identity. It's possible to choose from various design elements, such as background patterns and textures.
All this happens in just a few clicks. You can preview the card before finalizing its design to ensure that it meets your expectations.
2. Multiple Sharing Options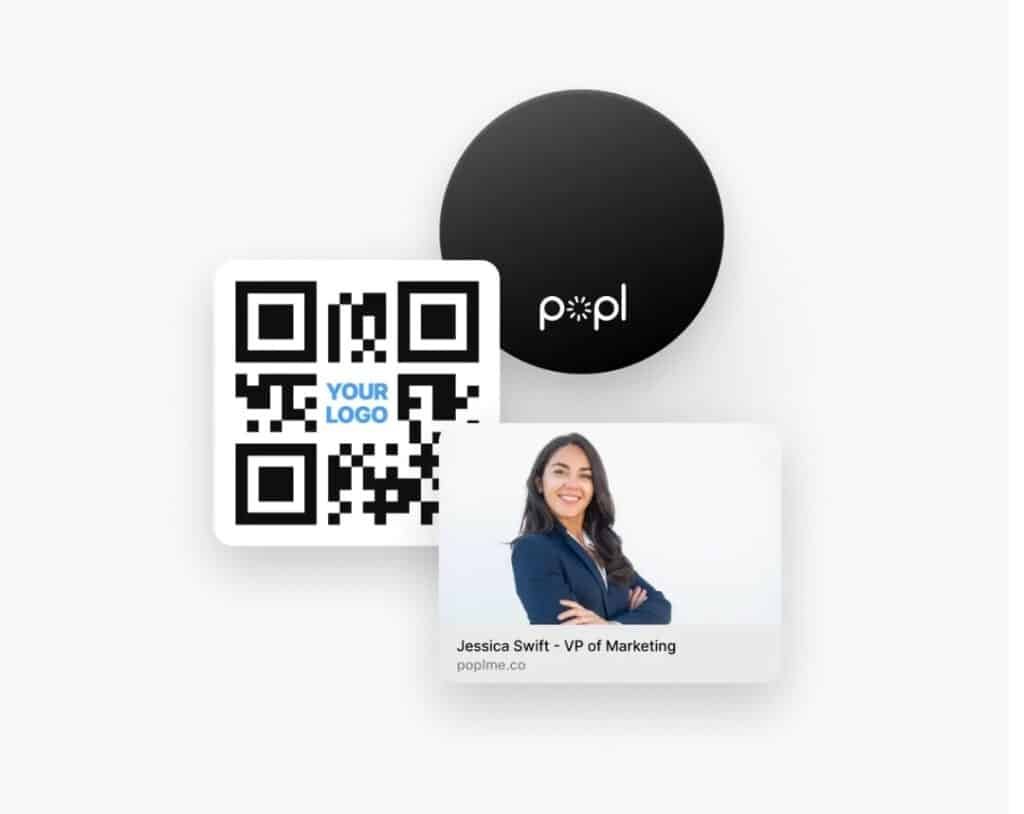 One of the biggest advantages of Popl business cards is that you can share them in more than one way. If you were to use the traditional paper card, all you could do is hand it over to the recipient. This way, they would later use it to manually save your contact details.
With Popl, there are three ways to share whatever you need using your virtual card. These are tapping, scanning, or sending.
Tapping is where you tap a Popl product on a compatible Android or iPhone device. Scanning is done by means of an advanced QR code (called PopCode). The last option is to send your profile via text, email, Airdrop, or even using backgrounds of online meeting platforms like Zoom.
3. Integration with Your Favorite Tools
Popl offers over 5,000 integrations with various CRMs, HR tools, social networks, and communication platforms. This makes it easy for you to share your info across multiple channels. These integrations include popular platforms like Zapier, Outlook, Microsoft Teams, Salesforce, and HubSpot.
With so many integrations available, Popl users can easily connect with others on their preferred platforms and stay in touch through their preferred communication channels. This helps to streamline the networking process and makes it easy for professionals to connect with others wherever they are.
4. Team and Device Management
Popl is also a great platform for team business cards, meaning you can easily create a card for every member. The team management capabilities allow an administrator to create and manage teams within the Popl app.
This gives them greater control over their organization's communication and collaboration tools. This way, teams can collaborate more effectively, whether they're in the same office or working remotely.
Also, with Popl's device management, the administrating user can overlook the available devices and users that access them. This helps monitor individual performance.
5. Insights
Popl's insights is a powerful feature that provides you with valuable data on how your digital business cards have been used. This feature tracks key metrics such as generated leads, link taps, card views, and downloaded contacts. The result is that you gain a good understanding of the effectiveness of your networking and marketing efforts.
Leads are the number of people who have requested to exchange contacts with you. Link taps are the number of times users have clicked on a link within your digital cards, such as a link to their website or social media profile. Card views are the number of times a profile has been viewed, while downloaded contacts are the number of times you or your team's contacts have been downloaded onto someone's mobile device.
You can also view your most-viewed team members, top-tapped links, and the most active of your Popl devices. All these reports can give you an idea of how you're performing and areas where you or other team members can improve.
Popl Digital Business Card Example
I'll share my own quick business card that I made using Popl.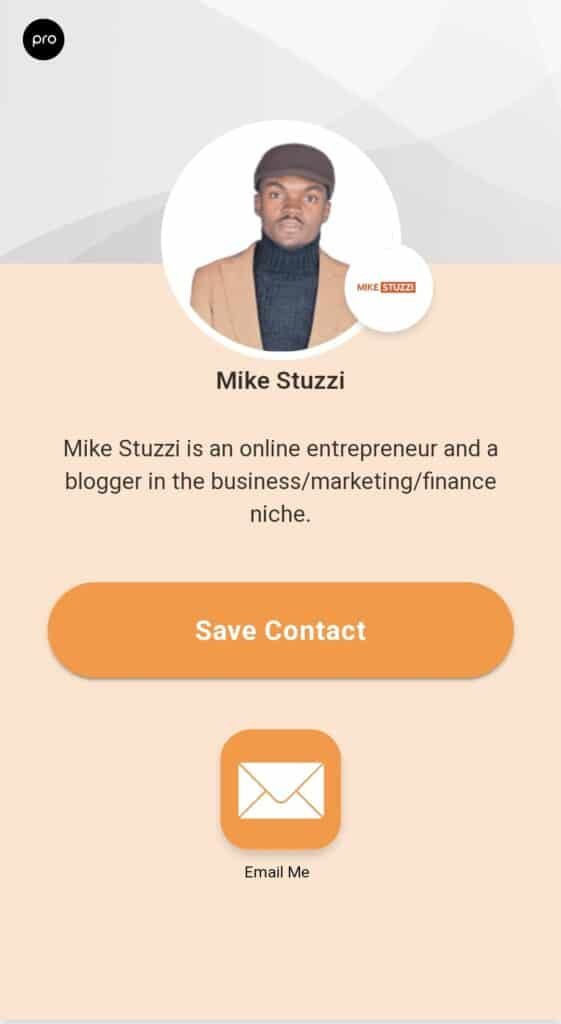 When a user accesses this digital business card and chooses to "Save Contact," they'll be prompted to share their own details. Check below: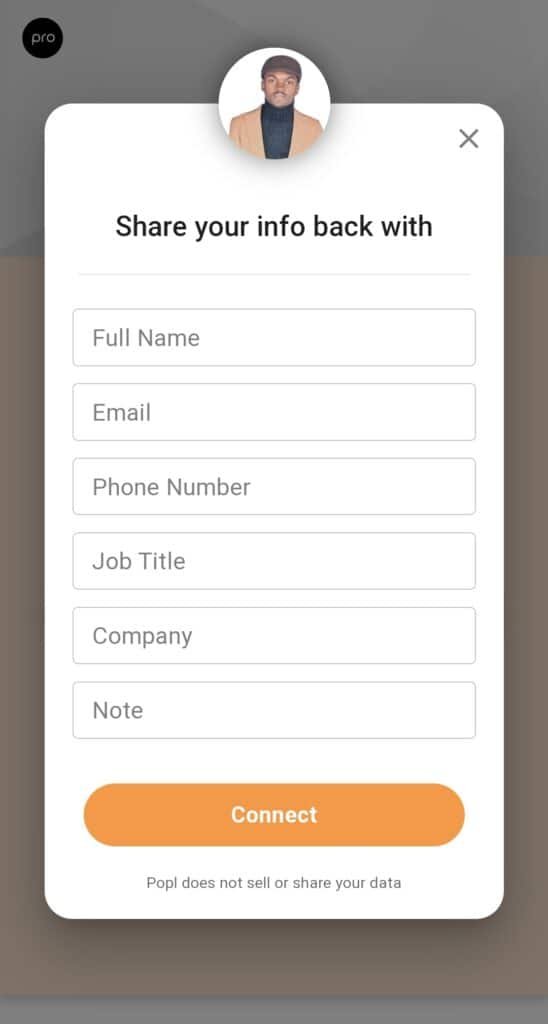 The app then notifies me about the new connection with the person. From there, I can start a conversation with them, depending on the context.
Now, while I only added an email link, you can add a lot more:

Contact: Text, Call, FaceTime, WhatsApp
Social media: LinkedIn, Instagram, Snapchat, TikTok
Music media: Spotify, Apple Music, SoundCloud
Payment: Cashapp, Venmo, PayPal
Website, custom links, files, and more
Popl Products
Now, it's time to check out what Popl has to offer besides its unique digital business card solution.
Popl Cards
These are the widely known options made using PVC. Popl cards are also more affordable than the other types of cards that Popl offers.
Although they're PVC, they still are durable. They also come in various colors, including black, white, prism (an unusually interesting color), silver, and gold. Their price is only $4.99 for the regular card and $29.99 for the custom option with your own branding.
Popl Metal Cards
Popl metal cards are a high-end and luxurious option for professionals who want to make a strong and memorable impression. They come in two options at the moment: premium black stainless steel (that costs $44.99) and 24K gold. These high-quality metal cards are durable and can withstand wear and tear, making them a long-lasting and practical option for professionals.
Also, you can choose to have your own customized Popl metal card (at $79.99) for a unique and personalized look. The custom metal cards can be engraved with your name, logo, or other personalized messaging to add a touch of professionalism and sophistication. All you need to do is upload your logo, in a single color, on a transparent background.
Popl PhoneCard
Popl PhoneCards are small adhesive-backed tags that can be attached to the back of a smartphone or phone case. Once a Popl phone tag is attached to your device, you can customize it with their relevant contact information and social media profiles through the Popl mobile app. Then, when someone wants to get your contact information, they simply tap their phone to the Popl phone tag so the NFC technology can instantly share the needed information.
Popl Wristbands
Popl wristbands are a fun and stylish way for professionals to share their contact information, social media profiles, and links with others. These wristbands are made from high-quality soft silicone material, making them comfortable to wear and durable enough to withstand daily use.
What's more, they're easy to adjust for any wrist size and are also waterproof. Popl wristbands come in black and white colors.
Other Mentionable Popl Products
Popl badges: These are wearable polyvinyl devices with built-in Popl technology and a dynamic PopCode for sharing. You can customize them with your name, logo, and title.
Popl keychain: If you need keys, a purse, or a backpack that can share your details instantly, then these keychain is the way to go.
Popl stickers: The stickers contain a PopCode and are both tappable and scannable. They're individually activated and can link to different URLs.
Popl also has bundles where you can get several Popl devices as one, such as card packs, a phone card with a metal card and a wristband, and so on. Remember, each Popl product has its own price and is listed on the Popl website under the "Products" section.
Activating Your Popl Product
When you order a product, all you need to do is activate it on your profile once it arrives at your doorstep. Again, the activation process is simple:
Scan the QR code on your product
Click on the link that appears
Get redirected to the Popl profile creation page
If you had set up a profile before, it's possible to activate any new Popl product from your account. You can then use your product by just tapping it on a recipient's phone while you network and exchange details.
Popl Pricing
Popl has plans both for individuals and teams. It also has a free version.
Is Popl Free?
Popl has a free plan as well as upgrades available for users that need more. The free version has limits but suits anyone just starting out or someone that needs to test the platform first before committing to a paid plan.
How Much Does Popl Cost?
Popl's plans are listed below along with their unique features:

Popl Free ($0/month)
1 digital business card
Basic customizable profiles and QR codes
Basic Popl device management
Basic lead collection
Popl Pro ($7.99/month)
3 digital business cards
Advanced customizable profiles and QR codes
Basic Popl device management
Basic lead collection
CRM integrations
Popl Pro+ ($14.99/month)
Unlimited digital business cards
Advanced customizable profiles and QR codes
Advanced Popl device management
Advanced lead collection
CRM integrations
Popl Teams (Dynamic pricing)
This plan has everything that Popl Pro+ has. Unlike Pro and Pro+ with a 14-day trial period, Popl Teams comes with a free trial of 30 days. Also, your team members get free Popl products each if you go with the plan.
Popl Pros and Cons
Here's what I like and dislike about Popl.
What I Like
Dynamic virtual business cards for any industry
Different modes of sharing your Popl cards
The availability of Popl products that take your networking game to the next level
The free Popl version
What I Don't Like
At the moment, my concern is the limited number of digital business cards in the free (1) and Pro (3) plans. As for other users on review sites like Trustpilot, some of the concerns revolve around Popl devices. They include getting the wrong colors and sluggish customer support.
Popl Business Card App FAQs
How to use Popl for business?
Using Popl for business is easy and straightforward. Here are the steps to get started:
Download and install the Popl app: The first step is to download the POPl app on your smartphone from the app store. The app is available for both iOS and Android devices.
Create a Popl business card: Once you have installed the app, create a Popl business card by filling in your details such as your name, company name, job title, email, phone number, social media profiles, and any other relevant information.
Customize your business card: Popl allows you to customize your business card with different colors, logos, and backgrounds to make it look more professional and engaging.
Get a Popl product: A Popl product such as a metal card, keychain, or sticker can help you share your details instantly at events.
Share your business card information: When networking, share your Popl business card with others using the in-app QR code or by using one of Popl's products or devices (you can easily link a product you bought to your profile on the app). This is how you collect new leads easily and do more business!
Is Popl safe?
Yes, Popl takes security and privacy very seriously and has implemented several measures to ensure the safety of its users' data. Popl uses SSL encryption to secure all data transmissions between users and the app's servers. All data is encrypted and protected from unauthorized access.
The app also complies with SOC 2 and GDPR (General Data Protection Regulation). Simply put, Popl does not sell your data.
Does Popl require an app?
No, the person you're sharing your details with doesn't need the Popl app. They also won't require a Popl product of their own all because your profile will appear on their browser. But you yourself will need the app to create and monitor your digital business cards.
Popl Business Card Review: Verdict
Having a professional and engaging business card can make all the difference when it comes to impressing prospective clients and business partners. Popl's digital business card management tool offers a modern and effective solution for professionals looking to simplify how they network and market themselves.
With Popl's customizable digital cards, you get a chance to create a personalized and visually appealing representation of yourself and your business. And with Popl's insights, you can gain valuable insights into how well your cards are working.
I recommend Popl for both individuals and teams that need to go paperless in terms of business cards. Hope this comprehensive Popl business card review helped you get a better understanding of the platform and what it has to offer.
Feel free to check out some of the few Popl business card alternatives that stand out too!