The Best Affiliate Marketing Courses for Beginners (2023)
Affiliate marketing has become one of the most powerful and lucrative ways for individuals to earn passive income online. If you're a beginner looking for an affiliate marketing course, the good news is that numerous options exist online.
As a newcomer in the field, accessing free affiliate marketing tips and resources is possible. But if you need comprehensive, reliable, and up-to-date guidance, joining a course would be helpful.
Both free and paid affiliate marketing courses are available online. The thing about investing in a course is that you get valuable insights, one-on-one strategies, and done-for-you resources plus tools. In other words, you get a chance to kickstart your journey on the right foot.
This article explores some of the best affiliate marketing courses tailored for beginners. All of them have been tried, tested, and proven to help willing learners succeed in affiliate marketing.
What Is the Best Affiliate Marketing Course?
Below are my picks for the top online courses on affiliate marketing.
1. Blog Growth Engine – Adam Enfroy

You probably already know that blogging is among the best ways to promote other people's products and services as an affiliate marketer. True to say, you can do affiliate marketing without a site through other channels like social media as an influencer or YouTuber. Blogging still stands out and Blog Growth Engine is an online course that teaches you the exact same thing.
Adam Enfroy, the course creator, is a successful blogger who managed to turn a new blog into a profitable 7-figure business. It took him less than 2 years. He's been featured in several top publications, including Forbes, for his quick blogging success.
His course covers everything from how to start a blog to ways by which you can monetize it. The fact that this course covers everything blogging means that it would be easier for you to know how exactly to start and not just a bunch of affiliate marketing tips with nowhere to implement them. Over 2,500 people have enrolled in the course up to now.
What's in the Course?
Choosing your niche: You'll learn how to select a profitable broad niche for your blog and ways to ensure you aren't too niche-specific.
Doing keyword research: This is how you discover how keywords work with insights into aspects like search intent.
Blog content creation: Learn how to treat your blog like a business, ways to minimize your risks using the concept of lean startup, the only types of posts you need to write, and more.
Link building: Here, you discover how you can build your site's authority. It's how you can rank on page 1 of search results for profitable keywords and gain more traffic.
Affiliate marketing: Details on how to find the best affiliate programs, ways to track your earnings, and how to boost your affiliate income, among other in-depth insights.
Additional blog income streams: You also gain ideas on the best ways to make money with a new blog without a lot of authority, like service selling.
Outsourcing: Become the affiliate marketer and blogger that doesn't do most of the work. This course teaches you how to hunt for the best talent without spending an arm and a leg.
Course Format
Blog Growth Engine by Adam Enfroy is mostly in video format. Adam himself delivers the content along with his partner, Colin Shipp. You also get downloadable items like templates.
As a learner, you can access one-on-one coaching as well for personalized advice and recommendations. What's more, there's a Slack workspace where Blog Growth Engine students and admins can interact and collaborate.
Price
While Blog Growth Engine's retail price is $3,997, the course is currently available at $1,497.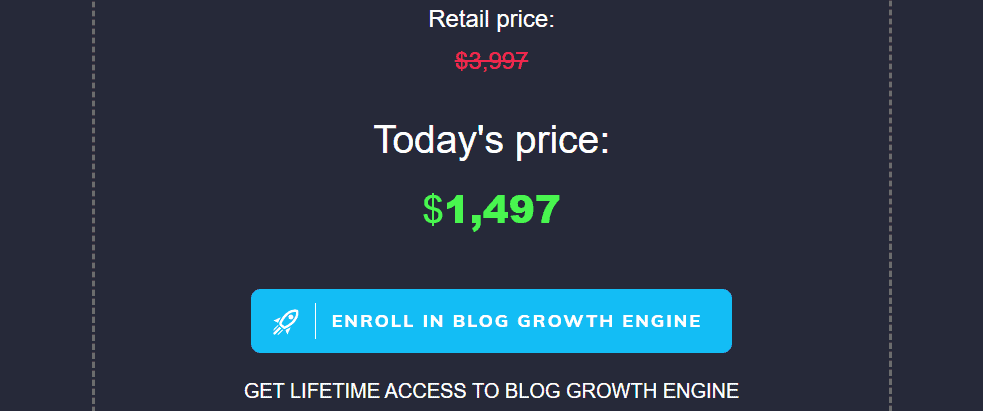 My Take
Truth be said, this course is quite expensive when compared to others you may find. But Blog Growth Engine is for anyone who is serious about making money from an affiliate marketing website or blog and is willing to invest more than they usually would. I would recommend it to you if what you need is an A to Z guide on blogging for profit and would like extras such as coaching sessions from actual successful bloggers.
2. Making Sense of Affiliate Marketing – Michelle Schroeder-Gardner

Making Sense of Affiliate Marketing is a popular online course created by Michelle Schroeder-Gardner, the founder of the blog "Making Sense of Cents." This comprehensive course is designed to teach beginners and intermediate marketers how to effectively leverage affiliate marketing to generate passive income from their blogs, websites, or other online platforms.
The creator of this course, Michelle, started blogging in 2011 and has managed to raise her blog revenue to $100,000 plus a month. She created the course not just to boost her income, but also to help aspiring or non-earning affiliate marketers get their first dollar.
What's in the Course?
Introduction to affiliate marketing: You first get an overview of affiliate marketing, explaining the concept, its benefits, and how it works.
Finding and applying to affiliate programs: Students learn how to find suitable affiliate programs for their niche, how to apply to them, and get approval.
Affiliate marketing rules: You'll need to understand how to place affiliate links and the legal requirements for disclosing affiliate partnerships.
Converting your readers: Learn how to boost your conversion rates by turning website visitors into action-takers and buyers.
Strategies for promoting affiliate products: Michelle shares various strategies for promoting affiliate products, including the use of blog posts, social media, email marketing, and other channels.
Bonuses: How to always get your affiliate application approved, ways to increase pageviews, content writing strategies, and more.
Course Format
The course's delivery is through a combination of text-based lessons, video tutorials, practical examples, and worksheets. Students have access to a private Facebook group where they can interact with other participants, seek support, and get advice from Michelle herself.
Price
You can either purchase Making Sense of Affiliate Marketing in 1 payment of $197 or 2 payments of $105/month.
My Take
If you need a course that delves deep into affiliate marketing strategies and you already have your channels, e.g. a blog, already in place, this course suits you. It's affordable and covers the Michelle Schroeder-Gardner steps you should follow to achieve a good income as an affiliate marketer.
3. The Affiliate Lab – Matt Diggity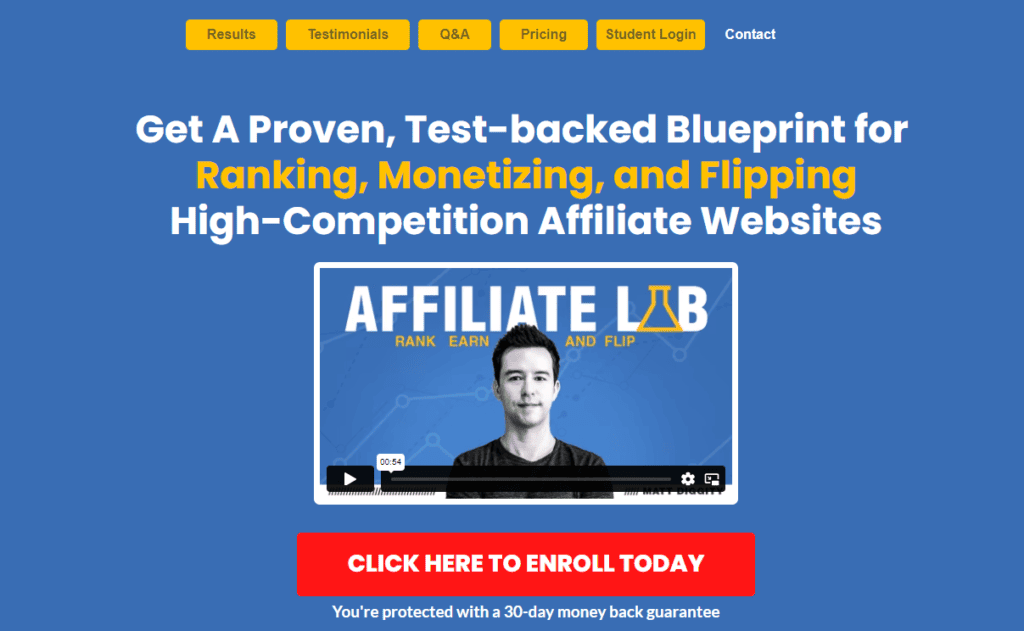 Next on the list of the best affiliate marketing courses for beginners is Matt Digitty's The Affiliate Lab. If you didn't already know, Matt is a well-established SEO expert known for building and scaling affiliate sites.
Because of his SEO expertise, Matt Diggity's course contains the latest strategies he has tested himself on ranking your site on Google. You'll gain access to SEO techniques that help you get as much traffic as you need to monetize your site through affiliate marketing.
The thing about this course is that it doesn't just teach you how to make money from an affiliate site. It also provides you with details on another interesting way to make money online, which is, flipping websites.
What's in the Course?
Niche selection: Take advantage of a niche grading tool that determines how profitable an affiliate niche is.
Website building: The course teaches you how to set up a site from scratch. You'll be able to know what makes a good homepage as well as other site pages that Google loves.
Content creation: You'll discover how to create content that actually ranks on the top pages of search engine results through free keyword research and inexpensive tools.
SEO: You'll also learn how to optimize your blog content using a variety of on-page and off-page optimization techniques. Various common SEO issues that can affect your affiliate efforts are also covered.
Authority building: This section of the course helps you boost your site visibility by getting good backlinks and establishing your E-A-T score. You also know how much content to publish to outrank your competitors.
Amazon affiliate strategies: The Affiliate Lab contains the best practices for becoming a successful Amazon affiliate.
Course Format
The Affiliate Lab course is mostly video-based with more than 200 actionable videos. Matt Diggity also provides you with templates, checklists, and tools to succeed in the course. There's an exclusive Facebook group for members too.
Price
The Affiliate Lab costs $997. You can opt to make 2 payments of $597.

My Take
This course is also not the most affordable option but covers everything you need to start a profitable affiliate website. It's a great alternative to Adam Enfroy's Blog Growth Engine since they both teach you how to grow your site from zero.
Affiliate Marketing: FAQs
What is affiliate marketing?
Affiliate marketing is a performance-based marketing strategy whereby businesses or merchants reward affiliates for driving traffic to their websites or generating sales and leads. It's a mutually beneficial arrangement where affiliates earn commissions for promoting products or services on behalf of the merchants. The commission rates can range from as little as 5 percent to over 50 percent of the product or service price.
As an affiliate, you get the opportunity to earn passive income by promoting products they believe in and are relevant to your audience. You won't need to worry about product creation, customer support, or inventory management.
Do I need a course to learn affiliate marketing?
No, you don't necessarily need to take any course to learn affiliate marketing. Affiliate marketing is a business model that you can learn through various free and paid resources available on the internet. Many successful affiliate marketers have achieved their expertise through self-study, trial and error, and learning from free online resources.
But it's always advisable to learn from experts through online courses. These courses can help you avoid wasting time on outdated or imperfect affiliate marketing strategies and generate income as fast as possible. You won't have to test a variety of techniques to know what can work.
How fast can I learn affiliate marketing?
The time it takes to learn affiliate marketing can vary widely from person to person. Several factors can influence your speed of learning. These include your prior knowledge and experience in online marketing, your dedication to learning and implementing strategies, and the complexity of the niche or industry you select.
That being said, some individuals might start seeing initial results within a few months of consistent effort. It may take six months to a year or more to establish a sustainable income stream for others.
Remember, success in affiliate marketing, like any other business, isn't a guarantee. It requires persistence, dedication, and a willingness to learn from both successes and setbacks.
Conclusion
For beginners aspiring to embark on a successful affiliate marketing journey, investing in a high-quality affiliate marketing course can be a game-changer. These courses offer structured and comprehensive learning and provide essential knowledge for excelling in the competitive affiliate marketing world.
Some of the best affiliate marketing courses for beginners include Blog Growth Engine, Making Sense of Affiliate Marketing, and The Affiliate Lab. They cover critical aspects such as niche selection, content creation, traffic generation, optimization, and scaling. Most of the courses often include real-life case studies, expert insights, and access to supportive communities.
You have to keep in mind that success in affiliate marketing doesn't solely depend on enrolling in a course. If you want to see results, it's wise to implement all you learn as much as possible. Consistent effort, dedication, and a willingness to adapt to the ever-changing digital landscape are equally crucial for being successful.
If you like, there are also ways to start affiliate marketing for free without money.