Artificial intelligence is one of the most talked about technologies these days. More and more businesses are using artificial intelligence (AI) tools for automating various tasks.
There are a number of different AI tools on the Internet today. It can be difficult to decide which ones are right for your business. But you don't need to worry anymore.
Here's a list of the best AI tools available online:
These are the tools that can help you in your writing. They can help you generate new content ideas and are a sure fix to writer's block.
1. Jasper

Jasper is one of the first AI writing tools to come out that changed how we approach content creation. This tool uses OpenAI's GPT models to produce high-quality text for its users. It can provide you with ideas and outline or generate entire blog posts for you in a few minutes.
Jasper can also assist you with creating marketing copy for emails, ads, product descriptions, and more. Other than that, Jasper comes with more functions for writers and web publishers. These include grammar checking, plagiarism detection, and paraphrasing.
2. CopyAI
CopyAI is just like Jasper but more focused on helping you with marketing copy rather than blog posts. Still, it can help you come up with new blog content up to 10 times faster. No more staring at a blank page for hours!
Now, if you're someone looking to create high-converting content, CopyAI is for you. With this AI copywriting tool, you can easily generate social media posts, emails, and ad copy that can turn readers into leads or customers.
3. QuillBot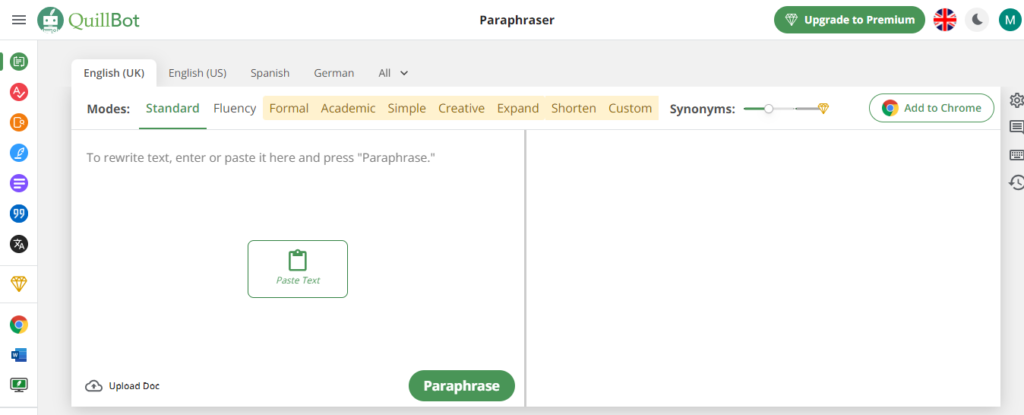 QuillBot is unlike the other AI text generators in that it's more of a tool to help you reword your content. What happens is that you just input your text into the editor, select a rephrasing mode, and the tool will come up with a new twist.
QuillBot's AI paraphraser is reliable because it maintains the concept or ideas in your content and only changes the words and sentences. It has several modes to choose from depending on what you need the resulting text to sound like. Some of the modes, like Standard and Fluency, are free to all users while others require a subscription.
What's more, QuillBot has grammar-checking, plagiarism-detecting, and summarizing abilities that complement its rephrasing power.
4. NovelAI

If you're wondering whether AI writing tools are able to create stories from scratch, the answer is yes. For this specific purpose, we have a tool like NovelAI.
This AI story generator will painlessly craft original story ideas for you of all sorts. It can write thrillers, romance, and any other genre you may have in mind.
SEO is a game we as web publishers have been playing for the longest time. It keeps evolving. And today, you can use AI tools to automate specific SEO tasks.
5. Surfer SEO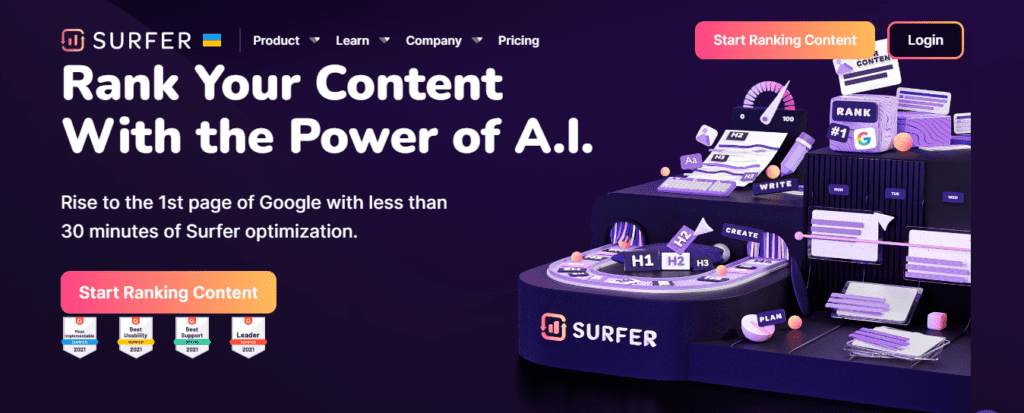 Surfer SEO is among the top AI SEO tools that I recommend. It comes with features that suit all types of web publishers, including freelance writers, bloggers, and digital marketers.
You can use Surfer to boost your SEO strategy in several ways. The tool can help you research, audit, and write SEO-friendly content that can easily rank for the keywords you target.
Surfer AI is the AI SEO writing tool from Surfer that can help you craft ready-to-publish articles in minutes. In other words, time spent on finding keywords, writing the paragraphs, and optimizing the entire text is significantly reduced.
6. Semrush
Semrush has been among the longstanding SEO giants on the Web for some time. It stands close beside the likes of Ahrefs and Moz.
With Semrush, you can accomplish a lot of SEO tasks in a fraction of the time. Some mentionable things you can do with the tool are keyword research, competitor analysis, and site audit. What this means is that with such a tool, your on-page, off-page, and technical SEO is in good hands.
Now, Semrush also has an AI-powered writing assistant app that helps you write optimized content quickly. It generates text in multiple languages and eliminates the need to hire expensive SEO specialists.
7. RankIQ
If you want another tool to write blog posts that rank on the first page of Google, RankIQ may interest you. This tool works best for bloggers as it aims to help you write the best possible post on the Internet in your niche.
RankIQ can help you find keywords with low competition but significant traffic. In fact, its library contains handpicked keywords for every major blogging niche.
What's more, RankIQ can construct titles and post outlines based on what search engines need you to cover for good rankings. The content optimization tool tells you what to add to your text for more value. If you have older non-performing posts, RankIQ is there to help them start ranking.
Now that you know how AI can help you write and optimize your content for search engines, there's another thing to make you rank better. That's adding images to your posts.
You also don't need to pay huge fees for professional studio photography to find the right images for your personal brand or portfolio. AI can help!
8. NightCafe Creator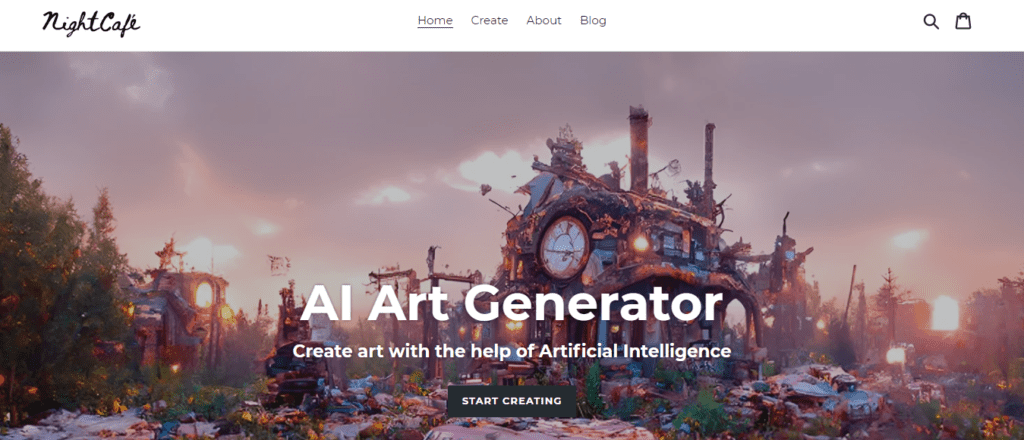 This is yet another highly capable AI image-generating tool that can create visually appealing digital art in seconds. What makes NightCafe interesting is that it uses more algorithms than other competing tools. These include Stable Diffusion, DALL- E 2, and CLIP-Guided Diffusion.
The platform also serves as a community for AI art creators and enthusiasts. You can share your own art created from text and get feedback from other users.
9. Midjourney
If you've seen any images online that are said to be AI-generated, there's a chance that they come from Midjourney. The reason is that Midjourney is among the top AI art generators available online.
You can use Midjourney's bot for image creation, which is available on their Discord server. What you need to do is set up a Discord account and add the Midjourney server. You'll then be able to use Midjourney's powerful AI image-creation abilities by applying some commands.
10. Deep Dream Generator
Deep Dream is an image generator that combines art with the power of AI to give life to you whatever you may imagine. You're able to create digital art from simple text prompts and even interact with others using the platform.
What you do is just describe the image you need, pick an art style, and get the outputs. It's possible even to upload a base image so that the AI uses it as a starting point.
11. Aragon AI
Aragon AI is an AI headshot generator. Unlike other image generation tools, this one is for creating professional portrait images of yourself.
The tool requires you to upload a few of your selfies to generate headshots that look like you. You can select different clothing and backgrounds.
AI keeps on getting better! You can also use AI to create a voice that sounds as real as an actual human being to use in your audio or video projects.
12. Play.ht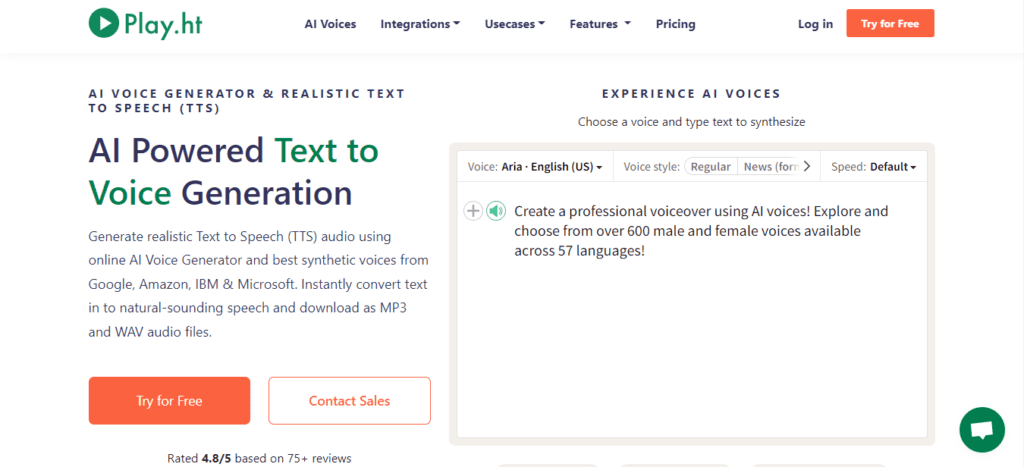 Play.ht is a high-quality AI text-to-speech voice generator that can turn your text into realistic-sounding voices. This tool provides users with access to over 900 AI voices, meaning you won't have trouble finding a voice you like. Plus, the voices are spread across dozens of languages and accents.
Play.ht's AI voices can work for any audio project you have in mind, like narrations, marketing videos, or kid's content. You can also set up custom pronunciations for specific words like brand names and terminologies.
Did you know that AI can create talking head videos for you? It can also repurpose or enhance your existing video content or even colorize it!
13. Synthesia
Synthesia is an artificial intelligence-based platform that enables the creation of highly realistic and customizable videos using computer-generated avatars. These human-like avatars can speak and mimic human expressions, gestures, and intonations.
14. Topaz Labs

This is an AI video upscaler available as a Windows and Mac application. Topaz can increase the resolution of your videos, for instance, from 4K to 8K.
It's thus a great tool for restoring old footage. The platform also features a photo enhancer.
15. Munch
Among the best AI short clip generators is Munch. This tool can extract clips from lengthy videos and combine them to create a compelling short for YouTube, TikTok, or Instagram.
Did you know that AI can help you in transcribing your audio and video files and even live conversations?
16. Otter.ai

Otter.ai is one of the top AI transcription tools we have at the moment. It can quickly turn all your conversations into smart notes that are organized and easy to skim.
Otter.ai isn't just a tool to transcribe your existing audio files. This tool makes it possible to turn your meetings, lectures, and interviews into transcripts. It integrates with Zoom, Google Meet, and other apps to make real-time transcription possible.
And when you can't attend meetings, Otter's assistant is there for you. It can auto-join them on platforms like Zoom, Google Meet, and Microsoft Teams, take notes, and create summaries.
17. Motion (Usemotion)
Motion is among the top AI scheduling assistants to use for meetings and more. With Motion, you just need to show up to meetings and not worry about the scheduling. This is possible through Motion's intelligent calendar that analyzes your calendars to organize business meetings, appointments, and other events, like lunch!
The tool can also plan tasks and projects that include your team. You can use it to assign various activities and ensure a project's objectives are reached on time.
Are you a new business or need to update your logo? AI can generate good-looking logos for you too.
18. Designs.ai

Designs.ai is a graphic design platform powered by AI. One of its top tools is the AI logo maker. You don't need any special skills to use it because anyone can!
All you do is enter the name of your company, choose your industry, and pick one of the logo styles it creates for you. You can decide to either go with text-only logos with the company name or initials or logos that also incorporate icons.
(Last Updated: September 23, 2023)