5 Best Article Rewriters and Spinner Tools (2023)
So, you're tired of rewriting articles manually and need to find a good article rewriter as soon as possible. Maybe you're looking for free options or don't mind investing a little to get the best quality tool.
Content creation is essential for attracting and retaining an audience online. It's why you, being a blogger, marketer, or website owner, need to keep your game up.
However, constantly generating fresh and original content can be a daunting task. This challenge can lead you to seek innovative solutions that ease the process without compromising quality.
That's why I came up with this article on some of the best article rewriters available online today. These remarkable software solutions have witnessed significant advancements over the years. They have risen above their humble beginnings to become indispensable assets for content creators and businesses.
Even more recently, we have achieved the feat of AI-powered article spinners and writers. Read on as we explore the capabilities, features, and unique selling points of these top-tier article rewriting tools.
What Is the Best Article Rewriter?
Below are my picks for the top article rewriters you can use.
1. Quillbot

Among the top tools I recommend for rewriting articles is Quillbot. It's a great tool for writers and editors, including non-native English speakers. You'll be able to publish content with more confidence given the tool's accuracy when it comes to paraphrasing and generating text.
Quillbot is mostly known for its paraphrasing capabilities. This tool helps you rewrite paragraphs and entire articles at once and improve your sentence structure.
It comes with several modes to choose from depending on how you want your text to be rephrased. Standard and Fluency are some of its free modes while the rest require a subscription.
Key Features
7 paraphrasing modes: Standard, Fluency, Formal, Simple, Creative, Expand, Shorten
Grammar checker: Ensure your content has no grammatical mistakes
Plagiarism checker: This tool compares your text against many otters on the Web to ensure originality.
Summarizer: Extract the main points from a large piece of text.
Translator: Change the language of your article, e.g. from English to Spanish
Co-writer: This is Quillbot's editor that comes with AI writing abilities to help you generate text when stuck.
Chrome extension: Use Quillbot anywhere you are on the Internet
Pricing
Quillbot is free for up to 125 words. From there, you'll need one of the paid plans, which are also affordable. These are:

Annual: $4.17 per month
Semi-Annual: $6.66 per month
Monthly: $9.95 per month
2. Jasper

Jasper is among the most popular AI writers we have now that utilizes the power of generative AI. This article rewriter tool allows you to paraphrase your content for clearer and more concise text.
You can achieve this through Jasper's Content Improver. It's one of the templates that you can use to make an article more interesting and engaging. After choosing this use case from your Jasper account, all you need to do is paste your writing and select the option to rewrite.
Jasper does more than just rewrite your content. You can actually create articles from scratch using it.
It doesn't matter whether you need 1,000 words or something longer and more in-depth. Simply provide your main keyword and select the tone to begin writing.
Jasper also helps you come up with article ideas, content outlines, and the metatags for each article. It ensures that your titles and meta descriptions are optimized for SEO.
Key Features
A wide variety of writing templates, including Content Improver for rewriting
AI content writer tool that can create new paragraphs for you
Long-form writing assistant
AI art generator from text to add beautifully made images to your content
Jasper Chat is an AI chatbot that you can ask to do anything, like rewriting something for you
Pricing
Jasper has the following plans:
Creator: $49 per month
Teams: $125 per month
Business: Custom pricing
Jasper currently has a 7-day free trial.
3. Spin Rewriter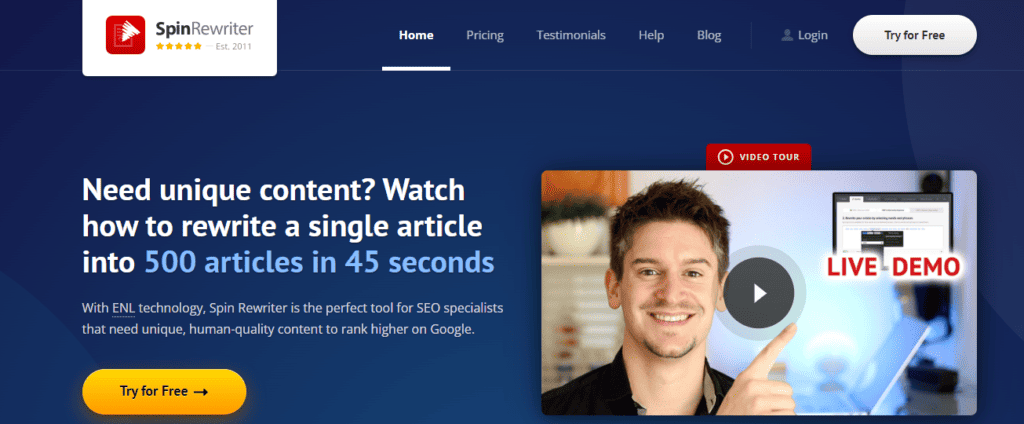 If you're looking for one of the best article spinner tools in the market, Spin Rewriter should be on your list. This content-spinning tool uses something known as ENL Semantic Spinning technology.
What this technology does is understand the context of any text you add for the tool to rewrite. Contextual understanding is essential because it means that the tool can easily provide the right alternative words without changing the meaning.
Spin Rewriter can either rewrite a single article or multiple articles at once. Through its paraphrasing settings, you can choose whether or not you need the tool to use original words when synonyms are available, enrich your article with headings and bullet points, reorder paragraphs, and more.
Key Features
Bulk article rewriting tool
Integrates with Copyscape (a plagiarism checker) and Perfect Tense ( a grammar checker)
Uniqueness score that shows you how unique the rewritten article is
WordPress plugin to automatically update your old posts at set intervals
GOLD Membership comes with perks like access to a specialized SEO team
Pricing
Spin Rewriter has these plans: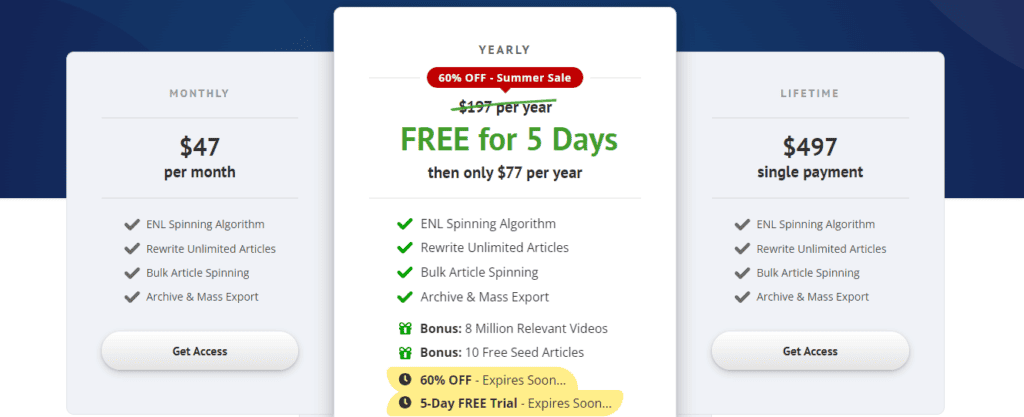 Monthly: $47 per month
Yearly: $197 per year
Lifetime: $497 one-time payment
GOLD Membership costs another $47.
4. Wordtune

Wordtune is an AI-powered writing tool for rewriting articles and rephrasing words. Using the tool, you get access to advanced suggestions that can instantly improve the quality of your content. In fact, the tool rewrites sentences in seconds!
When you enter any text on Wordtune and select the button to rewrite, you'll see several variations of it appear on your screen. You can adjust the tone to make it casual or formal, depending on the audience you're writing for.
Key Features
Rewriter that gives multiple versions of your text
Tone variation
Summarizer for articles, documents, reports, YouTube videos, and more
Text correction through Wordtune's grammar and spell check abilities
Text recommendations in real time
AI prompts to write text from scratch
Pricing
Wordtune has a free plan (limited version) and some paid options, highlighted below:

Free: $0 per month
Plus: $24.99 per month
Unlimited: $37.50 per month
Business: Custom pricing
5. Spinbot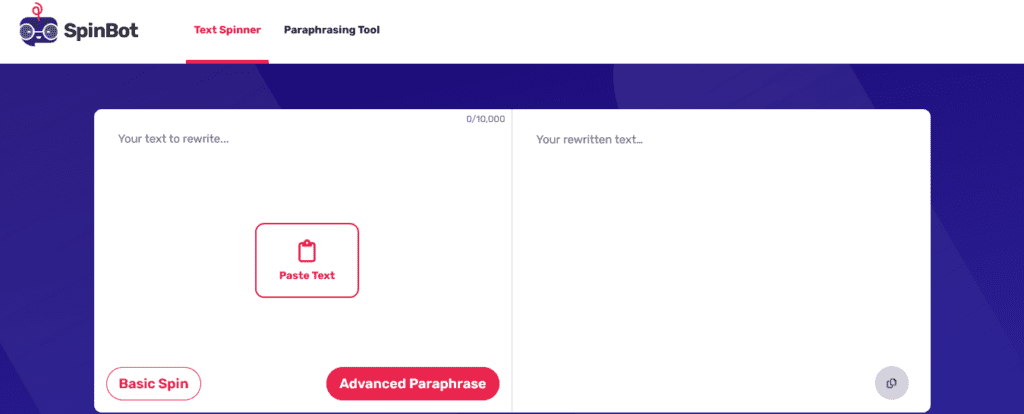 Spinbot is a free article rewriter tool that is contextually intelligent. It can boost the creativity of your article and give you new ways to express your thoughts and ideas. And, it's quite easy to use.
You can select "Text Spinner" on Spinbot to generate a basic or advanced spun article. The tool allows for up to 10,000 characters. This is something between 1500 and 2,000 words.
The other Spinbot tool you can choose is "Paraphrasing Tool." This one allows you to rewrite text with an option to either choose the shortest or longest sentences possible. In other words, you're able to shorten or expand an article.
There's also the "Summarizer" that can convert length text into key points. For example, the tool can turn 1,000 words into 200 or fewer words!
Key Features
Various tools in one, including Text Spinner, Paraphrasing Tool, and Summarizer
Grammar checker tool to identify and correct spelling and punctuation errors
Synonym suggestions to improve word choice while maintaining sentence structure
Pricing
Spinbot is free to use.
Conclusion
Throughout this article, we've delved into the best article rewriters, each with its unique strengths and capabilities. These useful tools have proven their worth in redefining the art of content rewriting.
You can opt to use a few of them and compare the generated articles. This will help you choose the one you think works according to your needs. My topmost recommendation remains to be Quillbot because of its various paraphrasing modes, AI writing assistant, and Chrome extension.
Now, feel free to explore this next list of the top AI content writing tools too. These ones can help you develop new articles from the beginning to the end with your desired keywords.