9 Best SEO Automation Tools (Save Time & Boost Your Rankings)
If you're like most business owners online, you're probably short on time. You wear many hats and don't have time to do all repetitive SEO tasks yourself. That's why SEO automation tools are so valuable.
They can help you save time and boost your rankings at the same time. But there are numerous options and it can be hard to decide which one suits your needs.
That's why I came up with this list of the best SEO automation software options available today. I'll highlight the best features of each tool along with the pricing to help you make a quicker decision.
Disclaimer: Because the site is reader-supported, we may earn a commission if you use our affiliate links.
What Is SEO Automation?
SEO automation is the process of automating tedious and time-consuming tasks associated with search engine optimization. It can save you a tremendous amount of time spent doing manual work like keyword research and competitor analysis.
This automation enables you to free up time for other important activities in your SEO strategy. Some examples are content creation and link building.
Best SEO Automation Tools
Without further ado, here are the best SEO automation tools to consider for your business.
1. Semrush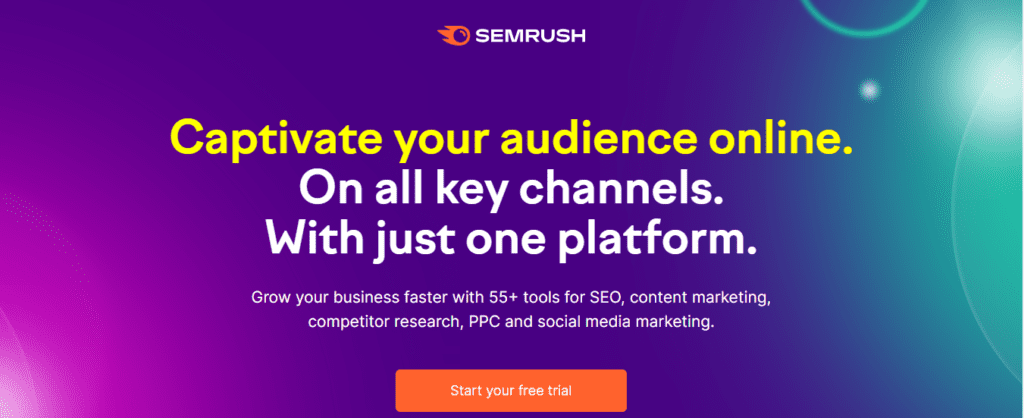 First on the list of the top tools to automate your SEO tasks in Semrush. It's a comprehensive tool that offers everything from keyword research to competitor analysis, backlink monitoring, rank tracking, and more.
Semrush can help you save time by automating tasks like keyword discovery and link building. Plus, its advanced features enable you to get detailed insights into your competitors' strategies so you can craft a better SEO campaign of your own.
It's also worth mentioning that you can find a variety of other automation tools on Semrush's app center. These include tools for social media, e-commerce, Google ads, and more.
Key Features
Keyword overview and gap analysis
On-page SEO checker
Competitor analysis
Automated backlink monitoring
Semrush position tracking and SEO reports
Semrush brand monitoring tool to track mentions
Pricing
Semrush's free trial of 7 days is available on two of its three plans, Pro and Guru.
Pro: $129.95/month
Guru: $249.95/month
Business: $499.95/month
2. Ahrefs
Another popular tool is Ahrefs, which many businesses use because of its advanced features and comprehensive data sets. It can help you discover new keywords, track rankings, and analyze the SEO performance of your competitors.
You can also use Ahrefs to automate tasks like link building, content promotion, and SEO reputation management (just like social media reputation management but for search engines in this case). Plus, you can take advantage of its advanced analytics to get better insights about what's working for your SEO campaigns.
Key Features
Site explorer
Keyword explorer
Site audit
Content explorer
Rank tracker
Pricing
Lite: Starts at $99/month
Standard: Starts at $199/month
Advanced: Starts at $399/month
Enterprise: Starts at $999/month
3. Ubersuggest

Coming from Neil Patel, a well-known SEO expert, Ubersuggest is a great software option to automate your SEO game. It offers a wide range of features such as keyword research, competitor analysis, and content ideas.
Ubersuggest is great for automating repetitive tasks like tracking rankings, monitoring backlinks, or researching keywords. It also provides valuable insights into other areas such as improving your website's speed and mobile friendliness.
As if that's not enough, you get SEO training and support as a Ubersuggest user.
Key Features
Keyword research tool with search volume and other metrics
Organic traffic overview
Rank tracker
Backlink analysis
Website audit
Pricing
Ubersuggest offers a free version as well as paid plans with trial periods.
Individual: $12/month
Business: $20/month
Enterprise: $40/month
As you can see, Ubersuggest is among the most affordable SEO automation options available online.
4. Moz Pro
Moz Pro is a comprehensive SEO automation solution that makes it easy to track rankings, build links, and manage campaigns. It uses an intuitive dashboard that allows you to monitor multiple websites in one place.
You can use Moz Pro to automate common SEO tasks like keyword research and competitor analysis. It also gives access to exclusive data like domain authority, page authority, and link analysis so you can make better decisions while optimizing your website.
Key Features
Keyword research tool
Rank tracker
Link research
Site crawl
On-page optimization
Pricing
Moz Pro offers a 30-day full-access free trial, after which you can choose between four pricing plans.
Standard: $99/month
Medium: $179/month
Large: $299/month
Premium: $599/month
5. SE Ranking

SE Ranking is a powerful and affordable tool that helps businesses automate their SEO efforts. It comes with all the features you need to monitor keyword rankings, track organic traffic, and analyze backlinks.
SE Ranking also has some advanced features such as rank tracking down to the page level, competitor analysis, and automated SEO reports. Its keyword grouper tool for close-related terms and synonyms can help you segment keywords for effective distribution on your website.
Also, it offers mobile-friendly SEO optimization tools to help you get the most out of your campaigns.
Key Features
Rank tracking
Backlink checker and tracking
Site audit
Keyword research and suggestion tool
Keyword grouping
Marketing and SEO plan
Pricing
SE Ranking offers unique pricing options. You need to select how frequently you need ranking checks, whether daily, every 3 days, or weekly.

Essential: $55/month
Pro: $109/month
Enterprise: $239/month
6. Screaming Frog (SEO Spider)

Screaming Frog is a desktop-based SEO tool that automatically crawls websites to identify technical SEO errors like broken links, missing metadata, and duplicate content. This is possible through its SEO Spider tool.
The crawler is popular among SEO professionals and web developers because it provides an in-depth analysis of a website's structure. Using this website crawler can help you identify problems that could affect your site's SEO performance on Google and other search engines.
The tool is available for free whereby you can have it crawl 500 URLs at no cost. You can also purchase a license to use it without these limits and access its other features.
Key Features
Server errors and broken link finder
Analysis of page titles and metadata to identify which ones are too long, short, missing, or duplicated
XML Sitemap generation for your website to help search engines discover and index your site's pages
Audit scheduling that allows for automatic data export to Google Sheets or other platforms
Integrates with Google Analytics, Seach Console, and other analytics tools
Pricing
Screaming Frog's SEO Spider has both free (but limited) and paid versions. The paid tool offers unlimited crawling and starts from $259 per license, per year.
7. Spyfu

If you need another all-in-one SEO automation platform to use besides Semrush and the like, Spyfu may interest you. This tool collects huge sets of data from millions of domains owned by industry leaders to help you achieve SEO success.
So, if you would like to identify your competitors' profitable keywords, monitor their rankings, track their ad campaigns, and uncover more of their search marketing strategies, Spyfu is your tool.
Key Features
Competitor analysis, including identifying your competitors and tracking their position on search engine results pages (SERPs), ranking history, and backlinks
Keyword research to see what keywords your competitors are targeting and identify relevant keywords for your business
Ad monitoring to track your competitors' campaigns and get insights into their ad tests, bidding history, and ad spend on Google Ads, among other things
SEO keyword tracker for your own website
Pricing

Basic: $39/month
Professional: $79/month
Team: $299/month
8. SEO PowerSuite
SEO PowerSuite is exactly what it says. It serves as a one-stop tool for all your SEO needs and offers a range of features to help you rank better.
It doesn't matter whether you need to find the best keywords, check the backlinks of a site, optimize PPC ads, or do something else SEO-related. You can trust SEO Powersuite.
The good thing about this fully automated SEO software is that it suits beginners and pros alike. The intuitive user interface allows anyone with basic computer skills to quickly adapt to the features and make good use of them.
Key Features
Accurate rank checker for monitoring the positions of unlimited websites for specific keywords
Powerful keyword finder from 20 sources, such as Google Trends and Semrush, that can suggest hundreds of keywords you could potentially rank for
Track keyword visits and analyze the ROI of your PPC ad campaigns
Check your competitor's links and reverse engineer to enjoy the link juice too
Full site technical SEO audits to spot all site issues in one place
SEO task scheduling to set up processes once without the need to constantly check in daily, weekly, or monthly
Pricing
The SEO PowerSuite toolkit offers free and paid plans for a year, two, or three.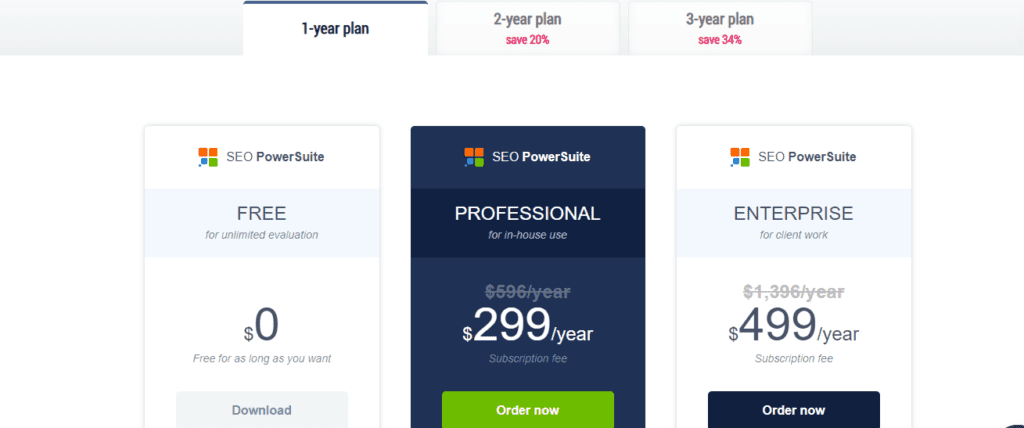 Free: $0/year
Professional: $299/year
Enterprise: $499/year
9. WooRank
WooRank is a marketing and automated SEO software that can help you save time, money, and effort in establishing your brand's online presence. It suits teams, agencies, and small businesses in terms of organic search. With WooRank, you can start optimizing any site for ranking in a matter of minutes.
The platform first lets you get instant website analysis for free. You get a score and can start working your way to boost it from there. With a few simple clicks, you can discover any issues with your site and know of new keyword opportunities.
Key Features
Website score from a scale of 0 to 100 showing whether your site (or even a client's) passed, needs to improve, or has significant errors
Keyword research and tracking where you find hidden opportunities and know how you're ranking
Technical site audit that can bring to light all SEO issues that can cause your site to rank low
White-label reporting to present the most relevant data to leads and clients
Pricing
Pro: $89.99/month
Premium: $199.99/month
Enterprise: Custom pricing
FAQs on SEO Automation
How do I automate SEO tasks?
There are several steps to automating tedious SEO tasks, such as setting up a keyword tracker, tracking the ranking and performance of web pages, and running website audits. You also need to analyze competitors' websites for insights into what's working in your industry.
A proper SEO tool can help you automate most things if not all of them. If the tool has the right features, you can save time and money optimizing your website or blog and boost your search engine visibility.
What is the best SEO automation tool?
The best SEO automation tool for more organic reach depends on your needs and budget. Some popular options include Semrush, Ubersuggest, and SE Ranking.
Each of these tools offers a range of features and plans to get you started with SEO automation. You may find that one software offers a better feature than another in various SEO areas like keyword research, competitor monitoring, backlink analysis, and more.
What is the cost of SEO automation?
The cost of SEO automation depends on which tool you choose to use to complement your marketing strategy. Generally speaking, tools like Ubersuggest and SE Ranking both offer affordable plans.
Semrush, Ahrefs, and Moz Pro are a bit more expensive. However, most of these tools offer free versions and trial periods so you can test out their features before committing to a paid plan.
Do I need an SEO expert if I use an automation tool?
No, you don't necessarily need an SEO expert if you're using an automation tool. Automation tools are designed to simplify the process of optimizing your website or blog for search engines.
However, an SEO agency or individual expert may help you identify opportunities for further optimization and provide insights into how your competitors are doing.
Conclusion
Automating search engine optimization processes is a great way to save time and money while working on website optimization. You can do it for specific areas or even your entire SEO workflow.
SEO automation allows businesses to track their progress, analyze competitors, and identify potential areas for improvement. Ultimately, making your SEO efforts work on autopilot will help you stay ahead of the competition while keeping up with the ever-changing landscape of search engine algorithms.
You're free to pick more than one of the listed best SEO automation tools for your needs. Keep in mind that each platform offers different features and pricing models.
If you invest in SEO automation software, you get to streamline your website optimization process and ensure that you keep up with the latest trends. With the right tool and a bit of effort, you could see big returns on your investment in no time.
Remember, even if you automate routine SEO tasks, you need to monitor your progress as part of your SEO strategy. Free tools like Google Search Console and Google Analytics are great for tracking your search engine rankings and staying updated about any Google Search results page errors on your site.
Read more about SEO tools: