3 of the Best AI Art Generators of 2022 (Text to Image)
As artificial intelligence begins to play a larger role in society, it's no surprise that AI is making its way into the art world. There are now several AI art generators that allow you to create beautiful pieces of art simply by inputting text.
Some people prefer traditional methods such as painting or drawing. Others enjoy experimenting with new technologies to create their art.
In this article, you're going to find out about some of the best AI art generators available and learn how to create your own artwork.
Read also: Best AI Logo Generators
What Are the Best AI Art Generators Online?
Below are the top AI text-to-art generators that anyone can use online.
1. Hotpot.ai
Hotpot.ai is an online AI art generator that allows you to turn your imagination into art. It can work for both experts and non-designers in automating the time-consuming task of making art designs online.
Hotpot.ai's Art Maker allows you to convert text into images. You just describe what you need and get a photo of it in art form.
Once you input a sentence or two of text, the Hotpot.ai algorithm will generate a corresponding piece of art. You can also customize the colors, shapes, and styles of your artwork.
Hotpot.ai can generate art from pictures too. Users can also use it to remove objects or backgrounds and colorize black and white images using artificial intelligence. As if that's not enough, Hotpot.ai can create social media designs such as YouTube thumbnails, Twitter headers, and LinkedIn covers for you.
Hotpot.ai Features
Turn imagination into art
Object remover
Background remover
Picture colorizer
Picture enlarger
Photo restoration
Hotpot.ai Pricing
You may need credits to create art designs on Hotpot.ai. For instance, a larger image size requires more credit.
When you generate any art from Hotpot.ai, you need to purchase the license to use it. The cost may vary depending on the image type, size, and more.
2. NightCafe Creator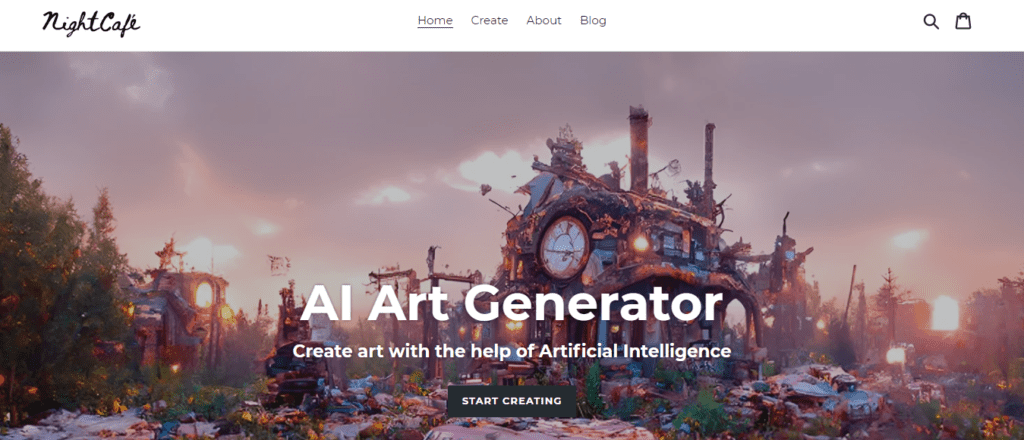 This is yet another tool among the best AI art generators online. NightCafe Creator can help you create various digital art styles from a text or photo. It's easy to use and doesn't require any design experience.
If you want to use the text-to-art feature, you simply just need a text prompt, which is a description of what you want the AI to make. This feature allows you to generate an image or video out of your text. You can as well convert your photo into a masterpiece to even hang on your wall.
As a NightCafe Creator user, you can browse some of the AI-generated artworks from others for inspiration. If you wish, you can even engage with them by leaving a comment.
NightCafe Creator Features
Text to image
Text to video
Photo to art
Discord community
NightCafe Creator Pricing
You need credits to create art on NightCafe Creator. Free credits are available to new users. You can get more of them by sharing creations and getting likes and comments, among other tasks.
There are pro versions you can purchase depending on your artwork needs. NightCafe Creator Pro has these benefits:
PRO badge on your profile
Tip other creators
2.5x more progress images
Earn top-ups and badges as normal
AI Hobbyist ($9.99/month): 100 monthly credits at $0.10/credit
AI Enthusiast ($19.99/month): 250 monthly credits at $0.08/credit
AI Artist ($49.99/month): 700 monthly credits at $0.071/credit
AI Professional ($79.99/month): 1,500 monthly credits at $0.053/credit
More prepaid credit packs are available if you don't want any subscription.
3. starryai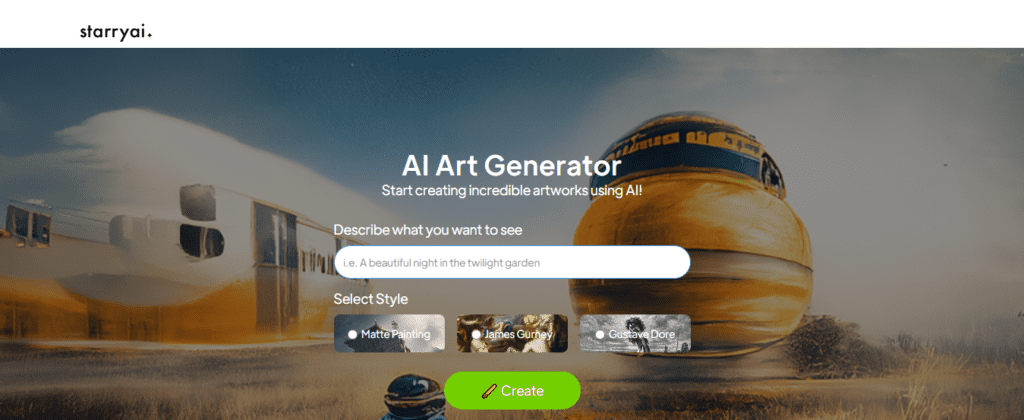 starryai is a great and free online AI art generator for those who want to transform their words into digital artwork. Thousands of AI artists use it. This AI art maker simply requires you to input text that describes the art you want it to generate.
There's a starryai app for Android on Play Store as well as iOs on App Store. This means you can generate AI art wherever you are.
starryai Features
Turn text into art
Multiple devices (web and mobile apps)
Discord community
starryai Pricing
You can use starryai for free. It's possible to generate up to 5 artworks per day with no watermarks and without paying.
If you need more art, you'll require additional credits. You can opt to buy credits directly on the platform.
But you can as well try starryai's paid subscriptions. starryai Pro has these benefits:
50 credit pack/month plus 5 credits daily
50% off all credit packs
Ad-free
Unlock all canvas sizes
Free 4x upscaling

1 Month: $11.99/month
3 Months: $29.99 or 10/month
12 Months: $95.99 or $8/month
Conclusion
These are the best AI art generators of the year. With any of these AI-powered art creation tools, you can create digital artwork from text or photos without much design experience.
And most importantly, they have free versions and are also affordable. Choose the one that aligns with your artwork needs and budget and start creating beautiful art designs today.