8 Best AI Art Generators of 2023 (Text to Image)
As artificial intelligence begins to play a larger role in society, it's no surprise that AI is making its way into the art world. There are now several AI art generators that allow you to create beautiful pieces of art simply by inputting text.
Some people prefer traditional methods such as painting or drawing. Others enjoy experimenting with new technologies to create their art.
In this article, you're going to find out about some of the best AI image generators available and learn how to create your own artwork.
Disclaimer: Because the site is reader supported, we may earn a commission if you use our affiliate links.
Read also: Best AI Logo Generators
What Are the Best AI Art Generators Online?
Below are the top AI text-to-art generators that anyone can use online.
1. Jasper Art

Jasper Art is a simple but effective AI art generator that allows you to create artwork by inputting text. You no longer have to go through the tiring process of finding the perfect image from stock photography sites for your content.
All you need to do is type in a few words or sentences and select a style of your choice plus additional details like medium, mood, and keywords. The AI will generate pieces of art based on your input in just seconds. The good thing is that you won't have to worry about copyright issues because you can use the AI-generated images as though they're yours.
As a side note, Jasper is also known to be a powerful AI writing tool. You can use it to generate articles and copies fast for your website.
Jasper Art Features
Generate art using a few words
Several art styles to choose from
AI art gallery
Facebook community
Jasper Art Pricing

Jasper Art Unlimited is a plan that costs $20 per month per user. Custom plans are available too for enterprises.
2. NightCafe Creator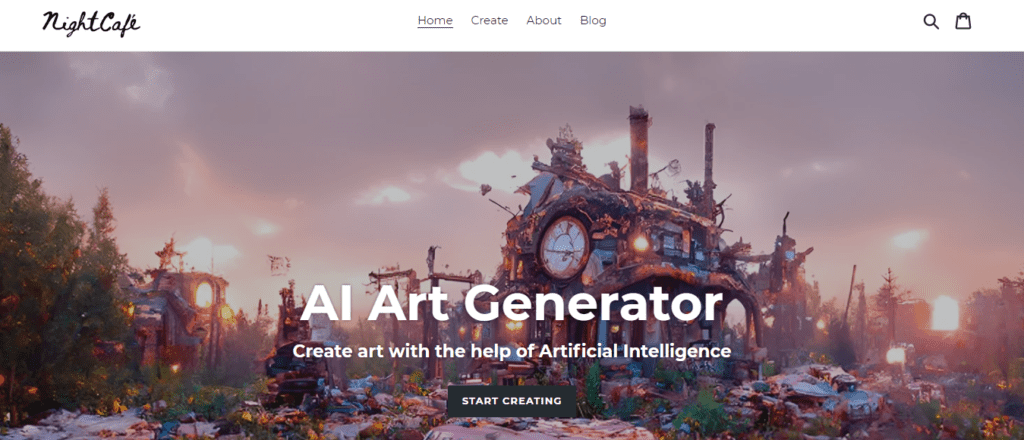 This is yet another tool among the best AI art generators online. NightCafe Creator can help you create various digital art styles from a text or photo. It's easy to use and doesn't require any design experience.
If you want to use the text-to-art feature, you simply just need a text prompt, which is a description of what you want the AI to make. This feature allows you to generate an image or video out of your text. You can as well convert your photo into a masterpiece to even hang on your wall.
As a NightCafe creator, you can browse some of the AI-generated artworks from others for inspiration. If you wish, you can even engage with them by leaving a comment.
NightCafe Creator Features
Text to image
Photo to art
Discord community
NightCafe Creator Pricing
You need credits to create art on NightCafe. Free credits are available to new users. You can get more of them by sharing creations and getting likes and comments, among other tasks.
There are pro versions you can purchase depending on your artwork needs. NightCafe Creator Pro has these benefits:
PRO badge on your profile
Tip other creators
2.5x more progress images
Earn top-ups and badges as normal

Below are the plans:
AI Hobbyist ($9.99/month): 200 monthly credits at $0.05/credit
AI Enthusiast ($19.99/month): 500 monthly credits at $0.04/credit
AI Artist ($49.99/month): 1,400 monthly credits at $0.036/credit
AI Professional ($79.99/month): 2,500 monthly credits at $0.032/credit
More prepaid credit packs are available if you don't want a subscription.
3. Midjourney

Also on the best and most realistic AI art generators list is Midjourney, an independent research lab with a program for creating images from textual descriptions. At the moment, the tool is in beta.
You can use Midjourney's AI image creator in two ways. First is the Midjourney Bot available on the platform's Discord server or anywhere else it's been set up. The other option is the web app.
It's possible to use Midjourney on your own Discord server if it has less than 30,000 members. You need an active trial or subscription to use the bot on any server. Midjpruney doesn't allow for sharing subscriptions currently.
To interact with the Midjourney Bot on a server, you need to use the /imagine command. You can only use the command 25 times, meaning there's a limit to the number of free images you generate before the need for subscribing.
Midjourney will process your request and generate four images based on your input. You can upscale an image, create variations, and save it. Remember, there are strict guidelines for the content you generate as it has to be friendly to all users.
Midjourney Features
Discord bot
Ability to use image URLs in your prompts
Emoji reaction to generations to get a specific output, like "star" emoji for marking as a favorite or "x" emoji for deletion
Image upscaling and variations
Community galleries
Midjourney Pricing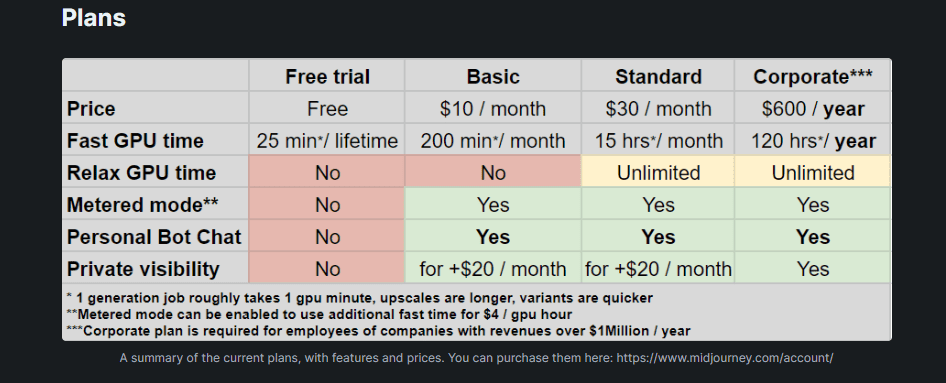 You can use Midjourney for free but only get 25 minutes (or 25 generations). Thereafter, there are three paid plans to choose from. These allow you to use the bot in your DMs rather than public channels on Discord.
Basic($10/month): 200 minutes monthly
Standard($30/month): 15 hours monthly
Corporate ($600/year): 120 hours yearly
4. Deep Dream Generator

Deep Dream Generator is a tool that works as a combination of AI and art. It allows you to bring your art projects to life without actually holding a pencil or paintbrush.
With this AI image creation platform, you can make your amazing art and share it with a community of traditional as well as AI artists. Right on your dashboard, you can see what other users have created (Dreams) and use them as inspiration. You'll be able to connect with explorers like you who itch to know what AI can do art-wise and even use the generated images for business.
Deep Dream Generator Features
AI image feed
Ability to like other people's artwork or "Dreams"
Different user levels
Deep Dream Generator Pricing
You'll need to purchase a one-time energy pack or subscribe to a plan to start using Deep Dream for generating images. Check the list of plans below: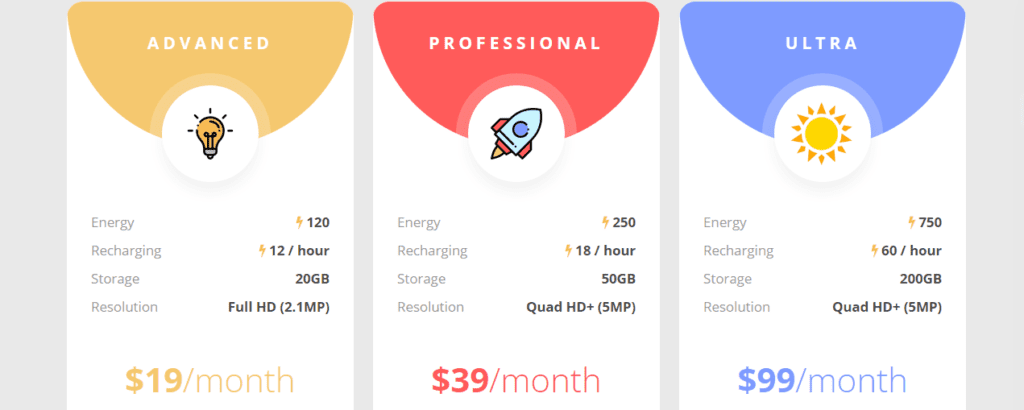 Advanced: $19/month
Professional: $39/month
Ultra: $99/month
5. Hotpot.ai
Hotpot.ai is an online AI art generator that allows you to turn your imagination into art. It can work for both experts and non-designers in automating the time-consuming task of making art designs online.
Hotpot.ai's Art Maker allows you to convert text into images. You just describe what you need and get a photo of it in art form.
Once you input a sentence or two of text, the Hotpot.ai algorithm will generate a corresponding piece of art. You can also customize the colors, shapes, and styles of your artwork.
Hotpot.ai can generate art from pictures too. Users can also use it to remove objects or backgrounds and colorize black-and-white images using artificial intelligence. As if that's not enough, Hotpot.ai can create social media designs such as YouTube thumbnails, Twitter headers, and LinkedIn covers for you.
Hotpot.ai Features
Turn imagination into art
Object remover
Background remover
Picture colorizer
Picture enlarger
Photo restoration
Hotpot.ai Pricing
You may need credits to create art designs on Hotpot.ai. For instance, a larger image size requires more credit.
When you generate any art from Hotpot.ai, you need to purchase the license to use it. The cost may vary depending on the image type, size, and more.
6. Fotor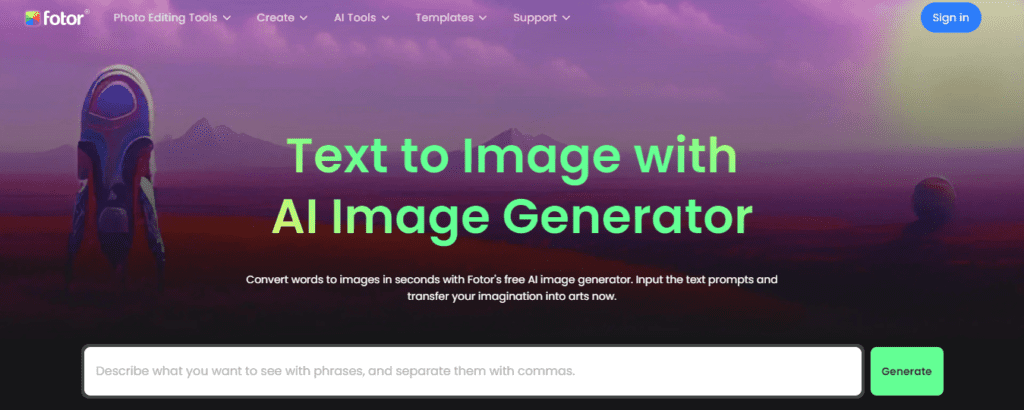 Fotor is an online photo editor app with AI image generation capabilities. It allows you to convert words into pictures in seconds. You can use it for free to create any type of art, whether a cartoon, movie character, or digital art.
To start creating, just type a text prompt into Fotor's image generator box, select a style you like such as 3D, oil painting, or illustration, and keep clicking on the "Generate" button for more.
As if that's not enough, you can generate images using other images on Fotor. It would just be like inputting text but in this case, uploading a photo for the tool to use as inspiration.
Fotor Features
Both text-to-image and image-to-image AI generation
Various style options to generate stylish pictures
Powerful AI art effects
AI photo editor for automated background removal and photo enhancement
Fotor Pricing
Fotor offers free use of its AI art tool as long as you have an account but with limits. You'll need to upgrade to generate more images and artwork.

Fotor Basic: $0/month
Fotor Pro: $8.99/month
Fotor Pro+: $19.99/month
7. DALL-E 2

OpenAI's DALL-E 2 is an AI-powered software, now in beta, that you can use to generate realistic images from scratch effortlessly. It's an improvement to the company's previous DALL-E 1. The newer version offers better caption matching and photorealism.
Diffusion, the process DALL-E 2 uses, involves a pattern of random dots that the tool turns to form an image depending on how you describe it. So, similar to the other platforms, you simply input some text to get the output you want.
However, DALL-E 2 offers a bit more. It can edit images for you to add or remove specific elements. These include reflections, shadows, and textures.
If you want an image variation, the tool can do that too using the original concept. DALL-E 2 has an advanced system to eliminate undesirable image outputs and actual people's faces.
DALL-E 2 Features
Photorealistic image generation style
Realistic edits
Limited ability to create harmful images
DALL-E 2 Pricing
Currently, there's a waitlist where OpenAI will invite a number of users to use free credits that refill on a monthly basis. Additional credits will be available in 115-credit increments or 460 images for $15.
8. starryai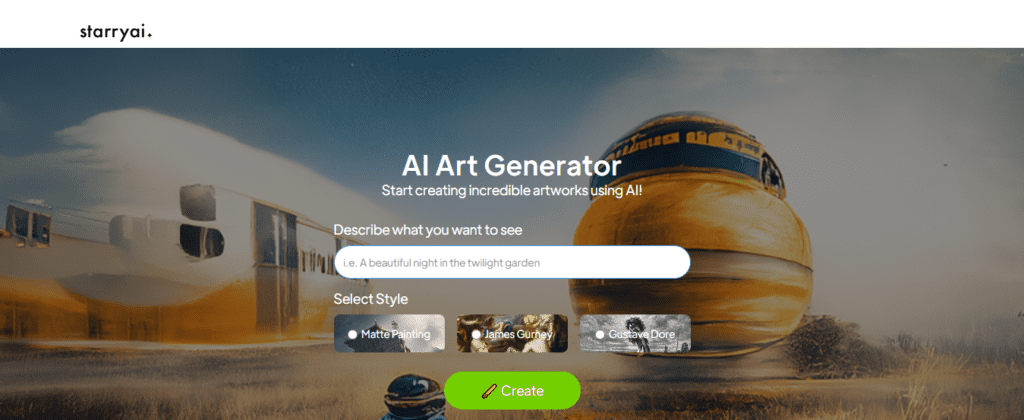 starryai is a great and free online AI art generator for those who want to transform their words into digital artwork. Thousands of AI artists use it. This AI art maker simply requires you to input text that describes the art you want it to generate.
There's a starryai app for Android on Play Store as well as iOs on App Store. This means you can generate AI art wherever you are.
starryai Features
Turn text into art
Multiple devices (web and mobile apps)
Discord community
starryai Pricing
You can use starryai for free. It's possible to generate up to 5 artworks per day with no watermarks and without paying.
If you need more art, you'll require additional credits. You can opt to buy credits directly on the platform.
But you can as well try starryai's paid subscriptions. starryai Pro has these benefits:
50 credit pack/month plus 5 credits daily
50% off all credit packs
Ad-free
Unlock all canvas sizes
Free 4x upscaling

1 Month: $11.99/month
3 Months: $29.99 or 10/month
12 Months: $95.99 or $8/month
Conclusion
These are the best AI art generators of the year. With any of these AI-powered art creation tools, you can create digital artwork from text or photos without much design experience.
And most importantly, they have free versions and are also affordable. Choose the one that aligns with your artwork needs and budget and start creating beautiful art designs today.
Don't forget to check out the best AI video generators too!