15 Best AI Writing Software in 2023
A lot of the work that used to be done by humans has been taken over by machines. This continues to be true in the world of writing, where many tasks can be handled more efficiently by AI-powered software.
There are already a good number of artificial intelligence writing software programs on the market, and more are still in development. As a business owner, it is important to stay ahead of the curve and invest in AI writing tools that will help you increase productivity.
So, which ones should you choose? You're about to discover some of the best AI writing software programs available now online. These programs have been selected based on their ability to help you write high-quality content quickly and easily.
Disclaimer: Because the site is reader supported, we may earn a commission if you use our affiliate links.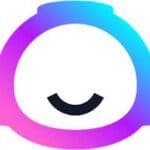 Jasper
(Best in General)
Jasper is a powerful AI writing assistant that can help you write long-form content as well as marketing copy for any niche in minutes.
Grammarly
(Best for Grammar Check)
If you want to write error-free content, Grammarly is your best bet. It gives you proper suggestions to correct your grammar and sentences.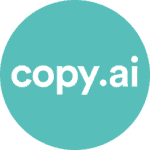 Copy.ai
(Best for Copywriting)
Among the best AI writing tools for copy is Copy.ai. This tool works well for ads, social posts, emails, landing pages, product descriptions, and more.
What is the Best AI Writing Tool?
Below are my picks of the best AI writing assistants to use for your business.
1. Jasper.ai
(Best in General)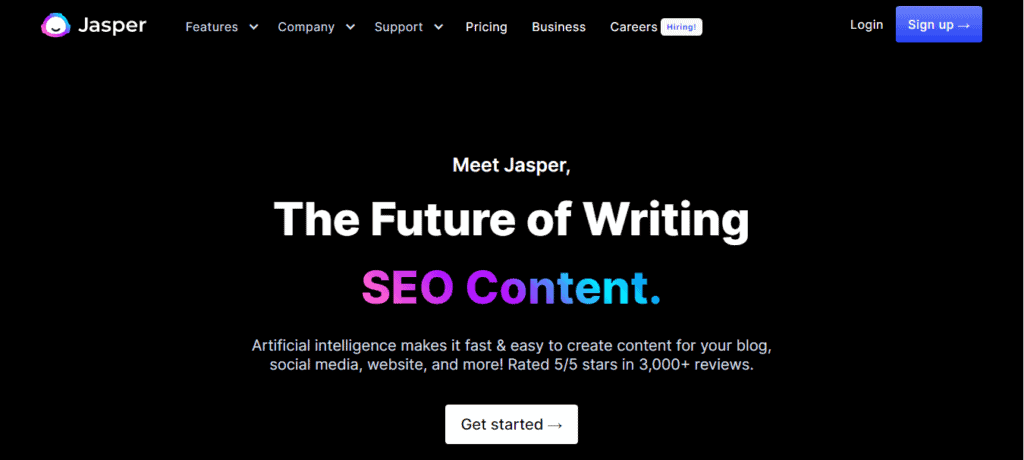 Jasper.ai, previously known as Conversion.ai and Jarvis.ai, is an AI content generator that helps you create all kinds of content, including blog posts, social media posts, product descriptions, and even email subject lines. This AI writing assistant produces original and creative content for use in establishing your online presence.
You simply type in a keyword or phrase related to what you want to write about, and Jasper will come up with ideas to start your article. It's an excellent tool for those times when you're feeling stuck or uninspired.
Jasper is also great for quickly churning out a lot of content. If you need to produce a large volume of content in a short period of time, Jasper can help you get the job done quickly and efficiently.
Here's the full Jasper review.
Features of Jasper
Long-form content writing assistant: Jasper Boss Mode can help generate thousands of words for your blog post within a shorter time.
Automatic content generation: Hit the "Compose" button on the editor and Jasper will write high-quality content for you in minutes based on the title, content description, voice tone, and keywords you provide.
Access to plagiarism checker: You can scan your content to ensure it's original and protect your brand's authenticity online.
Works with Grammarly: This AI writing assistant allows you to use Grammarly to check for grammar mistakes.
Wide variety of templates: Pick powerful email, SEO, ad, and more templates for growing your business.
Jasper Pricing
Jasper offers three plans.
Boss Mode: Starts at $59/month and is designed for bloggers and content marketers
Business: Custom plan and price for established brands
2. Grammarly
(Best for Grammar Check)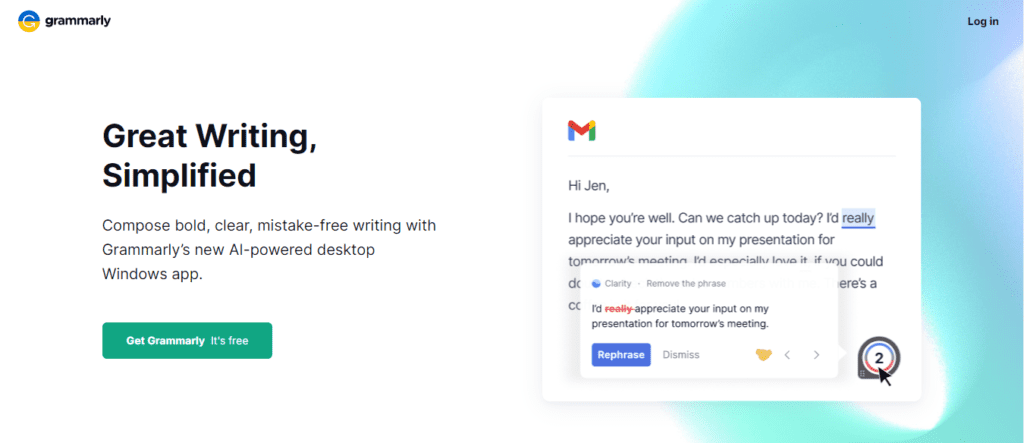 Grammarly is a well-known AI writing software program that helps you check your grammar and spelling. It can also improve your writing style and make sure your content is clear and concise.
Grammarly is a great tool for those that want to make sure their content is error-free. It's also helpful for those who want to improve their writing skills.
Grammarly can be used as a plugin for your web browser or as a standalone app. It's available for Windows and Mac and even has mobile app versions.
Features of Grammarly
Grammar checking: This AI writing software program will check your grammar and spelling to ensure your content has no errors.
Plagiarism checker: You can use Grammarly to ensure your content is original.
Writing style suggestions: This program will offer suggestions on how to improve your writing style.
Grammarly Pricing
Grammarly has both free and premium plans. There are monthly, quarterly and annual subscriptions.

Free: $0/month and offers basic writing suggestions
Individual plans: $12/month (billed annually), $20/month (billed quarterly), $30/month (billed monthly) with premium writing features and works well for beginner online business owners
Business: $15/month/member with a minimum of 3 members and suits teams, organizations, and enterprises
3. ProWritingAid
(Best for Professional Writing and Editing)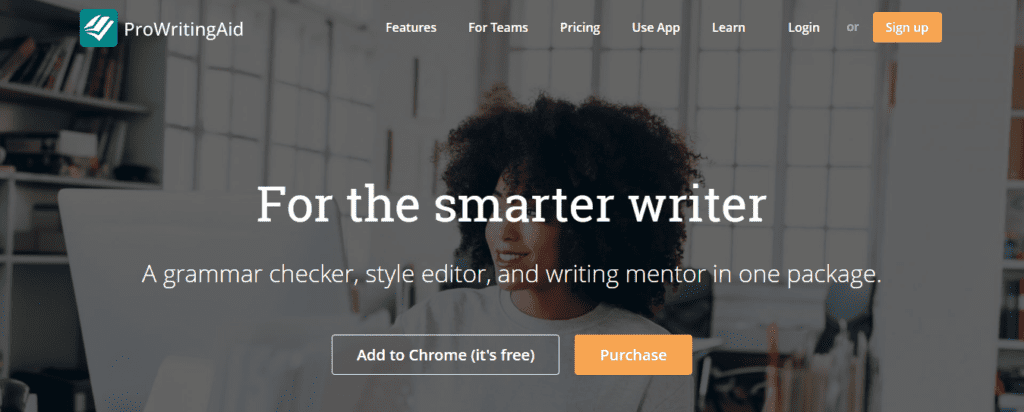 ProWritingAid is another AI-powered writing assistant that helps you improve your writing skills. It offers over 20 writing reports to help you edit and revise your content.
This program is great for those who want to take their writing skills to the next level as well as those who need help editing their content.
It works well for authors, editors, students, and professionals, among others. ProWritingAid can be used as a web editor, an extension for a web browser like Chrome, or a desktop app for Mac and Windows.
Features of ProWritingAid
20+ reports: This program offers a variety of reports to help you edit and revise your content. These include grammar, sticky sentences, overused words, readability, structure, and more.
Suggestion boxes: Hover over highlighted words to check recommended improvements.
Plagiarism checker: ProWritingAid ensures your content is free of plagiarism.
ProWritingAid Pricing
ProWritingAid has both free and premium pricing options for users. The premium plans come at a discount if you pay annually.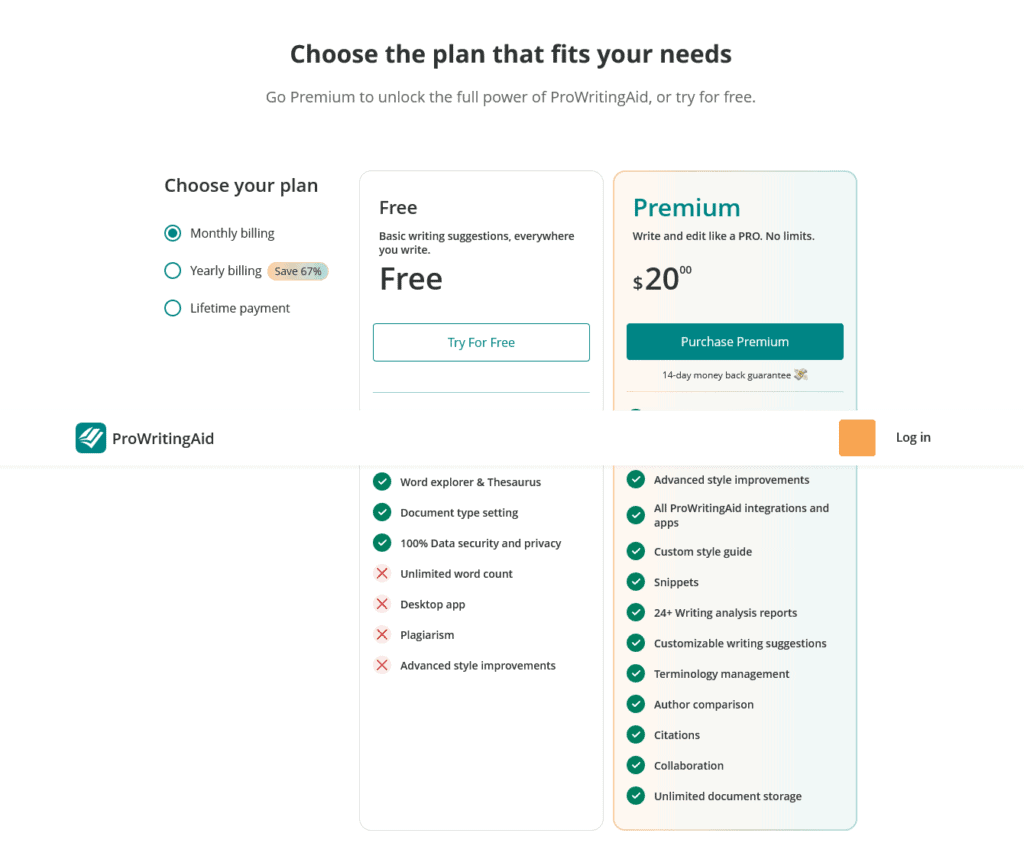 Free: Has a limit of 500 words at a time
Premium: $20/month, $79/year, and $399 for a lifetime with all features unlocked, over 20 reports, and unlimited words per check
Premium Plus: $30/month, $99/year, and $599 for a lifetime with all features and a plagiarism remover
4. Surfer SEO
(Best for SEO Writing)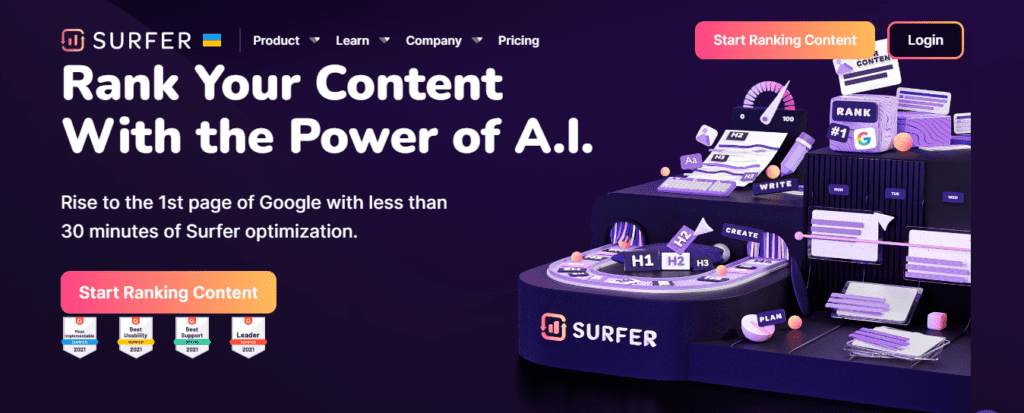 Another useful online writing assistant to use is Surfer SEO. It's an AI-powered program that helps you write top-notch and SEO-friendly content.
This program is great for bloggers, content marketers, and business owners who want to ensure their content is well-optimized to rank on search engines, especially Google.
It's useful if you want to appear on the first page of Google search results for specific keywords. Surfer SEO can be used as a web app or as a Chrome extension.
Read also: Best AI SEO Software
Features of Surfer SEO
Keyword research: This writing software program helps you find the right keywords to use in your content.
SEO writing: Surfer SEO will help you write good content for search engine ranking.
Content analysis: This tool analyzes your content and compares it to the top-ranking pages on Google. It then provides suggestions on how to improve your content so it can rank better.
Works with Jasper.ai: Now you'll have two powerful business tools to create great content that reaches more search engine users.
Surfer SEO Pricing
The plans of Surfer SEO are as follows.

Basic: $49/month and includes growing 1 website, optimizing 10 articles, and auditing 20 pages a month
Pro: $99/month and includes growing 5 websites, optimizing 30 articles, and auditing 60 pages a month
Business: $199/month and includes 10 websites, optimizing 70 articles, and auditing 140 pages a month
5. Copy.ai
(Best for Copywriting)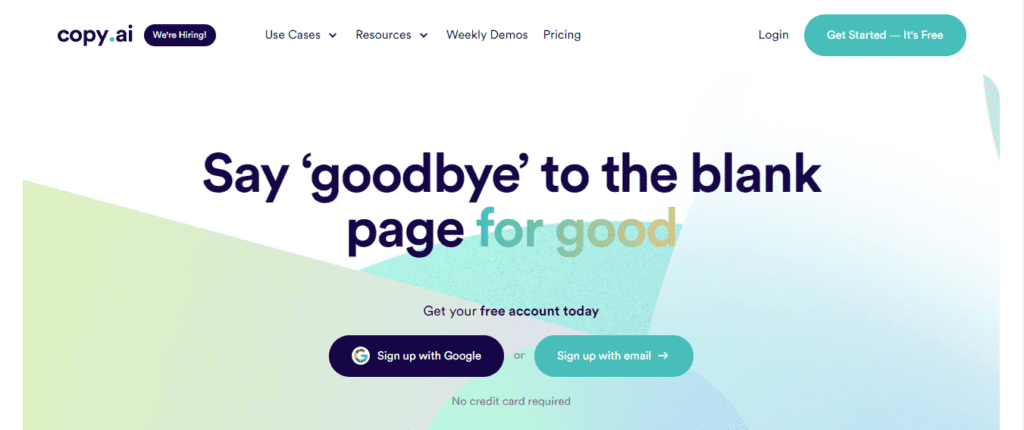 Copy.ai is among the best AI writing software for copywriting. It's a great tool for those who want to write effective and persuasive copy for their website, blog, or social media pages.
This program is also useful if you need help writing product descriptions or creating ad copy. You get a copy much faster that receives better engagement and converts well. This AI content generator can also create optimized blog posts quickly. You can use Copy.ai on the Web or as a Chrome extension.
Features of Copy.ai
Write content in over 25 languages
Sentence rewriting
Generate blog titles, headlines, and email subject lines
Copy.ai Pricing
You can either choose the free or pro plan of Copy.ai.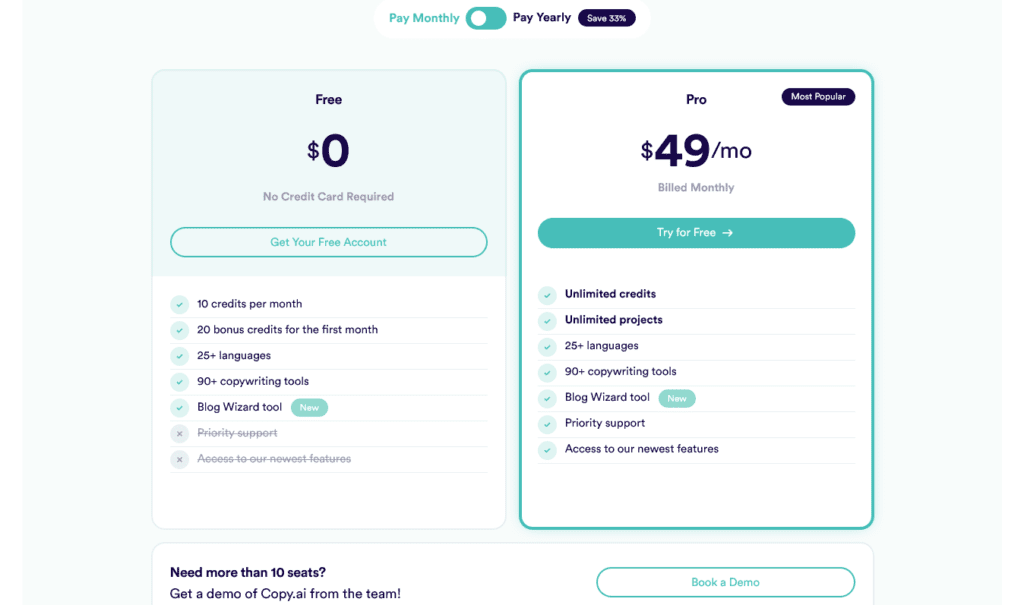 Free: $0/month and comes with 10 credits
Pro: $35/month (billed yearly) or 49/month (billed monthly) and has unlimited credits and projects
6. INK
(Best for Content Optimization)

If you need AI writing software that can help you optimize your content, INK may interest you. It can be useful in increasing traffic to your website without a lot of SEO knowledge.
INK analyzes your website's content and provides recommendations on how to improve it. The software also has a plagiarism checker to ensure your content is original.
Features of INK
AI writer for creating longer content like blogs and essays
SEO optimization for better search engine ranking
Copy assistant to help you write unique text quickly
A content planner that groups keywords together that belong in a specific article
INK Pricing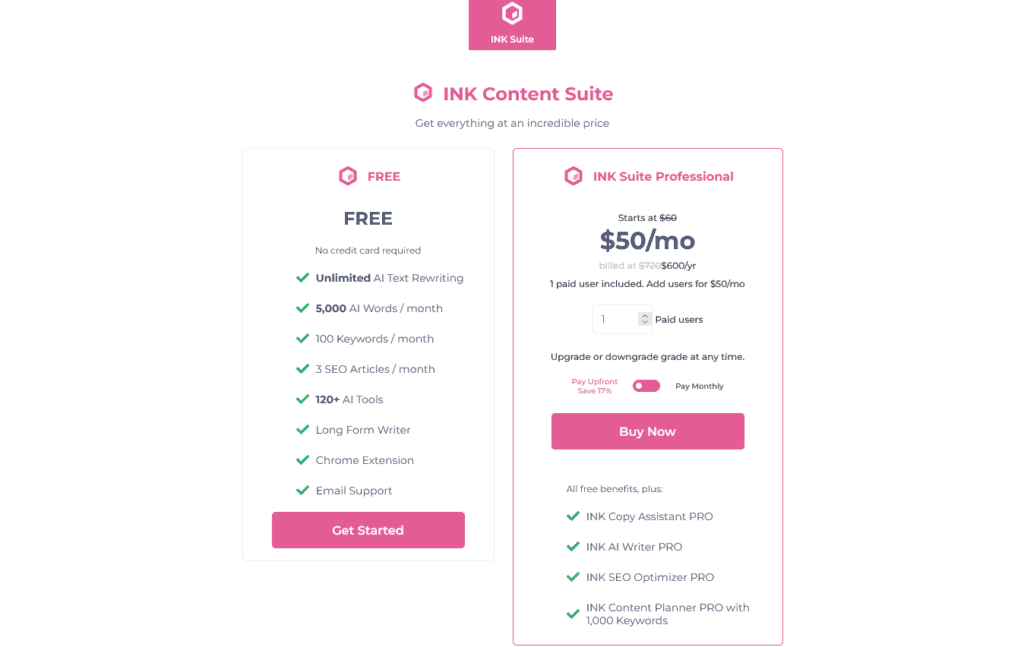 You're free to use INK for free to access basic features like 5,000 words, 100 keywords, and 3 articles per month. INK Suite is the paid option starting at $50/month that allows you to get the pro versions of features like AI writer, copy assistant, and SEO optimizer.
7. Rytr
(Best for Content Writing)

Rytr, another great AI writing assistant tool, can help you create high-quality content in a fraction of the usual time. You can use this software to write articles and even copy like YouTube descriptions, Facebook ads, and Instagram posts in minutes. You get a chance to save money on expensive content writers and copywriters online.
This AI program can suit those who are not native English speakers as it supports multiple languages. Rytr can help you improve your grammar and spelling so that your writings sound more natural.
Features of Rytr
30+ use cases and templates to choose from
30+ languages to write your content in
20+ tones of voice for your text
Scientific copywriting formulas to help in conversions
Rytr Pricing
There are 3 options.

Free plan: $0/month and allows generating 5,000 characters monthly
Saver plan: $9/month and allows generating 50,000 characters monthly
Unlimited plan: $29/month and include unlimited character generation
8. AI Writer
(Best for Full-Length Articles)

AI Writer is a content generation tool that specializes in creating high-quality articles. It uses artificial intelligence to help you research and write your posts faster and easier.
With AI Writer, you simply enter a headline, and the software will come up with ideas and suggestions to help you get started. You can also use the AI assistant to help you edit and improve your existing content.
This AI writing software is a great choice for those who need help generating ideas or structuring their thoughts into interesting and meaningful articles. It's also a good option if you're looking for a tool to help you boost your writing skills.
Features of AI Writer
Save time researching and writing
Reword texts
Accurate content with verifiable citations
New sub-topic discovery
AI Writer Pricing
You can choose either of these three AI Writer plans.

Basic plan: $29/month for up to 40 articles
Standard plan: $59/month for up to 150 articles
Power plan: $375/month for 1,000 articles
9. Copysmith.ai
(Best for Marketing Teams)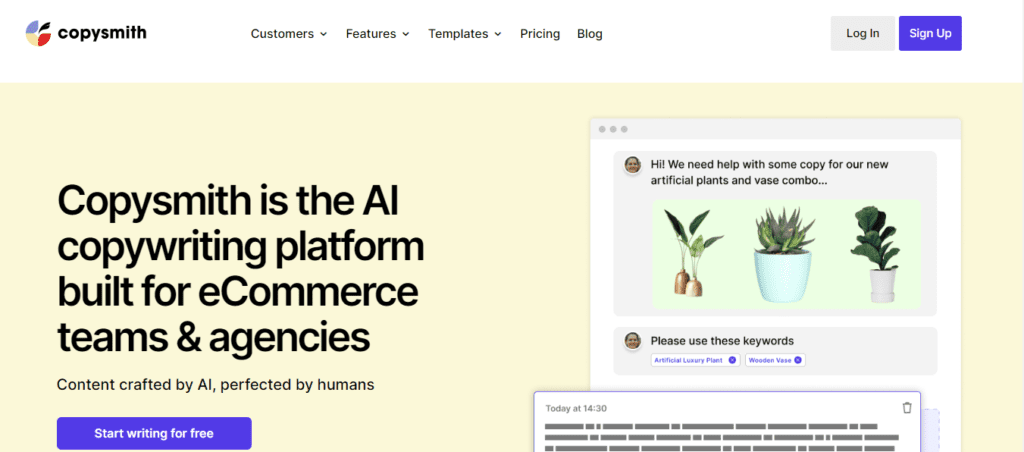 Copysmith.ai is a great AI writing tool for marketing teams, e-commerce businesses, and enterprises that need help creating high-quality, engaging content. Some things you can write include product descriptions, ads, and other content pieces.
Copysmith.ai incorporates SEO in all the generated website copy to ensure that they can rank on Google. You get a chance to convert Internet users into repeat customers.
You can also scale up your e-commerce business using the available writing templates. Plus, the AI writing tool has a Chrome extension that enables you to write from anywhere online.
Here's the full Copysmith review.
Features of Copysmith.ai
Integrations like Google Ads, MS Word, and Google Chrome
Bulk product descriptions
Bulk generation of content
Product campaign building
Team collaboration capabilities
Copysmith.ai Pricing
There are three options to choose from as a Copysmith.ai user.

Starter: $19/month for up to 20,000 words
Professional: $59/month for up to 80,000 words
Start Up: Starts at $299/month for unlimited words
10. GrowthBar
(Best for Blogging)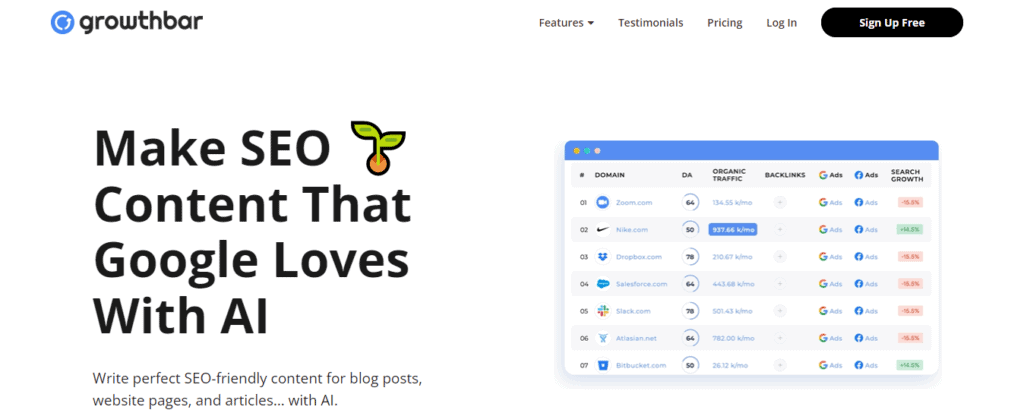 GrowthBar is a fantastic AI writing tool for blogging, website pages, and other content needs. It comes with a unique AI assistant that can help you write better in less time. It's a tool trusted by thousands of bloggers and marketers working with brands like Minted, Monday.com, and Postmates.
What makes GrowthBar interesting is its ability to generate all aspects of a blog post in simple clicks. You can quickly create optimized titles, intros, and headers. You also get to use the software's keyword suggestions for your blog posts or articles quickly.
So, besides the actual writing, you're able to have the tool perform keyword research for you and write a post that aligns with good SEO practices. You get access to keyword difficult scores and can track the words and phrases your site ranks for on Google. If you have a team, you don't have to worry since GrowthBar allows you to invite your writers and editors to collaborate.
Features of GrowthBar
AI-assisted writing suggestions
Keywords research and tracking
Access to billions of keywords
Real-time content analysis for search optimization
GrowthBar Pricing
GrowthBar has a free trial for 5 days and three pricing plans available for users.

Standard: $48/month for 25 content outlines, 500 paragraph generations, and 25 keywords to track on 1 site
Pro: $99/month for 100 content outlines, 2,000 paragraph generations, and 1,000 keywords to track on 3 sites
Agency: $199/month for 300 content outlines, 5,000 paragraph generations, and 5,000 keywords to track on 25 sites
11. Frase
(Best for Blog Introductions)

Frase is an AI writing software that can help you with your content needs in blogging. It aims to help business owners give a personalized and human-like experience to their customers through AI technology.
Frase is a great choice for those who want to spend less time on their content creation. You can generate short articles, intros, blog post title ideas, and more.
With Frase, you can create high-quality and engaging content faster than usual. The software also comes with a built-in SEO research tool to help you optimize your content for search engines.
Features of Frase
AI content optimized for search engines
Engaging blog titles, introductions, and meta descriptions
Paragraph rewriting
Slogan generation
Google's People Also Ask exploration
Frase Pricing

Solo: $14.99/month
Basic: $44.99/month
Team: $114.99/month
12. Wordtune
(Best for Rewriting)
Another AI content writer among the best ones is Wordtune. It is a great tool to help you rewrite your content and make it convey the message in an improved manner.
With Wordtune, you can also improve the readability of your writing by making sure that all the sentences are short and easy to understand. It can also translate various languages, including Spanish, Arabic, and Mandarin into English.
This AI writing software focuses on areas beyond grammar and spelling. Wordtune will help you put your thoughts into words for people to read.
You can choose to use the Wordtune editor site or use the browser extensions. The second option is great because you can use Wordtune in almost all places you write online.
Features of Wordtune
Text rephrasing
Smart synonyms
Shortening or expanding text length
Casual and formal tones
Team billing
Wordtune Pricing
You can use the Wordtune AI content generator for free or use the premium options.
Free: $0
Premium: $9.99/mo
Premium for teams: Custom price
13. Writesonic
(Best for Long-Form Content)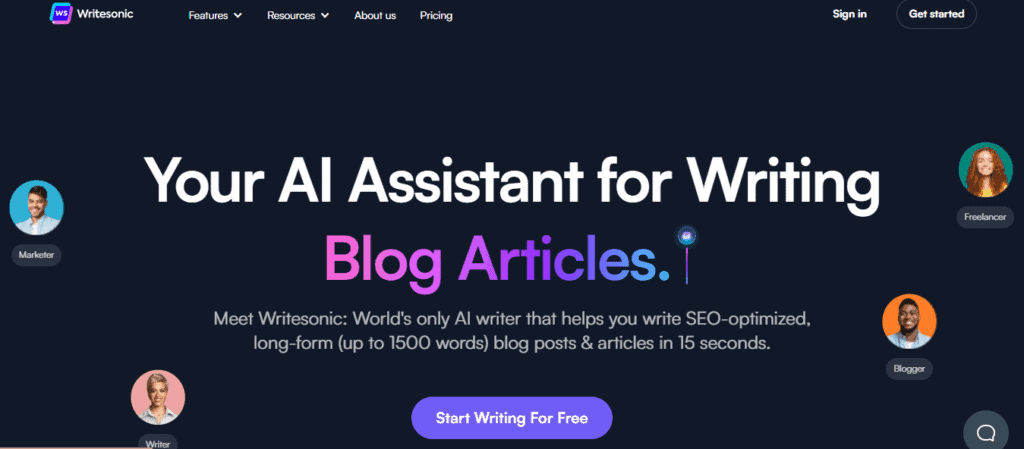 Maybe you need an AI writing assistant that can write longer SEO articles in a few minutes. If so, Writesonic may be the tool you need.
Writesonic can help you write 1,500-word blog posts even in 15 seconds. Besides blog posts, you can use this AI writing software to create descriptions of products, landing pages, and ad posts.
In other words, it's suitable for writers, e-commerce stores, entrepreneurs, and marketing teams. It's available as an extension for Chrome to improve your content on various text editors online.
Features of Writesonic
AI blog writing
Unique duplication-free content
Text expander
Paraphraser
Copy generator for descriptions, pages, and more
Writesonic pricing
Writesonic offers a free trial plan and a couple of paid subscription options. It has Premium, Good, Average, and Economy quality levels, in their order from the highest quality to the least.

Free Trial: $0/month
Long-form: Starts from $19/month
Custom Plan: Custom package and includes unlimited words
14. Copymatic
(Best for Short-Form Content)

Copymatic is a great AI content-writing software if you need to save hours when writing short-form content. It's suitable for SEO and can be used to generate catchy titles, summaries, and meta descriptions in minutes.
Copymatic can also turn your short description into 1,000 words of an article. You're free to play with settings like tones and creativity level to get a piece of writing that fits your reader. You don't have to worry about the quality of your content because it has advanced AI capabilities and natural language processing to ensure it's unique and readable.
Also, the document Copymatic creates is free of plagiarism. The tool supports a wide range of languages, including English, Spanish, French, German, and Hindi. Besides text, Copymatic can also help you come up with images to insert in your content.
Features of Copymatic
50+ tools for various types of writing
Sentence rewriter
Copy optimization for conversions
Image generation
Copymatic Pricing
Copymatic offers a Pro option that starts from $ 9 a month for 15,000 words and Enterprise, the custom plan for personalized needs.

15. HyperWrite
(Best for Writing Suggestions)

HyperWrite is a great AI writing assistant that can help you get suggestions for your content. The tool can help you complete sentences and original paragraphs and thus enhance your writing's grammar and style.
You can use it to write emails, documents, online articles, or any other type of written work with more accuracy. HyperWrite has an AI algorithm that finds and fixes errors in your writing.
It can also suggest synonyms, create topics and outlines for you, and even punctuate sentences with the click of a button. It includes features like grammar correction, spell-checker, and more to improve any text you write.
Features of HyperWrite
AI editing assistant
Rewriter
Grammar and punctuation correction
Style improvement
Works on all websites and apps with its browser extension
HyperWrite Pricing
HyperWrite has two options, Free at $0 for 5 generations and 5 rewrites monthly and Premium at $19.99 a month for unlimited generations and rewrites.

Conclusion
With the best AI writing software, you can create high-quality content for your blog or website quickly. You don't have to spend hours writing anymore. This means less staring into your computer and using the time to work on other areas of your online business or side hustle.
Choose the right tool according to your needs and budget and start creating better content today. Let us know in the comments if you know other great AI writing tools!