11 Most Profitable Digital Products to Sell (2023)
Gone are the days when physical products dominated the market. Traditional brick-and-mortar stores are now sharing shelf space with virtual marketplaces. Digital products offer unmatched advantages, such as low production costs, scalability, and the ability to reach a global audience effortlessly.
That's why selling digital products is a fast-growing online business idea. You can sell various types of digital products, some more profitable than others. If you're wondering which are the best digital products to sell online, you've come to the right place.
I'll share the top options you can choose and begin generating income as soon as possible.
Read also: Best Platforms to Sell Digital Products
What Is a Digital Product?
Before we begin, let's first define what a digital product is. A digital product is an intangible item or service that's accessed digitally, typically through electronic devices such as computers, smartphones, or tablets.
Unlike physical products, digital products do not have a tangible presence. These products are created, stored, and delivered in a digital format and are often distributed electronically over the Internet or through specific platforms. What it means is that customers can access and consume them instantly.
What Are the Best Digital Products to Sell?
Below are the most profitable digital products that you can sell online.
1. E-books
E-books have emerged as one of the most profitable digital products in today's market. With the rise of e-readers, tablets, and smartphones, the demand for digital books has skyrocketed, offering authors and publishers lucrative opportunities to reach a wide audience and generate substantial revenue.
You no longer need to go through the hassle of submitting manuscripts to publishers. With digital publishing platforms and self-publishing tools readily available, anyone with writing skills and a compelling idea can create and distribute an ebook.
E-books can either be fiction or non-fiction. Non-fiction e-books don't require that you have a lot of creativity. You just need to be knowledgeable in a topic to package the information into an e-book that people would like to read.
Some lucrative e-book ideas are:
Finance: Only 33% of adults in the world are financially literate, making this one of the most profitable e-book ideas. Some things you can cover are making money, budgeting, and investing. Since you may not be a certified financial advisor, it would help if you have a disclaimer.
Digital marketing: If you know how to help people market their brands in this day and age, they'll likely be interested in reading your e-book.
Parenting: Nowadays, we have a lot of young and inexperienced parents who could use the advice of someone who has had significant success in raising kids.
You can easily distribute your e-books through popular online marketplaces like Amazon Kindle, Apple Books, Barnes & Noble Nook, and more. As a self-published author, you get a chance to earn high royalties compared to traditional publishing models, often reaching up to 70% or more. It's even possible to sell an e-book on your own site and keep 100% of the profits!
2. Online Courses
There's high demand for flexible and accessible education, making online courses some of the most profitable digital products to sell. In fact, a lot of online course creators make more money selling their e-courses than from whatever they're teaching.
The reason for this is that once the course content is created, it can be accessed by an unlimited number of students from anywhere. This means that one successful online course can have high-profit margins.
Also, this digital product idea offers flexibility in terms of content delivery. Online courses can be designed as video-based content, interactive modules, downloadable resources, quizzes, and assignments. By tailoring your course to different learning styles, you attract a broader range of learners and thereby increase the potential customer base.
Below are just but a few ideas for online courses to try, depending on your expertise or interests:
Language learning for beginners: Develop an online course for beginners to learn a new language and provide lessons on areas like vocabulary, grammar, pronunciation, and practical conversation skills.
Fitness and strength training: Offer a course that combines workout routines, exercise demonstrations, and nutrition guidance to help participants achieve their fitness goals and lead healthy lifestyles.
Entrepreneurship and business startup: If you've had success in entrepreneurship, you could guide aspiring entrepreneurs through the process of starting and growing their own businesses. Such a course can cover topics such as market research, business planning, marketing strategies, and financial management.
Remember, when choosing an online course idea, consider your own expertise, passion, and target audience. The key is to provide valuable and actionable content that meets the needs and interests of your potential learners.
To maximize profitability when selling online courses, focus on building a strong brand reputation and delivering high-quality content. Also, employ effective marketing strategies such as email campaigns and social media promotions, engage with learners through discussion forums or live Q&A sessions, and continuously improve your course offerings based on learner feedback.
3. Webinars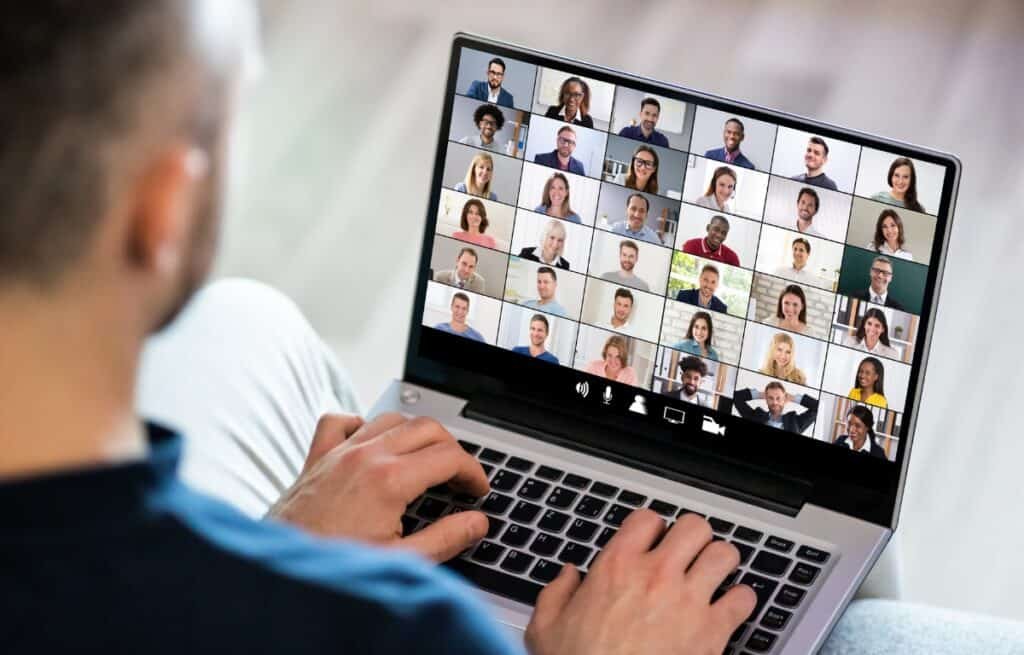 Webinars have emerged as a highly profitable digital product in recent years. They offer a dynamic and interactive platform for knowledge sharing, training, and engagement. These digitally shared products combine the benefits of live presentations, multimedia content, and real-time audience interaction to provide a valuable learning experience.
Webinars allow industry experts, thought leaders and professionals to showcase their knowledge and expertise in a live setting. Holding a webinar allows you to provide valuable insights, practical tips, and actionable strategies that position you as a trusted authority in your field. This attracts a dedicated audience that's willing to invest in your expertise to grow themselves.
Webinars also offer various monetization options, allowing you as a presenter to generate revenue directly from your online events. Some common monetization strategies include charging a registration fee, offering premium access to recorded webinars, upselling products or services during the webinar (like your e-book or online course), or partnering with sponsors for promotional opportunities.
One of the advantages of webinars when compared to other digital products is that they're easy to launch. You just need to promote your event beforehand and then use webinar platforms like GoToWebinar, Livestorm, and Zoom to host the live webinars. Your webinars can also remain recorded and be accessed by users later on.
4. Coaching Sessions
Coaching is a highly profitable digital product that enables individuals to receive personalized guidance, support, and advice in various areas of their lives. As a coach, you can leverage digital platforms to connect with clients globally and this makes coaching accessible and convenient.
As a coach, you can either offer one-on-one sessions or group coaching programs. A few examples of areas to address are career development, personal growth, relationships, productivity, and business strategies. If you understand a client's unique needs, it's possible to deliver personalized solutions and help them achieve their desired outcomes.
You can complement your coaching business with ancillary products and services that enhance the overall coaching experience. These include workbooks, assessments, templates, guided meditations, or exclusive access to resources and online communities. That being said, it's possible to coach clients on most platforms with video calling capabilities.
5. Memberships
Memberships allow you to offer exclusive access, benefits, and content to members. Such programs foster a sense of belonging and provide ongoing value. Instead of relying solely on one-time sales or sporadic transactions, recurring membership fees offer a stable source of revenue.
Memberships offer a range of exclusive content, benefits, and experiences that aren't available to free users. These may include premium articles, videos, podcasts, tutorials, courses, live Q&A sessions, discounts, or personalized support. You can even offer early-bird opportunities to allow members to access new products, services, or events before the general public.
To start a membership site, feel free to use tools like MemberPress. You could even host content like live recordings on platforms such as Facebook groups and only allow paying users in.
6. Printables
Printables are among the best digital products to sell online because almost anyone can do it. They're usually downloadable files, typically in PDF format, that provide users with ready-to-print materials. Such materials can be used for personal, educational, or organizational purposes.
Printables cater to a broad audience and that's why they're highly marketable. They can appeal to individuals, families, educators, professionals, and various niche markets.
Below, you'll find some of the best printables to create and sell:
Planners and organizers: Daily, weekly, monthly, or yearly planners, goal-setting worksheets, habit trackers, and meal planners are highly sought-after printables.
Educational resources: Worksheets, flashcards, study guides, coloring pages, and educational games cater to parents, teachers, and students.
Art and decor: Art prints, wall art, inspirational quotes, and party decorations appeal to individuals looking to enhance their living spaces.
Business and marketing templates: Business cards, resume templates, social media graphics, and branding kits serve entrepreneurs, freelancers, and small businesses.
Lifestyle and wellness templates: Fitness trackers, meal planning templates, self-care checklists, and budgeting worksheets attract individuals interested in personal development and wellness.
If you want to succeed in selling printables, it's wise to create high-quality designs and clearly communicate the uniqueness of your printables. Establish a strong online presence and utilize e-commerce platforms or marketplaces like Etsy. You can as well market the items through social media, blogs, or email newsletters can help reach and engage potential customers.
7. Music and Audio
The digital landscape has transformed the music industry, making it easier for musicians, producers, and audio professionals to create, distribute, and monetize their work. The rise of streaming platforms and digital distribution channels has changed the way music is consumed.
Artistes can now reach a global audience without the need for physical distribution. Platforms like Spotify, Apple Music, and YouTube Music allow musicians to monetize their music through streaming royalties.
Other than that, businesses, filmmakers, content creators, and advertisers actively seek music and audio content to enhance their projects. As an artiste or sound designer, you can license your music or audio sounds for use in commercials, films, TV shows, video games, and online videos to generate additional income streams and exposure for your work.
8. Stock Photos and Videos
Looking for another profitable digital product to sell? Stock photos and videos are a valuable resource for businesses, content creators, and individuals in need of high-quality visual content.
Businesses require compelling visuals for websites, marketing campaigns, social media, presentations, and more. Content creators and bloggers seek eye-catching imagery to enhance their articles and videos for platforms like YouTube and Instagram.
If you're a good photographer or videographer, stock media platforms will offer you an opportunity for ongoing revenue generation from your work. You just need to submit your images or footage to a specific platform. From there, you're able to earn royalties each time your content is licensed.
Some stock media platforms offer exclusive or premium content options. This approach allows photographers and videographers to sell their high-demand or specialized work at higher price points.
As your portfolio grows, so does your earning potential. You'll be creating a passive income stream that can supplement the regular photography or videography career paths. Some great stock media marketplaces to sell your works are Alamy, Shutterstock, and iStock Photo.
9. Digital Art and Designs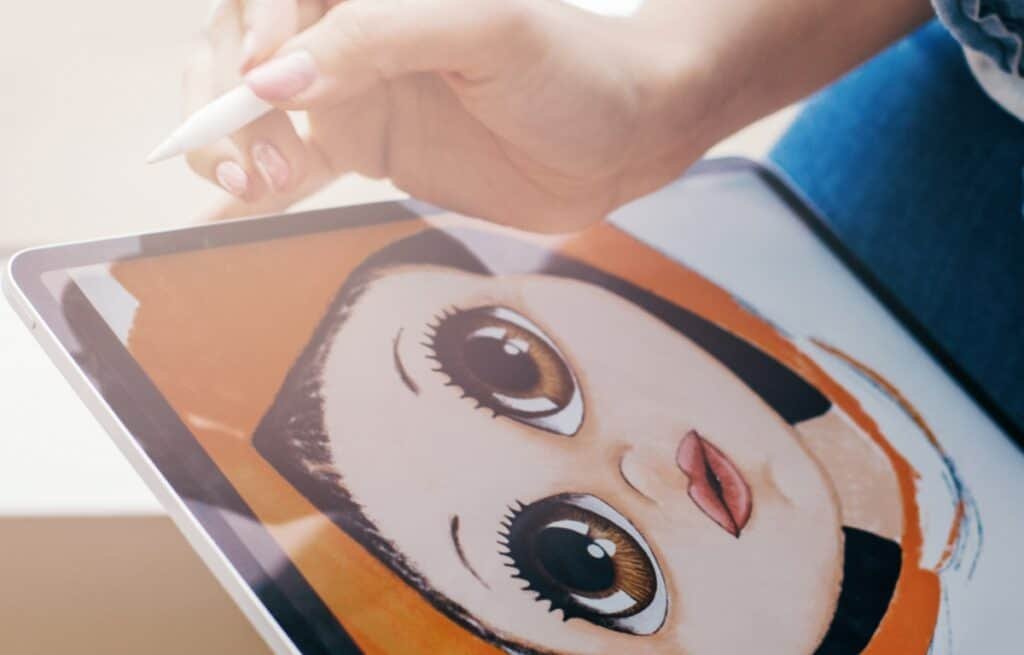 If you're an artist, digital art can offer a unique and lucrative avenue for you to create, showcase, and sell your work. Digital art eliminates many barriers to entry that traditional art forms often face.
Artists can create digital artwork using a computer, tablet, or even a smartphone, making it more accessible and affordable compared to traditional art supplies. We even have AI art tools nowadays that allow you to create art just from text.
Online galleries, social media platforms, and art marketplaces enable artists to share their creations with a vast audience of art enthusiasts, collectors, and potential buyers. You can as well create artwork or graphics and submit them for sale on platforms like Creative Market and Envato Elements. But people buying your digital art isn't the only way to generate income.
Print-on-demand is another thing to explore. In this case, you add your designs to custom products like t-shirts, hoodies, and mugs and then showcase them on a print-on-demand marketplace. When someone orders, the company will print your design on the item and deliver it, enabling you to earn profits after the product and printing costs are subtracted.
10. Software Tools and Apps
Smartphones, tablets, and computers have made software tools and apps an integral part of our daily lives. They provide solutions, convenience, and entertainment on the go. Whether it's productivity apps, project management tools, or design software, these digital products offer functionality and convenience that enhance users' lives and workflows.
Many software tools and apps adopt a subscription-based business model that offers users ongoing access to features, updates, and support. If you're a developer, such a model provides you with a predictable and steady stream of income. Recurring fees also give you an opportunity to continuously improve and expand your software offerings.
Remember, to succeed in this market, you'll have to prioritize user experience, continuously innovate, and respond to evolving user needs. Regular updates, bug fixes, and feature enhancements are crucial to maintaining user engagement and loyalty.
11. Website Templates and Themes
If you have web development and programming skills, you can opt to create and sell website templates and themes. These digital products are profitable because they provide individuals and businesses with ready-made designs and layouts for creating professional and visually appealing websites.
Since pre-designed templates and themes make work easier, they're a sought-after solution for website development. Instead of investing in custom web design or hiring a professional web developer, users can simply select a template or theme that aligns with their needs and preferences.
When developing these products, you'll need to focus on aspects like visual appeal, user experience, and mobile friendliness. Offering more customization options will make it likely for users to choose your product over others.
What's more, make sure your templates and themes are well-compatible with popular content management systems (CMS) such as WordPress, Joomla, or Drupal. This way, you won't frustrate users integrating such CMS onto their sites.
Conclusion
As you can see, the world of digital products offers a huge array of opportunities for entrepreneurs and creators to generate substantial profits. You just need to select the right product and begin selling.
Make sure that you only create and sell digital products that align with your knowledge, experiences, and interests. This especially applies to products where there's information sharing, such as e-books, online courses, and memberships.
It's also crucial to note that success in selling digital products requires more than just creating valuable downloadable content or tools. Understanding market demand, harnessing creativity, and leveraging technological advancements can help you capitalize on the profitability of digital products.
Lastly, don't forget to check out my article on where to sell digital products online!