7 Best Platforms to Sell Digital Products in 2023 (Fast & Easy)
Selling digital products has become a lucrative opportunity for creators, entrepreneurs, and businesses in today's world. Whether you're an artist, writer, musician, or instructor, there's a vast market waiting to explore and purchase your digital creations. However, to tap into this potential, it's wise to choose the right platform to sell your products quickly and easily online.
I compiled this list of the best digital product-selling platforms that anyone can use. It contains the top places where you can sell your e-books, online courses, web-based software tools, and more!
What Is the Best Platform to Sell Digital Products Online?
Below are the top marketplaces for selling digital downloads and creations.
1. Podia
Podia is an all-in-one platform designed for creators, entrepreneurs, and small businesses to sell and market their digital products online. It offers a range of features that make it easy to create, host, and sell various types of digital products, including online courses, digital downloads, memberships, and webinars.
With Podia, you can instantly deliver content to customers instantly upon purchase. You don't even have to worry about coding or hiring a web developer because Podia has a website builder. You'll be able to access web templates that you can customize according to your brand and colors and have a functional site in as little as 10 minutes!
Podia offers marketing tools to help you promote your products and grow your audience. You can create sales pages, embed buy buttons on your website, and run email marketing campaigns to engage with your customers.
Your customers would just need to log in to find their purchased products. The digital product selling platform handles transactions and sales for you as long as you've connected to a payment provider. Its analytics and reporting features allow you to track your sales and monitor the performance of your digital products.
Besides digital downloads, Podia also allows you to sell one-on-one coaching and consultation services. It becomes easy to embed your booking calendar (such as Calendly), set the pricing options, and manage the availability of your sessions.
Pricing
Podia has free and paid plans for users.
Free: $0/month
Mover: $39/month
Shaker: $89/month
2. Sellfy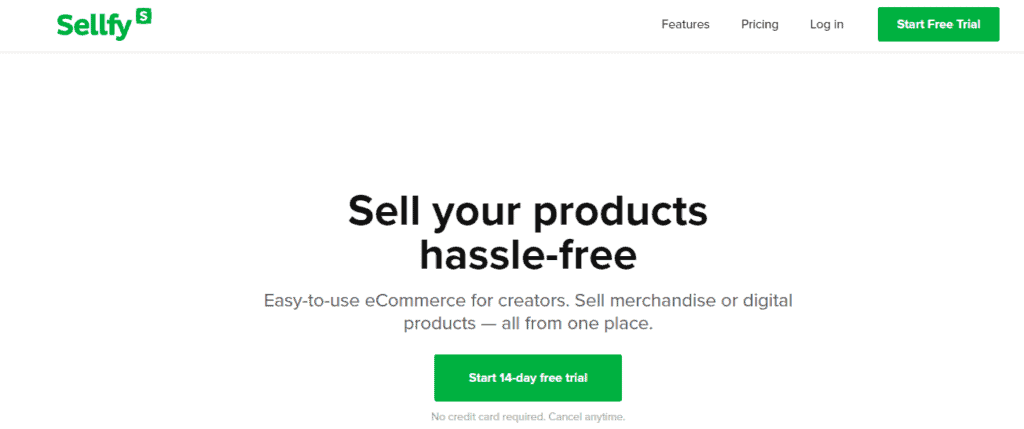 Sellfy was founded in 2011 and has gained popularity among content creators and small businesses as a user-friendly e-commerce solution for selling digital goods. It serves over 32,000 sellers who continue to generate income from doing what they love. Sellfy takes care of the technical aspects for you. In fact, you can have your Sellfy store created in just 5 minutes. You also won't have to worry about file hosting and delivery.
Sellfy enables you to sell not just from a hosted storefront but also from your website, online store, or social media. The website embed feature allows you to add the "buy now" button and shopping cart to your existing site too. If you're offering subscriptions, it's possible to add a "subscribe" button too.
Aside from digital products and subscriptions, you can as well sell merch using Sellfy. Regardless of what you're selling, you'll also access get email marketing, promotion, and upselling tools and resources for maximum conversions. Plus, its instant payout option makes it possible to access your income in seconds.
Pricing
Sellfy has 3 options to choose from.
Starter: $29/month
Business: $79/month
Premium: $159/month
High-volume sellers can access a custom pricing offer.
3. Shopify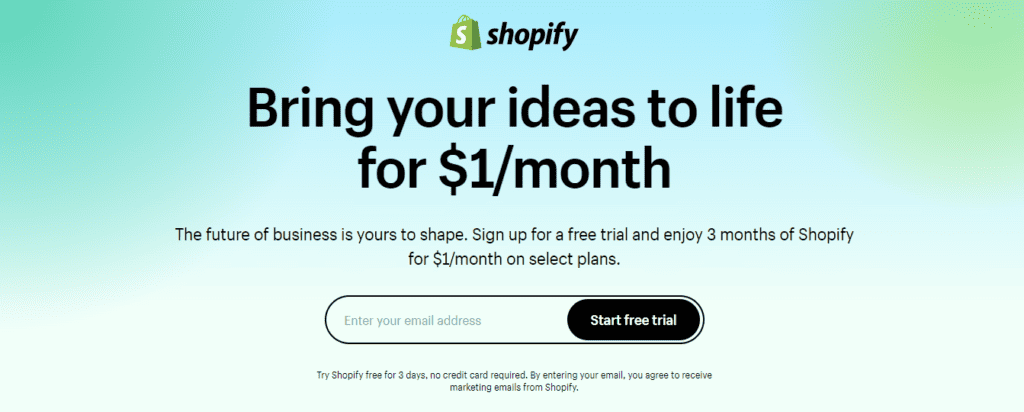 Need another digital product selling platform? One that you've likely heard about? Shopify is a leading e-commerce platform that allows individuals and businesses to create online stores and sell products or services.
While often associated with dropshipping and physical product sales, you'll find that Shopify offers much more than that and caters to various types of businesses and industries. What happens is that when adding products, you simply specify that they're digital ones. This removes shipping and other aspects associated with the delivery of physical products.
What's more, Shopify offers an extensive App Store with numerous third-party applications and extensions. These apps can easily be integrated to extend the functionality of a Shopify store. They enable users to add additional features, such as email marketing, customer support, inventory management, analytics, and more.
The Shopify Digital Downloads app is one of the most mentioned ones for adding and selling digital files on Shopify. You can share download links to sell anything in formats such as PDF, JPEG, ZIP, and more.
Pricing
Shopify offers the plans that follow.
Basic: $32/month
Shopify: $92/month
Advanced: $399/month
Keep in mind that there's a trial option where you use the platform freely for 3 days and then $1/month for 3 months.
4. AppSumo

If what you need is one of the top marketplaces for selling digital products that fall under the category of online tools, AppSumo is your friend. Over 1 million entrepreneurs trust this platform for finding whatever tool they need to boost their businesses.
The thing about AppSumo is that it helps you in spreading the word about your product. If you're a developer or run a SaaS business, I would recommend listing your web-based app or software on AppSumo.
There's a team of expert digital marketers that can help you go viral and reach a global audience. The company also has a 1.5 million+ email distribution list, a large following on various social networks, and affiliates to make your product get seen.
AppSumo works by negotiating exclusive discounts with software developers, allowing buyers to access products at prices significantly lower than their regular retail prices. There's even lifetime access to the products or services being offered, which means that buyers can use the tools indefinitely without having to worry about recurring subscription fees. Such offers make it an attractive platform for individuals looking for cost-effective solutions and sellers looking for a new customer base and profit boost.
Remember, you aren't limited to just selling software tools and apps. AppSumo allows you to list WordPress plugins, design elements, and digital downloads too like e-courses and PDFs.
Pricing
The good thing about AppSumo is that it has no upfront fees. You'll get help determining your product prices and the platform only takes small commissions on the sales you make (5% for new buyers and 30% for returning customers).
5. Gumroad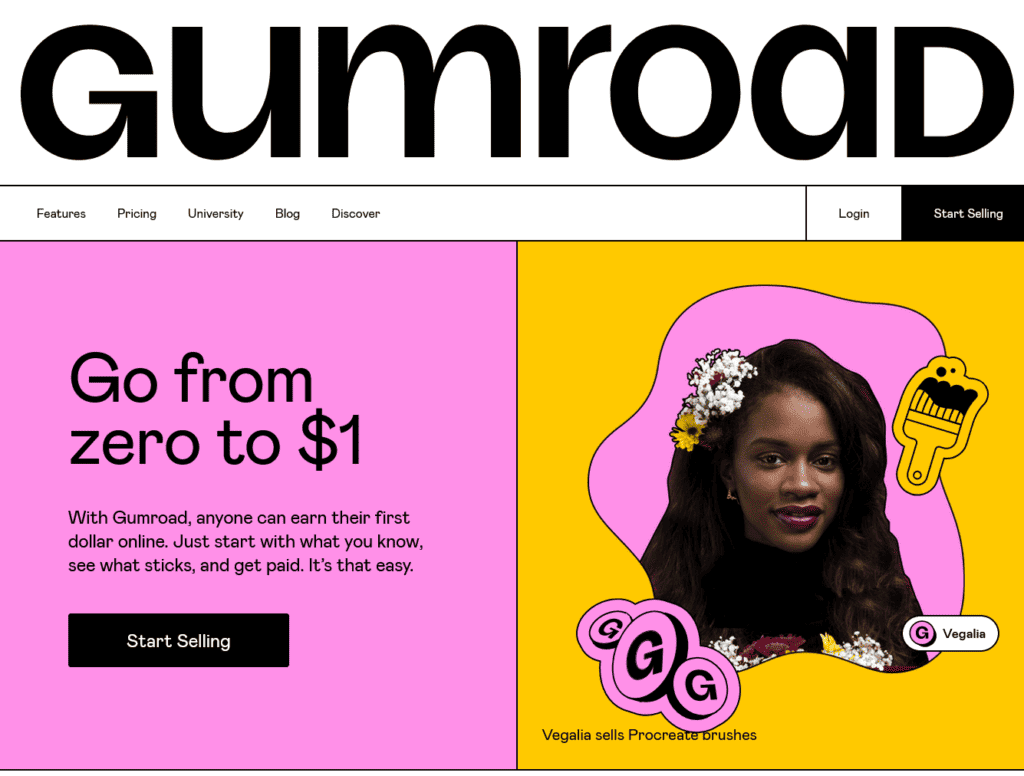 Maybe you need a free e-commerce platform for selling digital products that's simple but powerful. In that case, Gumroad, may interest you. Over 140,000 creators use it to market their digital goods, including books, audio, comics, technical tools, and memberships.
It was founded in 2011 with a focus on simplicity and empowering individuals to monetize their creative work. You can easily make your first sale ever using Gumroad since it allows sellers to start small, learn, and grow better.
Similar to a few other mentioned digital product selling platforms, you can either set up a store on Gumroad or embed it onto an existing website. The Gumroad page editor makes it easy for beginners to set up a storefront from scratch that's well-customized according to their brand colors.
It's possible to also add Gumroad's payment platform and "follow" button on the site you already have. You're able to create simple subscriptions with a library of content, get paid in any currency, and set up discount codes when you wish. If you're selling software, Gumroad can create license keys for you.
Pricing
Gumroad has no monthly charges. Similar to the likes of AppSumo, it only takes a cut from each sale (10%).
6. Payhip

Payhip is a platform to sell digital products, courses, and memberships for free without any technical skills. For digital downloads, all you need to do is upload the file onto the platform and accept purchases from anywhere online. Did I mention that you get paid instantly through PayPal or Stripe?
Payhip is also the place to turn your knowledge into an interactive e-course. The easy-to-use store builder is what gives you the tools needed to set up an impressive sales page, set up payment plans, and organize the course.
You're allowed to add any type of online course content, including free preview lessons, text, videos, assignments, quizzes, and downloads. With drip content, you choose when a student can access a particular lesson.
There's a comment system that enables students to interact better with you. You can even award certificates upon course completion!
Now, Payhip doesn't play when it comes to protection. Software sellers are able to get help in the generation, storage, and issuing of keys.
PDFs can have stamps on them to discourage illegal sharing. There's also the option to limit the downloads of your products.
Pricing
Payhip offers a free version and paid options.
Free: $0/month + 5% transaction fee
Plus: $25/month + 2% transaction fee
Pro: $99/month + 0% transaction fee
7. Thinkific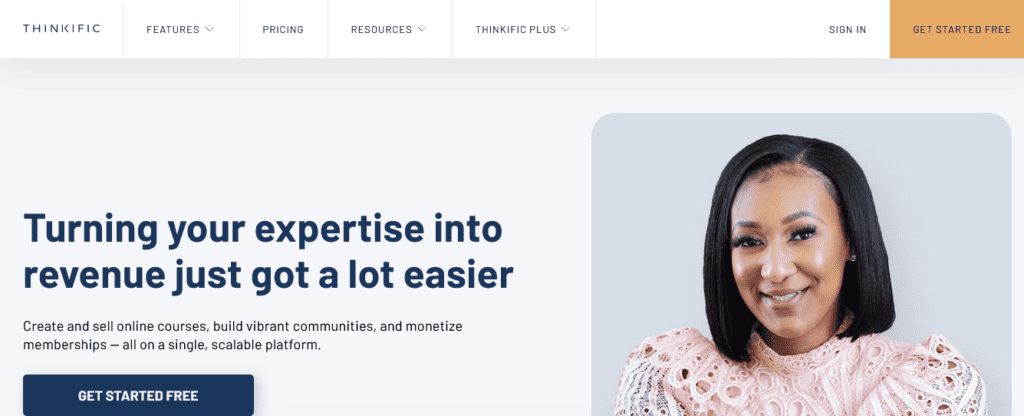 This is another free digital product-selling platform that focuses on courses. Thinkific was founded in 2012 with the goal of making online course creation and delivery accessible to everyone. In other words, it's one of the top places to generate revenue out of your expertise.
This online course creation platform offers a user-friendly interface and customizable course templates that allow you to create branded, professional-looking, and well-structured online courses. Users can personalize the design, layout, and branding to match their unique style or business identity.
You can add all sorts of multimedia including video, interactive files, and even content based on other sources. Custom domains are also supported for a fully branded experience.
Thinkific also offers robust course management features that allow instructors to set pricing, schedule course availability, manage enrollments, and track student progress. Instructors can control access to different modules or lessons and provide certificates of completion upon finishing a course. Besides self-paced and scheduled classes, you can as well offer live sessions and coaching.
Pricing
Thinkific is available for free but has paid plans for extras.
Free: $0/month
Basic: $49
Start: $99
Grow: $199
Plus: Custom pricing
Best Platforms for Selling Digital Products: FAQs
Where Can I Sell Digital Products without a Website?
There are several places to sell your digital downloads even if you haven't created a website. One of the top places for this are:
What happens is that you add your product to the platform and it will be hosted there. These platforms have storefront builders that allow you to create sales pages, which are crucial components to facilitate purchases online.
You can set your prices, use the available marketing tools, and access other selling features right on such platforms. If you get another custom website, you just need to embed a specific code to it to transfer your online store.
Where Can I Sell Digital Products for Free?
Sometimes, you're just a beginner without a budget to cover the selling fees of your digital products online. If that's you, there are numerous marketplaces and platforms to use at no cost.
They include:
Podia (free plan available)
AppSumo (free but takes a cut)
Gumroad (free but takes a cut)
Payhip (a free plan that takes a transaction fee)
Thinkific (free plan available)
As you can see, there are two types of free digital product selling platforms, each with its advantages and disadvantages. These are the ones that offer free plans and those that charge you later from sales generated.
For instance, Podia's free plan is 100% cost-free but has limited features, and only paying users get full access. AppSumo won't charge you in advance but takes a small percentage from sales.
What Digital Products Can I Sell Online?
You don't have to worry if you haven't found an idea yet. Here are the best digital products that you can sell and generate income from home:
E-books
Online courses
Webinars
Workshops
Coaching sessions
Memberships
Stock photos and videos
Digital artwork and designs
Music, audiobooks, and podcasts
Software tools
Downloadable printables
Plugins
Website templates and themes
Tickets
See the full list of digital product ideas or even the most profitable digital products to sell online!
Conclusion
As you can see, various platforms to sell digital products online exist. These platforms offer a range of features and tools to help individuals and businesses monetize their creative work, share knowledge, and offer discounts on their digital tools and resources.
Choosing the best platform depends on your specific needs, preferences, and the type of digital products you're selling. It doesn't matter whether you're distributing downloadable files, creating online courses, or offering exclusive business software deals. These platforms empower you to reach a wider audience and generate recurring income from your digital products.
PS… Besides selling digital downloads, you may want to check out more ideas for online business.