HeadshotGenerator.io Review: Corporate Headshots in Seconds!
A professional headshot is key for making a strong first impression. It's essential for your LinkedIn profile, company website, or personal portfolio. A quality headshot can really enhance your professional image.
That's where HeadshotGenerator.io comes in. It offers a simple yet effective AI business headshot app that transforms your selfies into professional headshots using advanced AI.
In this HeadshotGenerator.io review, I will go into detail about the tool and how it can help you grow in your profession or business.
Understanding Traditional AI Headshot Generators
To understand the evolution of AI headshot generator technology, it's insightful to look at the initial models and their progression. The early stages of this technology were marked by the use of a model known as DreamBooth.
While DreamBooth was innovative, it had its limitations. The process of generating a headshot was time-intensive, and the model files were quite large, around 6GB, making it challenging to scale effectively for broader use.
Following DreamBooth, the industry saw the introduction of LoRA (Low-Rank Adaptation), which marked a significant improvement. LoRA offered results similar to its predecessor but with a key advantage: faster training times.
Depending on the GPU used, generating a headshot with LoRA could take anywhere from 30 minutes to 2 hours. This was a considerable step forward in making AI headshot generator technology more accessible and practical for wider applications.
Why Use an AI Headshot Generator?
An AI headshot generator presents a convenient and efficient alternative to traditional professional photography. With this tool, the need to select the perfect outfit or spend time with a professional photographer is eliminated.
It simplifies the process by transforming a basic selfie into a professional-looking headshot using advanced AI headshot generator algorithms. This approach is particularly beneficial for those who require a quality headshot but lack the time or resources to invest in a professional photoshoot.
It's a time-saving solution, offering professional results without the typical effort and coordination involved in traditional photography.
What Is HeadshotGenerator.io?

HeadshotGenerator.io is a top-quality AI headshot generator that lets you turn a selfie into a professional photo. You can use professional-looking headshots for your online profiles, resumes, and other professional purposes.
The tool uses artificial intelligence to generate realistic and high-quality headshots from uploaded photos. You're even able to customize various aspects of the headshot, such as backgrounds and styles, to create a personalized and professional image.
Who Can Use HeadshotGenerator?
HeadshotGenerator.io can be used by a wide range of individuals. These include professionals, job seekers, business owners, actors, and models.
In other words, anyone else who needs a high-quality headshot for their online presence or professional use can benefit from the tool. It's a useful tool for creating professional and personalized headshots without the need for expensive photography services.
HeadshotGenerator.io Features: Why Choose It?
HeadshotGenerator.io represents a significant advancement in AI headshot generator technology by enhancing the traditional LoRA model. Instead of creating a unique LoRA model for each user, it employs an innovative inpainting technique.
This method involves a heat diffusion process applied multiple times to the image pixels around the face, significantly improving the quality and realism of the headshots. This approach not only sets it apart in the market but also offers a more user-friendly and efficient solution for creating professional headshots.
1. Single Photo Input
This is one of the most unique features of this AI headshot generator. Unlike other services that require numerous photos, HeadshotGenerator.io needs just one selfie to generate a professional headshot.
This feature significantly simplifies the process and makes it more accessible to users who may not have a series of good photos at their disposal. Also, you may be someone who prefers uploading one or a few images of yourself rather than dozens of them.


2. Speed and Efficiency
In today's fast-paced world, time is of the essence. HeadshotGenerator.io understands this and can deliver 4 AI-generated headshots in just 10 seconds.
This efficiency is a stark contrast to the 30 minutes to 2 hours required by other services. You won't have to wait long to get your headshots ready.
3. Realistic Results
The AI technology employed by HeadshotGenerator.io is designed to produce highly realistic and professional-looking headshots. This ensures that the final images are not just quick and convenient but also of a high quality that meets professional standards.
4. Multiple Customization Options
The platform offers over 25 hairstyles and more than 50 clothing styles. These include business wear and fun costumes.
Despite the variety, the business style remains the most popular choice among users. I mean, the whole purpose of a good business headshot is to signify professionalism and create an impression of competence, reliability, and seriousness about one's work.
Clothing styles:
:

Hairstyles:

5. Accessibility and Ease of Use
HeadshotGenerator.io is designed to be user-friendly. It ensures that even those with minimal technical know-how can easily navigate and use the service.
How to Use HeadshotGenerator.io
Using HeadshotGenerator.io is a straightforward process:
1. Upload your selfie
Start by uploading a clear selfie to the platform. Ensure the photo is well-lit and your face is clear (no hanging hair or wear covering parts of your face) and visible for the best result.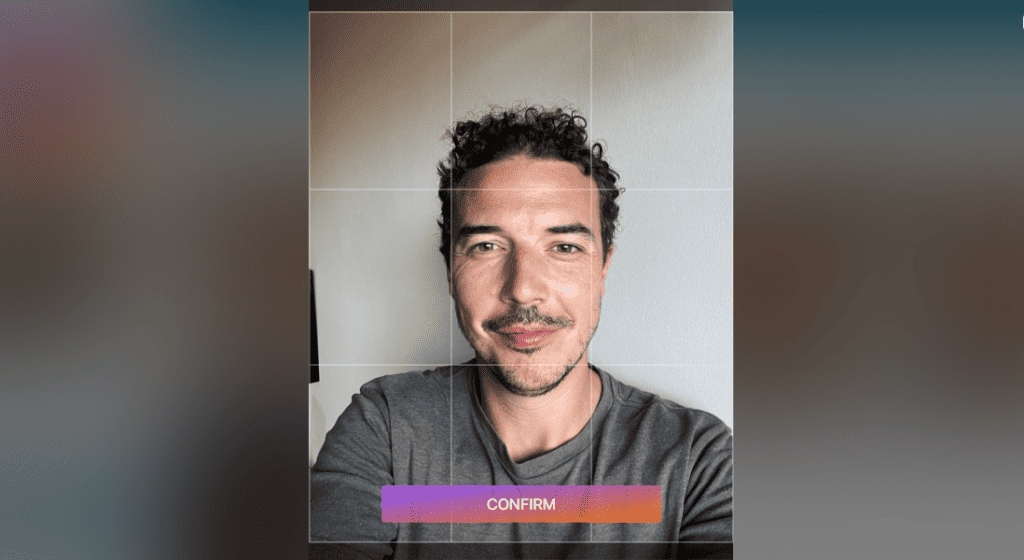 2. Choose the number of headshots, gender, and style
Select how many headshots you need and whether you're male or female. After that, pick your preferred clothing and hairstyle from the diverse options available.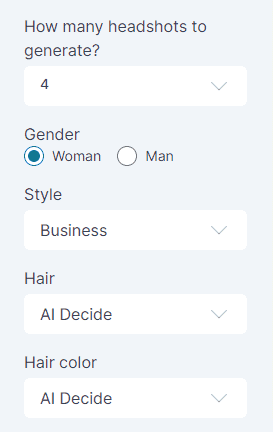 Whether you're aiming for a corporate look or something more creative, there's a style to match your needs. For hair and hair color, you can let the AI decide for you.
However, choosing your hair type, (such as shaved, afro, or short curly for males and short, long, or braids for females) helps get the exact headshot you need. You can even select a hat type for the image, like a beanie, beret, or fedora hat.
For hair color, the selections range from black, blonde, and brown to ginger, purple and pink. Also picking the color you want will only provide results that match your needs.
3. Generate your headshots
Once you've made your selections, the AI will work its magic. It generates 4 professional headshots in just 10 seconds.
Below are the results when I let AI decide:
Here are the results after choosing the hair selections "short curly" and color "black":

Now, moving on to a female headshot example. The original photo: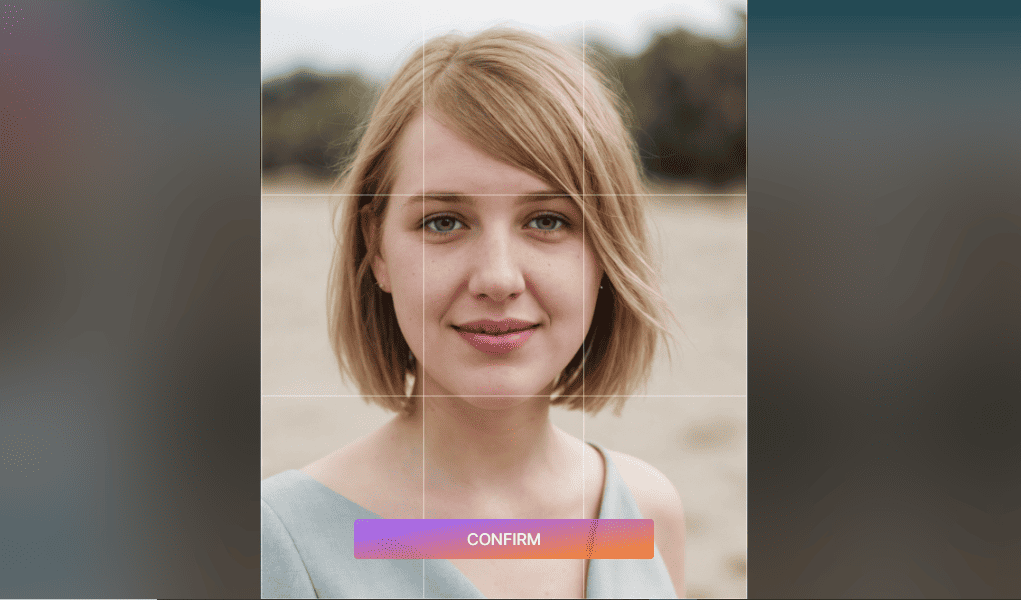 Here are the results (only chose the color as dark blonde):

As you can see, the hairstyle changed a bit for some of the generated headshots (which isn't a big deal and is useful) while the color I selected was maintained (if you want to keep your real hair color).
Note that I only used the business style for these headshots, explaining why they're only in suits. You can choose other professional wear, including a turtleneck, overcoat jacket, or trench coat.
What's more, profession-based wear is included, such as doctor, chef, and footballer. Or, you can have fun with the costume styles like fairy clothes, cyberpunk, and elf.
4. Download and use
The last step is to download your new headshots and use them across your professional networks and personal branding materials. You're also free to delete the photos you don't want to use.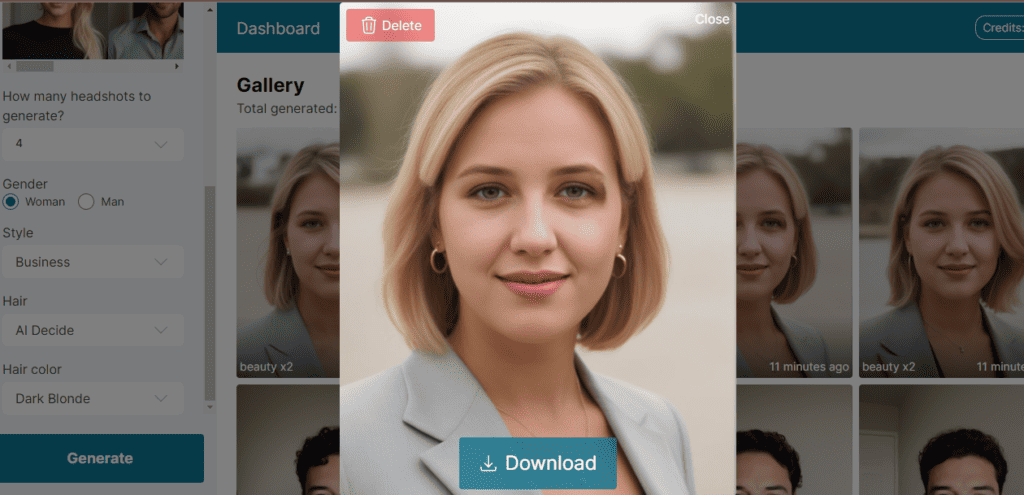 How Much Does HeadshotGenerator.io Cost?
This AI headshot generator is quite affordable. There are 3 packages to choose from:

Classic($19): 50 headshots and 18+ styles
Classic & Fun ($29): 100 headshots and 50+ styles
Bulk ($299): 1,500 headshots and 50+ styles
HeadshotGenerator.io Review: Conclusion
Hope you enjoyed this headshot generator review! As you can see, HeadshotGenerator.io offers more than just a tool; it's a comprehensive solution for professionals and individuals aiming to boost their online presence.
This AI tool for headshots combines speed, efficiency, and realism, moving away from the lengthy waits and need for multiple photos seen in traditional methods. It's a chance to embrace a more efficient future for your professional image.