Best Google Review Cards for Business (Boost Brand Reputation)
We live in a modern age where online reviews are a crucial factor in shaping a brand's reputation and success. Among the various platforms for customer feedback, Google reviews stand out as a powerful tool for businesses to build trust and credibility.
To make the most of this opportunity, companies are increasingly turning to innovative solutions such as NFC and QR code-enabled review cards. These cards offer a convenient and efficient way for customers to leave feedback, while also providing your business with a simplified method to get more Google reviews.
In this article, you'll discover the best NFC and QR code-enabled Google review cards for businesses. With such tools at hand, gathering positive customer feedback from your existing buyers to build trust with other potential customers won't be a problem.
What Is a Google Review Card?
A Google review card is a physical or digital card that contains a direct link or instructions for customers to leave a review on a business's Google My Business profile.
These cards often utilize NFC (Near Field Communication) or QR (Quick Response) code technology to provide an easy way for customers to access the review page.
How do Google Review Cards Work?
How these cards work is similar to digital business cards for sharing contact information. However, in this case, you're sharing an automatic link that redirects people to your reviews page.
The user just has to scan the card or tap it on their mobile device. The purpose of a Google review card is to encourage and facilitate customer feedback, thereby boosting your business's online reputation and visibility on Google.
Read also: Best Business Cards with NFC
What Is the Best Google Reviews Card for Business?
Below are the top options to pick from when it comes to Google review cards.
1. mTap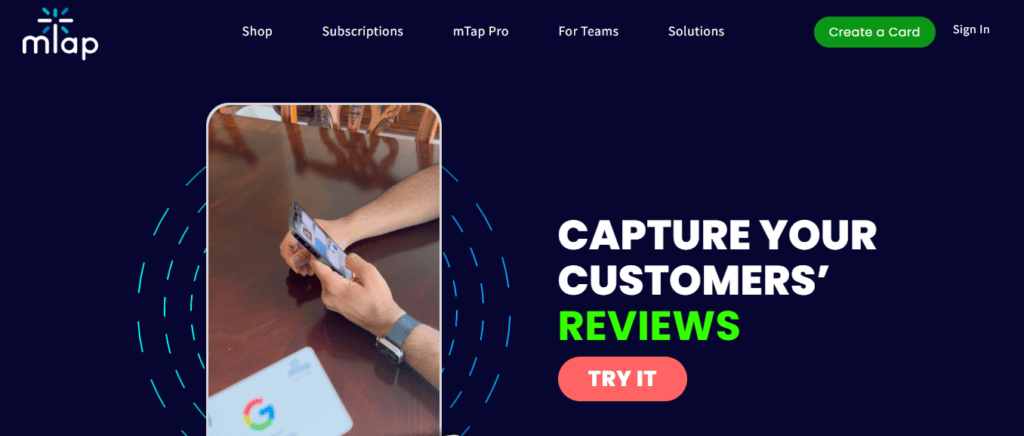 First on the list of the top Google review cards is mTap. mTap's Google review card is a user-friendly tool that seamlessly integrates NFC and QR code technology to enhance the customer review process.
With mTap, customers can easily leave reviews for your business by simply tapping their NFC-enabled smartphone or scanning the QR code on the card. This streamlined approach eliminates the need for customers to search for your business on Google and makes the review process more efficient and convenient.
Unlike mTap's digital business cards which require to to create a profile and manage an account, the review cards are configured and don't require you to do anything extra.
To get mTap's review card, all you have to do is provide your business name and address, whether a physical or virtual one. The company will put your information on the card before shipping it to you.
mTap Google Review Card Pricing
mTap review cards are quite affordable, with prices as little as $39.
Regular Google Review Card: $39
Custom Google Review Card: $79
10-Card custom Google Review Card Bundle: $199
2. TAPiTAG

Next up is TAPiTAG, a digital card provider that offers a collection of QR code and NFC review cards for businesses. It offers an advanced solution for brands seeking to streamline the review process and gain valuable insights.
TAPiTAG utilizes UV digital print technology to ensure high-quality and durable cards that can withstand regular use. The use of UV digital print not only enhances the visual appeal of the cards but also contributes to their longevity, making them a reliable and long-lasting tool for driving customer reviews.
TAPiTAG stands out by offering a no-subscription model. It provides a cost-effective and accessible solution for businesses of all sizes.
You get a chance to leverage the benefits of TAPiTAG without being tied to ongoing subscription fees. In other words, it's an attractive option for budget-conscious businesses.
With built-in analytics, TAPiTAG provides businesses with the ability to track and analyze customer interactions. You can see how many people tapped to leave a review about your business.
To get started with the TAPiTAG card, you need to go to the online shop, add your logo, and place an order. When the card arrives, scan the QR code to set up your profile and include your review link under "My Social Tags."
TAPiTAG Google Review Card Pricing
The TAPiTAG Google review card costs as follows:
Single Card: $39
5 Card Pack: $183
10 Card Pack: $360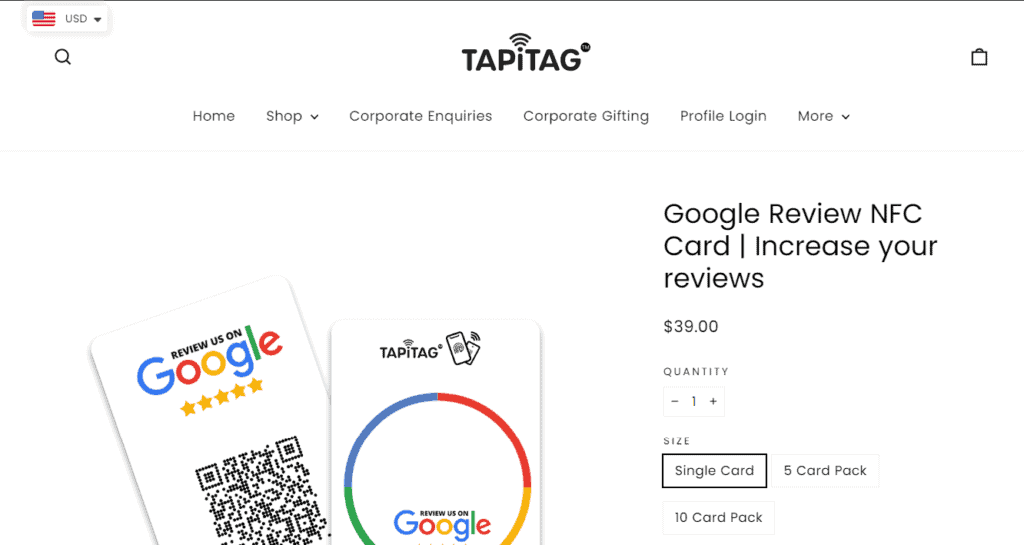 TAPiTAG also offers bamboo and walnut Google review cards. Besides the cards, review tags are also available, including a Google review phone tag that costs $28.
3. Tap Tag
Tap Tag is another option when it comes to Google review cards. This card can help you amplify your online presence and get more 5-star reviews on Google.
Each card is NFC-powered and works with all smartphones. The customer won't need any app to scan it.
The thing about Tap Tag's cards is that you can direct to any review page, not just Google. Tap Tag allows you to choose several other popular review platforms from which your brand would benefit.
These include TrustPilot, TripAdvisor, Yelp, and Airbnb. You can order any of these cards separately.
Tap Tag Google Review Card Pricing
Tap Tag card prices depend on the functions you select. The Tap Review branded card is $19.95.
Removing the TapTag brand logo will cost you an extra $5, and so will adding the QR code scanning functionality (to make the total cost $29.95).
How to Create a Google Review Card
Creating a Google Review Card is a straightforward process that involves designing a physical or digital card that provides customers with a direct link or instructions to leave a review on your Google My Business profile.
Here are the steps to create a Google Review Card:
Design the card: Determine the format of your Google Review Card, whether it's physical (printed) or digital (e.g., an image or PDF). Consider including your business logo, name, and a clear call-to-action prompting customers to leave a review.
Include NFC and/or QR Code: If you're creating a physical card, you can include an NFC tag and/or a QR code on the card. NFC tags can be programmed to direct customers to your Google review page when tapped with an NFC-enabled smartphone. QR codes can be scanned by customers to access the review page directly.
Provide clear instructions: Whether it's a physical or digital card, ensure that it includes clear and easy-to-follow instructions for customers on how to leave a review. This might include a simple URL, a "Scan Me" label for QR codes, or a "Tap Here" prompt for NFC tags.
Customize the Content: It helps to tailor the content of your Google review card to reflect your brand's identity and messaging. Use colors, fonts, and imagery that align with your brand's visual identity for a professional look.
Test the card: Before distributing the Google Review Card to customers, test the NFC and QR code functionality. Ensure they direct users to the correct review page to provide a seamless customer experience.
Now, you don't have to go through the process of designing a Google review card and adding NFC technology or QR codes to it. It can get quite complicated and you may have to deal with various production costs.
There are ready-made review cards online. Simply head to a platform such as mTap instead and order a card containing branding elements like your business name and logo.
How to Distribute Your Google Review Cards
Distributing Google review cards effectively is how you can encourage customers to leave reviews and enhance your business's online reputation. Here are some effective methods for distributing your Google Review Cards:
In-person distribution: If you have a physical location, place Google review cards at checkout counters, reception desks, or other high-traffic areas where customers can easily access them. You can also include them in shopping bags or with receipts.
Direct mail: In case you have a mailing list of customers, a great option is to send out Google review cards along with promotional materials or as part of a thank-you package. This can help increase the likelihood of customers leaving reviews.
Email signature: Include a link to your Google Review page in your email signature, and encourage your employees to do the same. This way, every email sent from your business serves as a gentle reminder for customers to leave a review.
Social media and website: Share digital versions of your Google Review Cards on your business's social media platforms and website. Include a call-to-action encouraging customers to leave a review, and make the process as simple as possible by providing direct links or QR codes.
Events and networking: If you attend trade shows, networking events, or community gatherings, bring physical Google review cards to distribute to potential customers. This personal touch can help you connect with people and encourage them to engage with your business.
Packaging inserts: If you sell products, consider including a Google review card in the packaging. It's a convenient opportunity for customers to leave a review after receiving and using your product.
Customer service interactions: Train your customer service representatives to offer Google review cards as part of their interactions with customers. For example, after resolving an issue or completing a successful transaction, they can provide the card as a way to express appreciation and encourage feedback.
Google Review Cards FAQs
What is the best Google review card in the UK, Australia, New Zealand, Dubai, or Canada?
mTap is one of the top Google review card providers that ships worldwide. Regardless of your location, this company can deliver your order to you.
The time it takes varies depending on where you are. Still, I found that it has one of the quickest delivery times of all the available providers.
How do you ask for Google reviews on a card?
When asking for Google reviews on a QR code-enabled or tap card, it's wise to make the request in a polite and clear manner. Use a friendly tone, provide clear instructions, and express gratitude.
Conclusion
Google review cards are a powerful tool for businesses looking to enhance their online reputation and attract new customers. By providing a convenient and user-friendly way for customers to leave reviews, businesses can gather valuable feedback and improve their visibility on Google search results.
To create effective Google Review Cards, businesses should focus on simplicity, clarity, and branding. It's also best to consider various distribution methods, including in-person, digital, and direct mail options, to reach as many customers as possible.