9 Best AI Professional Headshot Generators (Tested & Reviewed)
Are you tired of taking professional headshots every now and then for social media or your brand? AI can help!
If you needed a headshot for LinkedIn or your website's about page, you would have to either hire a professional photographer (which can be costly) or ask a friend to do it (who may end up not being good at it).
No one needs to mention the preparation beforehand. You would have to look for the right outfit, angles, and backgrounds, among other things.
But with the best AI headshot generators, things are much easier. Generative AI can help you create headshots from a regular photo of yourself.
If you want to instantly create dozens of professional headshots using AI in minutes, I've tested and reviewed the best apps for this purpose. Read on to discover the top AI headshot photo generators (with examples) that can save you time and money.
Read also: Best AI Image and Art Generators
What Is the Best AI Headshot Generator?
Below are my top picks for AI headshot creators online.
1. Aragon AI
Aragon is an AI headshot-generating tool that can turn your selfies into good-looking images for professional use. The tool has generated millions of headshots for over 30,000 users.
Aragon AI works in a simple way. You just need to upload 12 of your best images showing your face and let the AI do its thing.
What I like about Aragon is that you can choose from more than 100 styles. With its wide variety of backgrounds and outfits, you won't have to worry about finding the right location or clothes to go for a professional shoot.
It takes 90 minutes or less to get your AI headshots on Aragon AI. You can then review them and download your favorite ones.
Another thing that Aragon AI focuses on is privacy as its system will automatically delete your AI records after 30 days. You also have the option to do it yourself anytime for both the uploaded and AI-generated images.
Check these AI headshot examples from some of Argon AI's users, shared under its reviews section:
Aragon AI Features
Up to 100+ unique styles
Up to 200+ AI-generated headshots
High-quality photos in 1024 * 1824 pixels
60 to 120 minutes turnaround time
Aragon AI Pricing
Aragon AI has packages for individuals and teams. The individual plans are:
Starter ($29/person): 40 headshots in 120 minutes
Basic ($39/person): 80 headshots in 90 minutes
Premium ($69/person): 200 headshots in 60 minutes
For teams, the price is 39/person.
2. Secta Labs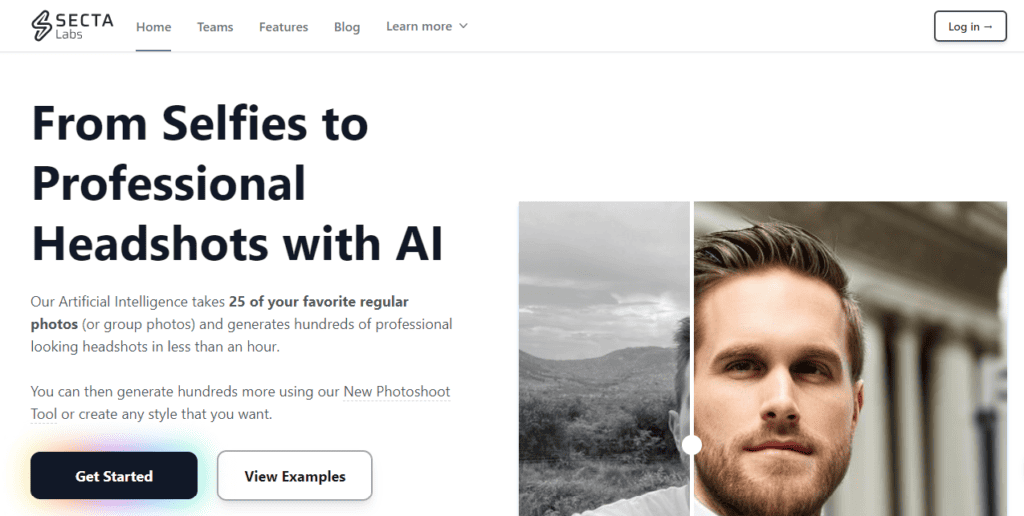 Next on this list of the top AI headshot creators is Secta Labs. If you want to be done with makeup, hairdo, studios, hot lights, or changing clothes when you need a new headshot, this option may suit you.
Secta Labs can convert a few of your selfies to hundreds of professional headshots that you can use on job networking sites like LinkedIn, your resume, portfolio site, and more. Whether you're wearing a printed t-shirt or pajamas, the AI can dress you up and create presentable portrait photos.
I could say, create an image of myself dressed in a dark suit or denim jacket, smiling, and against a red background or standing in the street. What I found interesting is that you can even maintain your brand identity by matching the backgrounds or colors using a hex code.
To offer the best experience, Secta Labs requires that you upload 25 of your regular images before it processes the AI headshots. At the moment, it appears that most users are enjoying the tool, with almost a 90 percent satisfaction rate.
Check these examples shared by Secta Labs itself:

Secta Labs Features
Numerous clothing styles, backgrounds, and facial expressions
300+ professional headshots
Private gallery for saving, browsing, and exporting your images
2 hours turnaround time
Variations feature that allows you to select a photo you like and remix it with various other backgrounds and clothing
Image recoloring, uncropping, and upscaling
Secta Labs Pricing
Secta Labs offers the Personal plan at $49 (one-time payment) and a Custom plan for teams.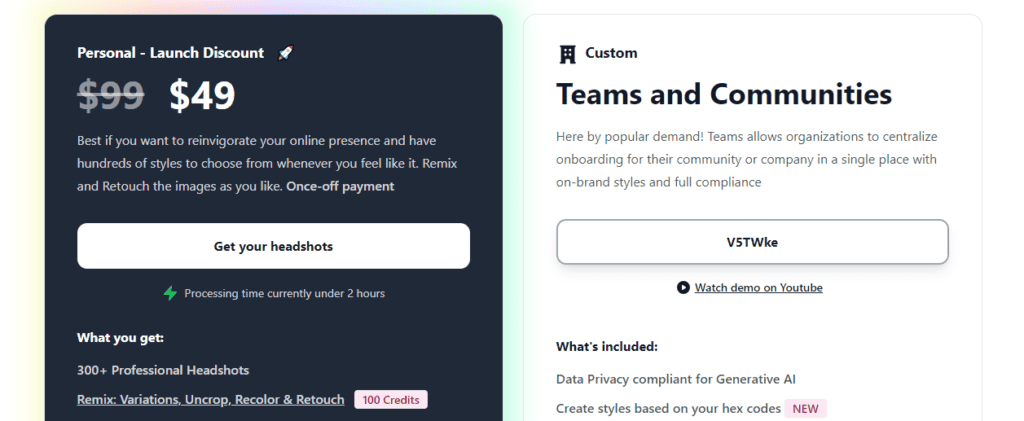 3. HeadshotPro
HeadshotPro is among the best AI tools for professional corporate headshots. It has over 20,000 customers and is trusted by the likes of CNN, Bloomberg, and Fashionista.
With the HeadshotPro tool in hand, you won't need to go for photoshoots or anything like that. What happens, is that you upload some of your close-up photos, select a style that suits you, and receive AI-generated headshots within 2 hours.
HeadshotPro's selection of backdrops and wear are what I find interesting. You can have a headshot with backdrops like white, dark, outside building or clothing such as a tuxedo, suit, or sweater in various colors.
While the tool suits individual use, HeadshotPro works even better for teams and can optimize each member's photo with appropriate lighting and color. In other words, all photos will be indistinguishable from your real images.
You're able to download the AI headshots you like in their best quality for use on your business website, paper or NFC business cards, social profiles, and other marketing materials.
Here are some examples of AI-generated headshots from some of HeadshotPro's users, as seen on the platform's reviews page: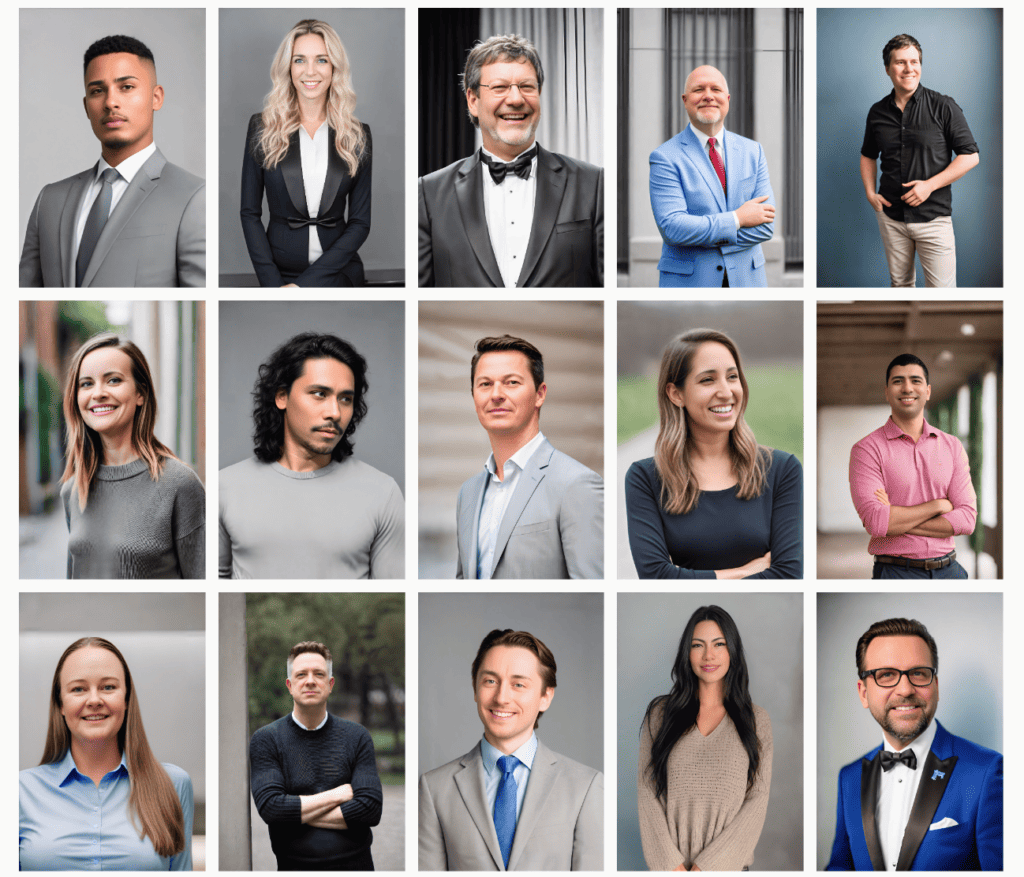 HeadshotPro Features
A large variety of clothing options
40+ different poses
Up to 240 headshots per person
Up to 6 unique backgrounds per shoot
4K photo resolution
2 hours turnaround time
HeadshotPro Pricing
HeadshotPro's pricing for individuals is as follows:
Small ($29/shoot): 40 headshots and 1 background
Normal ($39/shoot): 120 headshots and 3 backgrounds
Premium ($49/shoot): 240 headshots and 6 backgrounds
The team prices begin at $39/member.
4. ProPhotos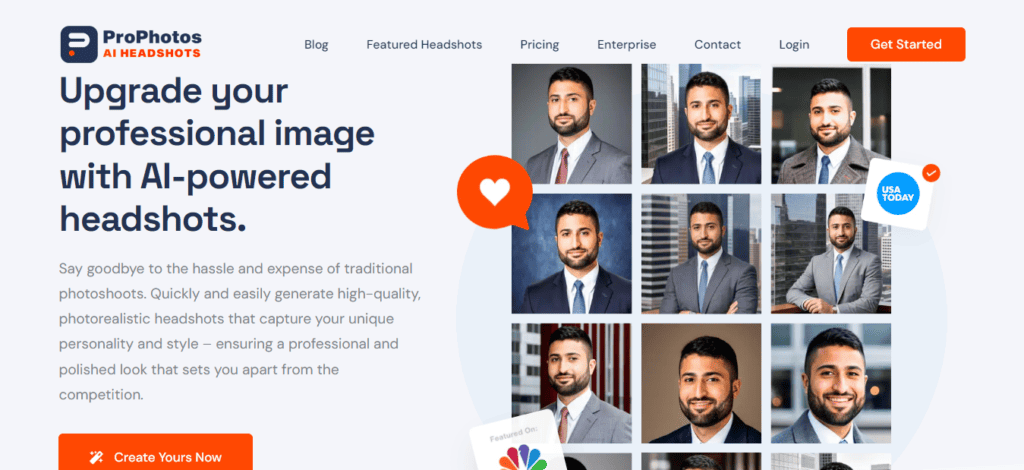 ProPhotos is another professional headshot generator software that removes the hassle of finding the perfect photo for your work needs. If you're in a busy profession and have little time to go for photoshoots, the AI tool can help you turn casual photos into professional portrait images.
It features various customizations that allow you to pick only what suits your preference, including the choice of clothing and backgrounds. You can, for example, have AI-generated images of you wearing a suit, blazer, or coat with full colors.
ProPhotos even has examples to inspire you to try it: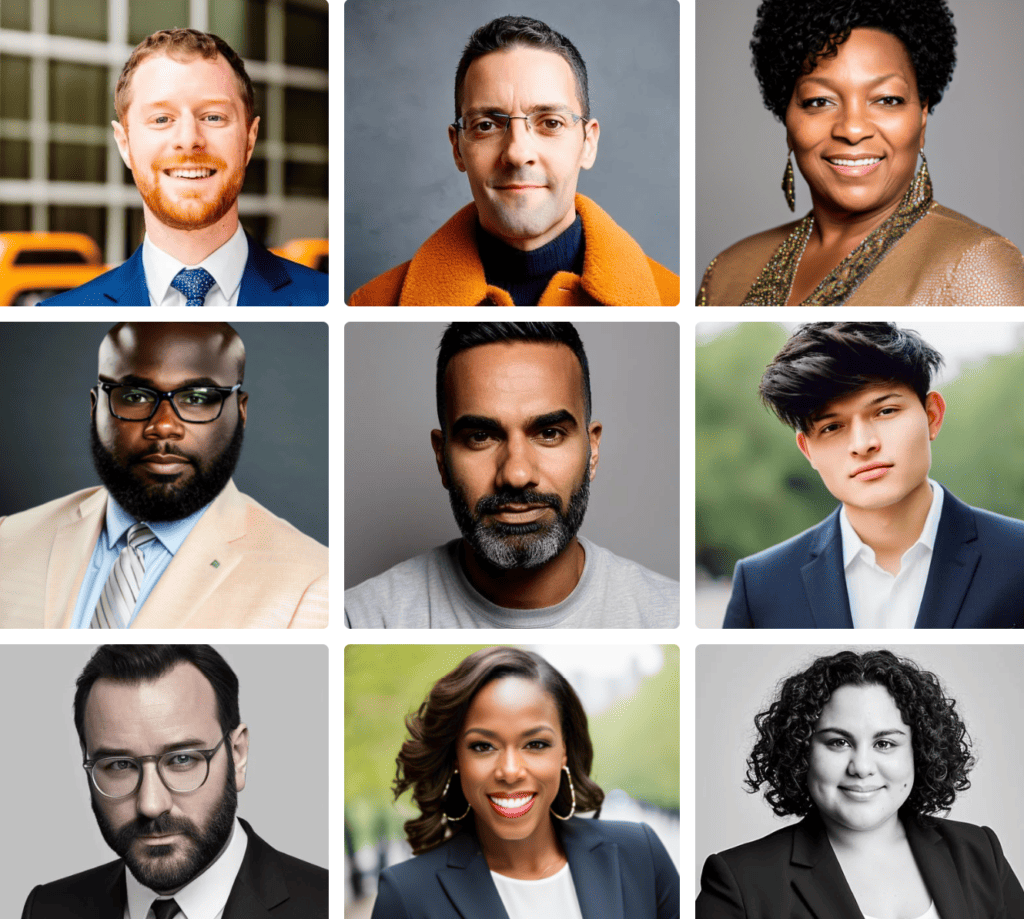 ProPhotos Features
Up to 8 styles of clothing
12 backgrounds to choose from
Up to 160 different headshots
30 to 90 minutes turnaround time
ProPhotos Pricing
The pricing of Prophotos is as shown below: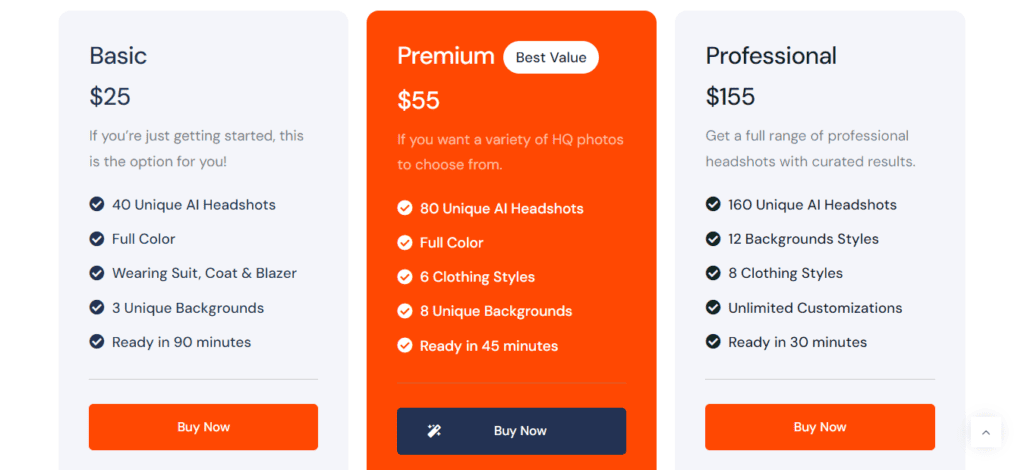 Basic ($25): 40 headshots and 3 backgrounds in 90 minutes
Premium ($55): 80 headshots and 8 backgrounds in 45 minutes
Professional ($155): 160 headshots and 12 backgrounds in 30 minutes
5. Try it on AI
Next, we have the tool Try it on AI. This AI software for studio headshots and portraits can work for you regardless of the industry you work in. Some examples are media, finance, and healthcare.
What happens is that you'll submit 10 or more of your natural selfies, select your gender, and set customizations according to your needs. Something interesting about this tool is that you can confirm your eye and hair color to ensure your generated headshots look like you.
You can even choose to have glasses on all your photos or a mix of them. Users can also access and enhance feature that fixes issues like eye inconsistency.
Check some of Try it on AI's headshot samples:

Try it on AI Features
Up to 200 headshots
AI photo enhancing feature
Human edits are available at an extra cost
Try it on AI Pricing
Check out Try it on AI's plans below: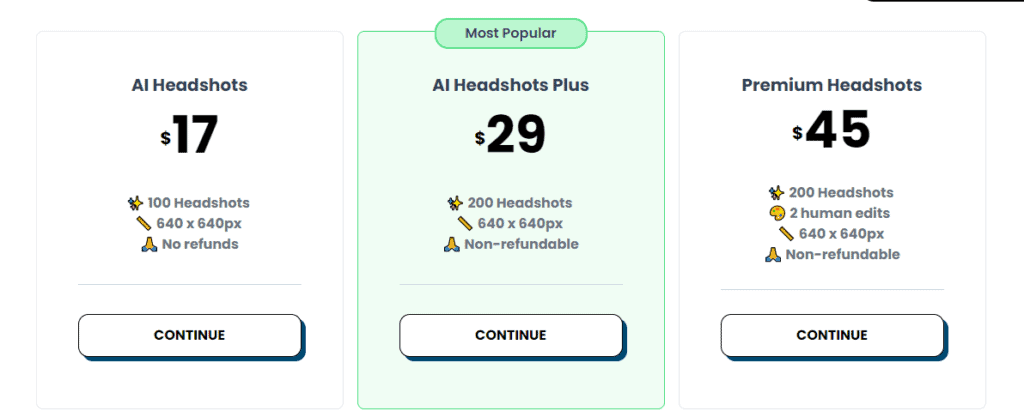 AI Headshots ($17): 100 headshots
AI Headshots Plus ($29): 200 headshots
Premium Headshots ($45): 200 headshots and 2 human edits
6. Media.io AI Headshot Generator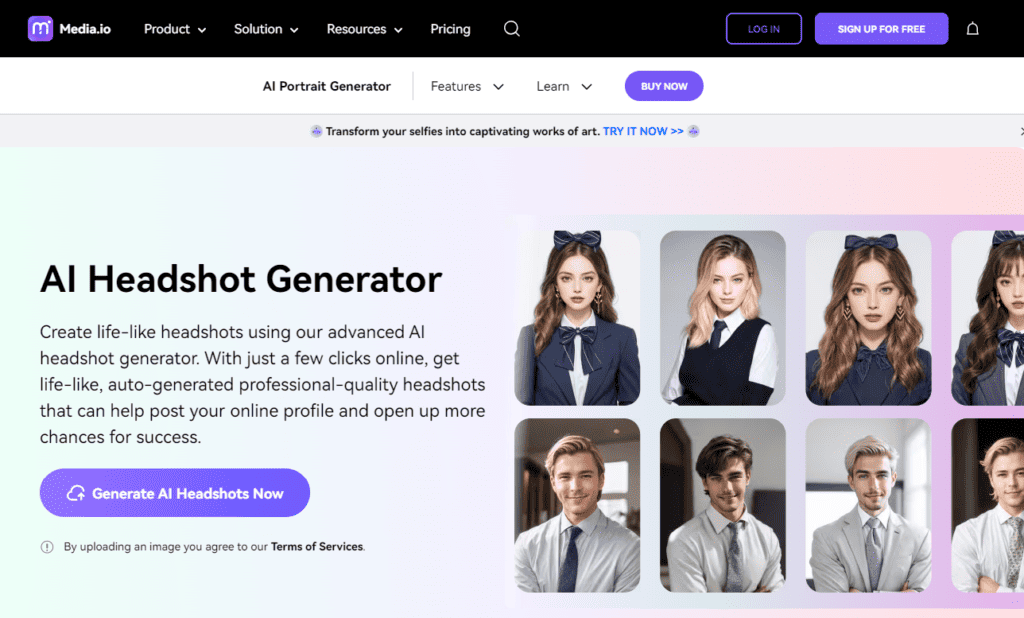 Looking for an AI media tool that also features AI-generated headshots? If that's the case, Media.io may interest you.
To get started with the Media.io AI headshot generator, you need to launch the platform on your mobile device or computer and then select a suitable style. Some of its styles are artistic, realistic, and headshot.
You'll need to add at least 5 of your images for the AI to refer to and process your request. It would be best if these uploaded pictures feature a variety of angles to help Media.io create headshots that look exactly like you.
From there, the tool will generate images for you in less than 30 minutes. Something that I noted about this tool is that its generated images aren't as professional-looking as the other tools I've listed before.
However, Media.io also offers numerous other photo, video, and audio tools that you could find helpful.
Media.io Features
Up to 100 images per shot
25 minutes to process images
Features other AI image tools like enhancer, cartoonizer, and background remover
Media.io Pricing
Media.io's AI headshot generator is an affordable choice that costs as follows:
Basic ($4.99/year): 50 images in 1 shot
Pro ($7.99/year): 100 images in 1 shot
The full Media.io toolkit has a separate price.
7. PFPMaker AI Headshot Generator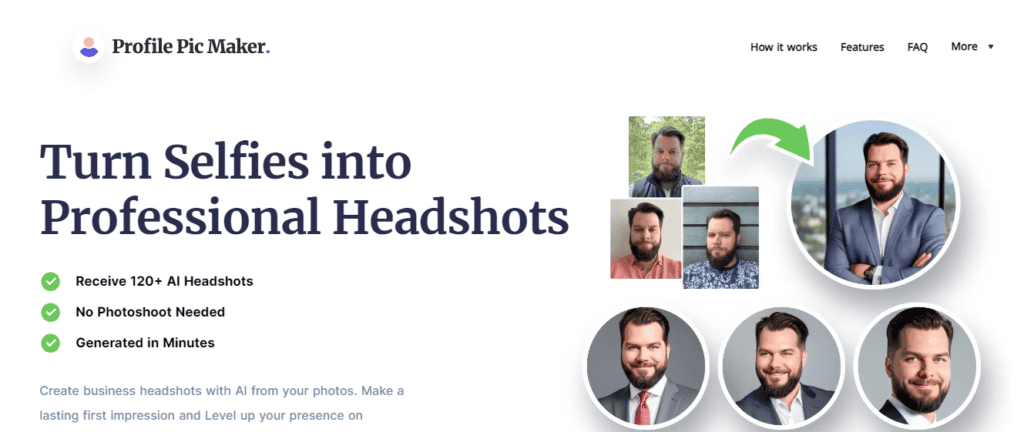 PFPMaker is a profile picture maker that can also create well-structured AI headshots for you. With this display photo creator, you just need to upload your pic (in different backgrounds, times, and angles) and get hundreds of others showing your best versions.
It's worth noting that the tool provides fine-tuning features, including various filters and backgrounds. You can use the generated images for your Instagram, Facebook, and Twitter profile or even your CV, email signature, and business card.
Another interesting this about PFPMaker is that its AI professional business photo generator can put you in locations you haven't visited. For example, you can get an AI-generated version of you in a conference room or plane if that would make you happy.
PFPMaker Features
120+ AI headshots
15 styles, settings, and backdrops, such as Portrait, Private Jet, and CEO Office
1 hour turnaround time
PFPMaker Pricing
PFPMaker's AI headshot generator has two pricing options: Basic and Premium.
Basic costs $15 for regular image size while Premium is priced at $25 for 4K resolution and additional features.
8. Hotpot.ai AI Headshot Generator
Also on the list of the best AI for headshots is Hotpot.ai, an art generation tool. This tool is one I like when it comes to generating creative images that look real.
You can create almost anything you've ever imagined without having to touch a pencil, painting brush, or drawing tablet. The generated pictures can suit a variety of uses, including social media posts, banners, and game assets.
Now, its headshot maker can create a photo of your face using a variety of styles besides realism. If you're not looking for a professional portrait image of yourself, you may enjoy the art-inspired versions of you.
Just upload 5 of your photos and the AI will do its job. This app's custom rates depending on how many AI headshots you need are a plus.
Hotpot.ai Features
Works for both professional headshots and AI avatars
Different clothes and scenes
Custom number of headshots (as per your selection), from 20 to 800 images
Additional tools like a background remover
Hotpot.ai Pricing
The pricing of Hotpot.ai's headshot generator is as follows:
$5: 20 images
$10: 40 images
$15: 80 images
$20: 160 images
$80: 800 images
As you can see, it's one of the cheapest AI headshot generators you can get now.
9. StudioShot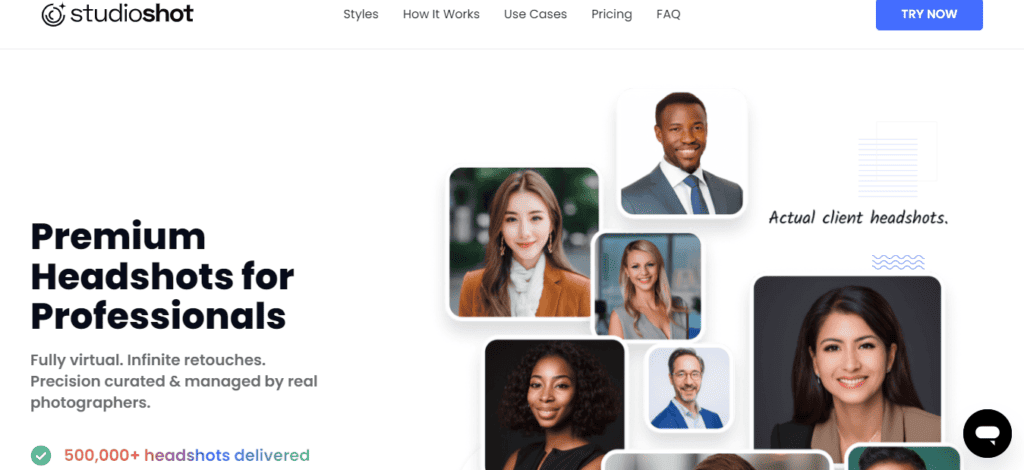 StudioShot is an AI for headshots that can deliver quality headshots from a variety of places to you, regardless of where you are. It offers a variety of styles designed by its skilled team of creatives.
Something that makes StudioShot worth trying is the fact that it provides you with photos that have good lighting even if you go with a dark background. You may find that some tools out there offer pictures that you have to lighten up.
With StudioShot, you can generate portraits that depict what you do in real life. It could be that you're an executive, actor, realtor, or something else.
StudioShot Features
50+ headshot options to select from
7+ styles, including natural lit, bright white, and dramatic black
2 days turnaround time
StudioShot Pricing
These are the pricing plans of StudioShot:

1-5 members ($29.25/person)
5-20 members ($21.75/person)
20+ members (custom pricing)
What Is an AI Headshot Generator?
An AI headshot generator is a tool that uses artificial intelligence (AI) algorithms to generate realistic and high-quality headshot images of people. It takes input parameters such as your age, gender, ethnicity, and facial features to create a customized headshot image that closely resembles the real you.
These generators can be used for various purposes, including creating profile pictures, avatars, or visual representations for virtual characters in video games or virtual reality applications. AI headshot generators have become popular because they enable you to quickly and easily create customized professional portrait images without the need for professional photographers or graphic designers.
How Do AI Headshot Generators Work?
It's not complicated to understand how these tools work. Check below:
Training a generative model: AI tools for headshots use a text-to-image model like Stable Diffusion. This model is trained using a large dataset of real human faces.
Collecting data: The AI will learn to generate images that look like you once you provide some of your images that it can refer to.
Processing: There are various levels of processing where the AI will resize photos, align facial features, and correct colors to prepare the output.
Producing output: The tool will provide AI images based on your selected parameters. You can then save it for use as you need.
Why Do You Need an AI Headshot Generator?
There are several reasons why you might need an AI headshot generator:
Time saver: As an individual user of an AI headshot app, you're able to get professional images out of your casual selfies and not have to go to the studio or outdoors for shoots (which may take some time to be processed and availed to you).
Cost-effectiveness: Most AI headshot generators cost less than $50 to use. This is unlike professional photography where you may part with hundreds of dollars to get quality (not to mention the outfits may cost you money too).
Convenient for business use: Many businesses require headshot images for their employees, whether it's for their website, marketing materials, or internal communication. With the help of an AI headshot generator, they're able to quickly generate consistent and professional headshots for all workers.
Unlimited images: These tools don't give you a single or a couple of headshots. Not even dozens because you can select the option to get over a hundred different variations and pick your favorites.
What to Consider when Choosing the Best AI Headshot Generator
When choosing the best AI headshot generator, there are several factors you can consider:
AI-generated headshot quality: Look for an AI for headshots that produces high-quality and realistic images. The generated images should have clear details, accurate facial features, and natural-looking skin tones.
Customization options: The level of customization the generator offers matters. It should allow for various facial expressions, clothing, and backgrounds to create personalized headshots that meet your requirements.
Speed: While the process can take hours depending on how many images you need, the tool should be able to generate headshots without significant delays. Most quality AI headshot creators take less than an hour.
Privacy and data security: Ensure that the AI headshot generator respects your privacy and secures your information. Check its user data and storage policies to know whether you're content with them.
Tips for Using AI Headshot Generators
Below are some tips to get the best out of AI generators for headshots. For your selfies:
Ensure your face appears clearly
Make your eye and hair color visible
Have proper lighting
Upload different selfies with varying facial expressions and head angles
Add more than the minimum number of picture uploads for better results
Conclusion
As you can see, the best AI headshot generators are some tools that can make your personal and professional life easier. These apps are able to create dozens of decent and realistic portraits of you out of casual images you've taken.
Remember, you always have the option to go to a professional photographer to get your headshots. But these AI photo generators for headshots save time and costs for you and you'll have numerous image choices.