5 Best AI Ad Generators of 2023 (Ramp up Your Campaigns)
Advertising campaigns have become increasingly competitive and complex over the years because every brand wants to stand out. If you're a marketer seeking innovative ways to reach your target audiences and maximize the impact of your campaigns, you may be interested in AI ad generators.
These advanced tools carry the ability to automate the ad creation process and make you more productive. In case you want to know the best AI ad generators that can help you ramp up your campaigns and achieve unprecedented levels of efficiency and effectiveness, this article is for you.
What Is the Best AI Ad Generator?
Follow me as I unravel the list of the best AI generators for ads below. I'll include options for both ad creatives and ad copy.
1. AdCreative.ai
(Best for High-Quality Ad Creatives)

One of the top AI ad generators for e-commerce and agencies is AdCreative.ai. This cutting-edge tool offers a range of advanced features for creating high-quality ads, whether you need to create 1 or 10,000 campaigns.
With AdCreative.ai, you can save time and effort by automating the entire ad creation process, from ideation to design. The tool uses machine learning algorithms to generate unique and personalized ad creatives based on your brand's objectives and target audience.
You simply need to tell who your desired user is and fill out the brand name, post size, text, and image to get the banner in minutes. AdCreative.ai can find the best tone and length of the creative based on this information.
According to this data-backed ad creatives platform, it can bring up to 14 times higher conversion rates and improve your clicks in the first month.
AdCreative.ai also offers a user-friendly interface that allows non-technical users to easily create and customize ads to their liking. With its ability to generate high-performing ads at scale, AdCreative.ai is a must-have tool for any marketer looking to ramp up their campaigns.
AdCreative.ai Features
Ad creatives generator from text
Social media ad graphics for Meta, LinkedIn, Pinterest, or X (Twitter), sized accordingly
Ad copywriter for texts and headlines
Video ad generator
Free stock images
Analytics to identify top-performing creatives
Competitor ad analysis across various platforms to learn their traffic sources and user demographics
Zapier integration
AdCreative.ai Pricing
AdCreative.ai offers different packages for startups, professionals, and agencies.

| | | | | |
| --- | --- | --- | --- | --- |
| | Starter | Premium | Ultimate | Scale-up |
| Startup Plans | $21/month | $44/month | $74/month | $111/month |
| Professional Plans | $141/month | $186/month | $299/month | Custom |
| Agency Plans | $499/month | $699/month | $899/month | Custom |
AdCreative.ai Pricing Packages
2. Creatopy
(Suits Both Display and Social Media Ad Visuals)
Creatopy is another ad generator that's similar to AdCreative.ai. This ad design automation platform can help businesses of all kinds to quickly produce more ads.
The thing about Creatopy is that it can help you create a design from scratch, right from that blank canvas to a well-detailed creative. The tool offers a variety of templates with various sizes.
One thing I like about Creatopy is that you can generate ad creatives from any site using AI. What happens is that you simply input your site and the AI will fetch the logo, images, and concept on the page to create ad visuals for you.
Check the AI-generated ad examples below from Creatopy for my site: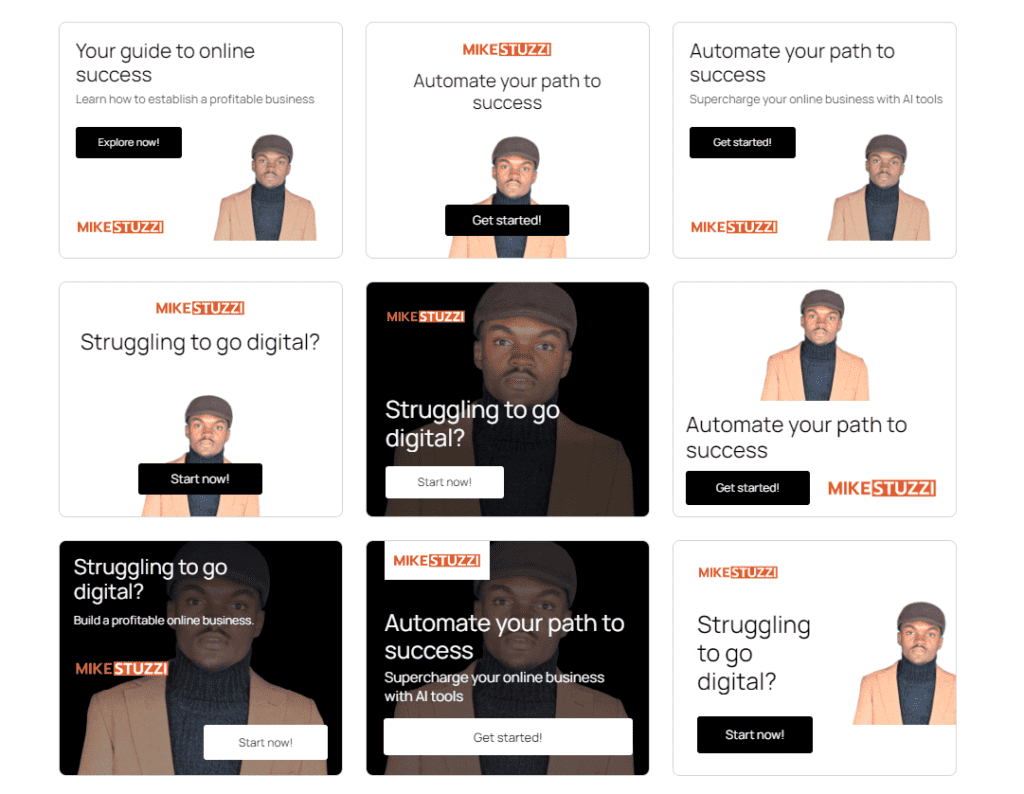 You can even add motion to your graphics to create animated ads. In a single click, you can also resize any ad to suit the platform on which you want to use it.
Creatopy Features
Can generate display and social media ads
Creates an ad from an image, text prompt, your website, and other options
Availability of tone of voice for ads, such as creative, authentic, and professional
AI-assisted text generation for headlines, descriptions, and CTAs of ad copy
Translation of ad creatives to any language
Templates layouts builder to generate unique but on-brand variations of your creative
One-click animations to enable more engagement
Stock media library
Creatopy Pricing
Creatopy offers 3 plans.
Basic: $32/month
Pro: $45/month
Plus: $165/month
3. Predis.ai
(Great for Social Media Post Generation)
Predis.ai is a tool that works as a combination of ChatGPT, Canva, and Hootsuite. If you didn't already know, ChatGPT is known for text generation, Canva is a popular graphic design tool, and Hootsite functions as a social media management platform.
Imagine getting all these three abilities in one tool. That's Predis.ai for you, with over 300,000 users!
This social media ads generator can create content like videos, carousels, and single-image posts based on your brand identity. It follows your brand colors and logo to create branded content for any social network.
There's a variety of customizable templates to use. So, you don't have to worry if you lack ideas on how to start creating your designs from scratch.
Predis.ai Features
Image, carousel, and video generator for social media ads
Marketing copy generator for social media content
AI social media assistant for generating post ideas
Integrates with social media and e-commerce platforms like Instagram, Facebook, TikTok, Shopify, and WooCommerce
Predis.ai Pricing
Predis offers a free plan and paid options.

Free: $0/month
Solo: $29/month
Starter: $59/month
Agency: $139/month
4. Jasper
(Popular AI Ad Content and Image Generator)
If you're looking for the best ad generators for marketing copy, Jasper should be somewhere at the top of your list. We're talking about an AI tool with dozens of templates to create text of any length.
It doesn't matter whether you need product descriptions, landing pages, Google or Facebook ads, tweets, or anything else. You can even use Jasper to create entire blog posts that promote your products or services.
This tool allows you to select the best tone for your writing. And if you don't want to go from template to template, you simply need to use Jasper Chat which provides all sorts of text-based assistance.
Jasper Art is another thing you can also access. This art generation tool can create any image you can imagine if you want to reinforce your text-based sales messages.
Jasper Features
Text and image generator
Multiple AI templates to choose from depending on the ad copy you need to create
Able to write in your brand voice
Chat function to write, paraphrase, or summarize anything
Jasper Pricing
The following plans are available on Jasper.

Creator: $49/month
Teams: $125/month
Business: Custom pricing
5. Smartly.io
(Best AI Ad Platform for Larger Businesses)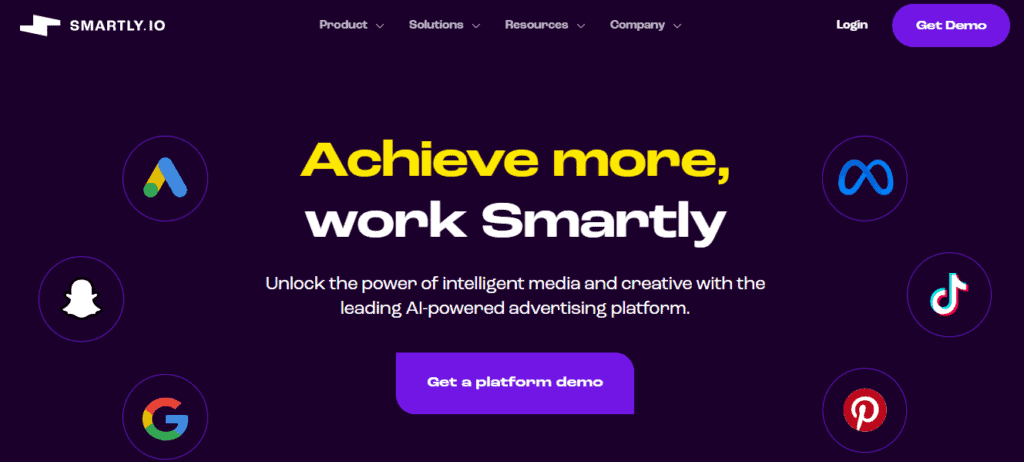 Smartly.io is an AI-powered advertising platform that has the ability to create AI-generated ads. If you're a brand and want to automate your ad creative production, this tool can help.
Smartly.io has helped many big companies reach more people. These include Walmart, L'Oreal, and Warner Bros.
It provides numerous image and video templates that you can use to begin the creation process. You can even apply your brand assets and guidelines to ensure the creatives meet your standards.
The ad creator tool even allows you to repurpose your ads. What you do is quickly change the ad format and use it on a different platform, such as changing the style of a Facebook creative to use on X (Twitter).
Besides ad generation, Smartly.io can help you launch multiple campaigns simultaneously without much effort. It also offers analytics to help you know what works and what doesn't.
Smartly.io Features
Image and video ad creation
Campaign management
Data and reports
Smartly.io Pricing
Smartly.io's pricing model involves your advertising spend in your ad account as a customer. The two options are Self-Serve + Support and Managed Service.
You can get in touch with the platform for a price quote or to gather more information on the same.
What Is an AI Ad Generator?
An AI ad generator is a software tool or platform that utilizes artificial intelligence technology to automatically generate advertisements for you. These tools leverage machine learning algorithms to analyze data, understand user preferences, and create personalized and targeted ad content.
AI ad generators can automate various aspects of the ad creation process. Some of these aspects are copywriting, design, and optimization.
These AI tools for advertising are able to generate ad concepts, headlines, visuals, and even entire ad campaigns. The whole purpose is to improve the efficiency and effectiveness of your advertising campaigns.
Benefits of AI Ads Generators
There are several benefits of using AI ad generators in advertising campaigns:
Time-saving: AI ad generators automate the ad creation process to save you as a marketer significant time and effort. They can quickly generate ad concepts, copy, and designs and eliminate the need for manual creation and iteration.
Cost-effective: By automating the ad creation process, AI ad generators can reduce the need for extensive human resources and external agencies. This leads to cost savings for businesses, as they can create and optimize ads by themselves.
Personalization: These AI tools for advertising can analyze data and user behavior to create highly personalized ads. Tailoring content to specific target audiences is how you can increase engagement and conversions.
Creativity: AI ad generators can generate unique and innovative ad concepts that may not have been considered by human creators. They can provide fresh perspectives and ideas that make your campaigns stand out in a crowded advertising landscape.
Optimization: You won't have to worry about continuously analyzing and optimizing ad performance as some AI ad platforms can do it based on real-time data. They're able to make data-driven decisions that improve targeting, messaging, and design for better campaign results.
Scalability: AI ad creators can handle large volumes of ad creation and customization, making them suitable for businesses with extensive advertising needs. They can generate multiple variations of ads for different platforms and audiences to ensure maximum reach and impact.
Conclusion
In light of the benefits we've seen, it would be wise if you as a marketer explore and leverage the capabilities of AI ad generators. By embracing these tools, you can ramp up your advertising campaigns, reach your target audiences more effectively, and achieve better results.
So, go ahead and pick one of the ad copy and ad creative generators I've listed to begin your digital marketing automation journey. If possible, experiment with a few of the tools to find out which one works for you best.