5 Best SEO Tools with Free Trials in 2023
Looking for the best SEO tools with free trials? You've come to the right place!
While SEO is vital for ensuring that your website ranks well in search engine results, it can get quite expensive. Many high-quality SEO tools require you to part with upwards of $100 every month.
You don't want to spend such amounts before testing a tool to find out how good it works for you, regardless of the reviews you've seen online. It could also be that you just need to complete a simple SEO task and don't need to invest in a specific software yet.
In this article, you'll discover the best SEO tools that offer free trials, allowing you to test their features and benefits before committing to a paid subscription. These tools can help you boost your SEO efforts, save time, and achieve better results.
Whether you're a well-established SEO professional or just starting to optimize your website, these tools with free trials are worth exploring. By providing an overview of the features and benefits of these tools, you'll be equipped with the knowledge to make an informed decision about which ones are most suitable for your specific needs.
Read also:
Which SEO Tools Free Trials Are The Best?
Below are my top picks for the best SEO tools that offer free trials to users.
1. Semrush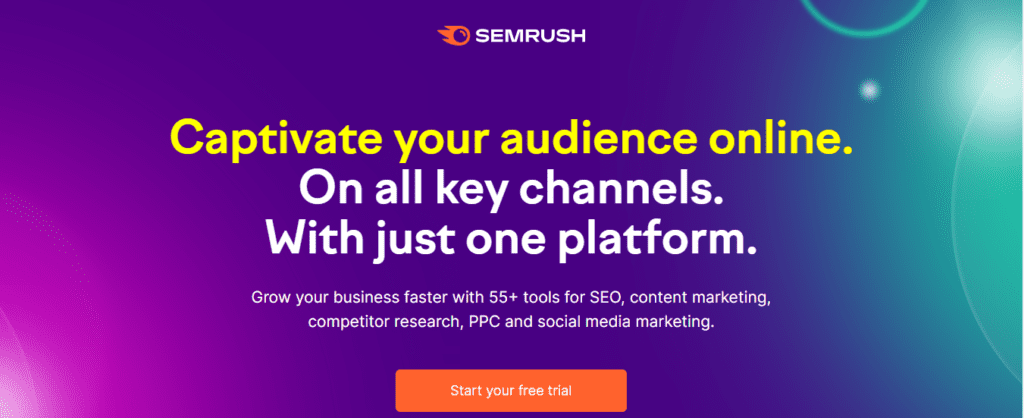 Trial period: 7 days
When it comes to optimizing your website for search engines, Semrush is among the top SEO tools that offer a free trial. While it excels in keyword research, Semrush goes beyond that to provide a wide range of features to enhance your overall website optimization.
During the free trial period, you can explore Semrush's powerful capabilities, starting with its comprehensive site audit feature. This tool scans your website to identify any technical issues that may be affecting your SEO, such as broken links, duplicate content, or slow page speed.
Semrush also offers a competitive analysis feature whereby you can gain insights into your competitors' strategies. You can analyze their organic and paid keywords, backlinks, and advertising campaigns to identify gaps in your strategy and discover new opportunities to outperform them.
Additionally, Semrush provides a backlink analysis tool that helps you assess the quality and quantity of backlinks pointing to your website. Backlinks play a crucial role in SEO, and by understanding your backlink profile, you can identify areas for improvement and develop a more effective link-building strategy.
Semrush's free trial period allows you to explore these features and much more on two of its pricing plans, Pro and Guru. You get a comprehensive understanding of how the tool can improve your website's SEO performance.
Semrush Pricing
Semrush, besides Pro and Guru, offers one more plan.
Pro: $129.95/month
Guru: $249.95/month
Business: $499.95/month
2. SE Ranking

Trial period: 14 days
Next on the list of the best SEO tools for free trials (without a credit card) is SE Ranking. It provides a wide range of features to improve your website's visibility, track your keyword rankings, and analyze your competitors' strategies.
One of the key features of SE Ranking is its keyword research tool. It allows you to discover valuable keywords for your website, assess their search volume, analyze the level of competition, and get keyword suggestions and long-tail variations to expand your keyword strategy.
SE Ranking also offers a comprehensive website audit feature. It scans your website to identify any technical issues that you need to fix so you can improve your website's overall performance and search engine rankings.
What's more, SE Ranking provides a backlink analysis tool that helps you evaluate the quality and quantity of backlinks pointing to your website. You can track your backlink profile, identify toxic links, and discover new link-building opportunities.
Another notable feature of SE Ranking is its rank-tracking capabilities. You can track your progress, identify trends, and make data-driven decisions.
Unlike Semrush, SE Ranking offers a free trial on all its plans. These are Essential, Pro, and Business.
SE Ranking Pricing
SE Ranking offers these three plans:

Essential: $55/month
Pro: $109/month
Business: $239/month
3. SEO PowerSuite
Trial period: Forever
SEO PowerSuite is a comprehensive SEO tool that can help you accomplish many different tasks. This toolkit provides a wide range of features to increase your website's visibility, track your keyword rankings, and analyze your competitors' strategies.
Among the top features of SEO PowerSuite is its set of keyword tools. They comprise keyword research tools, keyword difficulty checker, and keyword gap finder. SEO PowerSuite doesn't play, given that it has 24 keyword-finding tools and 7 research techniques.
It becomes easy to discover keywords with the most potential for your website across different search engines. These, besides Google, include Bing, Yahoo, and Ask.
Other than that, this toolkit can help you track your rankings without limits. You can check your mobile and desktop positions locally across hundreds of search engines.
SEO PowerSuite also offers a powerful backlink analyzing tool called SEO SpyGlass. It boasts of its fast crawling speeds across billions of web pages and promises to provide you with the most updated backlink database.
Also on SEO PowerSuite, you can access LinkAssistant, a link-building tool to automate your outreach efforts and gain more links to your site. LinkAssistant helps you find hundreds of backlink opportunities using more than 10 methods and send personalized email campaigns in bulk.
Now, this SEO tool suite offers a free plan forever. However, you won't access all its features.
SEO PowerSuite Pricing
SEO PowerSuite offers plans for 1, 2, and 3 years. For one year, the prices are as follows: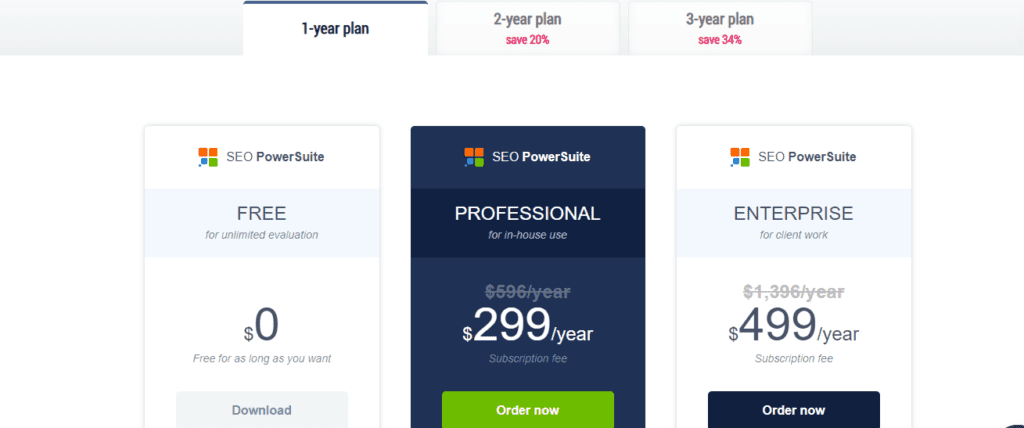 Free: $0/year
Professional: $299/year
Enterprise: $499/year
4. Moz Pro
Trial period: 30 days
Moz is a well-known and reputable SEO tool that also offers a free trial. Moz Pro is the platform's paid version that comes with all the necessary tools for maximizing your search engine visibility.
Similar to most other SEO tools, it begins with keyword research on Moz too. You can find new keywords.
The site crawling ability is also something to applaud Moz for. This crawler can quickly scan your site, find technical SEO mistakes, categorize them based on criticality, and provide solutions.
Moz also enables you to optimize your content using on-page SEO tactics. You can review each URL on your site and access its ranking keywords, page factors (either helping or hurting ones), and a page score based on the SEO techniques you've applied to it.
As if that's not enough, you can use Moz for link research. Moz enables you to access domain authority (a metric it has popularized and is widely recognized when measuring a site), linking domains, and inbound links.
You can also find out the links you've acquired or lost. And once you're done, Moz can combine all the information into a well-designed and comprehensive report that you can share or access in the future.
Moz Pro Pricing
Moz offers the plans that follow.
Standard: $99/month
Medium: $179/month
Large: $299/month
Premium: $599/month
5. WooRank
Trial period: 3 days
We can't end this list of the best SEO tool free trials without mentioning WooRank. It's not as popular as most of the other tools I've listed, bet that doesn't make it less useful.
With WooRank, you can begin optimizing your site for SEO without prior knowledge. What you do is enter your site URL and Woorank will provide an analysis.
It's through the analysis that you'll know where you need to improve. You can identify keyword opportunities, find any technical errors, and track your performance.
What I like about WooRank is its actionable SEO tips. You can access quick tasks highlighting what you need to do and contribute to the overall better ranking of your content pages.
WooRank also helps you to understand your audience better. You gain insights into how people interact with your site and the way they behave while on there.
WooRank Pricing
Below are the pricing options of WooRank.
Pro: $89/month
Premium: $199.99/month
Enterprise: Custom pricing
SEO Tools Free Trial FAQs
What's one of the best SEO tools that offers a free trial?
Among the top tools with a free trial is Semrush. Using it, you can access all of the features for the selected plan without limits.
After the period is over, you can choose to continue using it to avoid interrupting your SEO efforts. Still, if you don't, you're automatically put into its free plan that provides access to the tool's basic features.
Are there SEO tools with a free trial without a credit card?
Yes, they exist. One example is SE Ranking, where you can sign up for free without entering your credit card info.
However, you'll find that most other popular SEO tools, including Semrush and Moz, offer a free trial with a credit card requirement. They do so to make sure that your workflow isn't interrupted when the trial period is over and also to prevent any sort of "free trial hacks."
Is there a free SEO tool?
No quality SEO tool that gives you access to comprehensive data is free. However, most popular paid tools in the SEO industry have either a free trial to test the tool or a free plan with basic features.
If you choose to use the free plan, you won't gain deep insights into what you need to do to enhance your search engine performance. Still, it would be better than not using any tool at all!
Conclusion
As you've seen, there are numerous SEO tools with free trials are available online. You don't have to take money out of your wallet before you've experienced a tool.
Most of these tools offer trial periods that are long enough to know whether and how the tool can help your SEO game. You can use the time to explore all the features and decide whether a particular tool is the right one for your needs.
All in all, I recommend Semrush because of its data-backed recommendations and reports. Feel free to check it out, or any other tool on the list, to take your SEO efforts to the next level!