Jasper AI Free Trial 2023 (Get Unlimited Words at $0)
If you've ever wanted to see how AI can help you create new website content, you can now try Jasper AI's free trial. How would you like 10,000 words and even more at no cost? Any blogger, marketer, or other online business owner could make good use of this.
In case you didn't already know, Jasper is one of the best AI writers available online today. It has lots of templates for all sorts of online writing needs. The tool can produce a wide variety of text for you, from ads and product descriptions to landing pages and blog articles.
This Jasper free trial 2023 guide is all about how to claim unlimited words for free on Jasper. The trial period should be enough to help you test out the tool yourself as a new user and see how it works for you.
As a side note, you can also check this full Jasper AI review that details the pros, cons, and more info about Jasper.
Disclaimer: Because the site is reader-supported, we may earn a commission if you use our affiliate links.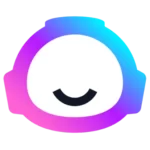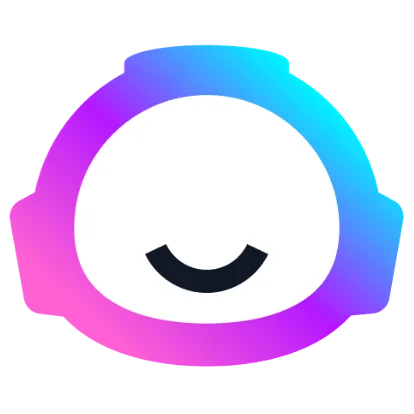 Jasper AI FREE Trial: Summary
Trial period: 7 days
Words: Unlimited
Available on: Creator and Teams plans
Recommended plan: Teams
Read also: Best AI Text Generators Online
How to Get the Jasper AI 7-Day Free Trial and Unlimited Words
You need to follow the right steps to sign up for Jasper's trial period with free word credits to start. Here are the quick steps to follow:
Step 1: Go to the Jasper registration page (use this special link). You'll see a message that says "Your friend gave you a 7-day free trial to try Jasper."
Step 2: Enter your email address in the box and click on the button that says to start your free trial. You then need to sign up with Google or your business email address.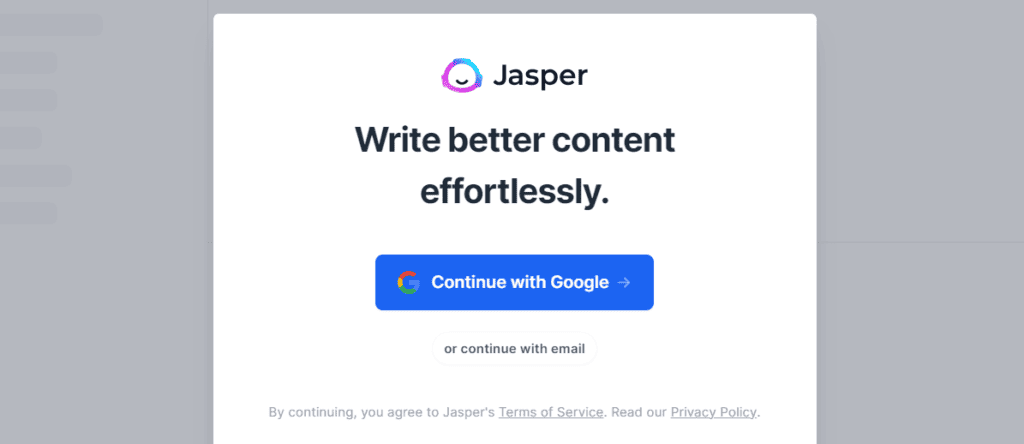 Step 3: If you select the business email option, you'll get a verification email in your inbox. All new users must confirm their accounts before they can access their Jasper accounts.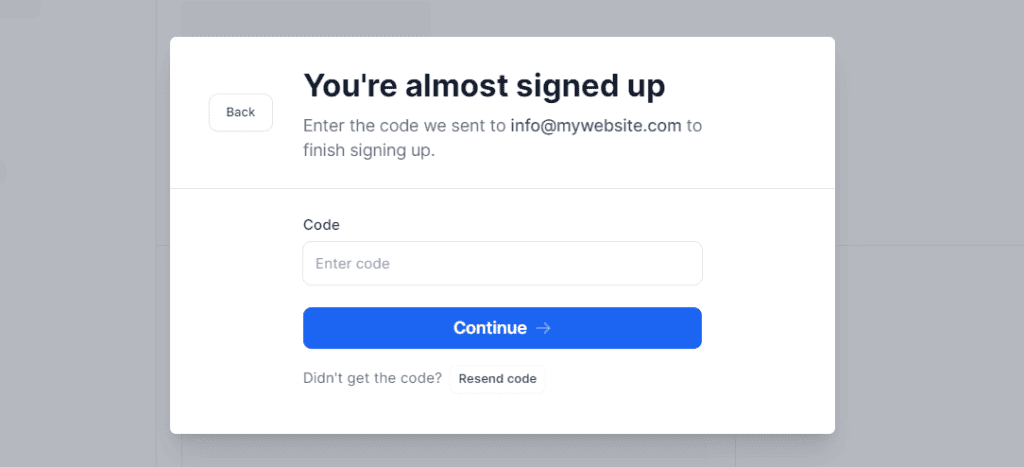 Step 4: Enter your name.
Step 5: Tell Jasper about your business. You just have to fill out your role, industry, company size, and website URL, which is recommended if applicable.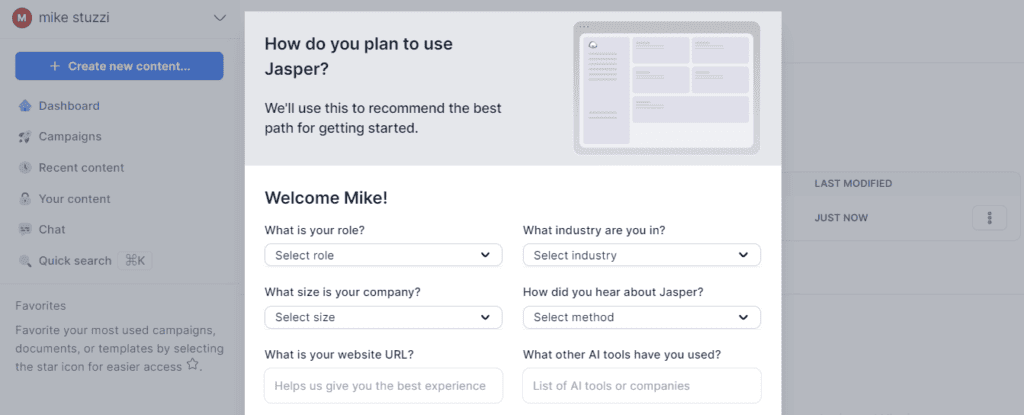 Step 5: Say how you intend to use Jasper. You need to select all that apply, whether blog posts, social media posts, emails, website content, ads, or any other. This step helps Jasper know your expectations and serve you better.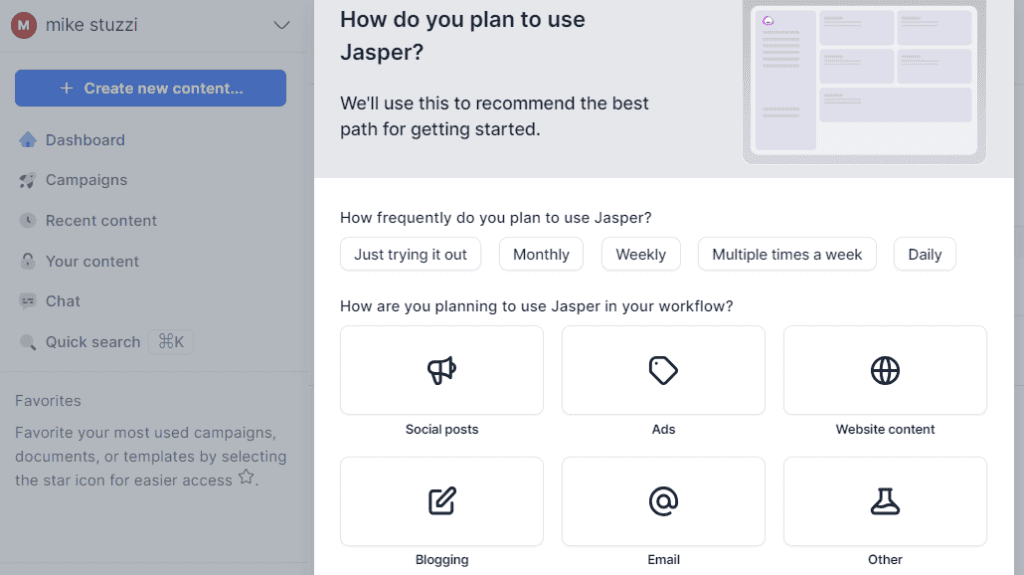 Step 6: Choose a plan that suits your needs and click on the "Start Free Trial" button. You can select Creator, Teams (the most popular and recommended one), or Business. Below is a screenshot of the annual billing options:
Remember, Jasper's trial period is 7 days. You'll need to submit your card details when signing up. When the 7 days end, your card will be charged the exact amount your selected plan costs, depending on whether you chose the annual billing or monthly billing option.
Now, as long as you finish the steps above, you'll be able to access your new dashboard with the free words to begin your Jasper AI journey. There are numerous tutorials on the Jasper platform and it's pretty straightforward to use. Feel free to check out how you can write your first Jasper AI blog post.
Jasper AI's Plans
When it comes to Jasper AI pricing, you may be wondering whether you need Creator or Teams (previous plans were known as Starter and Boss Mode). Both plans Creator and Teams are amazing but Teams costs more and is more powerful.
Creator: This plan costs $49 a month when billed monthly for unlimited words and 1 user seat. It's best suited for beginners who don't have huge content needs. It also suits you if you don't own a website and just short pieces of copy for social media or your online store.
Teams: This plan costs $125 a month when billed monthly for unlimited words and 3 user seats. It's suited for bloggers, marketers, and small teams that need more from Jasper. Teams is the plan that allows for document sharing and collaboration.
Business: This is the custom pricing option for larger brands. It comes with perks like no limits in all features, API access, and advanced analytics.
Below is a comparison table:
| | | |
| --- | --- | --- |
| Jasper Plan | Free Trial? | Pricing/Month |
| Creator | Yes | $49 |
| Teams | Yes | $125 |
| Business | No | Custom |
I also mentioned that Jasper offers both annual and monthly billing options. If you choose to pay the entire year and not month after month, you save 20 percent in costs. So, with Teams, for instance, you'll pay $1,188 a year instead of $1,500 and keep your $312 for something else.
Why Choose Jasper AI?
Jasper is a creative content-writing tool with several benefits.
Create high-quality copies faster than ever before: You'll not need hours but minutes to finish your drafts and get them ready for publishing. There's no more writer's block!
Reduce content creation costs: Jasper eliminates the need for a team of writers or an expensive copywriter. You won't need as many freelancers as you needed before and it can also reduce the burden on the existing writing team.
Write content in different styles and voices: Jasper has numerous tones to choose from and can quickly adapt to different styles and write pieces in your brand's voice. So, maintaining consistency throughout your website and other promotional materials won't be a problem.
Easy-to-use interface: You don't need previous tech experience or coding skills to use Jasper, as it has a simple and user-friendly platform.
Safe to say, Jasper AI lets you create high-quality and original content to use on your website or social media pages. Try it for free!
How to Cancel Jasper AI Free Trial
If for whatever reason, you no longer need services from Jasper, the tool allows you to cancel your membership. It's all transparent and easy to do. Here's how to cancel your Jasper account:
Open your Jasper account to access its settings.
Go to the billing area. It shows the available word credits you have remaining, including bonus and plan credits.
Scroll down and find the button that says "Cancel account." If you choose to click on the button, your Jasper free trial or subscription will go away. You'll also lose all previously saved documents as well as the earned credits.
Jasper has a cancellation policy whereby you can prevent credit charges as long as you cancel within 7 days from the purchase date. You can directly contact the Jasper support team if you have other questions.
Jasper AI Free Trial FAQs
Does Jasper AI have a free trial in 2023?
Yes, you can use Jasper for free as a new user. You get unlimited word credits that you can use any way you need on the Jasper platform depending on the projects you're working on.
Does Jasper AI offer a free trial without a credit card?
No, you have to input your credit card details when signing up to use Jasper AI. This measure by Jasper enables your account to be charged and stay functional even after the trial period without you doing anything more. It also weeds out people who don't want to commit to a paid plan but to keep using the tool for free.
How long is Jasper's free trial?
Jasper lets you use it freely for 7 days. You'll readily access unlimited (originally 10,000) word credits. After the trial period, you'll be charged if you continue to use Jasper.
Can you cancel Jasper's free trial?
In case you don't want the AI-powered writing services anymore, Jasper allows you to cancel your account before your free trial ends (do it prior to the renewal payment day). Remember, cancellation results in the loss of saved documents and earned credits on your account.
How do I end my Jasper trial?
Jasper offers an easy way to cancel your account. Just access Settings, then Billing, and move to the Cancel account option. You'll no longer be charged if you remove your membership.
Is Jasper Art free?
Jasper Art, one of the top image generators from text, is included in your free trial too. You can generate up to 200 images for free in 2K resolution. When you pick a plan, including the Creator plan, Jasper Art will be availed to you at no extra cost.
Jasper Free Trial 2023: Conclusion
Ultimately, Jasper AI helps people to generate content efficiently and save time as well as costs. It has a 7-day free trial with unlimited word credits, which you can use in various tasks.
This period is great for checking out how Jasper can help your business. You can cancel your membership anytime before you get charged.
Don't wait any longer, get started today!