7 Best WordAi Alternatives to Rewrite Content (2023)
If you're a content creator, you're likely interested in finding some alternatives to WordAi for some reason. Maybe you need to try other tools and see if they work better for you or want to cut your budget a little but still get quality content.
Truly, there are several online tools for paraphrasing and content creation that offer some exciting features not yet available on WordAi. I wrote a review of WordAi and well, it has its pros and cons like every other software.
This list includes some of the best WordAi alternatives that can help you rewrite content quickly and easily. These tools are all great options for anyone who wants to improve their writing skills or simply save time when rewriting content. So without further ado, let's get started!
Disclaimer: Because the site is reader-supported, we may earn a commission if you use our affiliate links.
Read also: Best Rewording Tools
Best WordAi Alternatives
If you need other competing tools similar to WordAi, below are the top ones:
1. Quillbot

Quillbot's AI abilities make it one of the top alternative paraphrasing tools on the list. It uses advanced artificial intelligence to understand the context of the text you enter on its editor and generate a unique rewrite.
To start using Quillbot simply go to its homepage, paste your content to its editor, and select the paraphrasing mode you need. Some of the available modes are Standard, Fluency, Formal, Simple, and Creative. Each mode can add a unique voice to the text and you still get the original concept.
Quillbot has plagiarism-checking features to ensure that the generated text is original. While you can use the downsized Quillbot for free, the Premium version unlocks all the limits.
Quillbot Features
Reword entire content and not just sentences
7 modes to choose from
Quillbot Pricing

Free: $0/month (125 words)
Premium: Annual at $4.17/month, Semi-Annual at $6.66/month, Monthly at $9.95/month, making Quillbot quite a more affordable AI-powered paraphrasing tool compared to WordAi
2. Jasper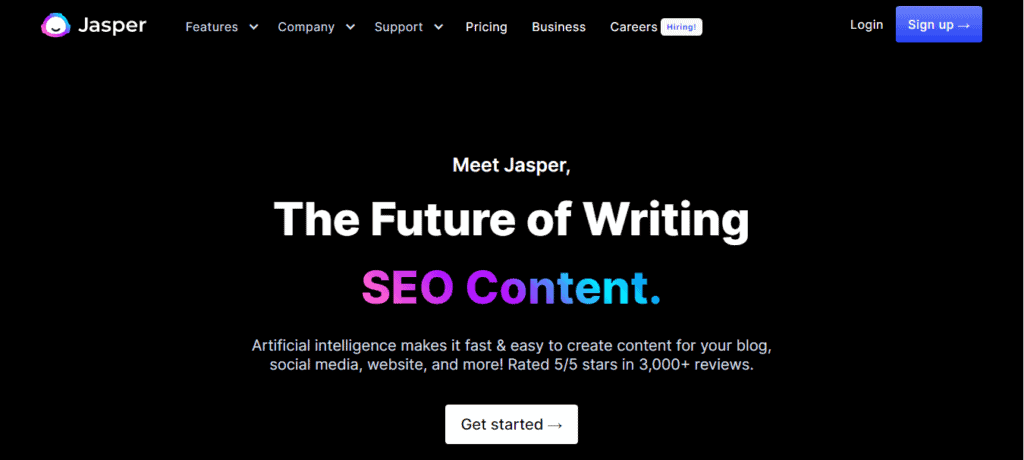 Jasper is an AI text-writing tool that is a bit different from WordAi. It uses an advanced system to automatically create content for you from scratch. It doesn't matter if you need full-length articles or copy such as ads and product descriptions.
To start using Jasper, you only need to input your topic and some keywords. The tool will then use its AI-based technology to generate a unique article for you in no time.
Still, Jasper made it to this list because it also has its paraphraser. On the Jasper editor, you'll find the "Re-phrase" button that can help you rewrite the section of your content that you've highlighted.
Jasper can also quickly fix grammar in your text and even integrates with Grammarly on top of it all. In other words, Jasper gives you a chance to enjoy lots of features and benefits at once as a business owner, writer, or marketer.
Jasper Features
Content creation on auto-pilot
Ready-made content templates
Various tones
Jasper Pricing

Creator: $49/month
Teams: $125/month
Business: Custom
3. Spin Rewriter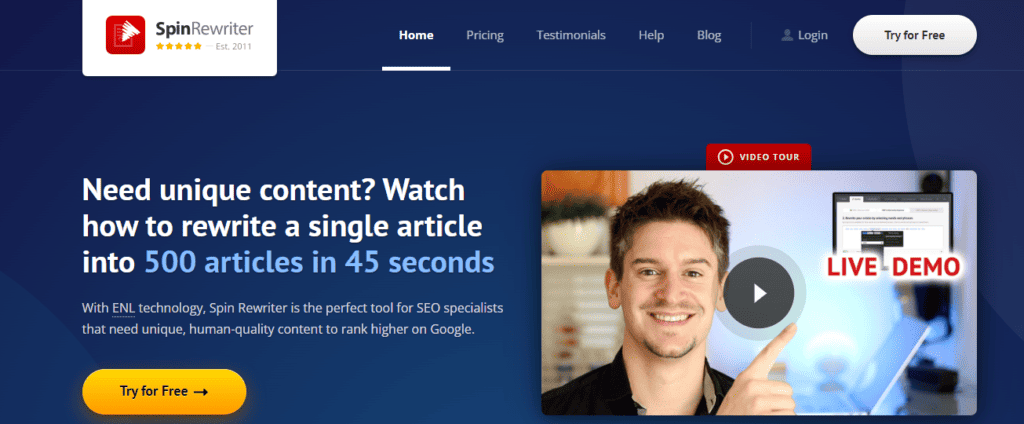 Spin Rewriter is a tool that can provide you with unique content in a fraction of the time you would spend manually rewriting. It takes less than a minute to get a different version of your writing.
One of the best things about this alternative to WordAi is that you can rewrite your articles in bulk. What you do is simply paste the articles or upload them as TXT or ZIP files. In one click, you can generate alternative versions of the text.
Another interesting thing is that this tool offers a WordPress plugin that can automatically rewrite old posts for you. There's also a Gold membership version of Spin Rewriter where you get exclusive perks. These include having its SEO experts rewrite articles for you on any topic, getting free SEO consultation, and accessing the app on your mobile device.
Spin Rewriter Features
Bulk text rewrite
WordPress plugin
Android and iPhone apps to rewrite on the go
Spin Rewriter Pricing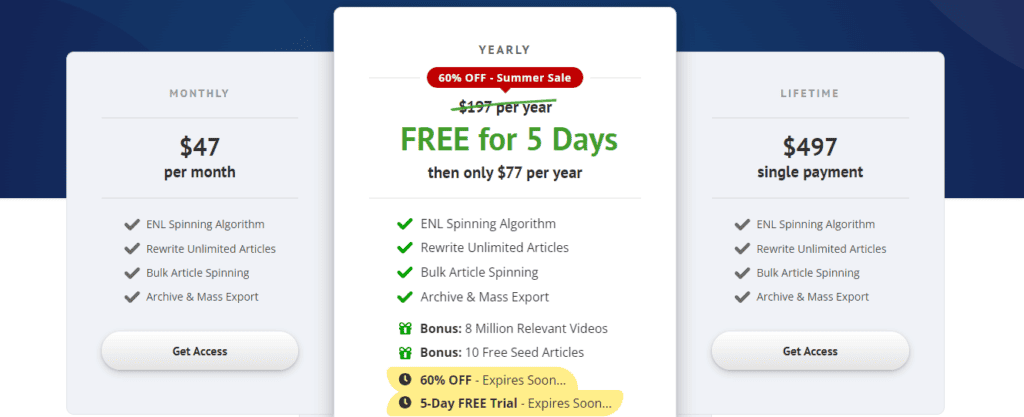 Monthly: $47
Yearly: $197
Lifetime: $497
4. Grammarly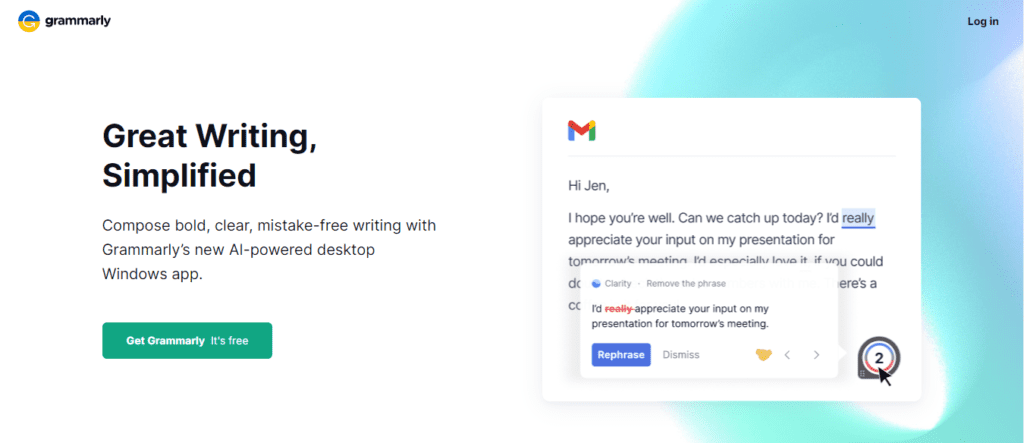 Grammarly's well-established technology is the main reason why it's one of the top WordAi alternatives. It helps you transform your content in different ways, from basic editing and proofreading and more.
Grammarly can check for grammar, spelling, punctuation, sentence structure errors, and other issues. It also offers a paraphrasing tool to make your content unique.
Unlike Quillbot, Grammarly can only assist you in rewriting individual sentences when you use its grammar-checking editor. The tool simply finds badly written sentences in your content and offers a proper suggestion. All you need to do is click on the suggestion to get the new sentence.
Grammarly Features
Advanced grammar checker
Readability score
Plagiarism checker
Grammarly Pricing

Free: $0/month but limited in features
Individual plans: $12/month billed annually, $30/month billed quarterly, $30/month billed monthly, all with premium features
Business: $15/month for each member with a 3-member minimum
5. Spinbot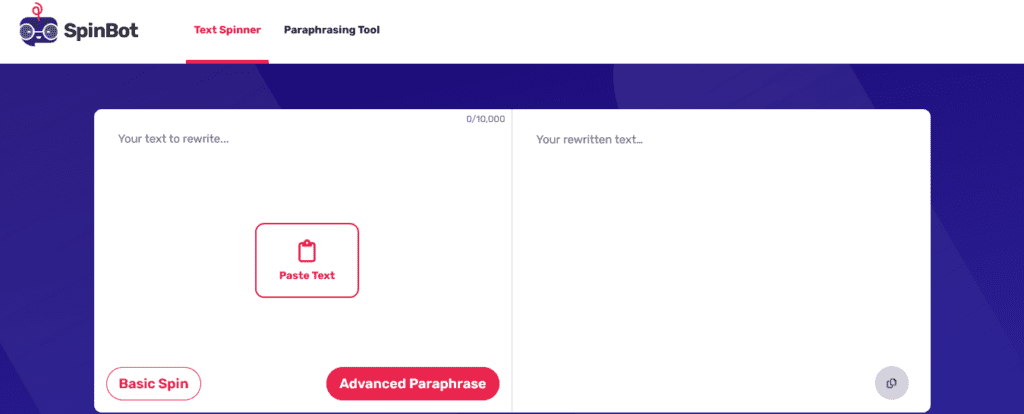 Spinbot is a free WordAi alternative that still works well. It's a basic tool that helps you rewrite paragraphs and entire pieces of content quickly and easily, up to 1,000 words.
Spinbot is intelligent and can understand the context of your text even if you use advanced words. If you're wondering what to do with a boring document, Spinbot can add a spin to it and the result is something fun and fresh.
You can choose to get the shortest rephrased version or the longest one possible from the text you've entered. Plus, the tool ensures that the generated content is grammatically accurate.
The only downside to Spinbot is its lack of more features. It can handle only basic tasks, such as text spinning and paraphrasing. Also, you can't save your documents for later use.
Spinbot Features
Simple to use
Context-sensitivity
Accuracy in grammar
Spinbot Pricing
You can use Spinbot for free.
6. Paraphraser.io

Moving on to another tool similar to WordAi, we have Paraphraser.io. Its rewording capabilities can help you get fresh content from what you already have. You just need to type into its editor, paste text, or upload a document.
Paraphrase.io has modes such as Fluency, Standard, Creative, and Smarter. The latter two are not freely available but rather accessible in the paid version of the tool.
The good thing is that this online tool can check and ensure your content doesn't have spelling issues. There's a plagiarism-checking feature too.
Also, Paraphraser.io has a text summarizer function. In case you want the main points from a lengthy piece of writing, you can use the tool for that purpose.
Parapharser.io Features
Proofreading features
Grammar checking
Plagiarism remover
Paraphraser.io Pricing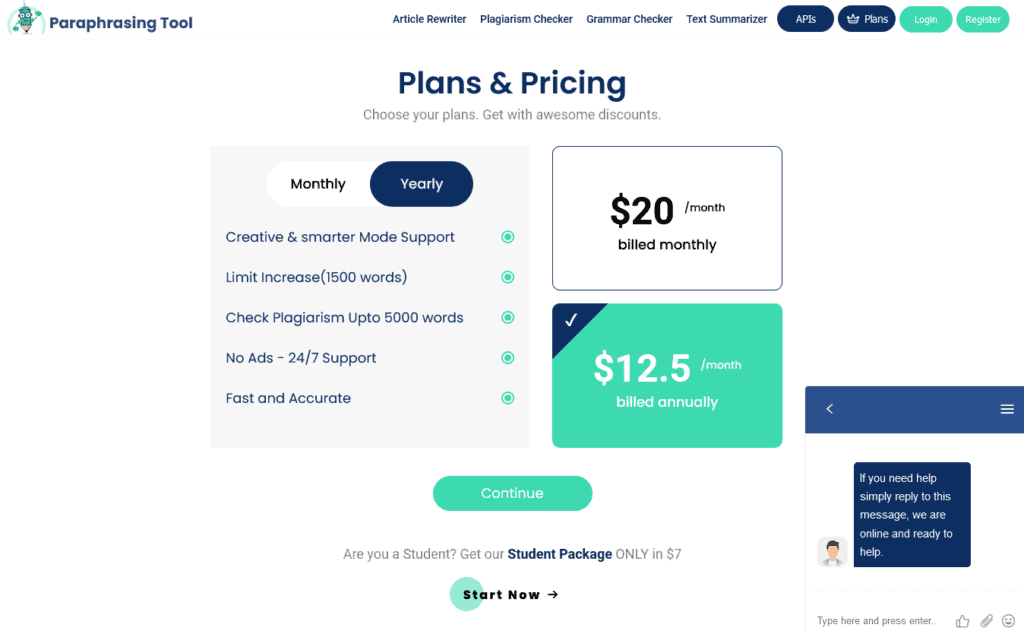 You can use the tool for free up to 600 words. Pro costs $20 per month billed monthly or $12.50 per month billed yearly and the limit goes up to 1,500 words.
7. Paraphrasingtool.ai
This WordAi alternative for students, bloggers, and marketers uses artificial intelligence to help you reword your text. Paraphrasingtool.ai is suited for improving the quality of any writing by removing fluff words and phrases. In other words, you can automatically eliminate all flowery texts and unnecessary opinions to enhance readability.
Paraphrasingtool.ai has several modes that you can use. Some are available for free and others require a premium subscription. Free Rewriter, Text Improver, and Near Human are free while Plagiarism Remover, Creative, Academic, QuillText, and Sentence Rephraser are paid.
The tool also features various tones that you can rewrite your content in to suit a new audience. You can make your writing formal, casual, professional, or witty.
Paraphrasingtool.ai Features
8 paraphrasing modes
4 writing tones
Synonym changer
Sentence level paraphraser where you can choose from various rephrased sentence options
Paraphrasingtool.ai Pricing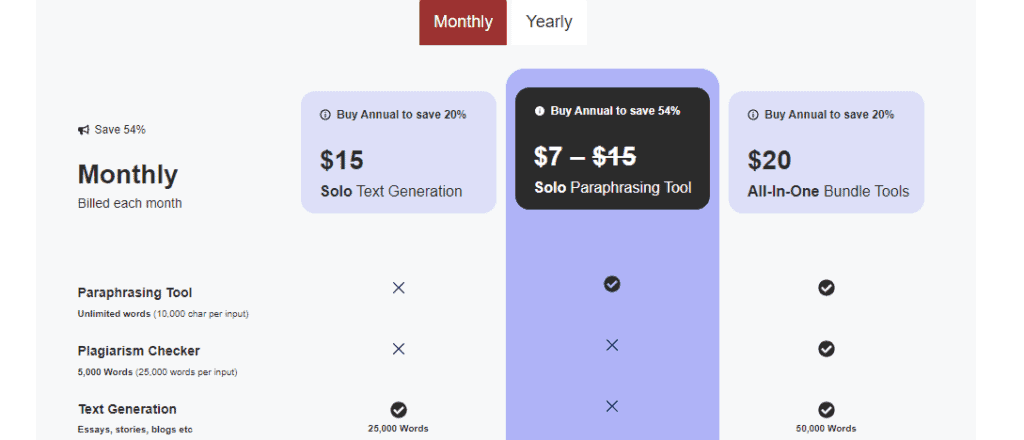 Solo Text Generation: $15/month
Solo Paraphrasing Tool: $7/month
All-in-One Bundle Tools: $20/month
Wordai Alternatives: FAQs
What Is Better Than Wordai?
While WordAi can be a useful tool for paraphrasing, it has competitors too. Some of the best WordAi competitors are the ones that are more accurate in content rewriting and offer additional features. They include Quillbot, Jasper, and Spin Rewriter.
What Should You Consider in a Paraphrasing Tool?
When selecting a paraphrasing tool besides WordAi, there are some important factors you need to consider to make sure you choose a reliable tool:
Accuracy: The paraphrasing tool should be able to understand the meaning of the original text and provide relevant alternatives without distorting the intended message.
Language quality: Go for a paraphrasing tool that generates high-quality language with proper grammar, syntax, and vocabulary. It needs to provide paraphrases that are fluent, coherent, and natural-sounding.
Contextual understanding: A good paraphrasing tool possesses contextual understanding capabilities. Make sure it can comprehend the surrounding sentences and paragraphs to produce paraphrases that fit well within the overall text.
Customization options: Different writing styles and purposes may require specific paraphrasing approaches. Look for a tool that allows you to customize the output according to your needs. This could include options for adjusting the level of paraphrasing or changing the tone.
Plagiarism detection: If you intend to use the paraphrasing tool to avoid plagiarism, it would help to find one that includes a built-in plagiarism detection feature. This can help ensure that the resulting paraphrases differ from whatever is on any sources online.
Speed: A good paraphrasing tool should be fast and able to provide instant results without compromising quality. Waiting too long for the tool to process and generate paraphrases can be inconvenient, especially when you're working on time-sensitive projects.
Cost: Some paraphrasing tools are available for free while others require a subscription or payment. You need to confirm whether the features and quality provided by the tool justify the cost.
Should You Choose a Free WordAi Alternative?
You can use a free tool similar to WordAi for rewriting your texts. It all depends on your preferences and budget. However, most paid tools offer better paraphrasing when compared to their free counterparts.
The reason for this is that the developers will be able to fund activities for ensuring their tool is of the highest quality. A paid WordAi alternative will offer features like enhanced accuracy, advanced customizations and functionalities, faster speed, reliable support, and updates. What's more, you get an ad-free experience using such a tool.
Conclusion
WordAi might be a content rewriting tool that has been around for some time. But this doesn't mean it's the only one worth considering. In this article, we've looked at a few of the best WordAi alternatives that you can use this year to create new content or rewrite existing pieces quickly and easily.
Each of these tools offers useful features and benefits that might be more suitable for your needs than WordAi itself. So, make sure to check them out before you decide which one is right for you.