5 Best AI Meeting Assistants in 2023 (Free & Paid)
Meetings are a necessary evil in the world of business and they sometimes suck. They can consume a lot of time and may not result in the desired workplace productivity. Fortunately, we now have numerous tools that can fix these challenges, including AI assistants for meetings.
These AI tools can help with various tasks during meetings, such as recording and transcribing. Also, they can help with post-meeting activities to ensure that every meeting attended is fruitful.
This article will cover the best AI meeting assistants available for teams and even individual professionals. You'll discover the top options you can go for, what they offer, and how much they cost. Read on to learn more!
Disclaimer: Because the site is reader-supported, we may earn a commission if you use our affiliate links.
What Is the Best AI Meeting Assistant?
Below, you'll find my top picks for AI tools for meeting recording and more.
1. Otter.ai

Otter.ai is among the top AI assistant for meetings right now. This is a tool that uses artificial intelligence to record and transcribe meetings and other conversations for you in real time.
Once set up, Otter Assistant automatically joins your virtual meetings to write meeting notes, provide summaries, and share them. So, no more worrying when you can't join a meeting or have been double or triple-booked.
What happens when you use the tool is that you're able to capture all key details and have them organized within a fraction of the time you would manually. The tool is also great for teams and allows you to collaborate with other members on a live transcript.
Moreover, Otter.ai serves as a great AI transcription tool for pre-recorded audio too. With the tool, you can also extract transcripts out of audio or video files you already have.
I've reviewed Otter.ai before with more information on how it works not only for businesses but also for individual and educational purposes.
Top Features
Automated note-taking: Generate meeting notes up to 30 times faster.
Automated slide capture: Otter.ai can capture any slides that participants share and includes them in the notes to ensure nothing is missed.
Meeting summary generation: When a meeting ends, Otter.ai comes up with a well-curated summary that covers all the key details discussed. No more going back to the whole meeting transcript!
Integrates with multiple online meeting platforms: The tool works with Zoom, Google Meet, and Microsoft Teams.
Pricing
Otter has a free version as well as paid plans. Otter's pricing is as follows:

Free: $0/month
Pro: $16.99/month
Business: $30/user/month
Enterprise: Custom pricing
2. Sembly AI

Need another all-in-one AI meeting team assistant? If that's the case, Sembly AI may interest you. Similar to Otter, this smart tool can transcribe, take notes, and provide summaries.
Sembly is able to automatically set apart the important information in your meetings and put them in points for you to quickly digest later on. You'll simply focus on what's happening on your screen during an online event and not worry about not noting down any discussed issues or useful decisions.
This means that even if you can make it to a meeting, all you need to do is send Sembly to join it so you can go through the key details later on. It just hops in as a regular user and introduces itself before doing the rest. Besides live recording and transcription, you're free to also use Sembly to transcribe previously recorded files.
Top Features
Reliable transcription: Sembly AI comes with the accuracy you need in a transcribing tool for meetings, with abilities like speaker identification and the clearing of filler words.
Easily locate your past meetings: Sembly AI offers advanced search abilities that allow you to find previous meeting transcripts either by a keyword, item, or attendee.
Quick follow-ups: You can instantly edit and share meeting minutes with other attendees to remind them of what was covered.
Pricing
You can use Sembly AI for free or choose from its affordable subscription options.

Free forever: $0/month
Professional: $10/month
Team: $20/month
Enterprise: Custom pricing
3. Krisp
Krisp is a bot-free AI meeting assistant, powered by OpenAI, that can turn meeting recording into summaries that are easily shareable. You get all the action and discussion items in one place and keep everything at the top of your mind.
What makes this AI tool unique is that it can work with many voice apps. And, you won't need to download anything to set the ball rolling.
As a side note, Krisp also serves as an AI-powered voice clarity and productivity tool. You can use it as voice cancellation for background noises like a talking crowd, barking dog, or crying baby, among others. This works to provide seamless communication between you and the call recipient.
Top Features
Unlimited transcription: Turn any online conversations into recordings and then transcripts.
Note-taking tool for multiple platforms: It doesn't matter whether you're using Zoom, Google Meet, Microsoft Teams, or Slack.
Readily-available templates: Easily generate and get your transcript structured into skimmable and actionable points.
Comprehensive meeting records: Have all the information you need from a meeting, including long and short summaries, action items, and discussion items.
Pricing
Krisp has these plans for users:
Free: $0/month
Pro: $12/seat/month
Enterprise: Custom pricing
4. Fireflies.ai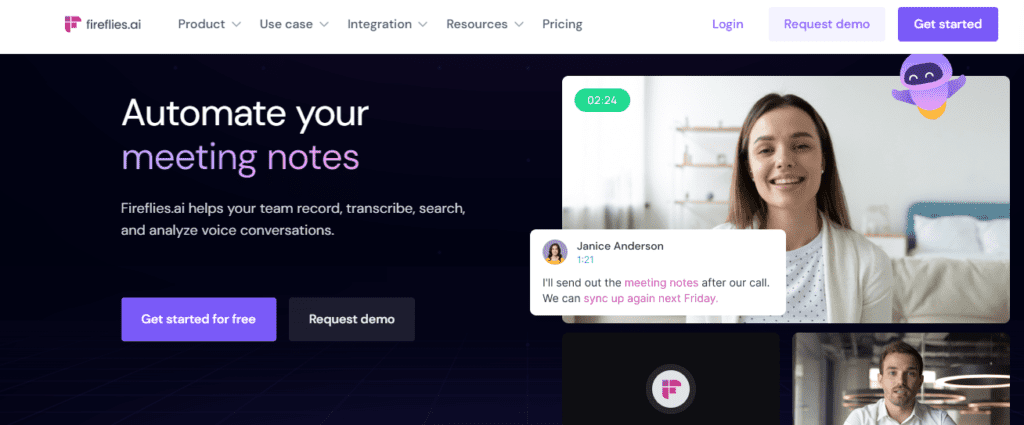 Another great software for AI meeting notes is Fireflies.ai. This tool can help you not only in automating your meeting notes but also analyze them. All you need to do is provide your calendar and then invite Fireflies.ai AI note-taker to meetings you've scheduled.
What makes Fireflies.ai interesting is its conversation intelligence. Through this feature, you can discover new and insightful information from your meeting recordings. It allows you to filter convos by speaker, monitor specific topics, and know how each teammate contributed if you're the admin.
Top Features
Advanced AI searching: Locate any main meeting points when revisiting what was discussed.
Collaboration feature: You can comment on specific sections of a transcript and even react to them with other users.
Efficient meeting analysis: Track everything from who said what and for how long. Find filler words and even customize the text as required. All these meeting metrics can help you manage the team and improve business processes.
Integrates with multiple other platforms: This includes Zoom, Google Meet, Aircall, and more. You get to automate workflows from meetings, e.g. logging in recordings into your CRM or sharing summaries on a collaboration platform
Pricing
Fireflies.ai comes with the following pricing plans:

Free: $0/month
Pro: $18/seat/month
Business: $29/seat/month
Enterprise: Custom pricing
5. jamie

If you need to make writing meeting notes a thing of history, jamie might just be the tool to help. It can be tiring to spend the whole day in meetings and still have to take notes and create summaries yourself.
The AI meeting summary tool can capture all the key takeaways without missing any useful information. It understands the technical terms of most industries, meaning you don't have to be worried about the quality of the transcripts.
The whole process is simple. Jamie doesn't work like other AI meeting assistants with bots. It asks you if you need notes generated for you and uses the audio from the conversation to instantly provide a summary after the meeting.
Top Features
15+ languages: Get summaries not only from English but other popular languages.
Ability to adjust summaries: You can choose how deep the summaries need to go or whether you just need the important points.
Quick sharing: You can easily give others access to meeting notes without a lot of effort.
Pricing
Standard: €24
Pro: €47
Executive: €96
Conclusion
In conclusion, AI meeting assistants can be an indispensable tool for businesses and individuals that need to enhance their productivity. These assistants leverage the recent AI breakthrough in machine learning and natural language processing to help you automate tasks such as note-taking, summarization, and even follow-up activities. Using them is a chance to free up your valuable time and that of other participants so that everyone focuses on more important tasks.