5 Best Otter.ai Alternatives of 2023
Otter.ai, or simply Otter, is a powerful speech-to-text transcription service that has helped individuals and businesses alike to transcribe meetings, interviews, and other audio content quickly and accurately. However, for those looking for alternatives to Otter, there are several other transcription services available with similar features that you can use.
In a separate Otter.ai review, I go through the reasons why it's among the top platforms for automatic transcribing. Now, in this post, we'll explore some of the best Otter.ai alternatives and discuss their unique features, pricing, and usability. Whether you're a journalist, researcher, or business professional, these alternatives are worth considering if you're looking to find the best transcription service that suits your needs.
What are Some Otter.ai Alternatives?
Below are the best sites like Otter.ai for automated and human transcription.
1. Sonix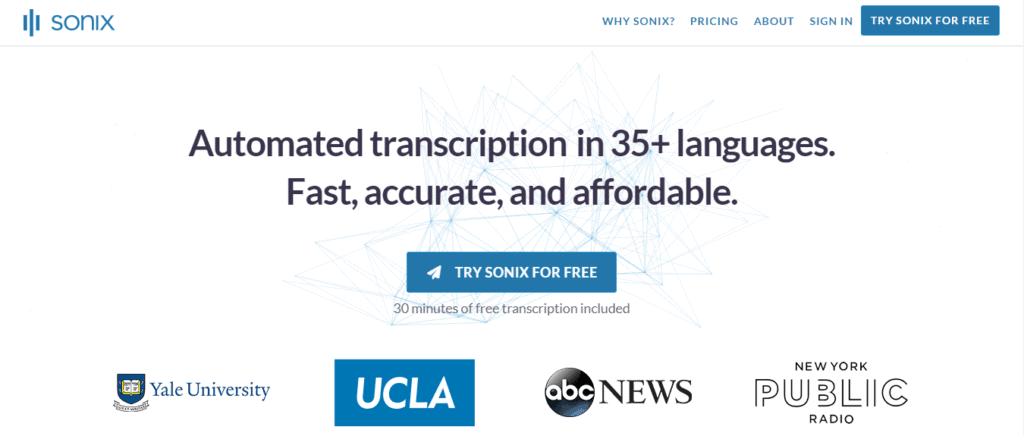 Sonix is an Otter.ai alternative that's AI-powered and able to transcribe, generate subtitles, and translate. It's a platform used by millions of people around the globe and trusted by well-known brands like Microsoft, Yale University, and The New Yorker.
What makes Sonix interesting is that it's fast and doesn't lack accuracy even so. You can get transcripts for dozens of languages, dialects, and accents without paying an arm and a leg.
Sonix offers an in-browser editor where you can search, play, edit, organize, and share transcripts from any of your devices. Word-by-word stamps allow you to simply click on any section of the text and play the audio from that point.
Also, Sonix can also identify speakers and separate exchanges into different paragraphs. There's speaker labeling where each paragraph represents a new speaker. You just need to label who spoke the part using a speaker drop-down.
Key Features
Automated transcription and subtitling in 38+ languages, like Chinese, Danish, Greek, Hindi, and Italian
Translation in 40+ languages
Custom dictionary for adding specific words and phrases
Timecode realignment to sync your transcript with the audio
Pricing
Sonix offers free transcription of up to 30 minutes. The paid option starts at $10 per hour for Standard (pay as you go).
2. Trint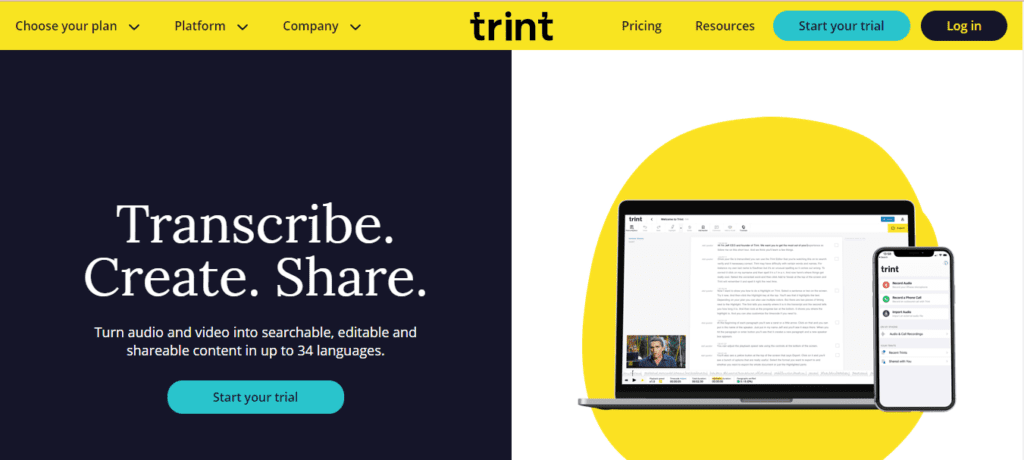 Trint is an innovative web-based transcription platform that offers a range of features to help businesses, journalists, researchers, and individuals transcribe audio and video content with ease. It's trusted by brands like Nike, Airbnb, and The Washington Post. 
The platform uses artificial intelligence (AI) to automatically transcribe audio and video recordings, making it possible to generate accurate transcripts in minutes. All you need to do is upload your audio or video content and get a transcript that's 99 percent accurate. You can easily edit to add speaker names and custom vocabulary, among other things.
Trint also offers powerful search and collaboration features. The platform makes it easy to search for specific words or phrases within a transcript, and users can collaborate with others in real time, making it an ideal tool for businesses with remote teams or for journalists working on stories with multiple sources.
Trint supports numerous languages and dialects, making it a truly global platform. The platform is also designed to integrate with a range of third-party applications like video editors, online meeting platforms, and other cloud-based apps.
Key Features
Transcribes 30+ languages
Translates transcripts into 50+ languages
Ability to generate and edit closed captions for video content and make them accessible to anyone
Integrates with Adobe Premiere for videos, Zoom for meetings, and Zapier, a tool for connecting all your apps in one place
Pricing
Trint starts from $60 per user per month for Starter.
3. Happy Scribe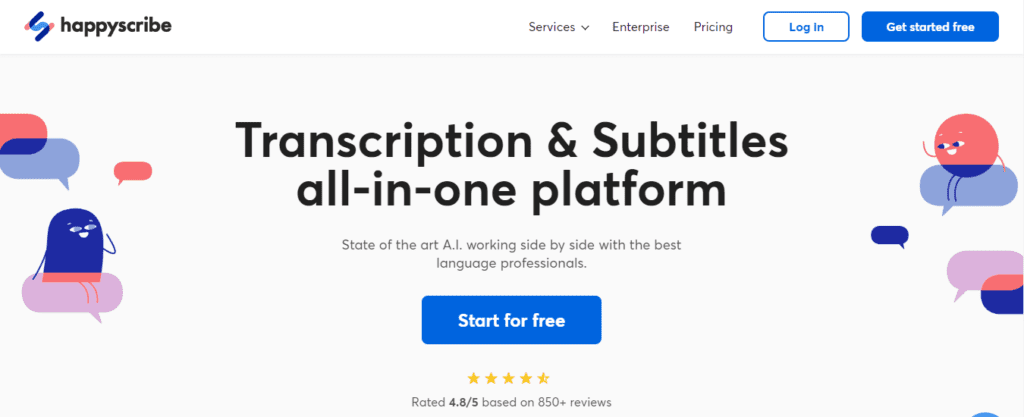 Happy Scribe is a versatile transcription tool that offers a range of features to help users transcribe audio and video content quickly and accurately. It's a tool made for transcribers as well as subtitlers and is trusted by users and teams from companies like BBC, Forbes, and Spotify.
What makes Happy Scribe unique is that it offers both automatic and human transcription services. So, besides AI, you also get access to a team of language professionals as a Happy Scribe user. According to Happy Scribe, their AI transcription software is 85 percent accurate and takes minutes while their human-made transcription comes with 99 percent accuracy and has a 24-hour turnaround time.
Happy Scribe's user-friendly interface makes it easy to upload audio and video files and get transcripts in a short time. The platform also offers a range of editing tools to help users refine their transcripts, including the ability to add timestamps and speaker identification.
Key Features
Both AI and human transcription
60+ languages for AI transcription and 10 languages for human transcription, including English, French, German, Portuguese, and Spanish
Subtitling and closed captioning services with AI speech recognition
Pricing
Happy Scribe's automatic transcription costs $0.20 a minute while human transcription goes for $2 per minute.
4. Notta

Notta is a speech-to-text converter that can serve as an alternative to Otter, especially if you're looking for live transcription. With Notta, you don't have to worry about manual transcription since the tool uses AI to transcribe files for you in seconds, thus saving you time. It's a tool that assists businesses to be more productive as well as writers to improve their efficiency.
One good thing about Notta is that you can transcribe files from any source privately and securely. Notta works for video subtitles, reports, and even meeting notes.
It can be used for Zoom, Google Meet, and Microsoft Teams. You get a chance to focus on conversations in online meetings and classes while Notta does the work for you. It also supports file imports whereby you upload audio, convert it, and download the result in a format like TXT, PDF, or SRT.
With its enhanced editing function, you can even edit transcripts on any device anywhere you are. This feature is particularly helpful for those who need to ensure that their transcripts are 100 percent accurate. What's more, you can even add images to transcripts.
Key Features
Notta Bot for participating in live online meetings and transcribing the audio
Supports 100+ languages and dialects besides English, such as Arabic, Dutch, German, and Spanish.
Connects with Google Calendar to sync upcoming events and boost workflows
Pricing
Notta has a free Basic plan and the paid plan starts from $13.99 a month for Pro.
5. Speechtext.ai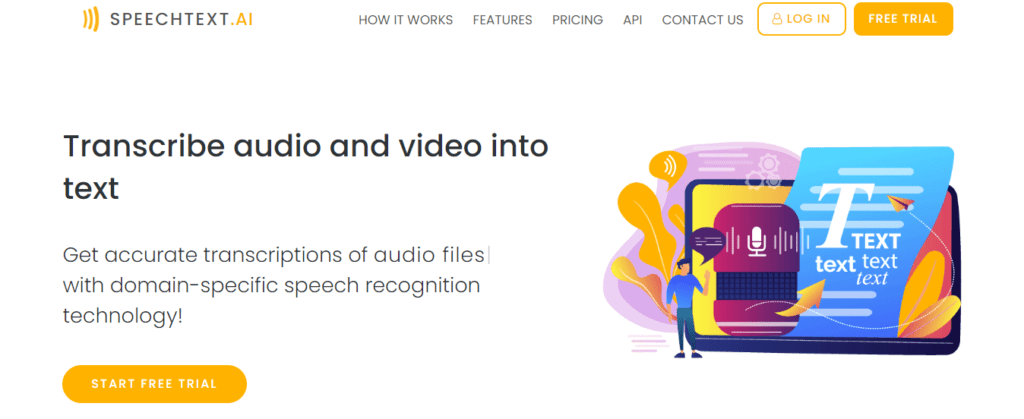 Another Otter alternative for recognizing speech and turning audio and video into text is Speechtext.ai. It stands out in that it offers domain-specific transcription.
What this means is that you can transcribe a file from a specified field, like marketing or science, using the tool. Doing so makes the transcript more accurate since it will align with the vocabulary used in the industry, making the text more suitable for professional use. And so, it doesn't matter whether you need transcripts for interviews, medical data, conference calls, or podcasts.
Speechtext.ai also has multi-language abilities. If you have audio that isn't in English, you can still use the tool for converting it to text. As if that's not enough, Speechtext.ai can detect different speaking individuals in a conversation if there's more than one speaker.
This transcribing software also understands grammar rules. It will add punctuation marks where applicable and improve the quality of your transcript. You won't have to worry about missing full stops, commas, or question marks in the generated text.
Key Features
Domain-specific transcription tool
Supports 30+ languages and even non-native speaker accents
Speaker identification to segment your transcript
Audio search engine for locating audio data
Pricing
Speechtext.ai starts from $10 for Starter.
Conclusion
Safe to say, there are several high-quality alternatives to Otter.ai available that can provide accurate and reliable transcription services for individual or business use. Whether you need to transcribe audio or video content in a variety of languages and file formats, there's a tool that can fit your specific needs. Trint, Happy Scribe, SpeechText.ai, Sonix, and Notta.ai are among the top options in the market, each with its unique features and strengths.
Trint's powerful editing tools and collaboration features make it an excellent choice for teams, while Happy Scribe's human transcription option provides added value for users. SpeechText.ai's domain-specific model makes it a reliable and user-friendly option for professional needs.
Sonix's powerful machine-learning algorithms make it a top contender in the industry. Finally, Notta.ai's focus on privacy and security makes it an excellent choice for individuals and businesses who require confidentiality and data protection.
In the end, the best Otter.ai alternative for you depends on your specific needs, budget, and preferences. By considering these factors and exploring the features and benefits of each platform, you can find a transcription tool that can help you save time and increase productivity.