Copy.ai vs Copysmith.ai: Battle of the AI Copywriting Platforms
When it comes to writing great copy, there's no one-size-fits-all solution. That's why there are so many different copywriting tools on the market. Copy.ai and Copysmith.ai are two of the most popular AI copywriting platforms on the market today.
But which one is the best? Both platforms offer similar features, but there are some key differences between them that you should know about before making a decision about which platform to use. In this article, we'll compare Copy.ai and Copysmith.ai in terms of pricing, features, and pros and cons to see which platform reigns supreme!
Disclaimer: Because the site is reader-supported, we may earn a commission if you use our affiliate links.
Read also:
Copy.ai vs Copysmith.ai: Overview
What Is Copy.ai?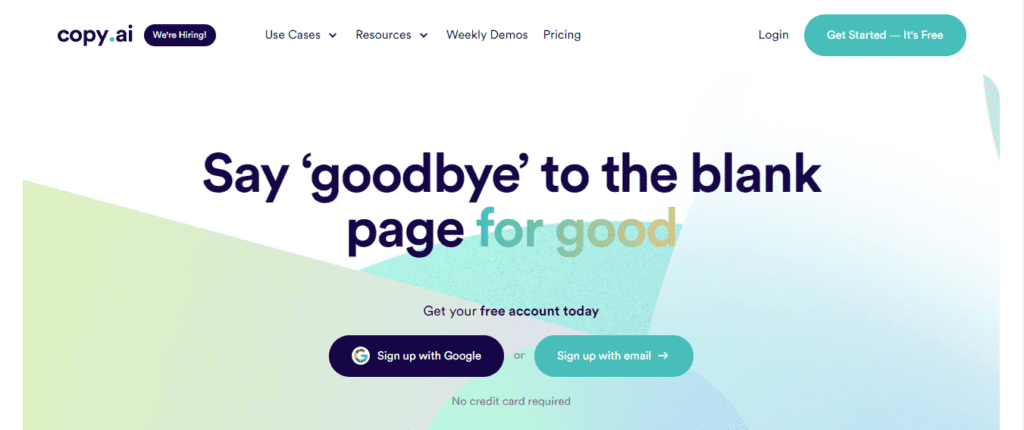 Copy.ai is a copywriting platform that uses AI to generate copy in a fraction of the time. It offers a wide range of features that more than one million people enjoy. With Copy.ai, you can write ads, emails, social media posts, e-commerce copy, and more quickly.
What Is Copysmith.ai?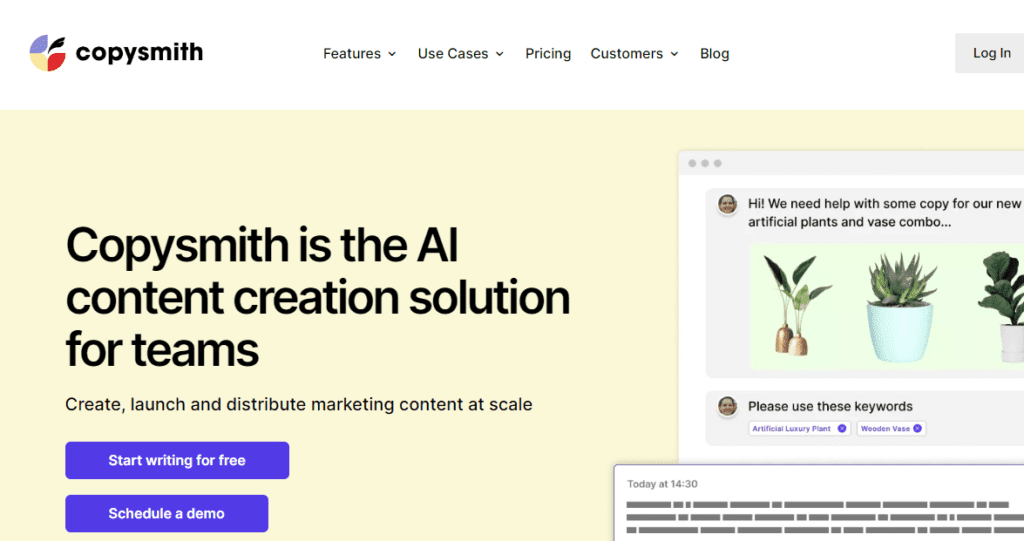 Copysmith.ai is an AI-powered copywriting platform as well and can assist you in creating high-converting copy faster. There are a variety of features on Copysmith, including ad creation, email writing, and social media content creation, among others.
How Do These Tools Work?
Copy.ai and Copysmith.ai work by taking your short inputted copy and turning it into a variety of different types of writings using their algorithms.
There are no limits to the process. You're free to test out different versions of your copy to see what works best for your audience.
It happens in a matter of seconds. This means that you can have several pieces of copy in a few minutes depending on the project you're working on.
Copy.ai vs Copysmith.ai: Features
The Features of Copy.ai
Wide variety of copywriting tools: Copy.ai itself has various tools for writing marketing copy for your audiences, such as SEO title generator, email subject line generator, and paraphraser.
90+ content types: There are over 90 types of content that Copy.ai can help you write, including website copy, email subject lines, social media posts, and more.
25+ languages: You can use Copy.ai to write in languages other than English, making it a great tool for international businesses.
Browser extension: Copy.ai has a browser extension that makes it easy to use the tool while you're anywhere online.
Free to use: One of the best things about Copy.ai is that it's free to use! This means that you can try out the platform without having to worry about any upfront costs.
The Features of Copysmith.ai
Content creation tool: Copysmith is a creation tool that allows you to quickly create various types of copy and other content. These include ads for Facebook and Google, product descriptions, and blog outlines.
Content rewriter: The content rewriting tool is for quickly revising your existing copy to make it more effective.
Plagiarism checker: Copysmith also has a plagiarism checker, which is great for ensuring that your copy is original and unique.
Team collaboration: With Copysmith, you can easily collaborate with your team on copywriting projects. This is a great feature if you're working with a remote team.
100+ languages: You can generate content in any language and connect with users anywhere in the world
Browser extension: Like Copy.ai, Copysmith also has a browser extension that makes it easy to use the tool as you browse various sites.
Integrations: Copysmith integrates with a variety of tools, such as Frase and Zapier.
Verdict: Which Has Better Features?
Copy.ai is great and offers various tools for writing over 90 types of content. On the other hand, Copysmith.ai offers integrations that Copy.ai is yet to include. It can also check for plagiarism with its in-built detector. On top of that, it also supports more languages.
Copy.ai is great if you want to write different kinds of copy while Copysmith.ai is the best for writing in any language, integrations, and collaborating with others.
Copy.ai vs Copysmith: Plans and Pricing
How Much Is Copy.ai?
There are two plans for Copy.ai users, and one is free of charge!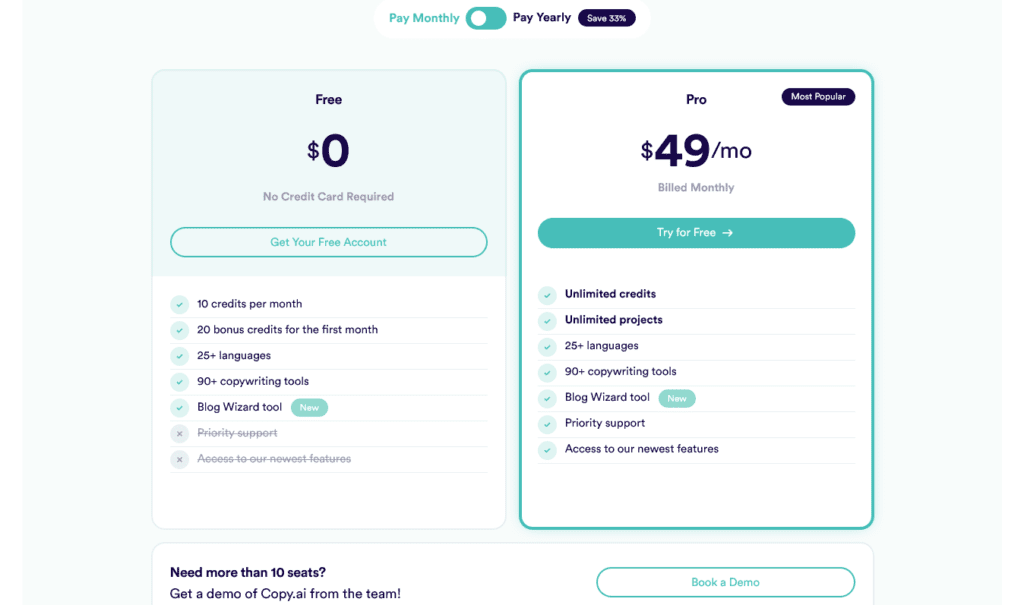 Free: $0/month for 2K words
Pro: Starting from $49/month for 40K words
How Much Is Copysmith.ai?
Copysmith.ai has 3 plans for its users.

Starter: $19/month for up to 20K words
Professional: $59/month for up to 80K words
Start Up: $299/month for unlimited words
Verdict: Which Is Cheaper?
If you're going to be a paying customer, Copysmith.ai is the more affordable option. Plus, you get more words written for a lower price than Copy.ai. You also enjoy plagiarism checks and won't have to get a different tool for that purpose.
Copy.ai can work for you if you need a free copywriting platform that uses AI. You won't pay anything and still generate a few words for your website, social media, or emails.
Copy.ai vs Copysmith.ai: Pros and Cons
Copy.ai Pros and Cons
Numerous copywriting templates to choose from
Various languages to write in
Available for free use
Lacks integrations with other well-known platforms
Copysmth.ai Pros and Cons
Content creation in any language
Plagiarism checking feature
Integrates with popular tools like Zapier
Affordable plan for beginners
Limited plagiarism checks in the lowest plan
FAQs
Which is better, Copysmith or Copy.ai?
Copysmith is a better AI copywriter if you're looking for a platform that supports lots of languages, can integrate with other tools, and has plagiarism-checking abilities. Copy.ai is the best when it comes to generating a wide range of copywriting projects.
What is the difference between Copysmith and Copy.ai?
Copy.ai and Copysmith.ai differ when it comes to the available templates, features, and prices. Copy.ai has lots of content types that you can check out. Copysmith comes with additional features like in-build plagiarism checking. As for the prices, Copysmith costs $19 per month while it starts from $49 for Copy.ai.
Is Copysmith or Copy.ai cheaper?
Copysmith's Starter plan is cheaper than Copy.ai's Pro plan, looking at the starting prices of the paid options. If you want a tool to use at no cost, consider Copy.ai Free plan. You won't pay a cent to use it, though you're limited in terms of features.
Copy.ai vs Copysmith.ai: Final Verdict
Both Copy.ai and Copysmith.ai are great AI copywriting platforms with unique features. However, if I were to recommend just one, it would be Copysmith.ai. It's more affordable and offers more features than Copy.ai — plagiarism checking, integrations, and plenty of supported languages — to name a few.
You're free to check out both tools and see whether you like a particular one more. It also won't hurt to use either platform for specific content creation needs if you have the budget for it!