Jasper Affiliate Program: Requirements, Income, and More
If you're looking for a high-earning affiliate program in the AI writing space, Jasper AI is definitely one to consider. In fact, there are over 8,000 affiliates of Jasper at the moment promoting the tool to their audiences.
The Affiliate Partner Program of Jasper AI offers generous commissions and some of the best conversion rates in the industry.
In this blog post, I'll discuss income expectations and provide more details about the program. You'll also get answers to some of the most commonly asked questions about the Jasper AI Affiliate Program. So if you're interested in joining the team, keep reading!
How Much Can You Earn with Jasper AI Affiliate Program?
The Jasper AI Affiliate Program offers competitive commission rates for successful referrals. Depending on the length of the plan your referral purchases, you can earn a 30% commission from every customer referred! That's some serious cash!
Remember, Jasper has 3 plans to choose from and the pricing is as follows: Creator at $49 per month, Teams at $125 per month, and Business with custom pricing.
This means that you can earn $14.70 in a month when someone chooses Creator. As if that's not enough, the commissions are recurring. In other words, you get paid not once but every time someone renews their subscription.
What Are the Requirements to Become a Jasper AI Affiliate?
Joining the Jasper AI Affiliate Program is simple and straightforward. All you need to do is provide your basic contact information, such as your name, email address, and website URL. The good thing is that Jasper works worldwide. However, affiliates can be from select countries as of now. It would help to have a significant audience online, whether through social media or a blog.
Once accepted into the program, you'll be provided with a unique affiliate link that you can use to refer customers and track your earnings. You'll also gain access to various promotional materials that you can use to promote the services of Jasper AI.
Are There Any Benefits of Joining the Affiliate Program?
Yes! As an affiliate partner of Jasper AI, you'll enjoy benefits like:
30% recurring commission: Get paid for a lifetime, even months after you stop actively promoting the tool.
Give your referrals a bonus: People that use your link get 10,000 words for free to start using Jasper even before subscribing.
Be part of something big: Plus, you'll be part of a great team at one of the most successful AI writing services in the industry.
How to Join the Jasper Affiliate Partner Program
Below are the steps to become a Jasper affiliate and make money online.
Step 1: Go to the affiliate sign-up page and click on the button that says to start the application.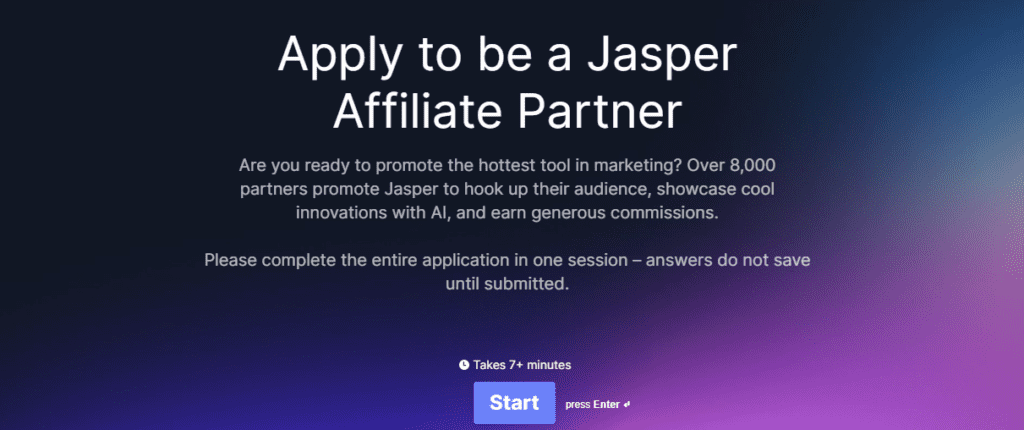 Step 2: Enter your first name and then your last name.


Step 3: Fill in the country you live in. You'll see a list of all countries and be able to select one.

Step 4: Answer how long you've been an affiliate marketer. You could be brand new, have done it for 1-2 years, 2-5 years, or over 5 years.

Step 5: Next, you need to tell Jasper about your audiences and marketing.

First is where you're going to promote Jasper, either through social media, an email list, your site, word of mouth, or any other option. You'll then enter your website address, YouTube channel, Facebook group, TikTok page, or LinkedIn profile if applicable. Also, you need to enter your estimated audience size and Jasper will also estimate how much you could earn.
Step 6: Answer some questions about yourself. They include why you want to promote Jasper and an agreement to not spam, pay for search ads on the tool's branded keywords, and mailed purchased lists. You also need to provide your best email for communications (also the one for logging in) and PayPal email address.

Once you've done all these, you'll submit your application and wait for the approval. Here's what the approval message looks like:

You can join the Jasper affiliates Facebook group to interact with many others like you. The group is perfect for tips and inspiration as a member of the affiliate program.
Who Can Join the Jasper AI Affiliate Program?
Anyone who wants to earn extra bucks and has access to a suitable online audience can promote Jasper. Below are some examples:
Blogger
Digital marketer
Affiliate marketer
Freelance writer
YouTuber
TikTok influencer
Facebook page or group administrator
LinkedIn professional
SEO specialist
Agency owner
Jasper AI Affiliate Program Pros and Cons
Pros
Good commission rates of 30%.
Recurring payments for your referrals.
Bonus words for people who use your link to sign up for Jasper.
Cons
Only select countries are accepted as affiliates.
The cookie period is just 30 days while other software affiliate programs offer up to 120 days.
To be successful, you need a significant audience online.
Jasper AI Affiliate Program FAQs
Here come more answers to additional questions on Jasper's affiliate program.
What's the referral cookie duration of the Jasper Affiliate Program?
Jasper's Affiliate Partner Program has a cookie life of 30 days. So, any person that uses your affiliate link must perform a purchase action within this period.
Can you sign up with your own Jasper affiliate link?
No, Jasper prohibits signing up using your own link to get commissions. You may lose your affiliate membership as well as unpaid commissions if found out.
How do you get paid in the Jasper Affiliate Program?
You receive earned commissions via PayPal. So, you need to set up a PayPal account if you don't have one. You then provide your PayPal email address for payments when signing up for the program.
When do you get paid in the Jasper Affiliate Program?
Jasper pays you on a net 30 basis during the first week of the month. In other words, you get paid up to 30 calendar days after Jasper approves the commission amount once a sale occurs. You also need to have at least $25 to qualify for payouts during a particular month.
Conclusion
The Jasper AI Affiliate Program is an exciting and easy way to make money online. You can join the program at no cost, get instant approval, and start earning commissions as soon as you set up your links. The 30-day cookie duration may appear short, but it still ensures that you get paid for any sales made within that time frame.
All in all, this is a great way to earn extra income and grow your online presence. So, if you're looking for an easy and rewarding affiliate program, then join the Jasper AI Affiliate Program today!