7 Best GPT-3 Tools for Content Creation (2023)
GPT-3 is a powerful generative language model that uses deep learning to enable machines to comprehend and produce text like humans. The best GPT-3 tools use this technology to help content creators write better and more engaging content faster.
With a GPT-3 AI-powered writing tool, businesses can come up with marketing copy as well as blog content within a fraction of the time, just by describing what they need. The same language model can be used to create chatbots that are able to respond to customer queries.
This article is about the top tools based on GPT-3 available now plus how they can simplify your content creation process. Read on to learn more!
What is GPT-3?
GPT-3, or the Generative Pre-trained Transformer 3, is a state-of-the-art language model developed by OpenAI and released in 2020. It's a cutting-edge AI tool that uses machine learning to generate human-like text responses to a wide variety of prompts.
Think of it as a virtual language assistant that has been trained on a vast amount of data to understand and mimic human language patterns. With a GPT-3 tool, you can ask it to complete a sentence, generate a paragraph, or even write a whole article on a given topic. It can also translate text, answer questions, and even create poetry!
The power of GPT-3 lies in its ability to understand the context of a given prompt and generate text that is coherent, relevant, and engaging. It can even learn to emulate different writing styles and tones, making it a highly versatile tool for a wide range of applications.
What Is the Best GPT-3 Tool?
Below is a list of some great tools using GPT-3.
1. Jasper
(Best for Lengthy Writing)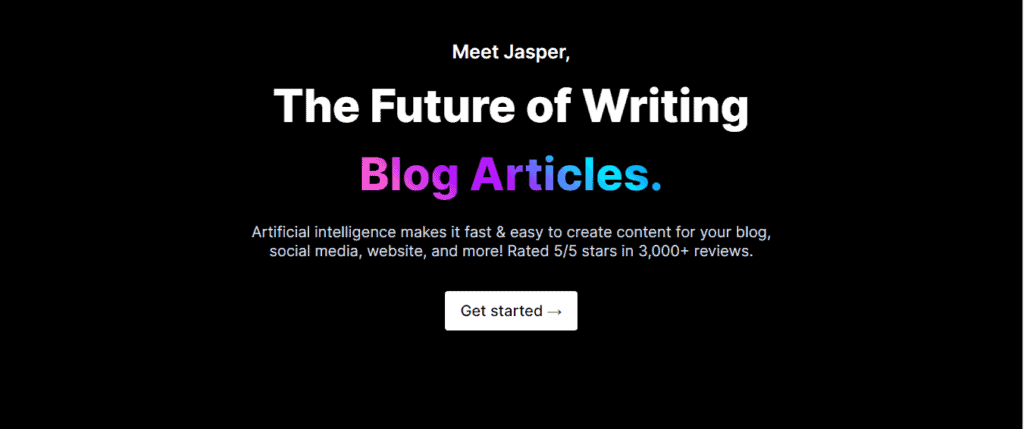 Jasper is an AI-based writing tool that can write content such as social media posts, tweets, blog posts, and short stories from just a simple description. It is powered by natural language processing technology and a suite of machine learning algorithms.
Jasper Art is an AI image generator from text that can produce quality digital art of various styles. As if that's not enough, there's Jasper Chat, a chatbot on the same platform that can provide you with whatever text or art you need based on your prompts.
Unlike other writing bots, Jasper is creative, ethical, and friendly — it provides users with high-quality output while respecting their needs for accurate and engaging content. As a result, Jasper has become one of the most advanced GPT-3 content creation tools available today.
Features
Ability to generate content ideas and the actual text for your content
Write engaging copy for social media or your website using one of its many templates for copywriting
Jasper Art is a perfect tool to easily create visuals for use in your content without copyright issues
With Jasper Chat, you're able to describe whatever content you need (either images or text such as titles, summaries, paragraphs, or lengthy content) and the tool will provide it in seconds
Pricing
Jasper's pricing starts at $49 monthly for the Creator plan.

Creator: $49/month
Teams: $125/month
Business: Custom pricing
2. Copysmith
(Best for Writing Product Descriptions)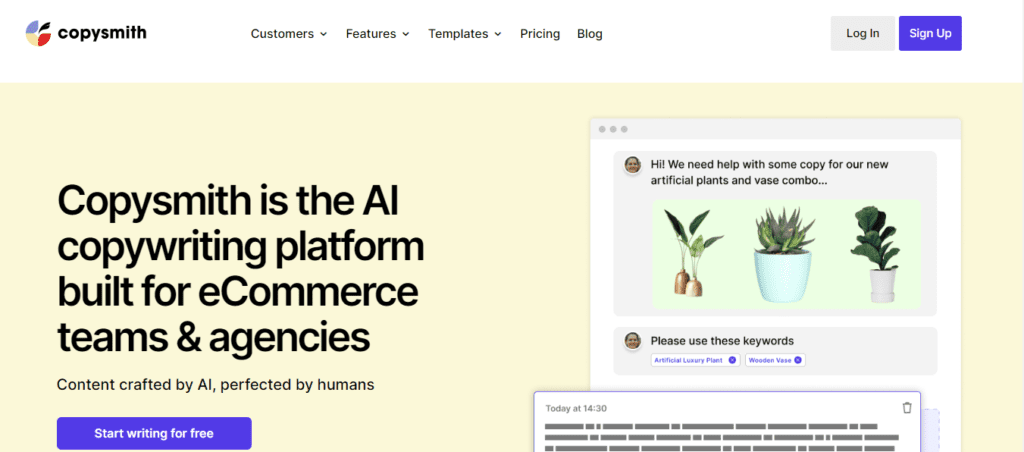 Copysmith is a powerful artificial intelligence tool that helps businesses create high-quality, engaging content. It uses a combination of GPT-3 and machine learning to generate text that is both relevant and coherent.
It's a great AI copywriting tool that suits e-commerce businesses in need of SEO-friendly and high-converting product descriptions. Besides that, Copysmith can also generate social media captions, email subject lines, and even blog post sections like outlines, intros, and complete posts. You can even rewrite old content, give it a fresh look, and have a chance to rank better.
Copysmith also offers an image generation tool for easily finding the image you require and not spending significant time browsing stock photography platforms.
Features
A product description generator that creates enticing copy for the items you're selling online.
Blog templates for writing outlines and paragraphs for your articles.
Image generation capability that produces visuals in a few clicks.
Bulk content creation
Pricing
Copysmith offers the following plans:

Starter: $19/month
Professional: $59/month
Start Up: $299/month
3. Writesonic
(Best for ad writing)

If you need another GPT-3 tool for writing, Writesonic may interest you. Writesonic is a powerful AI-powered tool that can create content on various topics. It cuts down the time spent on researching topics, writing drafts, and editing by providing you with ready-made text faster.
It's great for businesses looking to quickly generate highly relevant blog posts, social media captions, website copy, and even emails in seconds. This means that writers, marketers, and e-commerce store owners can benefit from the tool. Plus, Writesonic follows SEO best practices to ensure that your copy or website content is optimized and can appear on searches.
To top it all up, Writesonic users can also access Chatsonic, a conversational chatbot that understands current events and trending topics.
Features
AI article and blog writer for all sorts of long-form content
AI story generator for writing interesting short stories
Can write Amazon product descriptions, press releases, emails, and other copy in a few clicks.
Ad writing tool for Google and Facebook ad headlines and descriptions
Chatsonic allows you to generate factual and up-to-date information as well as AI artwork for social media, your site, or other campaigns
Pricing
Writesonic has 4 plans: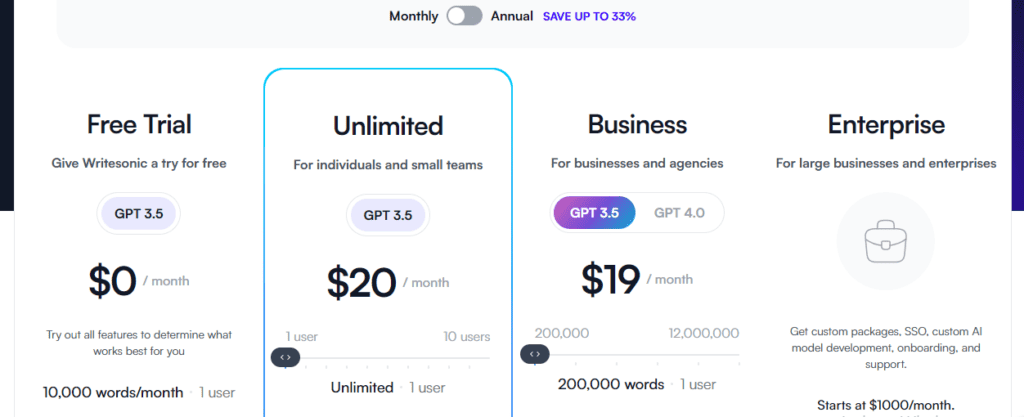 Free Trial: $0/month
Unlimited: Starts at $20/month
Business: Starts at $19/month
Enterprise: Custom packages starting at $1,000/month
4. Anyword
(Best for Writing Copy with Predictive Performance Score)

Anyword is a GPT-3 tool for copywriting that helps users create better content with minimal effort. It uses AI to provide personalized copy and gives insights from some of the most reliable sources on the Internet. With Anyword's predictive analytics, you're able to know how well your copy can perform even before you publish it.
Another thing that makes Anyword stand out is that you can get the best copy for a specific type of audience without just guessing. It factors in things like age and occupation to determine whether your writing suits the people you're targeting. That being said, Anyword can create well-targeted ads, product pages, blog posts, and even SMS.
Features
Predictive performance score to know whether your copy will resonate with the person you need to reach out to
Ability to write personalized sales messages for a specific audience, according to your description
Well-optimized copy that can turn prospects into customers
Pricing
Anyword has plans for everyone and also for business:

Starter: Starts at $29/month
Data-Driven: Starts at $99/month
Professional: Custom
Website: Custom
5. Frase
(Best for Content Research)

Another GPT-3 tool is Frase, which is designed specifically for researching, writing, and optimizing content in minutes instead of the usual hours it takes. It takes the tediousness out of writing by providing AI-generated content that can be used to create perfectly optimized web pages and blog posts.
The tool also helps you save time by brainstorming topics quickly, creating outlines in seconds, and building helpful content blocks. It's great for marketing teams as it can help them identify the right topics to write about and make sure that their web page is SEO-friendly.
Features
Content research tool for coming up with ideas for articles
Content writing tool with an introduction generator, outline generator, paraphraser, summarizer, and more
Content optimization tool that compares your content with top competitors and optimizes it accordingly
Content analytics that can analyze the performance of your content
Pricing
Frase offers the following three plans:

Solo: $14.99/month
Basic: $44.99/month
Team: $114.99/month
6. Hypotenuse AI
(Best for Social Media Copy)
Hypotenuse AI is a GPT-3 content creation platform that's perfect for creating captivating and engaging marketing content like social media posts. It helps you create copy that can attract your target audience, as well as images to help make the post stand out. With its AI technology, it can automatically generate images from the text you provide.
Hypotenuse AI's Content Detective enables you to write factual work even without a lot of expertise or research. It provides key points and sources to make your work easier. You no longer have to worry about credibility since you can easily link to citations that readers can refer to.
Features
AI writer that can generate captions and hashtags for social media posts as well as other sales messages and blog content
AI image generator to quickly create custom images
Content Detective feature for researching and ensuring your content is accurate
Pricing
Hypotenuse AI has Starter and Growth plans as well as a custom one.

Starter: Starts at $29/month
Growth: Starts at $59/month
Enterprise: Custom
7. Simplified
(Best for Content Improver)

Simplified's AI writer is a powerful AI-driven tool that lets you write over 50 types of marketing copy in seconds. It doesn't matter if you need text for your landing pages, social pages, or site. The AI writer has the ability to provide long-form and short-form content that is free of plagiarism.
The interface of the tool is easy to use and understand. You simply provide it with your desired input and select the button for generating text. The tool will then provide you with text variations that you can choose from.
Besides text generation, you can also use Simplified's AI writer to improve existing content. This can be helpful if you need to add uniqueness to it and enhance readability.
Features
A copywriting tool with tens of templates to use
Long-form writing ability for drafting articles for a blog
Content improver for an existing copy
Provide several outputs for you to choose the best variation
Pricing
Simplified has 3 plans:

Small Team: $30/month
Business: $50/month
Growth: $125/month
What to Consider When Choosing a GPT-3 Tool
The type of content: Most GPT-3 tools can write various types of content, but the quality isn't always the same. Some tools are great for creating product descriptions while others excel at crafting longer blog articles.
Plagiarism checking: Plagiarism is a major issue when it comes to content creation. Make sure the tool you choose has an effective plagiarism checker built in so that you can avoid any issues.
Price: Different GPT-3 tools offer different pricing plans, so make sure you compare them before making your decision. Many of these tools have plans that are tailored to individual users and businesses, so look for one that fits your budget.
Tips for Using a GPT-3 Tool
Research your topic: Even though GPT-3 tools can do some research for you, it's still important that you have a general understanding of the topic you're writing about. This will help you create better content and not publish anything blindly.
Edit your content: Make sure to go over the content that is generated by the tool and edit it if needed. Even though GPT-3 tools can produce great copy, you still have to make sure it reads naturally and is free of any mistakes, like repeated sentences or inaccurate data.
Understand the limitations: GPT-3 tools are powerful but they still have their limits. Make sure you understand what these limits are before using the tool so that you don't end up with content that doesn't meet your expectations.
Conclusion
GPT-3 tools can be a great asset for content creators and businesses. They can save you time and help you create better content. However, it's important to understand that they still have limitations.
When choosing a tool, take into account factors such as price and features. This is how you'll get the most out of it. Don't forget to always go over the content generated by these tools and edit it where applicable.