Jasper AI Review: What I Found Out After Using It (2023)
Nowadays, there are lots of new AI tools and it can be hard to decide which one is the best for content creation. Not long ago, I heard about a new AI writing assistant called Jasper.
It can help you go from a blank page to full SEO-optimized blog posts or ad copy, they said. I was really curious about how it worked and what kind of results I could get with it.
How many words could it write? Is it good for SEO? What about the quality of the grammar?
I had the opportunity to test out this AI writing software and I've been using it for some time now. In this Jasper AI review, I'm going to share my findings from using the AI content generator.
Read also: Best AI Writing Tools Online
Disclaimer: Because the site is reader-supported, we may earn a commission if you use our affiliate links.
Jasper AI Review: Overview
Coming first is a general view of this AI-powered writing tool.
What Is Jasper AI?

Jasper AI, formerly known as Jarvis and Conversion AI, is an artificial intelligence writing assistant that can help you create content faster. It's a tool that's trusted by over 50,000 content marketers and companies like Google, Airbnb, and Logitech.
It works by understanding what you want to write about and then generating ideas and outlines for your articles. With Jasper, writing original and creative content for your blog, website, or social media becomes a quick and easy process.
Check this Jasper introduction video:
How Does Jasper AI Work?
Jasper AI is trained with large sets of data to help you write content for you faster. You provide a description or enter one of the Jasper commands and let it generate AI content for you.
It's through natural language processing (NLP) that Jasper can understand human language and provide output based on the given instructions.
If you're not happy with the results, you can always regenerate the text or start from scratch. You can then add your own input through the tool's document editor or use the AI-generated content as it is.
What Can Jasper AI Do?
Jasper AI has several uses. It can help you with the following:
Writing original and entire blog posts or articles
Generating press releases
Creating product descriptions
Publishing better ads on Facebook
Finishing drafts within a shorter time
Repurposing content
Handling language barrier problems in online writing
Check these Jasper AI writing examples for a little inspiration!
Who Is the Jasper AI Tool Good for?
Jasper AI can work well for you if you're in any profession that involves writing. This includes:
Freelancers
Content writers
Copywriters
Bloggers
Digital marketers
Social media and ad managers
Influencers
Online sellers
Jasper AI Features
Below are some of the top features of the Jasper AI writing software.
1. Long-Form Content Writing Assistant
Jasper AI can help you create long-form content quickly and easily. It can help you write lengthy texts up to 5 times faster than usual.
You just need to command the AI writing tool to write what you want to get a high-quality text document that requires minimal editing.
To use Jasper to write blog posts, first go to the "Create new content" section on your dashboard.
The blog post auto-creation function (aka the One-Shot Blog Post template) is what you can use to let Jasper automatically create an article so you can then edit as per your needs. So, you need to choose the option that says "New blog post."
What appears next are sections for you to input the blog post details: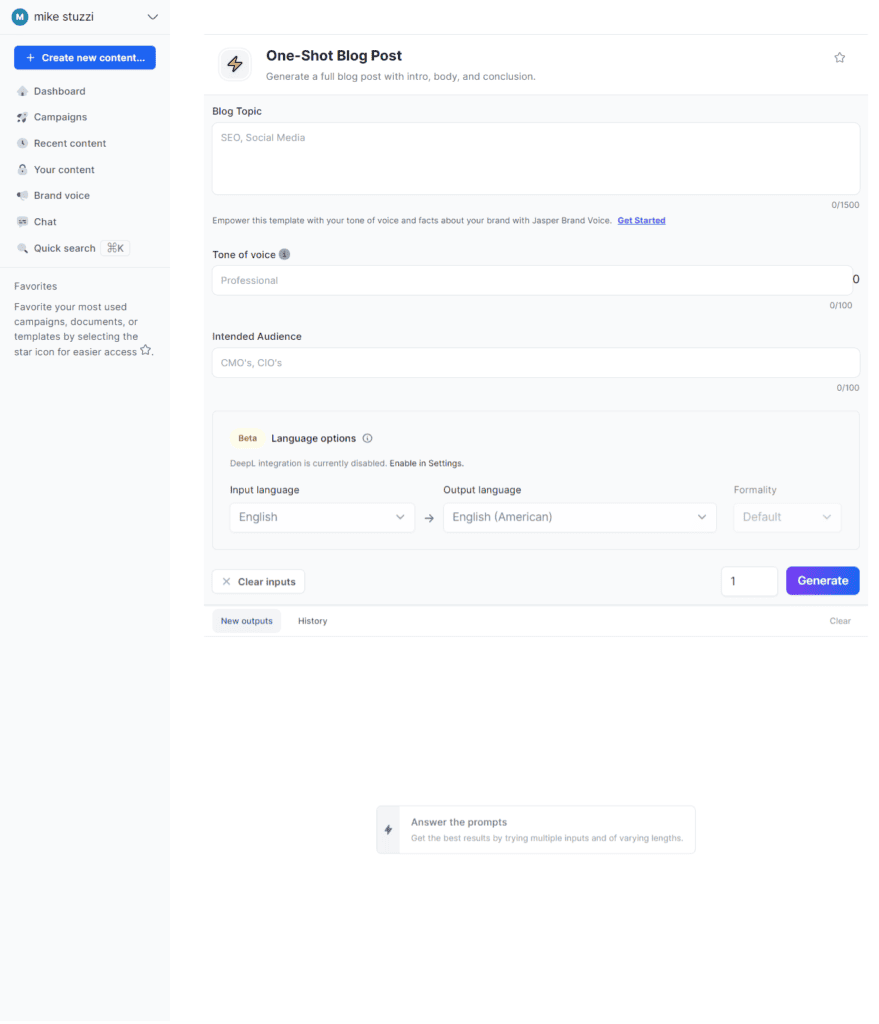 I tested Jasper's blog writing abilities to see how good it is. The topic was "How to Become a Blogger." I used a professional tone of voice and set the target audience as aspiring online business owners.
Below is a part of the output, which was quite informational:
This output didn't have enough words. And so, I wanted to edit it in the document editor to add more value to it. To open the editor, simply click on the document icon below:

Here's how the document editor looks: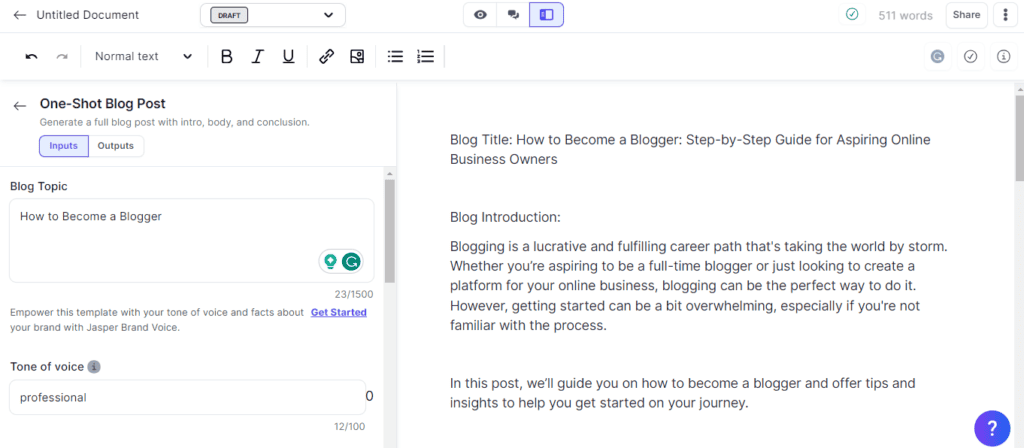 You can edit the headings for H1 to H4, add lists, and do anything you would do on Microsoft Word, Google Docs, or WordPress to edit your post.
Now there are two ways to let Jasper write for you in the document editor: clicking on the arrow (→) button at the cursor point, pressing the Jasper AI command CTRL+J, or describing to Jasper what you need by typing the slash symbol "/."
In the first option, just go where you need to add more text in the editor and start writing something. Click on the arrow to let Jasper finish the sentence and add more for you.
I prefer the second way since it lets you get exactly what you need. Check my description below (I added a subheading to the post called "Optimize Your Content for SEO":

Here's the nice and highly informative output that Jasper gave me: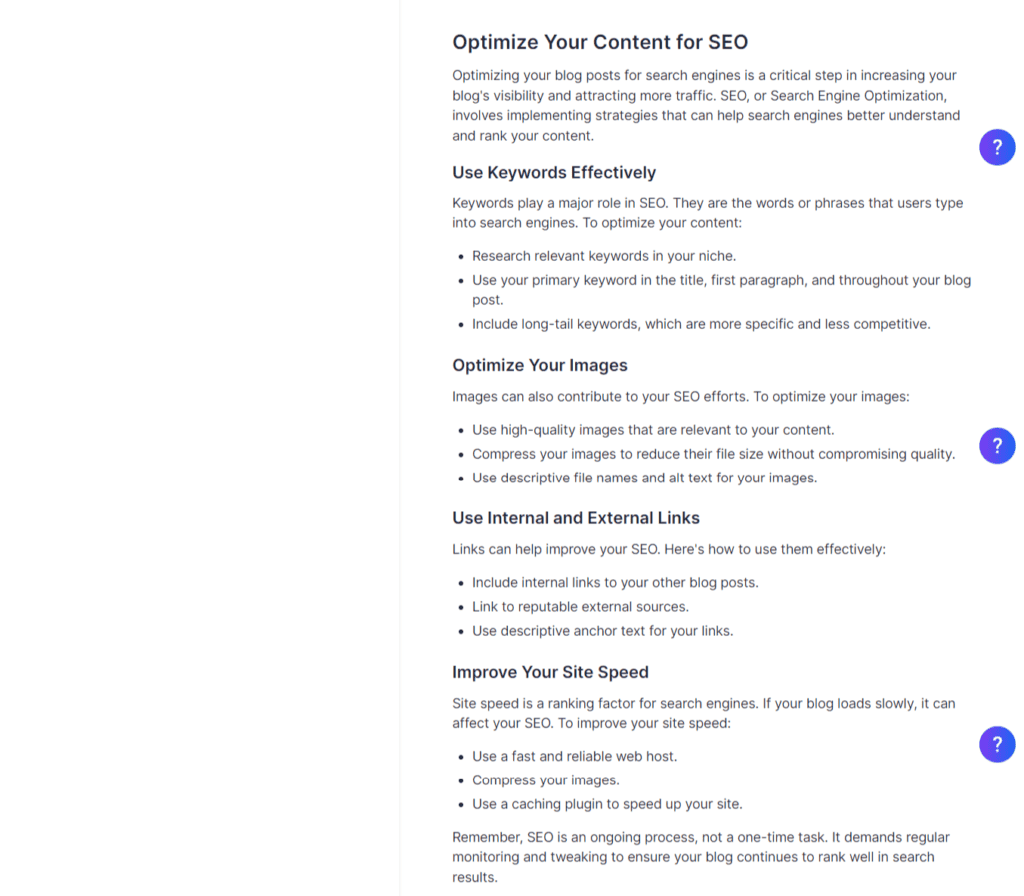 The verdict is that Jasper for blog post writing is a great and useful feature. If you choose the auto blog post creator function, I would recommend that you edit the generated post to answer more of your audience's queries or add more relevant sections to make it more valuable.
Also worth reading is this detailed guide on how to use Jasper to write original and unique blog posts.
2. 50+ Use Cases and Templates
There are over 50 templates to choose from when using Jasper AI for writing. In this Jasper AI review, let's test a few useful ones for online businesses besides the blog post template I've already covered.
Some of these templates are:
Blog post topic ideas
Marketing copy frameworks like Before-After-Bridge
Personalized cold emails
The steps to access templates are similar to how we went about starting a new blog article. But here, you choose "New from template" instead of New blog post."
Below is a screenshot of some of the templates. As you can see, there are categories to choose from depending on what you need to generate: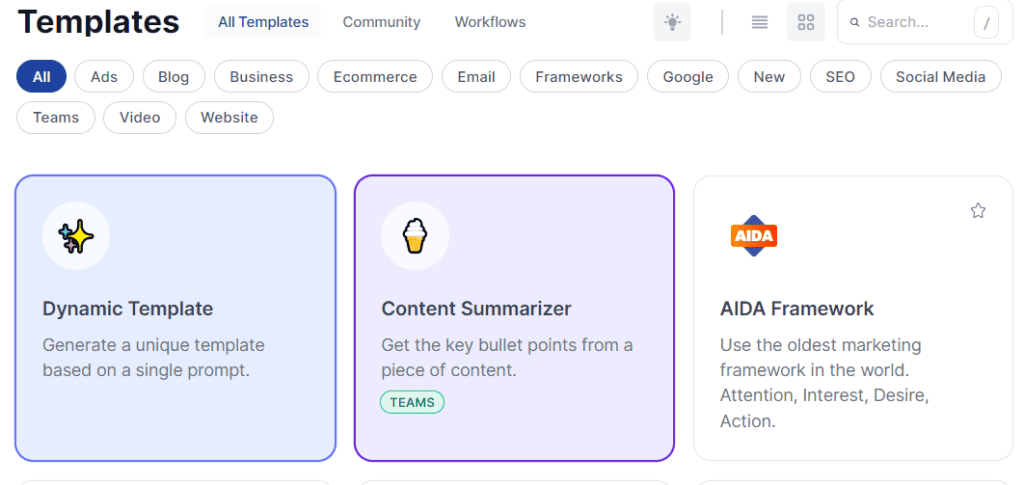 Jasper AI Template 1: Blog Post Topic Ideas
Let's first find out how good Jasper is at generating blog post ideas. This is a feature you may need if you have writers or just want to write the articles yourself.
You can see the description, audience, and tone of voice selection below: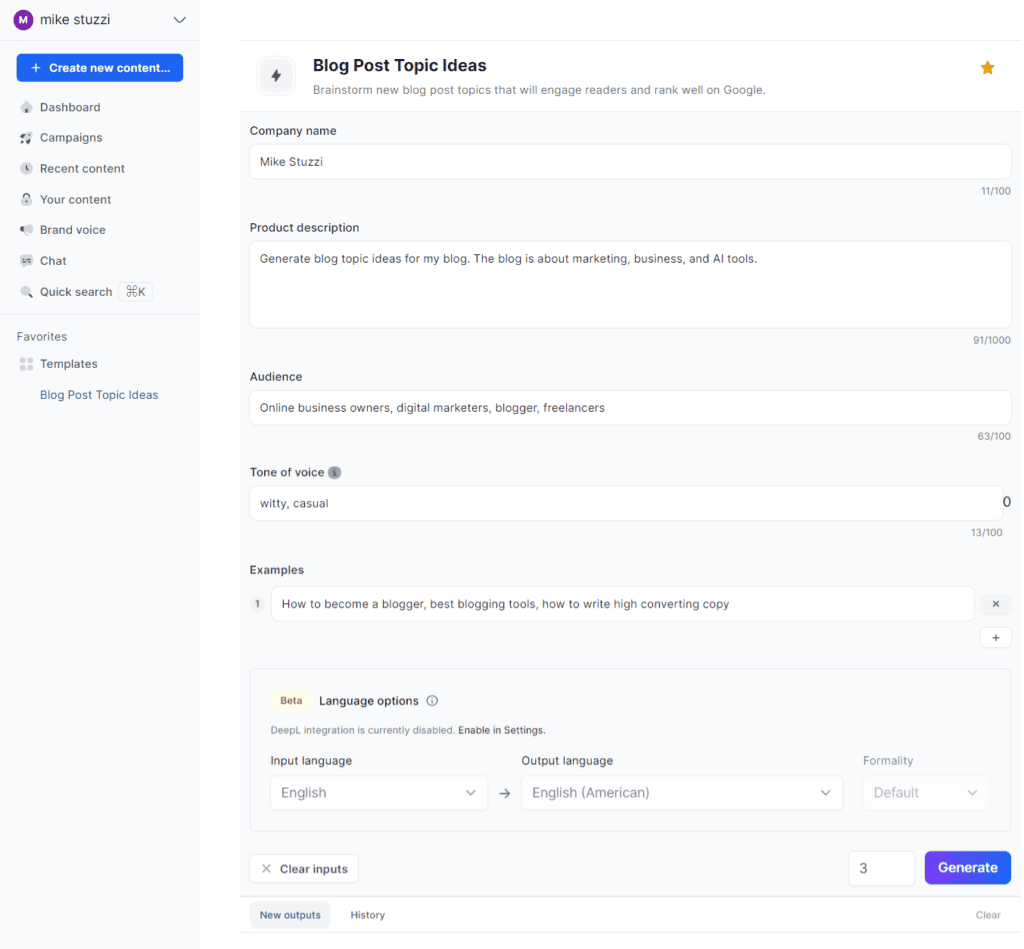 The results: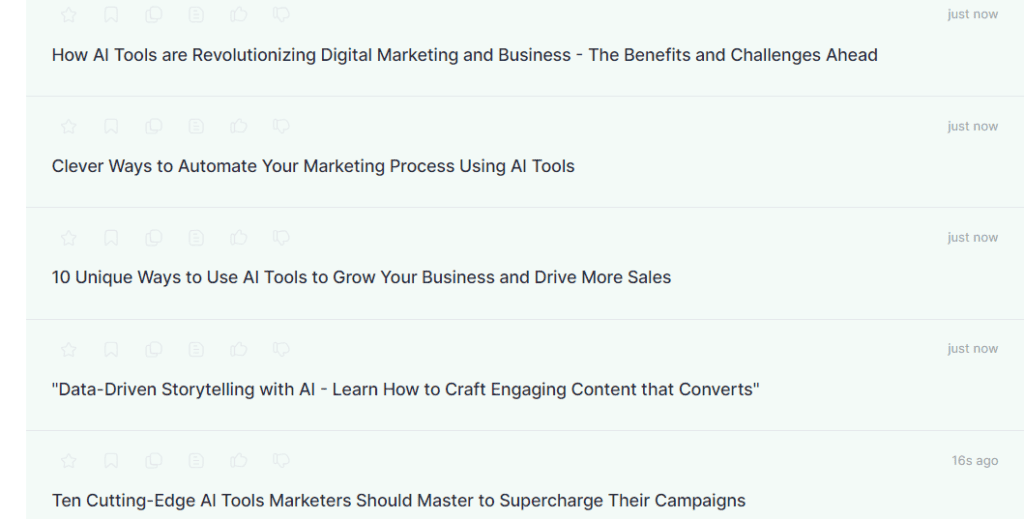 For this template, the topics were good but not how I expected. Also, you'll need to generate a few times to get good topic ideas.
Jasper AI Template 2: Before-After-Bridge Framework (For Marketing Copy)
To test the Jasper AI copywriting tool, let's assume we need a marketing copy for a random product name such as "AI Writer."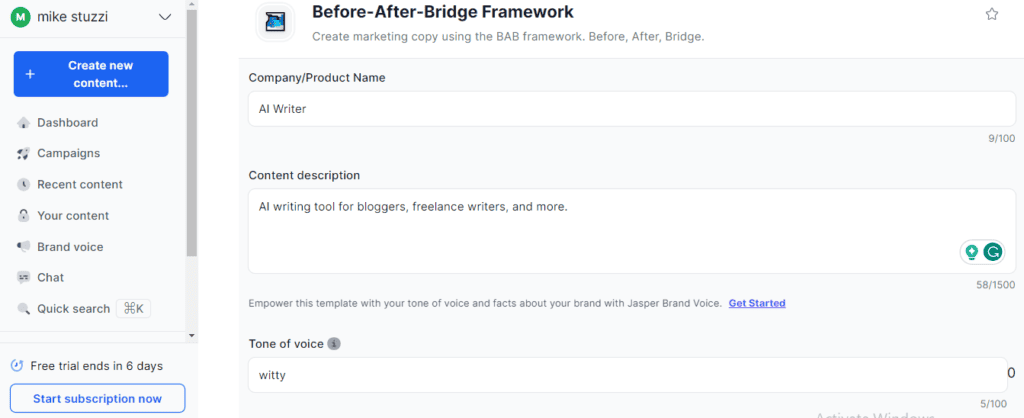 Here is the output:
The result is great. Jasper followed this copywriting formula and delivered a sales message to rely on.
Jasper AI Template 3: Personalized Cold Emails
If you're like me, you may find yourself sending cold emails to generate leads. It's risky to always send one email to everyone on your email list and personalization comes in handy.
Below is my input with the quick product description, product name, and tone of voice: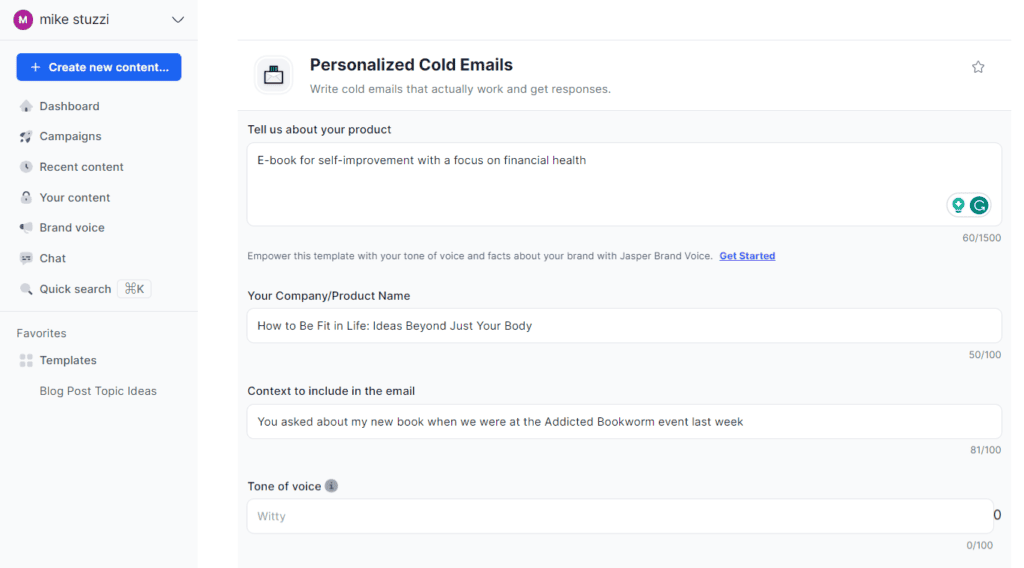 Check the results Jasper produced below: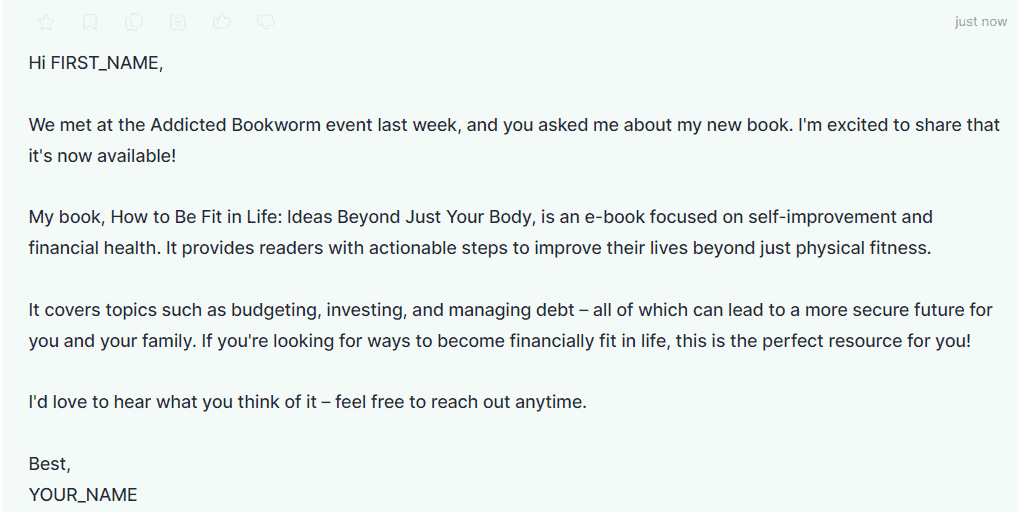 I would say that the recipient would find interest in purchasing and reading the book if they saw an email like that!
Other Mentionable Jasper AI Templates
Content Summarizer: Extract the key message and points from any length piece of writing.
Content Improver: Make your boring text more readable or incorporate a specific tone in it using this rewriting tool from Jasper.
Email Subject Lines: Create catchy subject lines that people won't resist clicking on (this paired with the Personalized Cold Emails template will sure do wonders).
Product Description: Make your listings on Amazon or any other e-commerce platform stand out to boost engagement and sales.
SEO – Blog Posts – Title and Meta Descriptions: An easy template to ensure you have rank-worthy content.
Jasper AI also features various templates for social media posts, including Quora Answers, Pinterest Pin and Title Description, Tweet Machine, Personal LinkedIn Post, and more.
3. SEO Mode
With Jasper AI, you can create SEO-friendly blog content that ranks high in search engines. It's all possible through Jasper's SEO mode.
If you've provided a topic and a description, Jasper will naturally include some relevant keywords in the text. But that's not all you can do for SEO and make sure you'll rank, right?
The Jasper AI writing assistant can also be integrated with Surfer SEO, a well-known content optimization tool. This means that your content will have all the right keywords at the required places and be able to rank well on Google.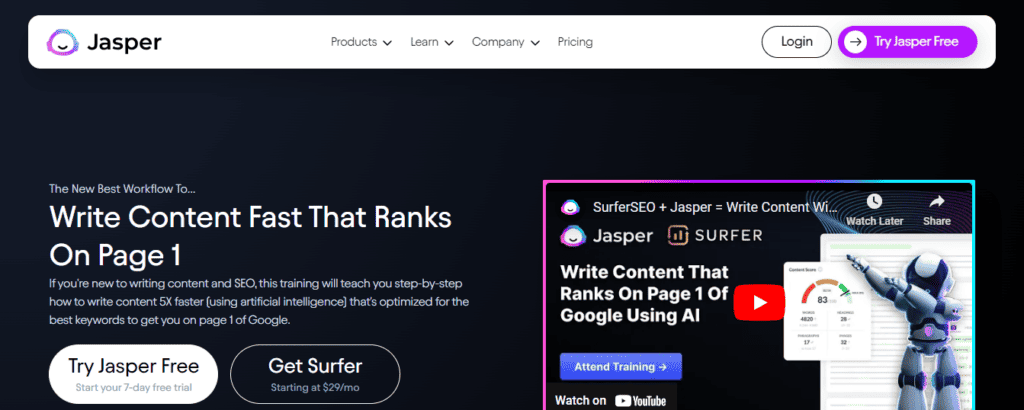 You can access the Surfer score of your content compared to the top results pages for a keyword. It becomes easier to know the best content length, keywords to include, number of images, and more elements needed for proper ranking.
4. Multiple Languages
Besides English, Jasper AI supports more than 30 languages so that you can create content in any language you want. It includes both input (what Jasper can read) and output (what Jasper can write in) languages.
A few of these languages are:
Spanish
German
Italian
French
Chinese
So, there's no need to worry if you're writing for an audience that doesn't speak English. Imagine writing blog content or ad copy for Spanish people using English, or even German if you're fluent in it!
5. Grammar Checking
Using Jasper AI won't affect the quality of your writing. There's no need to worry about spelling, punctuation, or sentence structure issues.
If anything, you can improve the grammar of your work while using Jasper. The AI-powered tool only writes content that's easy to read.
Also, Jasper AI works with Grammarly, one of the top grammar-checking writing assistants. You can use the free Grammarly version or upgrade to get the best results.
To enable Grammarly on Jasper, while on the document editor, you need to click on the "Enable Grammarly" button, shown below:

You'll now access Grammarly's suggestions and implement them in your writing.
6. Plagiarism Checking
Worried about how original the content you write is? Jasper comes with plagiarism-checking capabilities too.
You'll be able to scan your document and compare it with other sources online to ensure it's not copied from anywhere. It's a chance to protect your reputation and rank on search engines.
Below is a screenshot of where the plagiarism checker is located in the document editor:

Note that the plagiarism checker is priced separately at the moment. You have to purchase some credits to use it.
7. Jasper Chat
Jasper Chat is an AI text-based assistant and a great add-on to all of Jasper's features. This chat feature allows you to make the AI do anything it can do for you.
You can request Jasper chat to do things like:
Generate blog post ideas
Write a blog post outline for you
Craft a compelling marketing copy for you
Create a product description
Generate a social media post for you
I asked Jasper Chat to write a sample intro paragraph for an article:
In other words, you can use all of Jasper templates on Jasper Chat just by describing what you need to be generated. You can even ask for advice on anything (a great addition!)
8. Jasper Chrome Extension

Jasper Everywhere is the browser extension from Jasper that allows you to use Jaspe anywhere on the Web. If you install it, you'll see it anywhere you're editing text.
You no longer have to wonder whether Jasper integrates with WordPress or Google Docs. You can use Jasper to write on these two major platforms.
What happens is that when you're writing or editing, you'll see the arrow symbol that commands Jasper to continue with the text. It's just like using Jasper's document editor, except you'll be on a different platform online!
9. Jasper Art
Interest in generating images from text? Jasper Art is the tool you need!
Check the example below: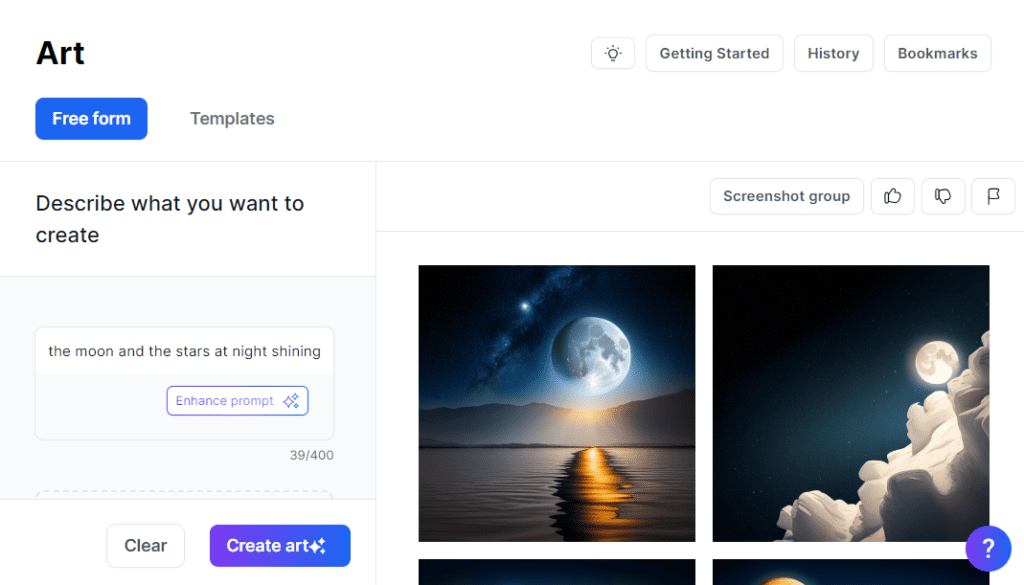 Similar to the Jasper AI app for writing, you need to be as descriptive as possible with Jasper Art for the best results. You can modify customization aspects such as mood (e.g. calm, exciting, or gloomy), medium (e.g. acrylic paint. ink, or oil paint), and style (e.g. anime, digital, or surrealism) for the resulting images.
Jasper Art is a great tool to style blog posts and enhance the user experience of anyone reading them. This is possible because it can produce photorealistic images.
Read more about the AI image generator in this Jasper Art review.
Other Mentionable Jasper AI Features
Brand voice: If you didn't know, Jasper can analyze a custom brand voice you provide and then create your subsequent pieces of content using it.
Knowledge assets: You can upload some of your brand content like slogan, vision, product or service details, and more so it understands how best to serve your content needs.
Jasper AI Facebook group: You can interact with other Jasper users on the group for free.
Jasper AI BootCamp: Also known as Jasper Jumpstart, this program can help you become a pro at using the Jasper AI software for content creation.
Jasper API Access: Integrate Jasper with your own systems or apps for enhanced productivity.
Jasper AI Pros and Cons
Here's my opinion on Jasper AI.
What I like about Jasper AI
Easy to write long-form content
Lots of templates to use depending on the writing I need
Numerous languages to execute commands in or generate outputs in
Can be integrated with other writing tools like Grammarly and Surfer SEO
What I don't like about Jasper AI
The need to edit out any text that doesn't fit well with what you're writing
Some templates work better than others (not all are equal)
Jasper AI Pricing Plans
Let's talk about the cost of using Jasper.
Is Jasper AI Free?
Yes, you can use Jasper AI for free but not forever. The AI writing assistant offers a 7-day trial that any new user can claim and enjoy the power of Jasper. However, there are some features that are only available with a paid subscription.
With a paid subscription, you'll get access to more ideas, outlines, and support from the Jasper team. You'll also be able to generate longer pieces of content and get access to exclusive features.
How Much Does Jasper AI Cost?
Jasper AI offers 3 plans for users that are monthly. There are also annual options. If you choose a yearly billing, you'll save 20 percent.
Below are Jasper AI's plans:

Creator
This is the first plan and it costs $49/month. Its overview is as follows:
50+ AI templates
30+ languages
1 user
1 brand voice
50 knowledge assets
Browser extension
Basic art generation
The Creator plan suits someone who's just starting out and wants to explore.
Teams
This plan starts at $125/month: Here's the overview:
Everything in the first plan
3 users
3 brand voices
150 knowledge assets
Ability to create your own template
Team collaboration
Live chat support
The Teams plan works best for online business owners like freelance writers, bloggers, and content creators.
Business
This is the other option on the Jasper AI software that comes with a custom price. You can get custom features, advanced analytics, and support with the Business plan. It suits teams and well-established businesses.
Get 7 days for free on Jasper
Note: You may have heard about Jasper's Boss Mode before. This used to be one of its plans that's no longer offered. Instead, you can go with Teams to access most of the previous Boss Mode features plus more.
Jasper AI Alternatives
Jasper, like most other software tools, has competitors. Below, you'll find the best Jasper alternatives available in the market.
Copy.ai
The first Jasper alternative is Copy.ai. What you'll find is that Copy.ai features a few things that Jasper is known for, as seen in this comparison.
One of them is automatic blog post creation. Copy.ai has the Blog Post Wizard, which works like Jasper's One-Shot Blog Post.
Also, Chat by Copy.ai is a chat assistant similar to Jasper Chat. You can ask it anything and get results right away.
Read more about Copy.ai in this review.
Writesonic
Writesonic is another tool similar to Jasper that can do quite a lot of things that Jasper does. ChatSonic is the AI chatbot from Writesonic that functions like Jasper Chat.
What's more, this Jasper alternative features an art generator, like Jasper Art. You can use it to create images from text.
And what if I told you that Writesonic combines its chat assistant and art tool so you can get images right in the ChatSonic chat? Jasper Chat is just text-based and using Jasper Art requires you to go to a different tab.
QuillBot
QuillBot is a great Jasper alternative for paraphrasing sentences, paragraphs, and entire texts like articles and academic papers. It's known for its variety of paraphrasing modes that allow you to generate new text in a unique voice and style.
You can also use QuillBot to check grammar or plagiarism. What's more, the tool is great for summarizing and generating citations.
Find out more about it in this review of QuillBot.
Jasper AI FAQs
Is Jarvis AI good?
Very much so. Jasper AI, formerly Jarvis AI, can help you write content faster.
You can use it for creating all sorts of text-based content for your sites, landing pages, or social media pages. You can even generate images using this AI software and make your content production work easier.
Did Jarvis change to Jasper?
Jasper is the new name for Jarvis. Jasper's CEO and co-founder said that the decision is based on copyright issues with Marvel. The movie company owns a fictional artificial intelligence also called JARVIS.
Is Jasper AI good for SEO?
Yes, Jasper AI can help you write content that's well-optimized for search engines like Google. You can integrate it with Surfer SEO for even better results.
The latter tool is great for taking your SEO game to the next level. With Surfer SEO for optimization, you can easily appear on the first pages of Google for relevant keywords in your niche.
Does Jasper have a free trial? How can I use Jasper for free?
There's a free trial for new users of Jasper AI. You can claim unlimited words at no cost and see how the tool works for you.
From there, you can get a Jasper AI subscription that suits your budget and business needs. The most affordable plan is Creator.
Jasper AI Review: Verdict
I was really impressed with Jasper AI. The tool is very easy to use and it only took me a few minutes to get started.
Yes, there's the creativity and personal touch of human writers that this AI writing tool misses. However, helped me overcome writer's block and I was able to generate ideas and outlines for my blog articles quickly and easily.
The quality of the content is also very good. You're still welcome to edit it and add your own input to ensure you have high-quality content.
I would recommend the tool to anyone who wants to make their content creation process seamless. You can start with the free trial to test its features for yourself before committing to a long-term paid plan.
You may also be interested in: Jasper AI Affiliate Program