NeuronWriter Review 2023: What's This Content Optimizer About?
Various new content optimizers have been popping up on the Web. One that stands out is NeuronWriter.
If you're someone who creates written content like me, you know how writing SEO-friendly content can be quite a task. Assuming you already have a topic in mind, you have to find keywords, create the outline, and do more research to ensure the result is a traffic-worthy blog post.
The NeuronWriter tool promises to help you create content that Google will love. If Google and other search engines love it, it's a no-brainer that it will rank well!
But how true is that claim? I was curious about NeuronWriter and decided to try it myself.
In this NeuronWriter review, I'll share what I found out after using it. You'll discover all the details about this SEO content tool, including its features, pricing, and frequently asked questions.
Read also: Top Content Optimization Software
Disclaimer: Because the site is reader-supported, we may earn a commission if you use our affiliate links.
NeuronWriter Overview
First of all, it's essential that you know what this tool is and what it does.
What Is NeuronWriter?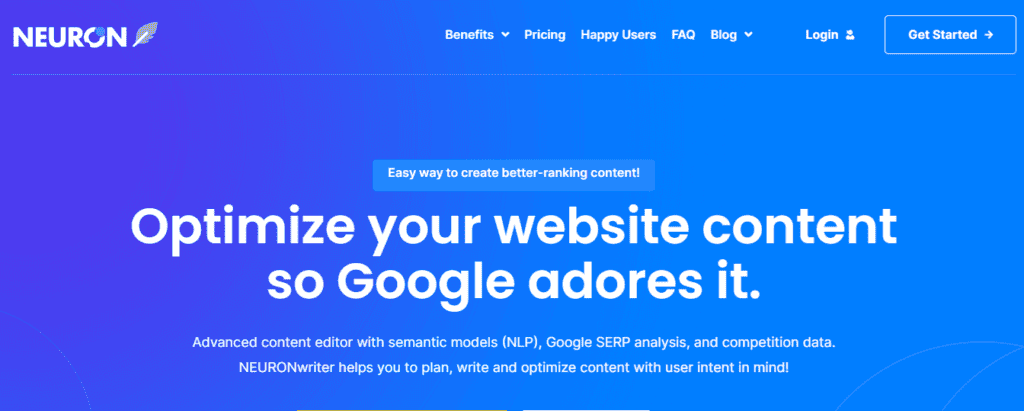 NeuronWriter is a tool that enables you to write and optimize your content for search engines. This content optimization tool was founded in 2019 and is owned by CONTADU, a content intelligence platform, with Pawel Sokolowski as the CEO.
NeuronWriter also functions as an AI writer. Its AI writing capabilities are thanks to natural language processing (NLP).
Besides writing and optimization, NeuronWriter can help you in the prewriting phase, which is planning and managing your content. You can use it as a content writing task manager tool given its assigning and deadline-setting features.
How Does NeuronWriter Work?
This tool works by analyzing search engine results pages (SERPs) to find elements and patterns regarding what makes the top pages rank well for a given query or keyword. The whole point is that once the analysis happens, the tool will have valuable data that can help you optimize your content to rank like or better than the competitors.
In a nutshell, this is what happens:
SERP and content analysis: It all begins with NeuronWriter scanning the top-ranking content and examining various on-page factors such as keyword usage, title tags, meta descriptions, headings, and structure.
Content evaluation and comparison: The tool will compare the content you're writing against the others it has analyzed. This is how it can suggest the elements you need to add or remove in your writing to increase the likelihood of it ranking properly.
SEO recommendations: Based on the analysis, NeuronWriter provides suggestions to optimize your content for search engines such as Google. This may include recommendations to include or modify keywords, improve metadata, enhance headings, or restructure the content to improve readability.
As for AI writing, it's possible because of the fact that the AI model in use was trained with massive amounts of text data (books, articles, and websites). The AI model is able to understand the context and meaning behind your prompt or description using NLP techniques to generate an appropriate response.
Who Should Use NeuronWriter?
A content optimizer like NeuronWriter can be beneficial for various individuals and organizations involved in content creation and marketing. Here are some examples of those who can benefit from using NeuronWriter:
Content writers: Writers can use the tool to optimize their writing for search engines, increase readability, and make their content more engaging.
SEO specialists: SEO professionals can utilize NeuronWriter in analyzing and optimizing webpages for better search engine rankings.
Digital marketers: NeuronWriter can assist digital marketers in creating SEO-friendly content that resonates with their target audience.
Bloggers and publishers: The tool can help bloggers and publishers improve the rankings of their articles and blog posts.
E-commerce businesses: E-commerce businesses can benefit from NeuronWriter when it comes to optimizing product descriptions, category pages, and other content on their website.
Marketing agencies: NeuronWriter can be a valuable tool for marketing agencies that handle content creation and optimization for multiple clients.
NeuronWriter Features
Next in this NeuronWriter review are the features that the tool offers.
1. Content Planner
First of all, NeuronWriter works as a content planner that can assist content teams and individuals in planning, organizing, and executing their content strategies effectively.
Keyword planning: NeuronWriter allows you to plan and group keywords for your content. It provides keyword planning based on things like search volume, competition, and relevance. This helps you to start on the right foot when targeting specific topics or niches.
Task assignment: With NeuronWriter, you can assign writing tasks to team members or freelancers. This feature helps promote collaboration and distribute workload efficiently and ensures that everyone is clear about their responsibilities.
Deadline management: NeuronWriter also enables you to set deadlines for each writing task to make sure that each member delivers content on time. This feature is great since you're able to manage workflows, prioritize tasks, and maintain a consistent publishing schedule.
Now, when you launch the content planner, it appears as follows:

As you can see, it shows who's been assigned along with the expected date. To add newly planned content, simply click on "+ New Idea."
There's a field for the primary keyword and any secondary keywords, as shown below: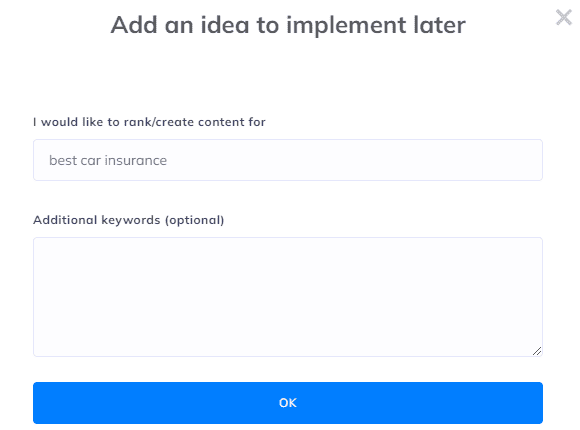 From there, you just need to select any of the items on your list of ideas to start writing. When you do so, it will open NeuronWriter's content writer (editor).
2. Content Writer (Editor)
This is the top feature of NeuronWriter. It's also where all the magic (and fun) happens.
When you have an idea in mind, you just need to launch the content writer and editor, input a few details, and let the tool help you create winning content.
Upon launching Content Writer (under the "Write" section on your dashboard), you'll be prompted to add a new query (or continue working on one you had listed before).
Here's what you need to add a new query:

You fill out the key terms that you're looking to write or rank for (I went with "best SEO tools"). You're even allowed to choose the region and language.
And yet it doesn't end there. There are advanced settings you can do to tailor your query even more. These include the URLs of competitors you would like the tool to analyze and refer to along with any additional and applicable keywords you want to rank for.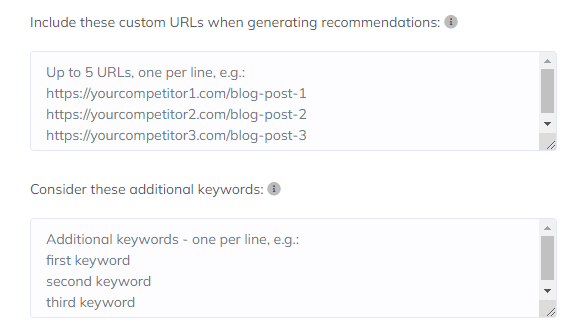 When you're done, you'll see all your queries listed. NeuronWriter shows you the SERP difficulty, with 0-10 being the easiest and 100 being the hardest.

You just need to click on any of the queries you created to open them in the Content Editor, which is as seen below: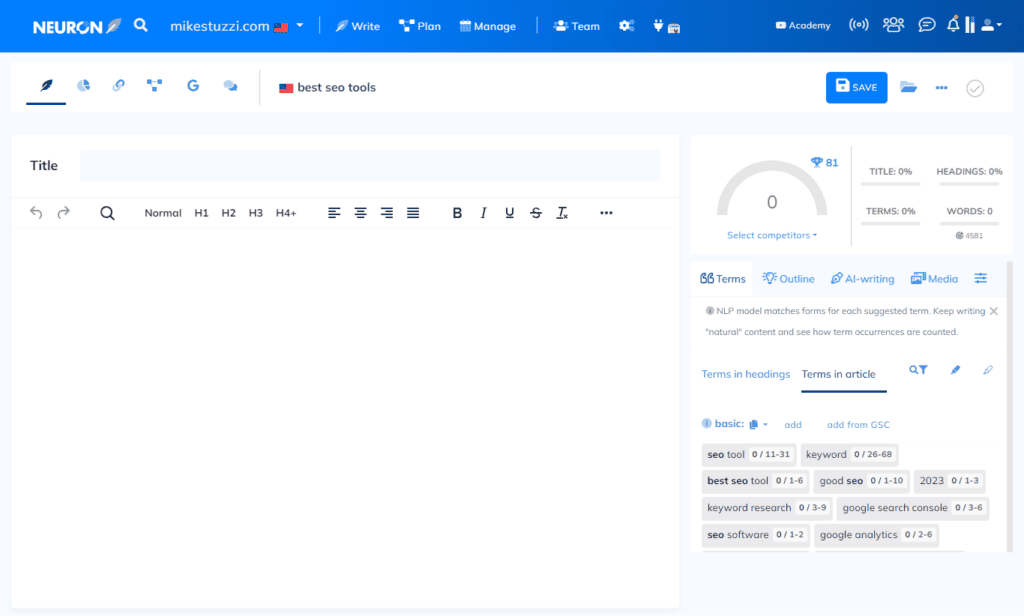 Since I haven't started writing, the score is at 0. But as you add more elements like the title, headings, images, and semantic terms to it, the score will go up.
Outline Builder
You don't have to struggle with blog outlines since NeuronWriter can help you create them using its SERP analysis and AI capabilities. Just click on "Outline" while on the Content Editor.
Competitors:
Now, this is where you can spy on competitor outlines. For each result ranking on page 1, you'll see the headings they've used in their blog post.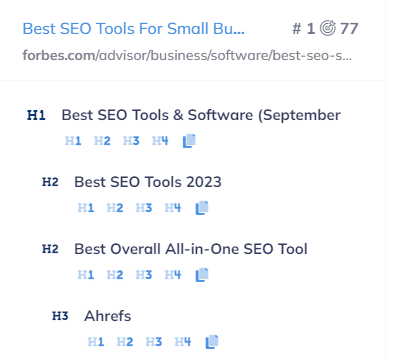 They include the outlines of the first result up to those on page 3 or more along with the Content Score NeuronWriter has given them. You can borrow some ideas from the provided competitor outlines to create one of your own in the editor.
Smart headings:
These are the headings for H2 that NeuronWriter will recommend you use inside your content. Check the recommendations NeuronWriter gave me for my main keyword: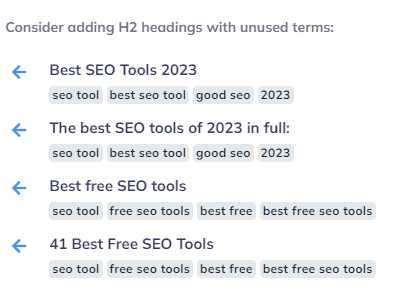 Questions:
NeuronWriter understands how questions on headings are important. That's why it will suggest some queries you can add and answer in your content. These questions aren't random but rather extracted from the People also ask section on Google Search, Google suggest, and competitors' content.
Check the examples below: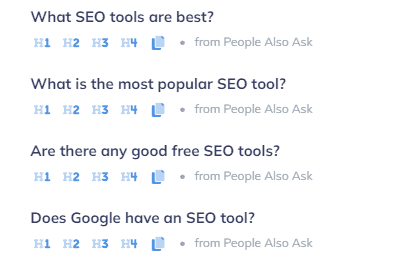 AI outline:
If you want the easy way out, you can use NeuronWriter's AI to automatically write an outline for you. The tool will incorporate specific terms into your H1s and H2s.
Below is an AI-generated outline example. I'll share it in snippets.
The title, intro, and initial H2: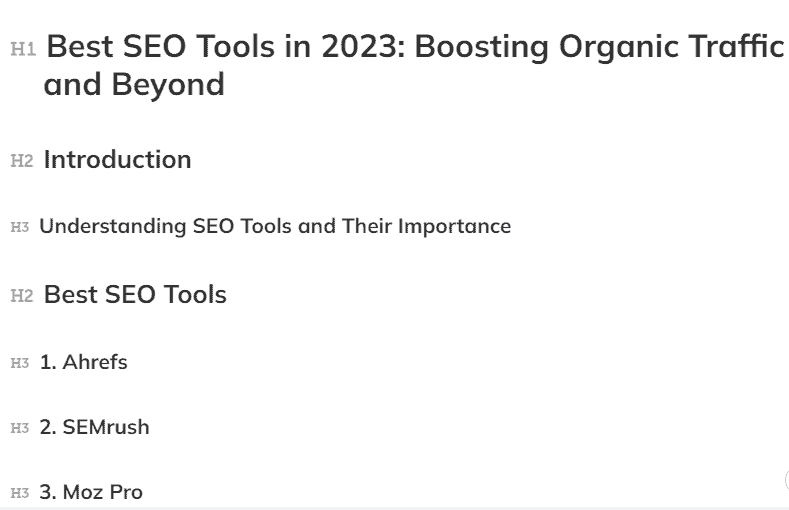 In the same outline, another H2 with H3s: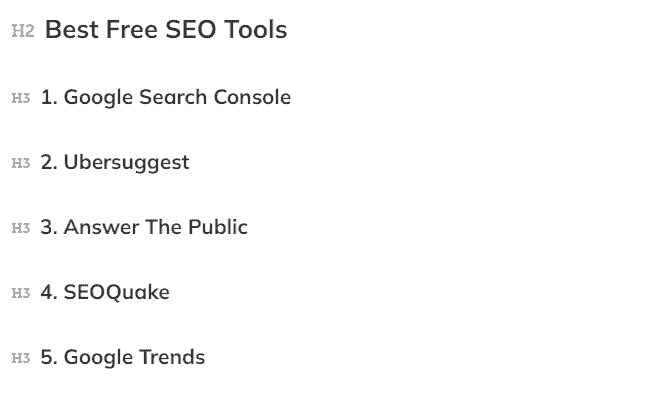 An informational H2 with H3s: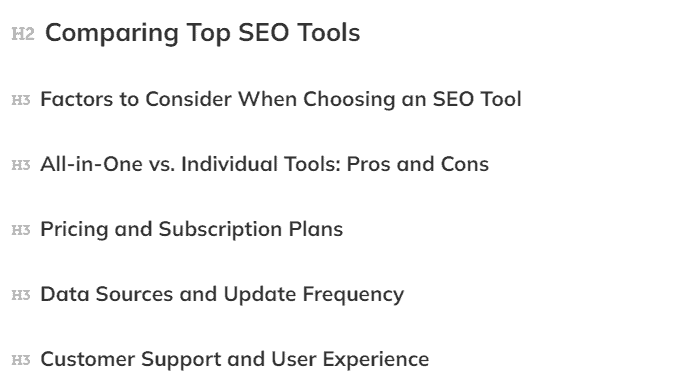 The FAQs section: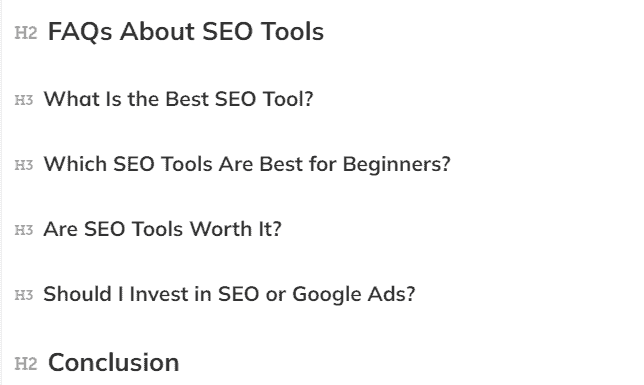 Well, I've never seen AI generating such a good outline in my life, seriously! This is a content brief I could use myself when writing or simply give it to my freelancer helper to use.
Content Designer
Content Designer is a feature on NeuronWriter that's like never seen before. It allows you to automatically create the best title and meta description for your blog post based on the keyword you provided.

Below is an example of the result to expect: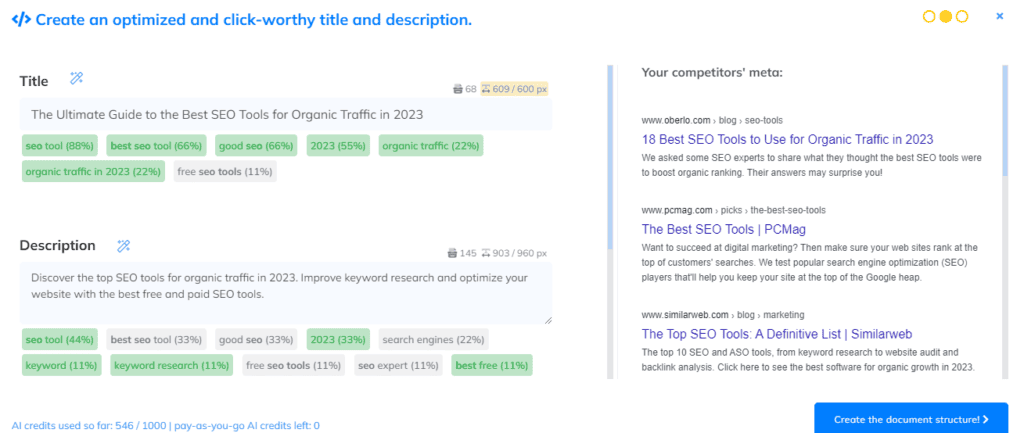 Simply put, Content Designer does more for you when compared to the outline builder since it creates the title, description, and outline altogether. It's a great way to automate the early stages of content writing.
AI Writing
Let's move on to AI writing. If you feel like you're experiencing writer's block or simply want to write faster, you can still use NeuronWriter to generate paragraphs or even the entire article.
NeuronWriter has an AI template called One-click Long-form Article for this purpose. The template can write a blog post of 1,500 words or more in a fraction of the time you would take were you to do it manually.
You can select tones like neutral, formal, informal, witty, and funny. It all depends on what you want to write and more importantly, who the target reader is.
It's important to note that the AI writer will use the outline in the editor to generate the content. So, make sure that you tweak the outline as per your needs so that everything you need included in the output will appear.
Terms
Among the most critical aspects of any article that ranks are the terms it contains. These terms, also called semantic keywords, are words and phrases that relate to the main keyword or topic.
NeuronWriter, based on its SERP analysis, can provide you with all the words that would help your content rank better. Below is a screenshot showing some of the terms that the tool suggested I add to my article along with the number of times: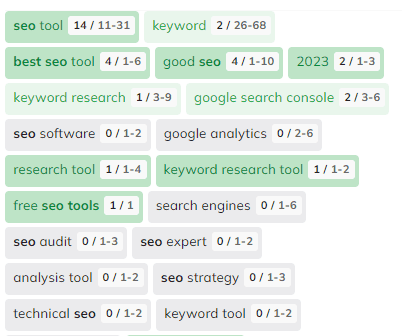 3. Content Score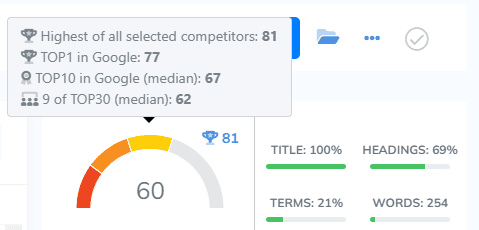 I've mentioned the Content Score several times in this NeuronWriter review already. But there are more details about it.
First, when on the Content Editor, you can compare your content score against that of other SERP competitors. NeuronWriter will show you the:
Topmost score out of all the selected competitors
Score of the first result
Median score of the top 10 positions on Google
Median score of a select number of the top 30 positions on Google
You will be able to know what score to chase to beat specific competitors or reach the top pages of search results.
Besides the overall content score, you can also find the score of specific elements of your content:
Title: How good is your title?
Headings: How many quality headings does your content have?
Terms: Have you used all or most of the suggested terms?
Words: How many words is your content, compared to the median word count of the top 10 pages? (NeuronWriter suggested 4,581 words and above for my case)
For the best result, I would recommend that you go for a score of 75 and above. But it wouldn't hurt to get into the 90's, right?
4. Images and Videos
How convenient would it be if NeuronWriter could extract relevant images or videos from various sources to complement your content? Well, it can!
You no longer have to switch from one tab to another looking for the perfect stock image or YouTube video to add to your article to enhance your SEO efforts and get better results.
Right in the Content Editor, just navigate to the Media section. You'll see the option for YouTube videos and another for stock images.

If you click to get YouTube video ideas, the tool will automatically show you relevant videos related to the content you're working on. You can also type to search.
See the below examples: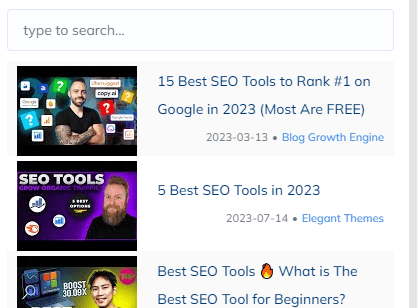 For images, NeuronWriter will fetch relevant ones from free stock photography sites like Unsplash, DepositPhotos, and Pixabay.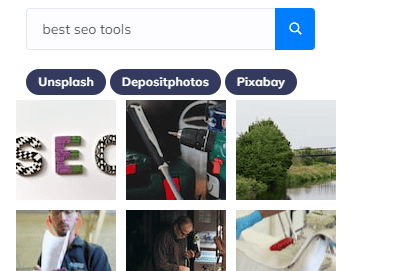 5. Plagiarism Checker
NeuronWriter's plagiarism checker is a valuable feature that helps you as a content creator or writer to ensure the originality of your work. Plagiarism, the act of using someone else's work or ideas without proper attribution, can have serious consequences such as damage to your reputation and legal issues.
The plagiarism checker in NeuronWriter scans the content and compares it against a vast database of online sources, including websites, articles, and academic papers, to identify any instances of potential plagiarism.
Here are some of the plagiarism checker's features and benefits:
Accurate detection: The plagiarism checker uses advanced algorithms and techniques to accurately detect both verbatim copying and paraphrased content.
Uniqueness percentage: This is the score from 0 to 100 of how original your content is.
Percentage match: NeuronWriter's plagiarism checker provides a percentage match to indicate the similarity between the submitted content and the sources found in the database.
Source comparison: The plagiarism checker highlights the specific sources that match the submitted content so you can review the plagiarized sections.
Below is a sample plagiarism result:
6. Content Manager

NeuronWriter has a content calendar where you can visualize and plan your content strategy. You can schedule content publication dates, track progress, and ensure a consistent flow of content for your audience.
The thing I liked about this content manager is that you can sort content by progress and assignee. You're able to view the following:
Planned content
Planned content that is still under optimization
Content marked as done
Deleted content
7. NeuronWriter Chrome Extension
This extension integrates enables you to access NuronWriter's features and functionalities directly within your Chrome browser. It will be at work as long as you're accessing an editor online.
Wherever you are, you will be able to see suggestions and optimize your writing accordingly. It doesn't matter if you're using Google Docs, WordPress, or another editing platform.
8. Integrations
NeuronWriter offers smooth integrations with various platforms and tools to enhance the content creation and management process.
Google Docs: NeuronWriter integrates with Google Docs and allows you to use the tool when on this document editor.
WordPress: It also offers you the option to import and export documents between NeuronWriter and WordPress, a popular content management system (CMS). In other words, you can directly publish your content from NeuronWriter to your WordPress website.
Google Search Console: This integration is what enables you to extract terms from your GSC account for incorporation into your content.
NeuronWriter Pricing
Moving on to the costs associated with NeuronWriter.
Is NeuronWriter Free?
You can use NeuronWriter for free. There's a free NeuronWriter trial plan with limited credits and features at zero cost.
But you can't go above the provided limits unless you purchase extra credits or get into one of NeuronWriter's plans.
How Much Does NeuronWriter Cost?
NeuronWriter has 5 plans to choose from based on your budget and needs: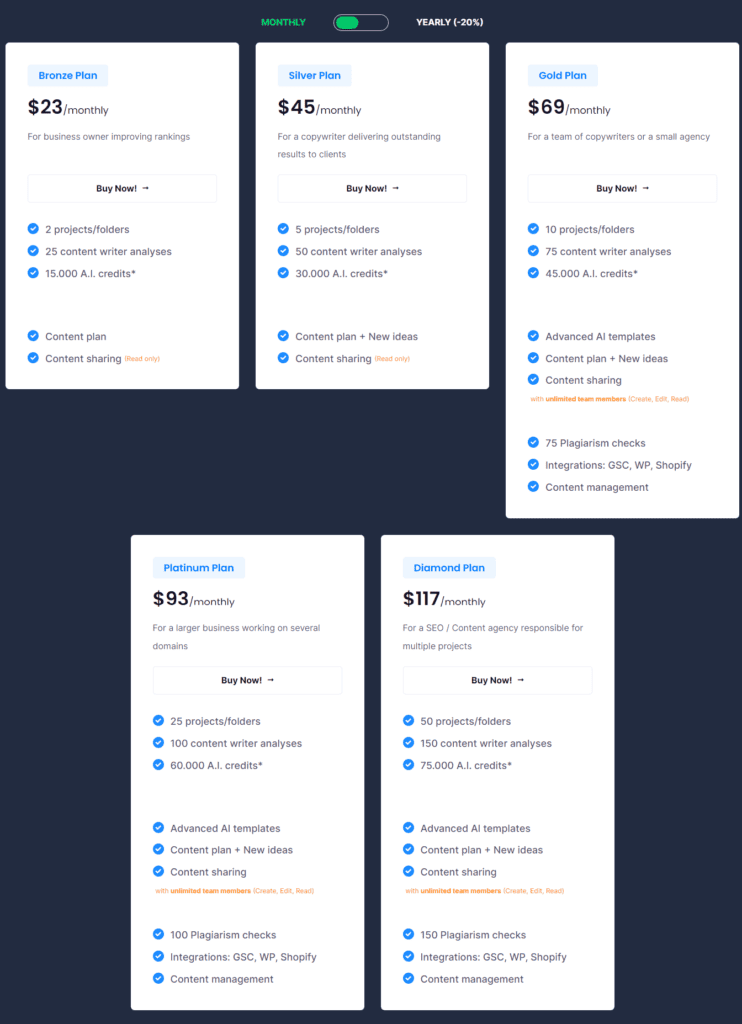 Bronze Plan ($23/month)
2 projects
25 Content Writer analyses
15,000 AI credits
Silver Plan ($45/month)
5 projects
50 Content Writer analyses
30,000 AI credits
Gold Plan ($69/month)
10 projects
75 Content Writer analyses
45,000 AI credits
Advanced AI templates
75 plagiarism checks
Platinum Plan ($93/month)
25 projects
100 Content Writer analyses
60,000 AI credits
100 plagiarism checks
Diamond Plan ($117/month)
50 projects
150 Content Writer analyses
75,000 AI credits
150 plagiarism checks
NeuronWriter Pros and Cons
Here are the things I like and don't like about NeuronWriter.
What I Like about NeuronWriter
Easy to use even for beginners
Free trial plan
A variety of plans to choose from
Convenient writing tool with an outline builder, AI writer, and the ability to add images or YouTube videos instantly
The generated outlines are to die for
Integrates with Google Docs, WordPress, and Google Search Console
What I Don't Like about NeuronWriter
Not very convenient for keyword research, compared to other content optimizers and SEO keyword tools
I found that the Content Score function isn't perfected yet because I got a rating of 60 with just 250-ish words (it was just the title and outline in place).
Doesn't yet have the webpage URL SEO audit feature for existing published content (like Surfer SEO does)
NeuronWriter Review: Conclusion
True to say, NeuronWriter is a tool you need if you want to automate the process of writing articles or other pieces of content. You can use it for free if you don't have high content creation requirements or just to check it out for yourself.
Other than that, getting a paid plan on NeuronWriter will give you access to most of its features and unlock the limits for the number of projects, content writing, and more.
I suggest that you grab the current lifetime deal that's being offered to access the tool. Visit this page if you're interested.