9 Best Surfer SEO Alternatives of 2023
If you're looking for the best Surfer SEO alternatives, you're in the right place. Surfer SEO is a popular SEO tool that offers in-depth content analysis and optimization, but it may not be the right fit for everyone.
Luckily, there are several other SEO tools on the market that offer many of the same features. In this article, we'll explore some of the top Surfer SEO alternatives and what makes them unique, so you can find the best tool for your SEO needs.
From GrowthBar to Outranking and more, this blog post covers everything you need to know to make an informed decision about the most suitable Surfer SEO alternative for your business. So, let's get started and find the perfect SEO tool to take your website's performance to the next level.
Disclaimer: Because the site is reader-supported, we may earn a commission if you use our affiliate links.
Read also: Surfer SEO Review
What Are Some Surfer SEO Alternatives?
Below are the best alternatives to Surfer SEO.
1. GrowthBar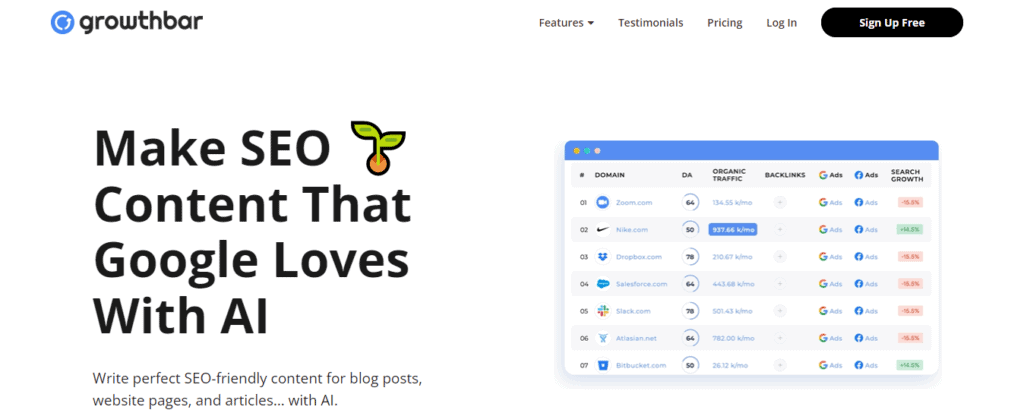 GrowthBar is a Surfer SEO alternative that focuses on assisting you to write SEO-friendly content and boost your website's search engine rankings. This SEO optimizer is easy to use and with just a few clicks, you can get valuable information about a site's keyword rankings, backlinks, and other important SEO metrics.
You don't need to be an SEO expert to use GrowthBar. The tool is designed to be accessible and user-friendly for anyone who wants to improve their website's search engine performance. There's even a browser extension that you can install in your Chrome browser, and receive valuable insights and analysis about any website you visit.
What's even better, GrowthBar can also serve as an AI text generator for blog content. It can generate outlines, titles, intros, and more. It's even able to write a blog post of 1,500 words for you in minutes based on the information you provide.
Also, GrowthBar is one of the most affordable SEO tools on the market, with plans starting at just $29 per month. This makes it a great choice for small businesses, entrepreneurs, and freelancers who want to up their SEO game without breaking the bank.
Pricing: Starts from $29 a month for the Standard plan.
2. Semrush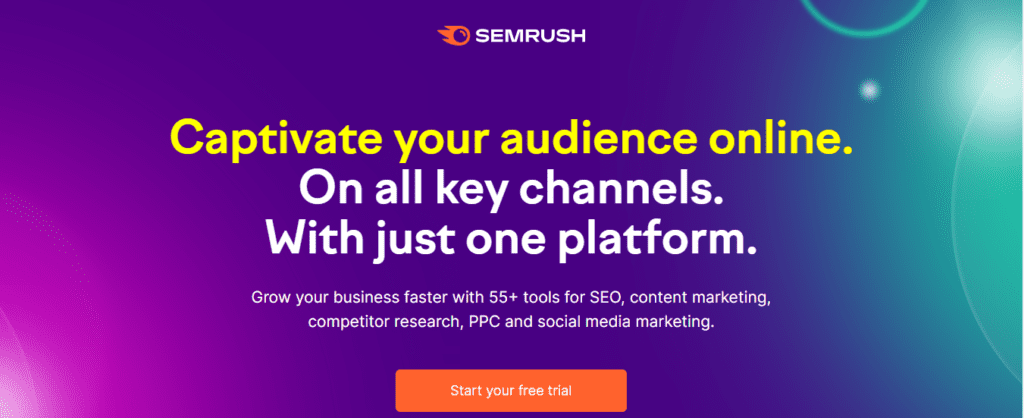 Semrush is a popular all-in-one marketing tool and a Surfer SEO alternative that provides valuable insights and analysis for improving site performance. The platform offers a range of features and tools for SEO, PPC, content marketing, social media, and more.
With Semrush's competitive research, you can analyze your competitors' online presence and identify opportunities to outrank them. Features like traffic analysis enable you to gain valuable insights into your competition and make data-driven decisions to improve your web rankings.
Semrush also offers extensive keyword research. With a database of over 20 billion keywords, businesses can easily identify the keywords that their target audience is searching for and optimize their website and content accordingly. Semrush also provides valuable data on search volume, keyword difficulty, and related keywords, allowing businesses to create a comprehensive keyword strategy that can bring in good traffic and engagement.
What's more, Semrush works as a robust site audit tool that allows businesses to identify technical SEO issues that may hinder their website performance. With features like site crawl analysis, page speed analysis, and mobile optimization analysis, you can identify and fix issues that may be negatively impacting your search engine rankings and overall user experience.
Pricing: Starts from $119.95 a month for Pro.
3. RankIQ

RankIQ is another tool that focuses on helping you write blog posts that rank on the top pages of search results. As a RankIQ user, you're provided with a vast library of well-selected keywords, no matter what topics you cover in your blog. This Surfer SEO alternative, best suited for bloggers, enables you to find low-competition keywords with high traffic potential, meaning that you get a shot at ranking faster and receiving lots of web visits.
RankIQ can help you write SEO-focused titles and blog outlines in minutes based on what Google expects you to cover in your post. Besides that, the writing assistant can also help you add more value to your blog post by suggesting what you need to add for a chance of ranking higher.
This AI SEO toolset also allows you to optimize old blog posts and gain more traffic to them. The platform uses advanced algorithms to analyze content and provide recommendations for optimization, including keyword usage, content quality, and user experience. It takes less than 30 minutes to use RankIQ to adjust your older non-performing content and turn it into a possible traffic-bringing machine.
Pricing: Costs $49 a month (usually $99).
4. Outranking

Outranking is an AI-based platform that helps website owners improve their SEO strategy based on actual data and research. Given that Outranking can help you automate various SEO tasks, it's suitable for content teams. You'll no longer have to spend hours but rather minutes preparing content for publishing and be able to appear in searches.
This tool offers SEO content writing where you're able to generate well-optimized outlines as well as the actual blog content. It doesn't matter whether you need how-tos, product reviews, listicles, or other types of articles.
As if that's not enough, Outranking works as an AI content marketing tool. The platform comes with advanced search engine ranking analysis and keyword clustering abilities that you can use to build a proper content plan. It can improve your on-page SEO game by providing additional keywords that suit a specific search intent.
Pricing: Starts at $7 for the first month and $49 thereafter.
5. Frase

Frase is an AI-powered tool for creating high-quality and relevant content in a fraction of the time. The content optimization software platform can help you research, write, and optimize content within minutes.
Frase is able to analyze the content of top-performing pages for a particular search query and provide insights on the topics, questions, and subtopics that are most relevant to users. By analyzing the language and structure of high-ranking pages, you can identify the key themes and topics that are important to your target audience and create content that is not only optimized for search engines but also insightful to the readers.
With Frase, you can also generate content briefs that guide you on the topics to cover, the keywords to use, and the overall structure of the content. The tool comes with content writing abilities too whereby you can write copy and other types of content by just clicking on a button.
Pricing: Starts at $14.99 a month for the Solo plan.
6. Market Muse

MarketMuse is an AI-driven content intelligence platform that helps businesses improve their content strategy and overall website performance. The platform uses advanced natural language processing (NLP) and machine learning algorithms to analyze content and provide recommendations for optimization. MarketMuse helps businesses create high-quality, relevant content that aligns with user intent and drives traffic, engagement, and conversions.
MarketMuse's content optimization abilities provide detailed insights and analysis on content performance and opportunities for improvement. With features like topic modeling, content gap analysis, and keyword optimization, businesses can create content that is not only high-quality but also optimized for search engines and user engagement.
MarketMuse also acts as a content strategy platform, which provides a comprehensive view of your content strategy and its impact on your overall business goals. With features like content planning and forecasting, businesses can create a data-driven content strategy that aligns with their target audience and business objectives.
One more unique feature of MarketMuse is its content briefs, which are detailed outlines of the content that a business plans to create. These briefs provide guidance on the topics to cover, the keywords to use, and the overall structure of the content to ensure that it's high-quality and well-optimized.
Pricing: MarketMuse has a free plan at $0 as well as its Standard plan that costs $149 a month.
7. Dashword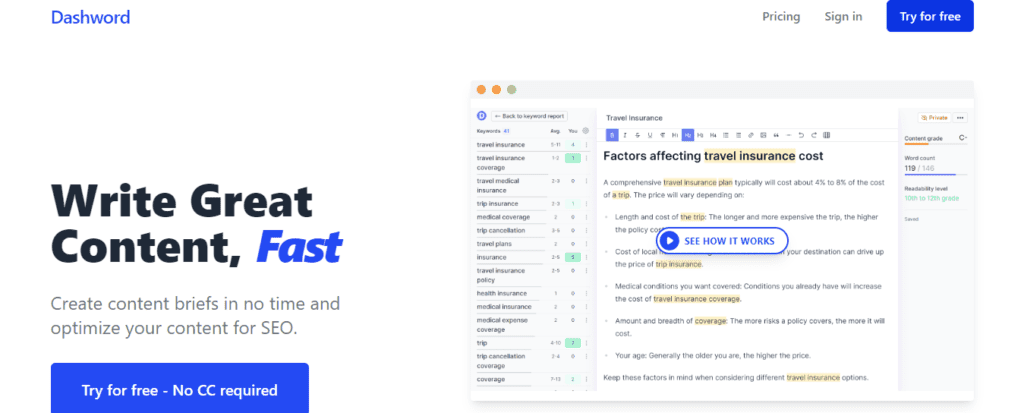 Another Surfer SEO alternative for writing great content fast is Dashword. This is a platform that can assist you in writing content briefs and optimizing your content for SEO. The tool compiles all the information you need in just minutes so you can focus on other aspects of your business.
Dashword brings you the content ideas that you need. You get outlines extracted from your competitors in one place and never have to worry about what to publish next. You can even share the briefs with your writers and editors using little effort.
One more good thing about Dashword is that there's a content scoring system accessible to all users. You'll be able to know whether your content is ready to go live or if it needs more tweaks to enhance its performance.
You won't have to worry about different quality levels for your pieces of content. Dashword provides a consistent editor that ensures all your posts can perform equally on search results and be valuable to readers.
To top it all, Dashword enables you to track how you're performing. You'll discover the underperforming pages as well as the keywords you're ranking for.
Pricing: Starts from $99 a month for the Startup plan.
8. Content Harmony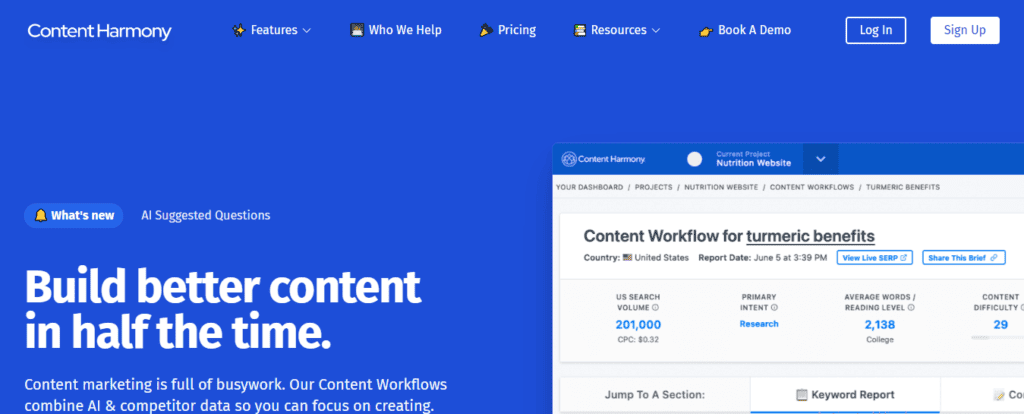 Maybe you're looking for an alternative that can help you prepare content outlines from a target keyword. If that's the case, Content Harmony may interest you.
This tool provides data on the keywords you provide such as search volume, intent, average words, and difficulty. You can also access competitor information and AI suggestions on what can perform well on search engine result pages (SERPs).
Besides headings, FAQs, and outlines or content briefs, you even get suggested images to complement your content. For any existing content that you have, Content Harmony will help you find the keywords you need to add but haven't yet.
The tool's content grader shows you a score, like great, fair, or poor, and the readability, (e.g. college) of any content. You simply need to enter a URL. But you don't have to stress it since the grading system is only for informing possible areas of improvement!
Pricing: The lowest price is $50 a month for 5 pieces of content. There's a $10 trial at the moment too.
9. Clearscope

This is the Surfer SEO alternative that comes with an easy-to-use interface and enables you or your content team to know what to write about and how to do it. Clearscope's benefits don't end at being an intuitive platform.
What I liked about Clearscope is that you can have it as a Google Docs add-on. It becomes easy to the tool with Google Docs if that's your primary or frequently used writing and editing platform like the case for me.
All you need to do is embed Clearscope in your right sidebar. It will then suggest SEO terms, grade your content, and show the word count report right there. While there's the downside of Clearscope where SEO newbies may be overwhelmed, you can easily catch up and enjoy using it.
Pricing: Starts from $170 a month for the Essentials plan (it's a more expensive option compared to other Surfer alternatives).
How Do I Choose the Right Surfer SEO Alternative?
Here are some factors to consider when choosing the right Surfer SEO alternative for your business:
Features: While many SEO tools offer a variety of capabilities, some specialize in specific areas. Look for tools that offer the features that are most important to your business goals. It could be keyword research, content optimization, or backlink analysis.
Ease of use: The tool you pick has to be easy to use for you to have a seamless experience. Consider the learning curve and training requirements for each tool, and make sure that it's accessible to you and your team.
Cost: It helps to ensure that the pricing and subscription options for a particular tool fit within your budget. Look for tools that offer transparent pricing and don't have hidden fees or long-term contracts.
Integrations: Tools that integrate well with your existing systems can help to avoid duplicate efforts and streamline your workflow. So, select something that can be linked with your existing marketing tools, content creation tools, or any other.
Reputation: Check the reputation and user reviews for each tool, and look for feedback from other businesses or SEO professionals who have used it before. A tool should have a strong reputation for effectiveness and customer satisfaction.
Scalability: Also, consider how well each tool can scale your business, such as the ability to manage multiple websites or campaigns. Tools that can easily accommodate the growth of your business will remove the need to get different ones in the future.
Conclusion
While Surfer SEO is a powerful tool for optimizing your website's content, there are several alternative tools that can help you achieve similar results. These alternatives include MarketMuse, Semrush, and RankIQ, among others.
Each of these tools has its own unique features and strengths, so it's important to evaluate them based on your specific SEO needs and budget. Regardless of the software you choose, remember that successful SEO starts with creating high-quality content that meets the needs of your audience. The tool is just there to guide you on how to take things to the next level.