5 Best Task Management Software for Teams
In today's fast-paced and dynamic business environment, effective task management is essential for the success of any team or organization. With so many tasks and projects to manage, it's easy for you to get overwhelmed and lose track of priorities. This is where task management apps come to your aid!
These apps are able to help you or your team to stay organized, collaborate effectively, and track progress on tasks and projects. In this blog post, we're going to explore the best task management apps for teams.
We'll look at their best features along with prices, and cover even more tips. By the end of the article, you'll have a better understanding of which task management app is best suited for your team's needs.
What Is a Task Management App?
A task management app is a software tool that assists individuals and teams in organizing, tracking, and managing tasks and projects more efficiently. These apps typically allow you to create tasks, assign them to other users, set deadlines, track progress, and communicate with team members.
Task management apps often integrate with other tools like calendars, communication apps, and project management tools, making it easier to manage tasks and projects in one place. Some examples of popular task management apps include Motion, Asana, Trello, ClickUp, and Taskworld.
What Is the Best Task Management Tool for Teams?
Below are my top picks for task management apps for small, medium-sized, and large teams.
1. Motion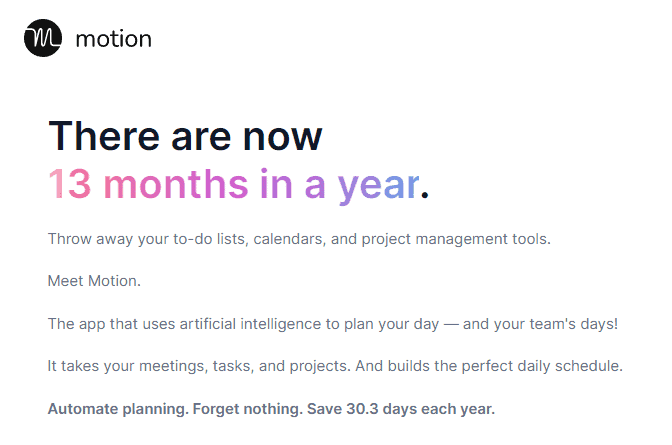 Motion (Usemotion) is a powerful and user-friendly task management app that can help individuals, small businesses, and larger teams to improve productivity and achieve goals. Using Motion, you can easily plan, prioritize, and manage tasks. The app offers a clean and intuitive interface that allows you to add projects, assign them to team members, set deadlines, and track progress in real-time.
The Motion app also offers features like customizable workflows, time tracking, and team collaboration tools, making it easy for teams to work together and stay on top of their tasks. One thing that makes Motion unique is its ability to create visual timelines and roadmaps, helping you and your team to see the big picture of projects and stay on track.
Check out the full Motion review.
Key Features
AI task prioritization: Never worry about what you or your team need to do next.
AI time blocking: Block time on any user's calendar to do specific tasks.
Meeting scheduler: Set meetings one after the other and avoid interruptions during the day while working.
Task tracking: Know whether a particular team member has too many tasks or meetings.
Pricing
Motion has a 7-day free trial for new users. The Individual plan costs $34 a month and the Team plan goes for $25 per month per user.

2. Asana

Asana is a cloud-based task management and collaboration software application designed to help teams track their work and achieve their goals more effectively. It offers a range of features, including the ability to create and assign tasks in the form of lists, set deadlines, and communicate with team members.
Asana also includes tools for tracking progress, managing workflows, and visualizing project timelines. Users can create custom project templates, manage recurring tasks, and integrate Asana with other tools like calendars, file storage, and communication apps.
Asana is used by teams in various industries, including marketing, engineering, design, and project management, to streamline their workflows and improve their productivity.
Key Features
200+ integrations: Use Asana with other tools for communication and collaboration.
List view: Users can see what tasks they've been assigned, making it easier to manage complex work.
Boards: Enable your team to focus on what's important first and define each work stage.
Reporting: Know your team's progress and workload through real-time charts and visual highlights.
Pricing
Asana's pricing starts from $0, meaning you can use it at no cost.
Basic: $0
Premium: $10.99/user/month billed annually
Business: $24.99/user/month billed annually
3. Trello

Trello is a popular visual task management tool that uses boards, lists, and cards to help individuals and teams organize and prioritize their tasks and projects. Companies like Google, Zoom and Coinbase have used Trello.
As a user, you'll be able to create Trello boards, which are used to identify projects or tasks. Lists and cards represent different stages or steps within the project or task. Users can easily move cards between lists as they progress through the workflow, which provides a visual representation of the project's progress.
Trello also offers features such as due dates, checklists, labels, comments, attachments, and team collaboration tools. It integrates with other apps like Google Drive, Dropbox, Slack, and Jira, making it easy for users to manage their tasks in one place.
Key Features
100+ integrations: Connect Trello with communication tools, email services, contact forms, and more.
Trello Views: Board, Timeline, Table, Calendar, Dashboard, Map, and Workspace views to check your projects from all angles.
No code automation: Develop commands and buttons to automate Trello actions like adding members and new tasks and setting due dates.
Templates: Copy and customize pre-made and tested templates for categories like business, marketing, and education, among others instead of starting from scratch.
Pricing
Trello has a free plan for all and some affordably priced ones as well.

Free: $0
Standard: $5/user/month billed annually
Premium: $10/user/month billed annually
Enterprise: $17.50/user/month billed annually
4. ClickUp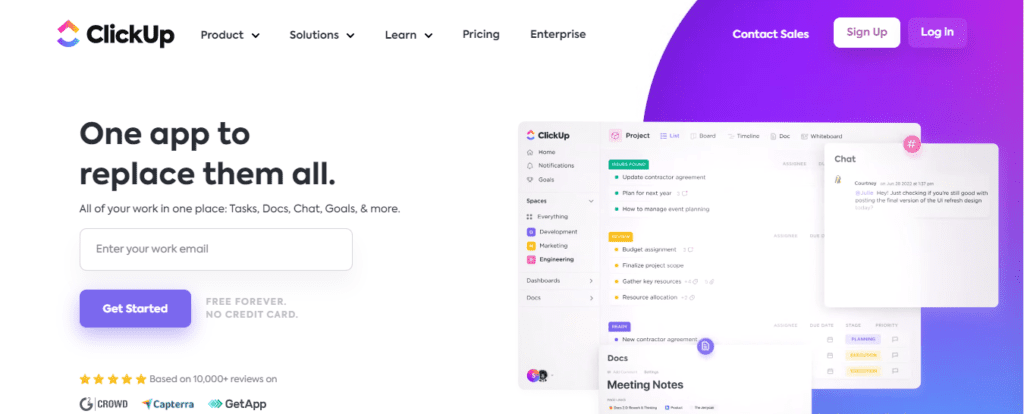 ClickUp is a task management tool and productivity software that can help you help and your team in managing tasks, workflows, and goals more efficiently. Over 800,000 teams use it to be more productive, including Booking.com, IBM, and Samsung. It doesn't matter whether you're a team of 1 or 1,000!
ClickUp stands out with its customizable interface, which allows users to create and organize their tasks and projects in a way that suits their specific needs. It offers a range of views, including list, board, calendar, and timeline views, allowing users to visualize their tasks and projects in different ways. It also comes with checklists, task dependencies, time tracking, and team collaboration tools.
ClickUp integrates with other apps like Slack, Zendesk, and Gmail, making it easy for users to manage their tasks and projects in one place. ClickUp is designed to be user-friendly and flexible, making it a great choice for individuals and teams in a range of industries, from marketing and design to project management and software development.
Key Features
100+ integrations: ClickUp integrates with calendars, email platforms, and time-tracking apps, among others.
35+ ClickApps: Customize the tool and its features in your own way to suit your work productivity needs.
Instant importing: Automatically import work from excel and other tools.
Hundreds of automation: Automate things like task assigning, comment posting, app syncing, and more.
Pricing
ClickUp offers the plans below.

Free: $0
Unlimited: $9/memeber/month
Business: $19/member/month
Business Plus: $29/member/month
Enterprise: Custom
5. Taskworld

Need another task management and collaboration platform for teams? If so, Taskworld may interest you.
This cloud-based task management app enables you to keep a bird-eye view of everything including, assigned tasks, work progress, and due dates. Taskworld also includes tools for project management, team communication, time tracking, and file sharing.
Taskworld has a visual interface that uses boards, lists, and cards to help users organize their tasks and projects. It also includes features like task dependencies, recurring tasks, and priority levels, making it easy for users to prioritize their work and stay on track.
Taskworld integrates with other tools like Zapier, Dropbox, and Microsoft Teams for enhanced workflow. With this tool, you can also access performance analytics to know how well you and other team members are fairing.
Key Features
Dozens of integrations: Link Taskworld with other tools for meetings, file storage, calendars, and more.
Multiple views: View tasks and projects from
Integrated chat: Communicate with others easily using task comments and mentions
File exchange: Share and view files right in the comment or the files section.
Pricing

Free: $0
Premium: $11/user/month
Business: $19/user/month
Enterprise: Custom
What to Consider When Choosing Task Management Software?
When selecting a task management app, there are several factors to consider, including:
Features: Look for an app that offers the features you need to manage your tasks and projects effectively. Consider features like task creation, assignment, prioritization, deadline setting, progress tracking, team collaboration, and integrations with other apps.
Ease of use: Choose an app that is easy to use and navigate. A user-friendly interface can help you and your team to adopt the app more quickly and use it more effectively.
Customization: Look for an app that allows you to customize the app to suit your specific needs. This can include custom workflows, templates, and views.
Pricing: Consider the cost of the app and whether it fits within your budget. Some apps offer a free version, while others require a subscription or one-time payment.
Security: Make sure the app you choose provides a secure environment to store your data and protect your privacy.
User reviews: Read user reviews and testimonials to get an idea of what other users think of the app. This can provide valuable insights into the app's strengths and weaknesses.
Conclusion
As you've noticed, the world of task management software tools is vast and varied. There are options available for every type of user, from individuals like accountants, virtual assistants, and lawyers, to small businesses and large organizations. In this article, we've looked at some of the best task management tools currently available, each with its own unique features and strengths.
So, it doesn't matter whether you're looking for an AI-based tool like Motion, an all-in-one solution like Trello, or a widely integrable option like Asana. There's a tool out there that can help you organize your day more efficiently and get more tasks done.
Safe to say, the key to choosing the right task management tool is to understand your own needs and preferences and then find a tool that's in alignment with that. Pay attention to the features as well as your business goals and budget. If you do so, you can maximize your productivity and stay on top of your tasks and responsibilities, both in your personal and professional life.