Best Popl Discount Code Of August 2023(20% Off)
Are you searching for a way to enjoy incredible savings while buying your favorite NFC products from Popl? Look no further than the Popl discount code!
I did my research to find the best deals when making purchases from this digital business card marketplace. It doesn't matter whether you're a savvy shopper, a loyal customer, or a curious explorer. The Popl coupon code I'm going to share is your ticket to get more for less.
You don't have to let expensive NFC business cards (among other NFC products) get in the way of your in-person networking. In this article, you'll discover the ins and outs of the Popl promo code, including how to obtain it, where to apply it, and the benefits it brings. Keep reading for the details.
Read also: Popl Digital Business Card Review
Disclaimer: Because the site is reader-supported, we may earn a commission if you use our affiliate links.
What Is the Best Popl Discount Code? (It's MIKE STUZZI)
The best Popl coupon code available right now is "MIKE STUZZI." You can apply it when shopping on Popl to get 20% off on any product.
What Products Can You Use the Popl Coupon Code on?
You can use the "MIKE STUZZI" Popl promo code on products available on the Popl store here. They include the following:
Popl cards: These are polyvinyl cards that come in colors like black, white, gold, silver, and prism (a Mike Stuzzi favorite).
Custom cards: You can get a custom Popl card that has your brand logo too. It's even possible to choose to remove Popl's branding entirely from your card. Both plastic and metallic customized options are available.
Metal Popl cards: The metal cards are premium carbon stainless steel options for professionals who need a bit more style and durability. They're black in color.
Popl PhoneCard: This is a tag that you embed at the back of your phone and tap on other's phones use it as a business card. Since you always have your mobile device with you, you won't have to carry any other networking tool. Custom PhoneCards are available too.
| | | |
| --- | --- | --- |
| Popl Product | Normal Price | Discounted Price |
| Popl cards | $4.99 | $3.99 |
| Custom cards | $29.99 | $23.99 |
| Metal Popl cards | $44.99 | $35.99 |
| Popl PhoneCard | $14.99 | $11.99 |
This is just a selection of the products that Popl offers. You can check out more of them on Popl.
How to Apply the Popl Discount Code
It's quite simple to use the Popl coupon code. Here's how:
1. Go to Popl's website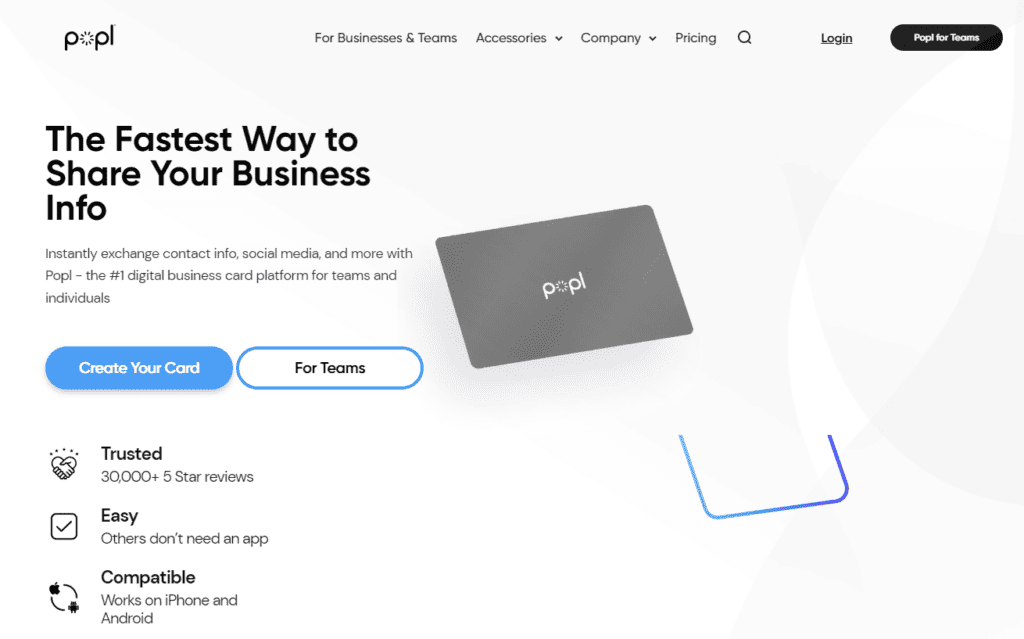 2. Visit their product collections page
3. Add the products you like to the cart and go to checkout
4. Enter your personal details (name, email, address, and phone number)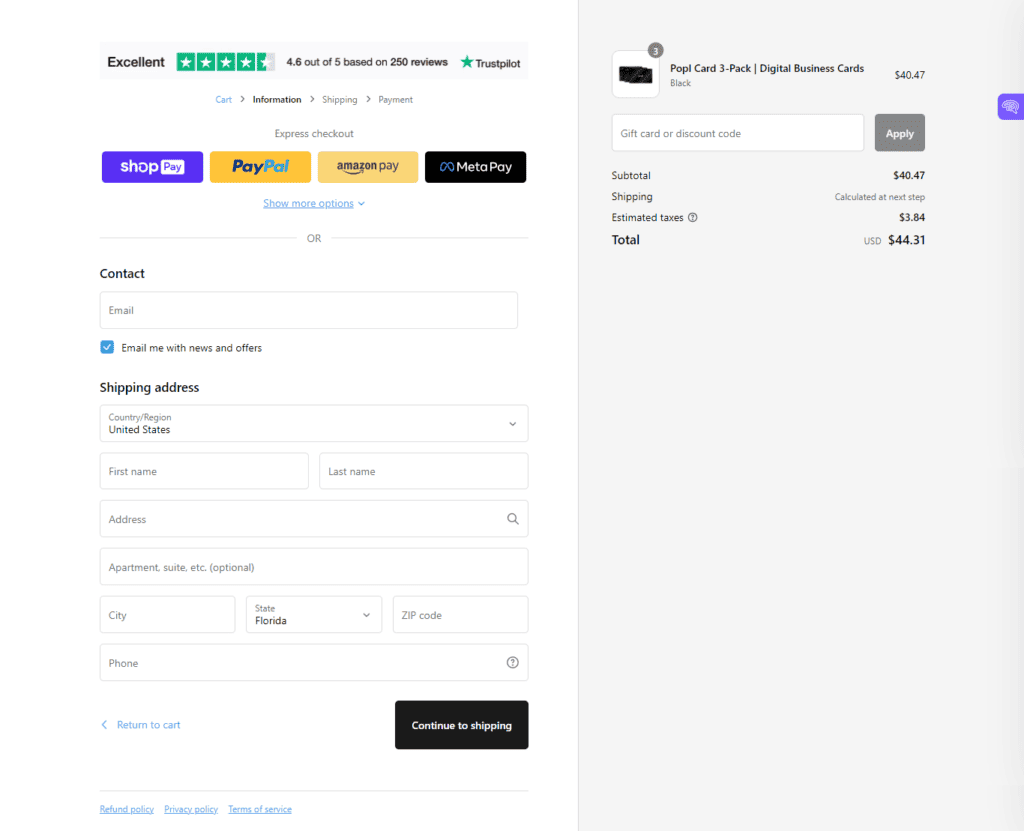 5. Choose a shipping method (i.e. standard or priority speed for international shipping)
6. Click to continue to the payment page
7. Enter the code "MIKE STUZZI" into the box that says gift card/coupon code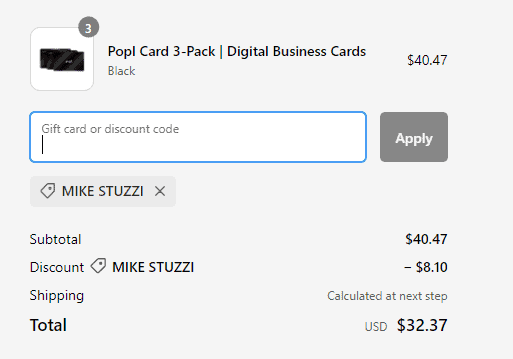 8. Complete your discounted payment and wait for the product's arrival! That's all you need to do to enjoy better prices on Popl.
How to Save More Money on Popl
Let's go through the ways you can ensure you spend even less on Popl's products, on top of the discount code.
1. Buy Multiple Products at Once
Now, this applies to you if you can afford more than one product. Instead of buying them singularly, you can add all that you need to your cart before completing the purchase.
Consolidating multiple products into one order can result in more efficient shipping. Online retailers like Popl often optimize their shipping processes to handle larger orders more efficiently and thus reducing overall shipping costs.
Eligible users can even enjoy free shipping on Popl if they spend a certain amount. If you were to get one product at a time, you'll have to cover any required shipping fees for each of them.
Something to also note is that it's more environmentally friendly to get multiple products in one go. It reduces packaging waste and the carbon footprint associated with multiple shipments.
2. Take Advantage of Popl's Bundled Products
If you didn't know, you can buy bundles of products on Popl to save more money. These bundled options are available when you're shopping on Popl. Some of the bundles are:
Popl Card 3-Pack/5-Pack
Popl Metal Card 3-Pack/5-Pack
Popl PhoneCard 3-Pack/5-Pack
Popl Business Park (1 Popl Card + PhoneCard)
In these cases, Popl puts together more products and then cuts the overall cost for you. For instance, a Popl card is $4.99. Three of them would be $14.97.
But in the bundled option, you only pay $13.49. The same goes for the other product bundles.
3. Visit the Site Regularly
Another way to save on Popl's products is to keep checking the site from time to time. This isn't a guaranteed method as you may still miss the chance or one won't present itself for some time. Still, you may find that prices go down on specific periods of the year and take advantage of the reduced costs.
Other Ways to Save Money on Platforms Like Popl
4. Subscribe to the Store's Newsletter
There's no better way to be up-to-date about a store's offering than getting the information right in your inbox. Most sites offer a sign-up form that you can fill out and be on the lookout for important "discounted price" emails.
5. Abandon the Cart
If you're an online shopper, you probably have already seen emails asking you about a shopping cart you've abandoned. Companies send such emails to get you to complete your purchase. In some cases, they'll give you a discount code or link as an incentive that you can resist acting on it.
6. Join Referral Programs
This is one of the top ways to save money when buying things online. In fact, you may end up not spending anything out of your pocket at all.
A referral program is when you invite your friends to join a platform and take a specified action like making a purchase. You're then rewarded for your efforts. It can be real money or in most cases, a discounted price or code to redeem on the same platform.
Do Popl Discount Codes Work?
Discount codes for Popl and other platforms work until they no longer do. In other words, some work while others don't. The reason why a discount code doesn't work could be any of the following:
The code expired or is no longer applicable
You mistyped the code or it's inaccurate
The code is already applied to your items and you need to confirm the displayed amount
It doesn't apply to the items in your shopping cart but only select eligible items
In specific discount code cases, it can be that you haven't reached the minimum spending amount
Popl Discount Code FAQs
What is the latest Popl coupon code?
The most recent Popl code available is "MIKE STUZZI."
How can I use the Popl discount code?
Simply head to Popl, shop for products of your choice, and enter the code before making the payment. You'll see the price go down by 20% once the code is applied.
Is this a valid Popl promo code?
Yes, this is a discount code that works. In case it changes or is no longer available, the information will be updated.
Popl Discount Code 2023: Conclusion
Don't wait any longer. Go and browse the Popl products you like right away and use the provided coupon code at the checkout. Feel free to share it with others who may need the discounted price too!
Want more affordable digital business cards? Check out the best Popl alternatives!