5 Best Keyword Research Tools (Free & Paid)
Nowadays, millions of websites and businesses compete for attention online. Whether you're an ambitious blogger, an e-commerce entrepreneur, or a digital marketer, the strategic use of keywords is how your target audience can find your content. Keyword research tools make it easier to identify specific words and phrases your audience is searching for online.
Now, you're about to discover the best keyword research tools that have captivated the minds of digital enthusiasts, SEO wizards, and marketing maestros alike. I'll highlight the unique strengths of each tool, along with the pricing information. By the end of the article, you'll be able to decide on the SEO keyword tool to use for propelling your online presence.
Which Is the Best Keyword Research Tool?
Below are the best free and paid keyword research software tools to check out.
1. Semrush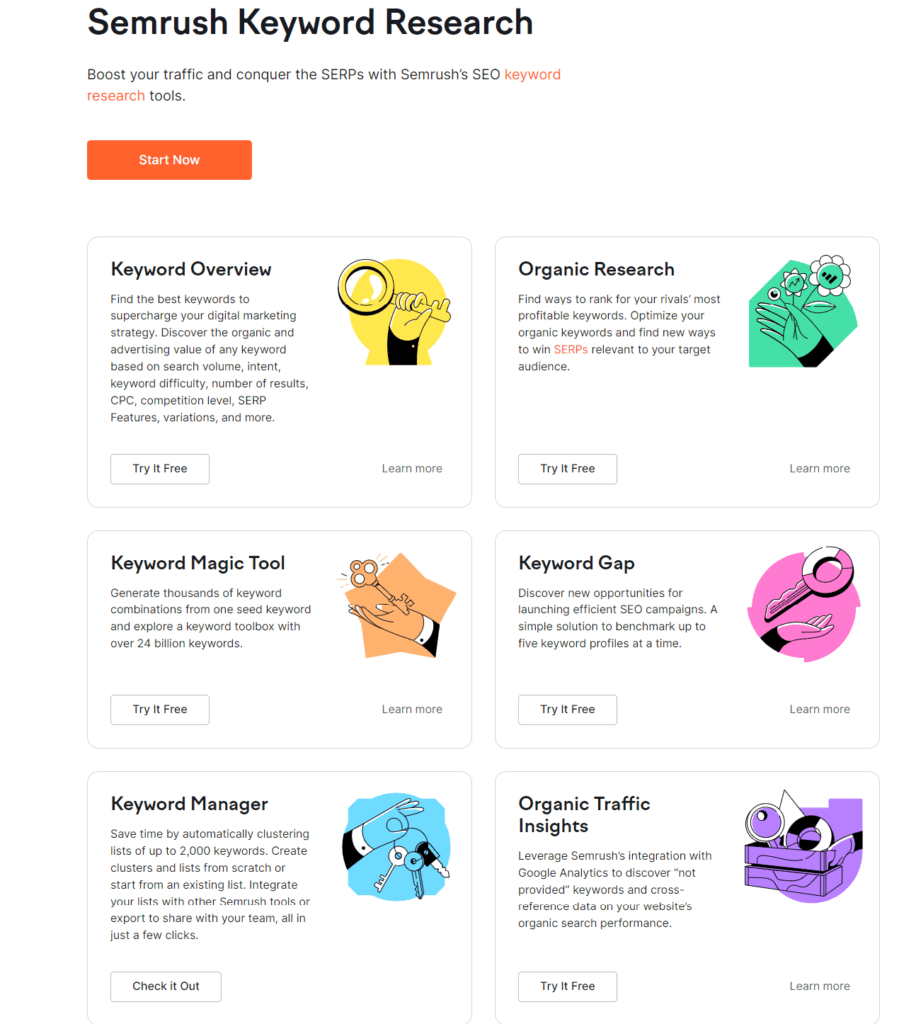 First on this list of the best tools for keyword research is Semrush. You have to know that this particular platform offers a set of tools for automating SEO tasks. Its suite includes not one but several keyword research tools.
Semrush offers the following keyword research tools:
Keyword Overview
This is the first tool that you can start with to discover the value of any keyword. Keyword Overview offers important metrics associated with a specific keyword, including the volume, keyword difficulty, search intent, cost per click (CPC), and related keywords. You can use this tool alone if you know some keywords and just need more info about them.
I tested this tool using the phrase "best business ideas." The location is USA by default but can be changed. Check the results below: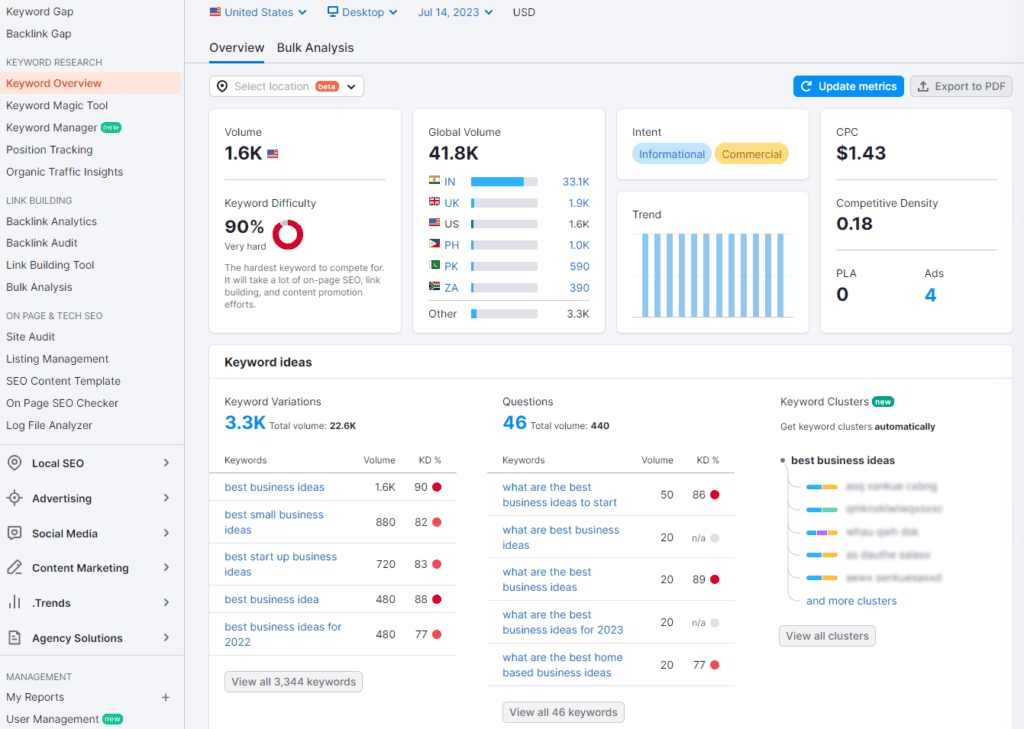 Keyword Magic Tool
This one is for when you need deeper insights into any randomly specified term. For instance, if you enter the word "shoes," you'll see some of its top combinations with other keywords. You'll see results like "shoe carnival," "hey dude shoes," or "nike shoes." Each result shows the intent, search volume, and difficulty.
Below is the screenshot of the Keyword Magic tool in action: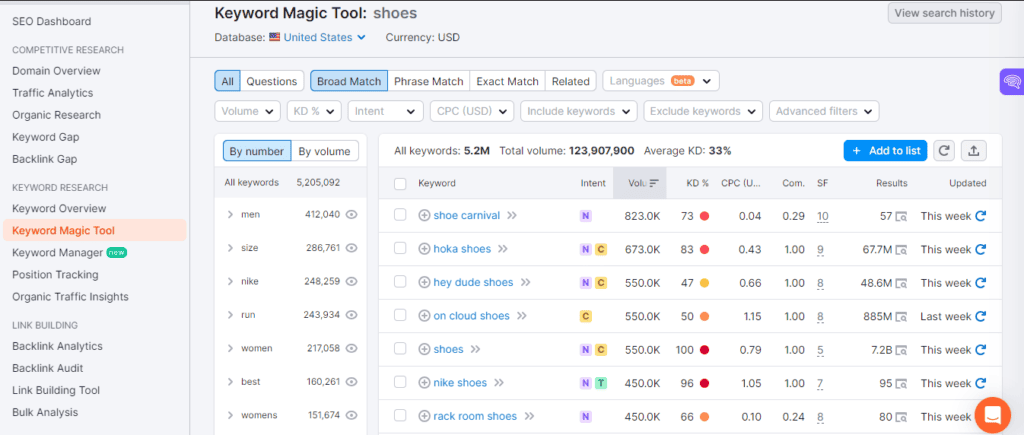 Organic Research
Organic Research is another tool from Semrush that can help you spy on your competitors. You're able to see what keywords they rank for and which ones bring them the most traffic. All you do is enter a competitor's website URL.
Keyword Gap
If you want to compare your keyword profile with that of other users in your niche, this is the tool you require. It shows which keywords you have in common with another site. You also get a chance to discover new keywords that you hadn't thought of targeting.
Keyword Manager
Maybe you want to automatically collect as many keywords as possible. What you do is pick your topic, describe your seed keyword, and the tool makes keyword clusters for you. You can then share them with team members or clients.
Organic Traffic Insights
Organic Traffic Insights is what you need to monitor your site's performance. You also see the keywords you rank for that aren't shown (not provided) on Google Analytics.
Now, you don't necessarily need to use all of Semrush's SEO keyword research tools. For instance, if you have a new site, you may only use Keyword Overview and Keyword Magic Tool. But exploring them all if possible can help you grow your site traffic more.
Also, you can take advantage of its other tools. They include backlink analysis, SEO audit, rank tracking, and other digital marketing resources.
Key Features
Multiple types of keyword tools in one place
Advanced keyword difficulty score to know your chances of ranking
Competitor analysis to get keyword ideas from other sites in your niche
All-in-one SEO platform for tasks beyond keyword research
Pricing
Semrush has a free but limited version that you can use tools like Keyword Overview. You can only get a few requests as a free user. It also offers the following plans:
Pro: $119.95/month
Guru: $229.95/month
Business: $449.95/month
There's also a free Semrush trial to try Pro or Guru at no cost.
Mike's Take
Semrush is among my top recommendations because of its keyword toolkit that helps with all aspects of keyword research. It has a free version for you to test before committing. You even can get a free trial on its paid plans to get a taste of what to expect prior to making any payment.
2. Surfer Keyword Research Tool

Need another well-established AI SEO platform that also offers a keyword research tool? In that case, Surfer SEO may interest you. The Surfer keyword research tool works in its own unique way.
It can help you discover tens of topic clusters out of your niche's primary keyword or keywords. In other words, you won't have to spend hours combining various words and phrases to find out which ones have good search traffic and the potential for ranking well.
What happens is that you just enter the main keyword into the tool and then click to search. Surfer will automatically find all other similar keywords related to each other and group them for you. You can use these grouped keywords to create new content, build topical authority, and dominate your niche faster.
Surfer shows you the search intent, monthly volumes, and difficulties of keywords too. You can filter keywords using these same metrics to find the most suitable combinations.
Now, Surfer's magic doesn't end at keyword research. With your newfound keywords, you can still use Surfer to plan the outlines of your content and even write it with Surfer AI as your writing assistant. Surfer also enables you to optimize your content (even existing posts) for SEO and ensure it's ready to rank.
Key Features
Keyword grouping tool
AI-powered writing assistant to help you start content creation
Content optimization with the keywords you discover
Pricing
Surfer doesn't offer a free plan but rather the following paid ones:

Essential: $89/month
Advanced: $179/month
Max: $299/month
Enterprise: Custom pricing
Mike's Take
Surfer is a great tool that, although without a free plan, offers you various features to help you rank your content. You get access to all the tools you'll ever need from the time of ideation to publishing.
3. Ubersuggest

Maybe you need a free SEO keyword research software tool from Neil Patel, one of the top SEO experts. If so, Ubersuggest is your creme de la creme.
This tool is one of the easiest to use. All you need to do is enter a domain or keyword into its search box.
Let's begin with a keyword. I chose the phrase "how to download Instagram videos."
The first thing you'll see when you enter a keyword is the search data. These include volume, SEO difficulty, paid difficulty, and CPC.
What's more, the tool shows you the average backlinks and domain authority of websites already on page 1 for the keyword. This is how you can measure your chances of being in the top 10 search results too.

Ubersuggest's realm of data doesn't end there. You can also know the percentage of clicks for the top results and the ages of the users searching.
When you scroll, you'll see more keyword ideas. This will usually be the keyword you entered plus other additional keywords.
Simply put, you'll get long-tail keyword ideas that help you rank much quicker. For my example, I got ideas like "how to download Instagram videos on android."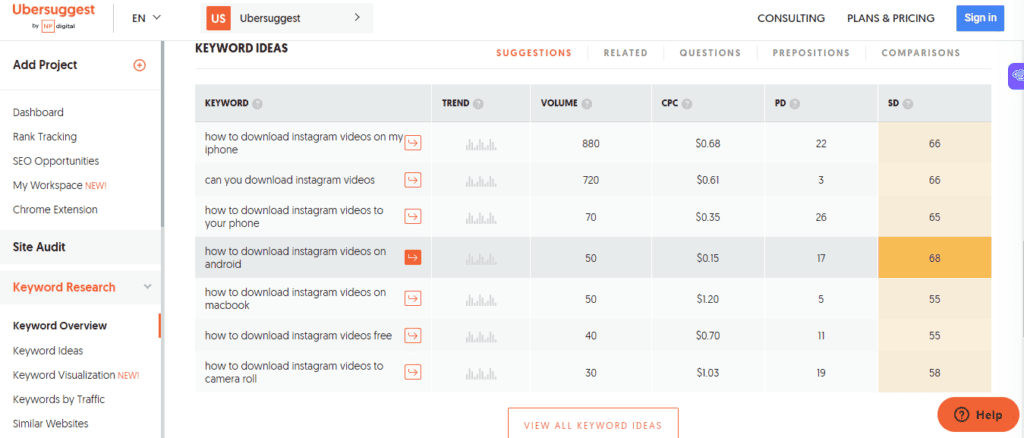 In case you lack ideas on how to put your title or structure your content, Ubersuggest can still help. You can view content ideas from the top sites ranking for the keyword, along with their estimated traffic and backlinks.

Now, the other way to use the tool is to enter a domain name instead of a keyword. The tool will show you what your competitor's total ranking keywords, domain authority, and monthly traffic is. You'll as well see their top SEO keywords and pages.

Key Features
Straightforward keyword research tool
Spy on competitor keywords
Additional tools like backlink checker
Pricing
You can use Ubersuggest for free with a couple of requests per day. The paid options are as follows:
Individual: $12/month
Business: $20/month
Enterprise: $40/month
Now, Ubersuggest also offers lifetime pricing options, starting at $120 for the Individual plan.
Mike's Take
I'll have to say that Ubersuggest is among the most affordable keyword research tools you can get. However, you miss out on additional features like Semrush's comprehensive SEO audit or Surfer SEO's content optimizer.
4. Ahrefs

Ahrefs is a popular SEO software that offers a free keyword research generator. The free Ahrefs keyword tool is also straightforward. You just put it in a word you're thinking of and click to find keywords.
As an example, I entered the phrase "motivational books". Below are the results: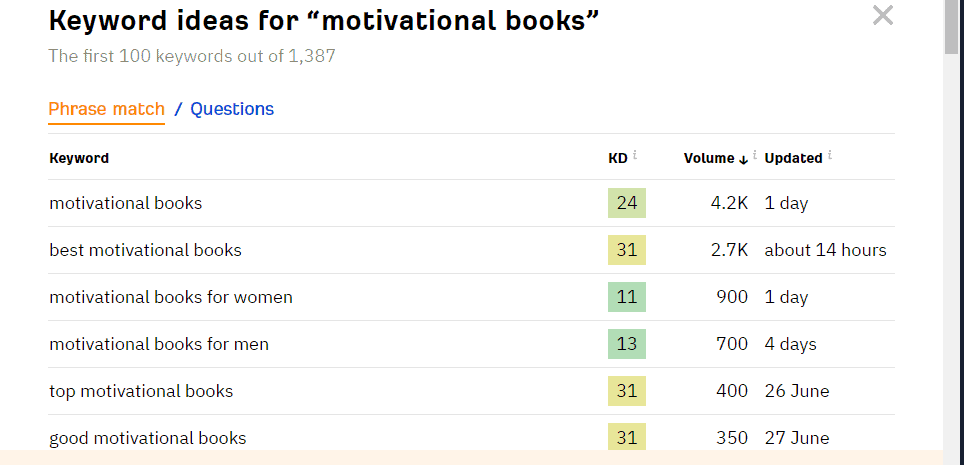 You can see that it shows you the keywords you can write about with their difficulty scores and search volumes. The free tool shows you the first 100 results.
Now, that's not all you get. But you'll have to subscribe to see more SEO metrics. With Ahrefs' Keyword Explorer, you can get more keywords and extra metrics.
Check the example below for the term "iphone."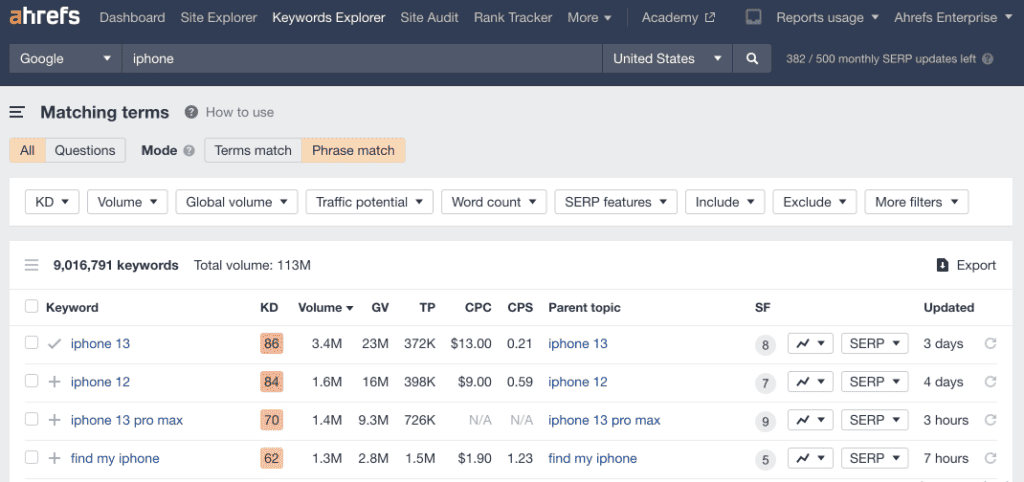 Keyword Explorer shows you the volume by country, global volume, and traffic potential. You can also check the top-ranking result and use it as a reference when creating content around the desired keyword.
The tool also shows you other first-page competitors along with their DR (Ahrefs' website authority metric) and UR (Ahrefs' page authority metric). You know how much traffic they get and the number of backlinks they have.
What's even better is that you can filter keywords by difficulty. If you're a new site, for instance, setting a score of 0 to 10 can help you find the keywords and key phrases that are easy to rank for.
Key Features
Free keyword generator
Keyword Explorer with valuable metrics
More tools like a site explorer, audit tool, and rank tracker
Pricing
Lite: Starts at $99/month
Standard: Starts at $199/month
Advanced: Starts at $399/month
Enterprise: Starts at $999/month
5. Keywords Everywhere

Last on this list of the best keyword research tools is Keywords Everywhere. It works in a way slightly different from the other mentioned tools. Keywords Everywhere is a browser extension or add-on that provides valuable keyword data and insights directly within search engine results pages (SERPs).
Once you install it, Keywords Everywhere works across various search engines. These include Google, Bing, YouTube, Amazon, and more.
As you conduct searches, the tool displays important keyword metrics alongside the search results. You get instant insights without the need to navigate to a separate website or tool.
Keywords Everywhere shows metrics like volume of searches, CPC, and KD. As if that's not enough, you'll access competition data, related keywords, and trend data. The tool has historical monthly data since 2004.
Key Features
Keyword research browser extension
Show important keyword metrics on Google searches
Historical monthly search volumes for keywords
Pricing
Keywords Everywhwer offers these subscription plans: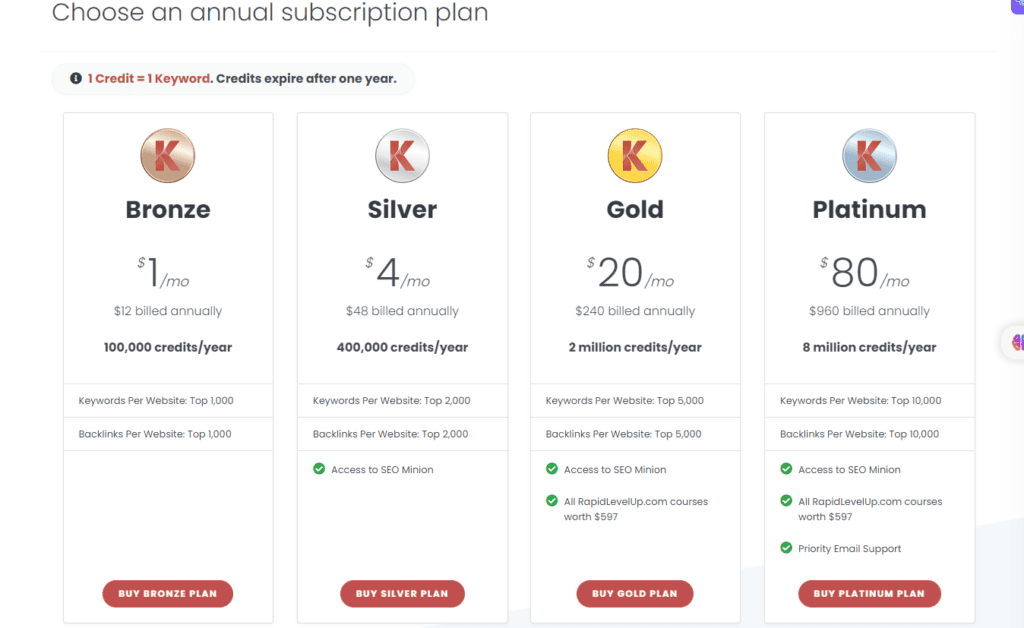 Bronze: $1/month
Silver: $4/month
Gold: $20/month
Platinum: $80/month
Mike's Take
Keywords Everywhere suits you if you need to do keyword research right on Google Search. It's undoubtedly the most cost-effective option. But it lacks the advanced features that other tools on the list offer.
What Is a Keyword Research Tool?
A keyword research tool is an online application or software that helps individuals and businesses identify, analyze, and select the most effective keywords for their website content and marketing campaigns. The tool utilizes various data sources, algorithms, and metrics to provide insights into the popularity, competitiveness, and relevance of specific keywords in a particular topic, niche, or industry.
Keyword research tools are highly useful resources for SEO practitioners, digital marketers, content creators, and website owners. Leveraging these tools can help you gain a deeper understanding of your target audience's search behavior. You're also able to uncover untapped keyword opportunities and optimize your content to boost organic search visibility.
Features of a Good Keyword Research Tool
The top keyword research tools offer features such as:
Keyword suggestions: You should get a list of related keywords based on a seed keyword or topic.
Search volume data: Insights into the average monthly search volume for specific keywords indicate the popularity and demand for those terms.
Competition analysis: A good SEO keyword research tool helps you review the level of competition for keywords. It provides metrics such as keyword difficulty, organic competition, and paid search competition.
Long-tail keyword identification: In most cases, longer and more specific keyword phrases often have lower competition and higher ranking and conversion potential.
SERP analysis: You should be able to analyze the search engine results pages for specific keywords and gain insights into the types of content and websites ranking highly for those terms.
Historical data and trends: Tools that offer historical data and trends allow you to track keyword performance over time and identify emerging trends in your niche.
Conclusion
The best keyword research tools are the secret weapons that empower individuals and businesses to uncover hidden opportunities, optimize their content, and outshine their competitors in search engine rankings. You can even go with multiple tools at once and compare their data.
Keep in mind that the true power of keyword research tools lies in your ability to leverage the insights they provide. You should implement the keyword opportunities you spot. That's how you'll benefit from organic traffic and grow your brand.