Where to Buy AI Art Online in 2023
As technology continues to advance, new forms of art are emerging, including AI art. AI art is created using artificial intelligence algorithms that can generate unique and complex artworks that are unlike anything made by human artists.
The popularity and demand for AI art are growing as more people become interested in this innovative form of art. However, finding reliable sources to buy AI art online can be challenging, as there are many platforms and artists offering AI-generated artwork.
It's essential to find trustworthy sources to ensure the quality of the art pieces purchased. You also don't want to overspend if you're on a budget.
In this article, I'll share some of the top platforms where you can buy AI-generated art at affordable prices. It doesn't matter whether you're an individual user looking for good art pieces for your home, workplace, and personal projects or a brand looking for multiple images for your marketing materials.
Want to create AI art yourself instead?
Be sure to check out the best AI artwork creators to help you generate attractive images for personal or business use in seconds, even without skills!
Disclaimer: Because the site is reader-supported, we may earn a commission if you use our affiliate links.
Best Places to Buy AI Art
If you're wondering where to purchase good AI art, I've categorized the top options as follows:
AI art-specific platforms
Established online marketplaces
Freelance services websites
Online auctions and galleries
Independent AI artists' sites
AI Art-Specific Platforms
These platforms are created for the sole purpose of buying and selling AI art creations.
1. Artsi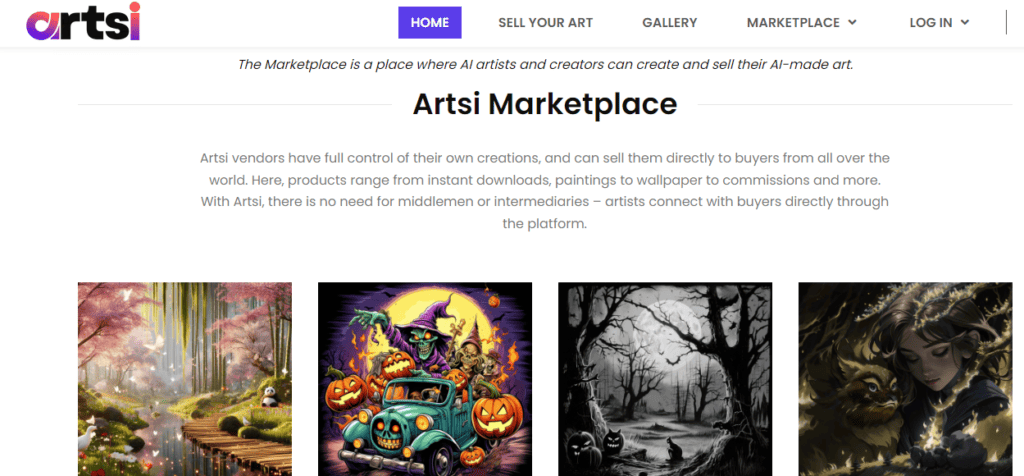 Artsi is one of the best AI art-specific platforms to buy AI art. It's a leading marketplace that brings together artists, collectors, and enthusiasts in the field of AI-generated art.
Artsi is one of the best options for several reasons. First, it offers a carefully curated selection of AI-generated artwork.
The platform ensures that only high-quality and innovative pieces are showcased. This approach gives you as a buyer access to some of the most cutting-edge AI art ever made.
Another thing is that Artsi features a wide range of AI-generated art styles, from abstract and illustration to modern and surrealism. This diversity allows you to explore different artistic expressions and find something that resonates with your preferences.
What's more, you can browse by subject (such as animals, fantasy, or people), medium (such as acrylic painting, mixed media, or photography), format, and more. For the format, you can either get an instant download or canvas and framed prints, among others.
How much does AI art cost on Artsi? You can get AI creations for prices under $50. There's even art for as little as $5.
2. AI Art Shop

AI Art Shop is another notable platform that specializes in AI-generated art. This AI art marketplace offers a large collection of AI-generated artwork, featuring a diverse range of styles, techniques, and themes.
It has the aim to make art available to everyone. Not just something associated with luxury.
One thing I like about AI Art Shop is how it makes it easy for someone to find the kind of art they're looking for. You can find AI art collections by artist, categories like African contemporary portraits, NFTs, and custom products like clothing.
You'll find that this platform only offers quality digital art and fine materials.
AI Art Shop allows you as a buyer to customize your AI art purchases. This feature enables you to personalize their artwork by selecting specific aspects, such as size and frame.
Just like Artsi, you can either download the art or get it as a museum-quality canvas print. In fact, it's even possible for you to create your own art using tools like NightCafe Creator and then upload it to AI Art Shop to obtain an ultra-high-resolution image and wall print.
How much does AI art cost on AI Art Shop? You can get cheap AI-generated art on the platform, from amounts as low as $0.50.
Established Online Marketplaces
There are several online marketplaces that allow sellers to list AI art, among many other products.
3. Etsy
Etsy is a well-known e-commerce platform that hosts a wide range of products, including AI-generated art. While Etsy is not specifically focused on AI art, it provides a marketplace for artists, artisans, and creators to sell their unique and handmade goods, which can include AI-generated artwork.
Something that's likable about Etsy is that you can even encounter custom creators to make your art from scratch. For example, you could get a custom photo of yourself as a pirate or knight.
Another thing is that you can get your image in custom sizes, whether as a digital file, poster, or wall canvas. On top of that, you can also buy AI art prompts on Etsy for Midjourney or any other similar tool.
Etsy's review and rating system allows you as a buyer to assess the quality and reliability of sellers. This feature helps you make informed decisions based on the experiences of other people with a particular seller.
How much does AI Art cost on Etsy? The price varies but you can expect to spend around $20 for good artwork.
4. eBay
This is yet another well-known online marketplace where you can buy almost anything, including art made by AI. eBay, having a global presence, enables you to expand your available options and find AI art from artists and sellers around the world.
You can easily locate sellers who have listed collections of art at affordable prices. For instance, it could be a bundle of 10 or even 100 art creations.
The available purchasing options include digital downloads and prints. You'll have to check about this matter in the product listing's description.
eBay is also known for its auction-style listings, where several buyers can bid on AI-generated artwork. This feature adds excitement to the buying process and can provide you with an opportunity to purchase AI art at a lower price.
How much does AI art cost on eBay? The price varies depending on the seller.
Freelance Services Websites
How about you get a freelancer to offer you a personalized AI art creation service depending on your needs and budget?
5. Fiverr
Fiverr is a popular online platform that connects freelancers offering various services with buyers looking for those services. It's not specifically focused on AI art but can be a useful platform for finding AI art services.
Fiverr offers a wide range of services, including graphic design, illustration, digital art, and more. Many freelancers on Fiverr specialize in AI-generated art and can provide services such as creating AI-generated illustrations, portraits, or designs.
The good thing is that Fiverr provides detailed profiles and portfolios for each freelancer and allows you to assess their skills, experience, and previous work. Other than that, you get a chance to request custom services by specifying everything about the images you need.
Customization is possible through the messaging function of Fiverr. You and the freelancer can discuss the AI art project in detail and agree on pricing.
6. Upwork
Upwork is another popular freelance marketplace where you can find various services, including AI art services. The website hosts a diverse range of freelancers with expertise in different fields, including digital art.
Upwork allows you to post detailed project requirements, including your specific needs for AI art. You can outline your desired style, techniques, project scope, and budget.
This customization helps you to attract freelancers who can meet those requirements. You're also able to review profiles, reviews, and ratings to assess the freelancer's expertise in AI art and determine if they align with their project needs.
Online Auctions and Galleries
Online auctions and galleries are another option for buying AI art online. These are more suited for collectors and digital art enthusiasts.
Two of the most well-known auction houses, Christie's and Sotheby's, have started offering AI-generated artworks in their online auctions. Christie's sold a portrait created by an AI algorithm for $432,500, and Sotheby's has had AI-generated artwork go up for an auction debut and bought at £40,000.
These auction houses offer a range of AI art pieces, from portraits to abstract artworks. However, participating in online auctions can be competitive and costly.
The expensive prices result from being driven up by bidders. Also, there may be additional costs such as buyer's premium and shipping.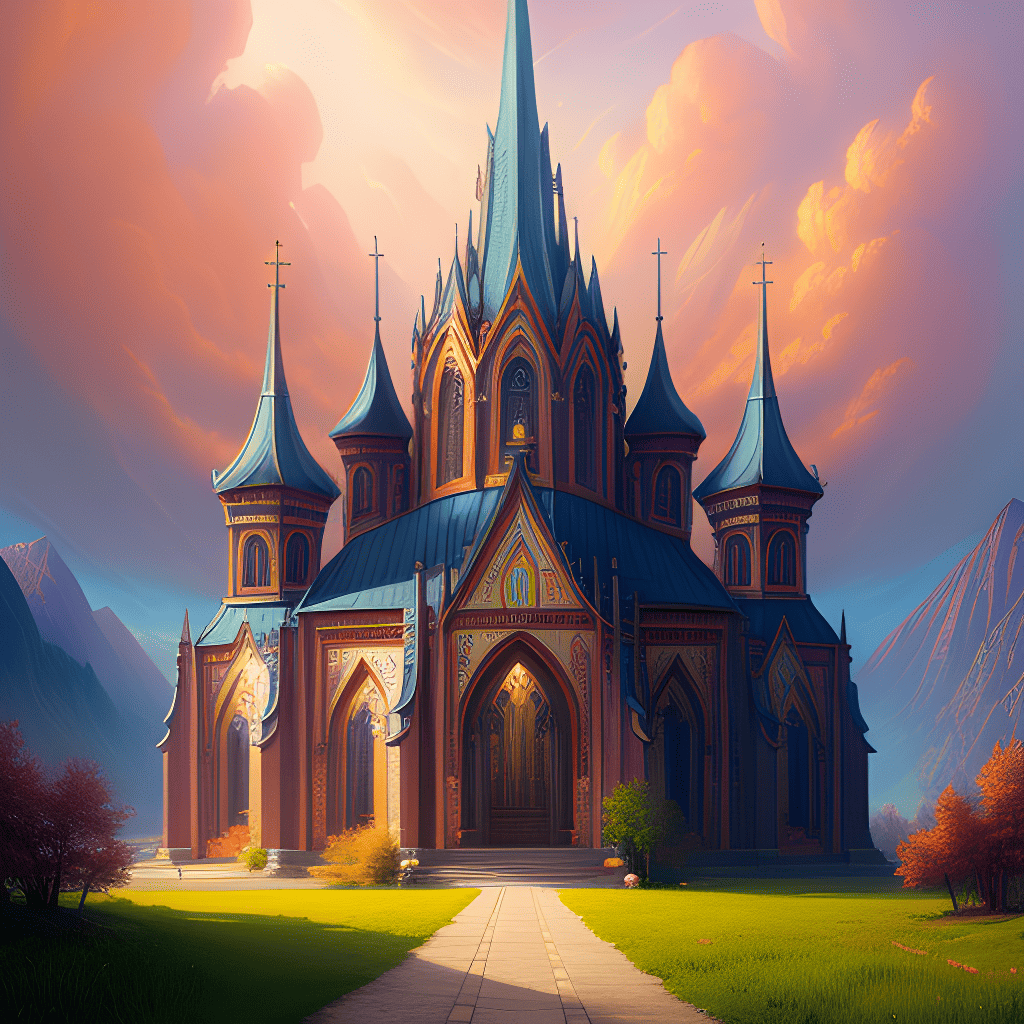 Independent AI Artists Sites
Buying directly from their websites is a way to support them and foster creativity and innovation in the field of AI art. When looking to buy AI art directly from artists' websites, here are some tips to consider:
Research and identify reputable AI artists: Take the time to explore different AI artists and their portfolios. Look for artists who have received recognition, awards, or positive reviews for their AI-generated artworks. Reading artist statements or biographies can also help you learn about their creative processes.
Contact artists for inquiries and negotiations: Reach out to the artists whose work interests you. Inquire about the availability, pricing, and any additional details regarding the artwork you are interested in. Some artists may be open to negotiations or customization requests, so don't hesitate to discuss your preferences.
Ensure secure payment methods and shipping arrangements: Prioritize artists who provide secure payment options, such as encrypted transactions or trusted third-party payment processors. Discuss shipping arrangements, including packaging, insurance, and tracking, to ensure the artwork reaches you safely.
Conclusion
To sum it up, there are several options available for buying AI art online. Each option has its own unique benefits and considerations.
Platforms dedicated to AI-generated art offer well-curated selections of AI artworks. You can find thousands of listings of art creations with different styles and concepts.
E-commerce marketplaces and freelance sites allow you to find custom sellers who can create artwork according to your needs. Freelance sites give you more control over the project as you can specify the exact kind of work you need by directly chatting with the seller.
Online auctions and galleries, like Christie's and Sotheby's, provide access to prestigious and high-value AI art pieces. With online auctions, there's competitive bidding and prices can go up, along with additional costs such as buyer's premium and shipping that need to be taken into account.
You can also go to individual sites of AI artists to support their work. All in all, the choice of where to buy AI art online depends on personal preferences and budget.