7 Best AI Story Generators & Book Writers Online of 2023
In the age of AI, it's no surprise that many people are turning to computer systems for help with story writing. After all, who wouldn't want to make their work a little bit easier?
When it comes to generating stories or writing books, there are several AI-based software services that can do the job. These online tools allow you to create your very own short story or even a novel with the help of AI algorithms that generate plotlines and characters for you.
It doesn't even stop there. You can also use these AI tools to improve the grammar and writing style of your creative work.
In this blog post, I'll introduce you to some of the best AI story generators and book writers online. But you have to remember that many AI software tools are still a work in progress.
It's wise to learn how a particular AI for writing stories works to get the best results. Now, let's get started!
Disclaimer: Because the site is reader-supported, we may earn a commission if you use our affiliate links.
Read also: Best AI Writing Tools (Full List)
What Is an AI Story Generator?
An AI story generator is a type of software that uses computer systems to generate story ideas, plots, or actual stories. The concept is quite new and many of such tools are still being polished.
Note that AI story generators can vary in complexity and capabilities. Some tools simply focus on generating ideas, short stories, or specific (easy) genres.
Others may be more versatile and capable of creating longer narratives that contain complex plotlines, character development, setting, dialogue, and tone of voice.
What Is the Best AI Story Generator?
If you want to write a short story or a book with the help of AI writing software, here are the top picks:
1. Jasper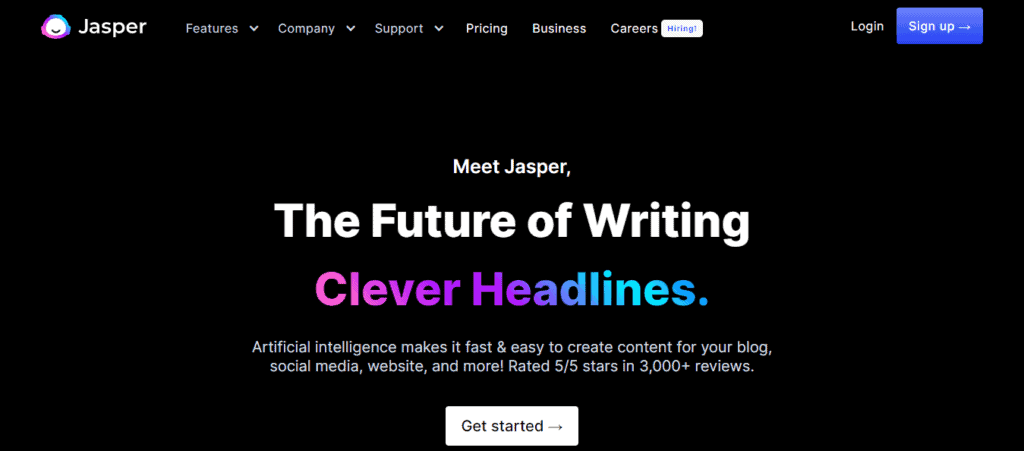 Jasper is among the best AI book writers to use. The reason is that it has a feature that allows users to write long-form content without much effort.
If you're staring at a blank page and don't know what to write, Jasper AI can give you a headstart. Once you describe the kind of writing you want, this AI story generator will write the text for you.
You can simply remove the text you don't want and command it to generate more sentences and paragraphs for you. Jasper can also help you with your grammar and sentence structure.
Books written with the help of Jasper AI are already available. You too can use it to create a book to sell on Amazon or any other online platform.
Key Features
Long-form writing assistant
Easily integrable with Grammarly for grammar checking
Plagiarism checker
Various voice tone choices to suit your text
Pricing

Creator: $49/month
Teams: $125/month
Business: Comes at a custom price
Verdict
Jasper AI is a useful tool for writing lengthy texts like guides as well as books. You can use it to generate content for your story if you instruct it well.
2. Rytr

Rytr is another AI story generator that can help you write faster. It's helpful when it comes to generating creative stories and plots quickly.
You simply need to select the language of your writing, choose the tone, pick the use case or content type (e.g. story plot), and enter the story idea.
The input can be titles, phrases, or keywords based on what you want to write. Rytr will then generate text for you instantly.
Key Features
Over 30 use cases or content types
Over 20 voice tone choices
Over 30 languages to choose from
Pricing

Free: $0/month
Saver: $9/month
Unlimited: $29/month
Verdict
Rytr can help you create story plots and stories within a short time.
3. NovelAI

NovelAI is another option if you need an AI novel writer. It enables you to come up with a unique story, whether you're aiming for a thriller, romance, war, or anything else. Experimental writers are also free to use it.
This AI-assisted authorship and storytelling tool comes with modules to emulate the writers you like. You can create a universe depending on your liking and write quality literature. NovelAI also has several other upcoming features.
Key Features
AI storyteller
Editor customization
Access your writing anywhere
Secure writing platform
AI modules with various styles and themes
Experimental features are available
Pricing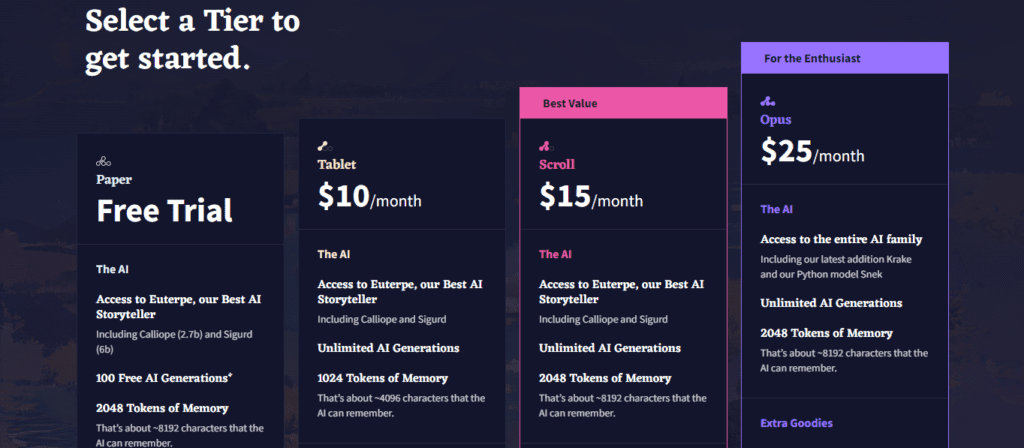 Paper: Free trial
Tablet: $10/month
Scroll: $15/month
Opus: $25/month
Verdict
NovelAI is best for authors and experimental storywriters looking to generate ideas and content for their stories.
4. Sassbook AI Story Writer

Sassbook is an AI writer that comes with story-generation capabilities. Sassbook's AI story writer is a tool that both authors and creative enthusiasts can use to tell their stories with a little help.
This tool can write anything from classic and sci-fi to romance and thrillers. It's also quite easy to use.
All you need to do is enter a prompt of around 15 to 30 words and then choose the level of creativity. It has the following creativity level options: conservative, balanced (the free and default one), and inventive.
Key Features
Pricing
Sassbook AI has a free plan that you can use to generate stories and use its other tools but with limits. Check all the plans:
Free: $0/month
Standard: $39/month
Premium: $59/month
Verdict
Sassbook AI Story Writer is a great tool for writing short fictional stories in popular genres like romance and thriller.
5. Plot Generator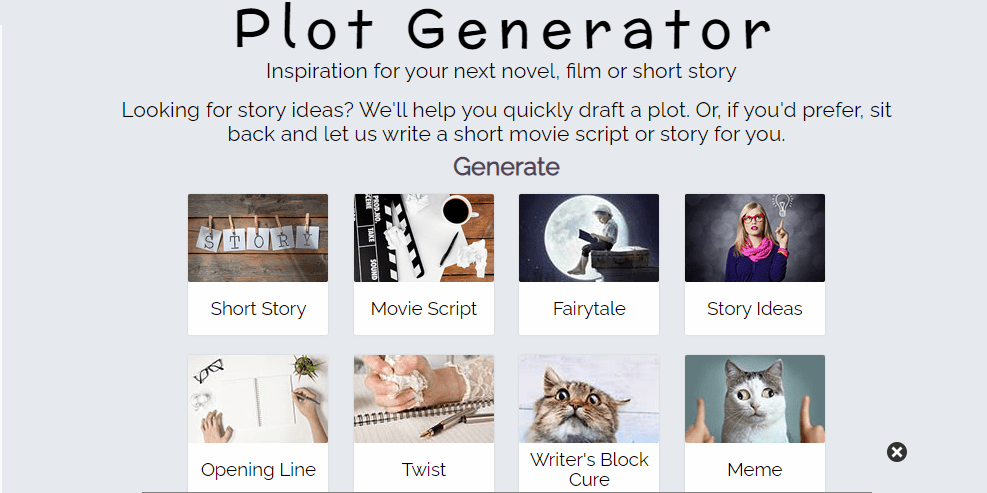 Wondering what's another great AI story generator for writers to use? Plot Generator may interest you.
It's a useful artificial intelligence writing assistant that can generate story ideas, short stories, and more.
If you need romance, crime, or fantasy plots, Plot Generator can be your online assistant. You can use it to inspire your next novel or even a movie script.
To write a custom story, you just need to fill out some details about it. Simply choose a style, opening and ending, character name, and some adjectives. Plot Generator will write the story based on the information you provide.
Key Features
Short story generator
Movie script generator
Story idea generator
Opening line generator
Twist generator
Pricing
At the moment, Plot Generator is free to use.
Verdict
If you need plots, opening lines, or ideas for your next story or script, Plot Generator is for you.
6. DeepStory

DeepStory is one of the best AI story generators for writers and a scriptwriter tool worth checking out. You can use DeepStory for AI-driven content as well as screenplays. And so, it can work for storytellers, scriptwriters, and even content creators.
Key Features
Short and long-form writing
PDF download
Social media sharing
Pricing

Free account: €0
Premium: €12.99(or $13.30)/month
DeepStory API: For commercial use
Verdict
DeepStory is a newer tool with a few features but can be great for generating story and script ideas.
7. Magic Write (Canva)
If you know Canva, it's a great graphic design tool that also offers an AI writer called Magic Write. To use this AI tool that can write stories and more, you need to go to Canva Docs.
This tool for writing can help you plot and brainstorm ideas for short stories and novels. You can even input a simple prompt that lets Canva Write create a quick story for you.
Other than that, you can use it to write sentences and paragraphs that you can tweak and add to your story. As if that's not enough, you can use Canva's graphics to add more life to it right on its document editor!
Key Features
Brainstorming tools
Story idea generators
Readily access graphics from Canva
Pricing
Canva Write is free to use for up to 25 queries. From there, you'll need Canva Pro to continue using it.
Check Canva's pricing options below:

Canva Free: $0/month
Canva Pro: $6.49/month
Canva for Teams: $12.99/month
Verdict
If you're looking to create short stories for inspiration or brainstorm ideas for your next novel, Canva Write can help. Its document editor is also great for editing your writing and adding relevant images to it.
Can AI Write Stories?
Yes, AI can write stories for you. Remember, you won't just sit and do nothing while an AI story-writing software does the job.
It won't think on your behalf. You have to actively describe what you want the software to generate and get rid of the texts you don't need.
You'll still need to put in that human touch to ensure the story can attract readers. Other than that, you can also use AI tools to just generate story ideas and plots.
How Do AI Story Generators Work?
AI can generate stories using machine learning algorithms to analyze and learn from a large dataset of existing stories. Through the training, an AI model is able to understand the structure, themes, and language patterns of literary works.
Once the training is over, the AI can create original stories based on its learning. When someone gives it a starting prompt or context, it will generate the rest of the story in seconds.
It's worth noting that before public access, the generated stories are often reviewed and evaluated by human experts to ensure quality and coherence. Feedback from these experts is what refines and improves the AI model.
Conclusion
These are some of the best AI story generators and AI book-writing software online of the year. Many of these AI tools for writing are still adding more features to work better for users.
Some give you a chance to try the latest features before anyone else depending on the plan you're in. You can rest assured that these software tools can provide you with ideas, paragraphs, and even chapters for your story.
Have you found a favorite yet? Go ahead and do so!
Read about more generative AI tools for text, video, images, and audio: