Where to Sell AI Art Online (Top Platforms)
AI-generated art has been captivating audiences and attracting collectors from around the globe. If you're an AI art creator or enthusiast, you're free to share your creations with the world and get paid.
The question then becomes: where can you sell your AI art online?
In this article, you'll discover the top platforms that provide a space for AI artists to showcase and sell their artwork.
From specialized AI art marketplaces to well-established online selling platforms, I'll guide you through the best places to connect with other art enthusiasts and turn your AI art into a thriving business.
Don't have a proper tool yet?
Feel free to check out the best AI art generators that you can use to generate images and then sell them on the platforms I'll detail below.
Disclaimer: Because the site is reader-supported, we may earn a commission if you use our affiliate links.
Can You Sell AI Art?
If you didn't know, it's possible to sell AI art. In fact, one of the most expensive AI art pieces ever sold was "Portrait of Edmond de Belamy" in 2018, at a price of over $400,000.
True to say, almost anyone can create such art if they have the proper tools. But some do it better than others.
Also, many people don't have the time to create good AI art. So, they may opt to buy it.
What I mean is that there's a market for AI-generated images as long as they're of the best quality. And if you know the top places to find buyers for these digital products, you can easily make a dime.
Read also:
Where Is the Best Place to Sell AI-Generated Art?
Below are the top platforms where you can sell AI-generated pictures (and other AI content or products) to people. I'll categorize them as follows:
AI art marketplaces
E-commerce platforms
Social media
AI Art Marketplaces
1. Artsi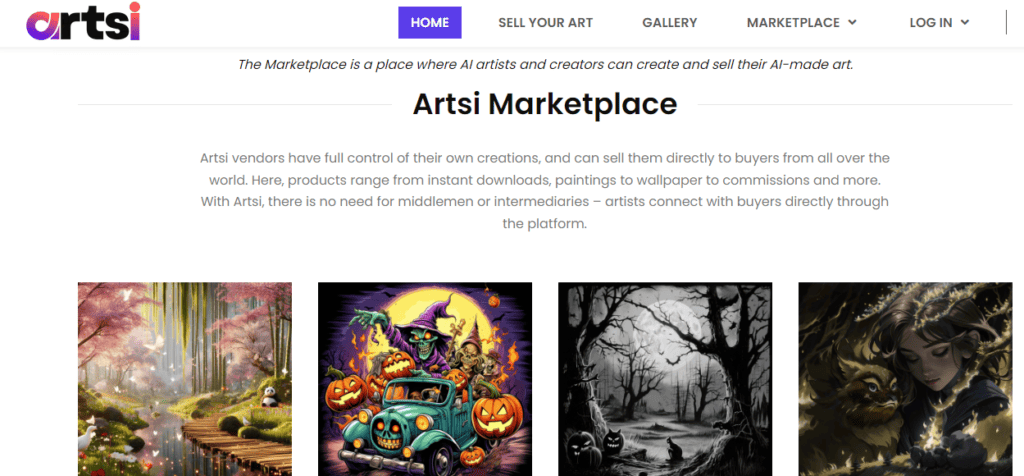 First on the list of the best AI art marketplaces is Artsi. This platform is dedicated solely to AI-generated art and offers a wide range of styles and mediums for artists to showcase and sell their AI-based artwork.
The Artsi marketplace features art shops from some of the best AI art creators. Each shop contains a collection of the pictures the creator has listed for sale.
The gallery section offers lots of AI art along with the prices. Customers can select the art of their choice and go to the checkout.
Becoming a seller on Artsi is not anything complicated. Simply create an account with your username and email address, select "vendor" as the account type, and provide your ideal store name (which will be availed to you if not already in use).
From there, you can choose a monthly or annual subscription to start your vendor shop and list items. Given the subscription, you won't have to pay any other listing fees.
In your Artsi account, you can manage all orders, see refunds, and more.
How Much Does It Cost to Sell on Artsi?
Artsi is one of the most affordable AI art marketplaces to sell your items. It offers two subscription packages, monthly and annual.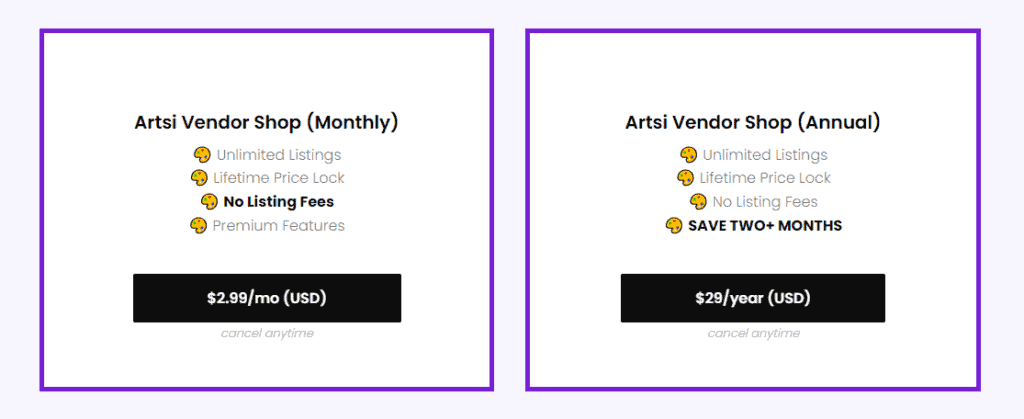 Artsi Vendor Shop (Monthly): $2.99/month
Artsi Vendor Shop (Annual): $29/year
2. AI Art Shop
The next AI art marketplace on the list is AI Art Shop. This platform boasts of being the first of its kind and features a global community of AI artists and AI art lovers.
On AI Art Shop, you'll find thousands of original AI-created paintings. The marketplace also features various collections, such as "Africa Contemporary Portraits," that users can browse and purchase.
AI Art Shop is also one of the easiest platforms to join and start selling right away. What you do is create an account, complete your profile, and add your first AI image.
You'll need to input your location, ZIP code, and description to be able to upload artwork. Keep in mind that there's an approval process before your work gets listed.
You have to make sure that your art isn't repetitive, low-quality, harmful, incomplete, or part of someone's copyrighted work. It's also a requirement to list only 1 artwork per product listing and price it above $10.
It would also help to add your store identity on AI Art Shop for the best results. This includes your profile image, seller shop logo, and store banner.
To add a product, you simply need to enter the product name, product type, description, pricing, and image. Your dashboard shows all the sales, statistics, earnings, and products and you can receive payments via a PayPal business account.
How Much Does It Cost to Sell on AI Art Shop?
It's free to list a product and sell it on AI Art Shop. However, the company will take a commission of 25 percent on the final sale price.
3. Wirestock
Wirestock is yet another marketplace where you can sell AI art, photos, videos, and vectors. This website has over 30,000 creators and more than 350,000 submitted artworks.
With Wirestock, you get to distribute all your work from one central place. The platform can share your AI content on Adobe Stock, Freepik, Imago, and Dreamstime.
And so, Wirestock serves as a portfolio where you can showcase your collections, prints, and more. In fact, you can even sell your well-written AI art prompts if you're good at coming up with them (your image will be listed so they sell together).
Buyers have the option to browse the library, select from the listed pieces (including yours), and buy content in a variety of formats. It can be a direct download, a prompt, a print, or a collection.
Getting started is quite simple. Simply generate your art, upload it on your registered Wirestock account, post it on your portfolio or a marketplace, and wait for the sale to happen.
One more thing I like about Wirestock is that it features AI challenges. You can take part in them for a chance to win huge cash prizes and receive the recognition you deserve.
It's also worth mentioning Wirestock's Discord bot. The bot allows you to generate, upscale, and directly publish AI pictures on Wirestock.
How Much Does It Cost to Sell on Wirestock?
Selling from your portfolio comes with a commission of 35 percent to Wirestock if you're a free member. As a premium user, the commission reduces to 3 percent.
As for marketplace sales, the commission is 15 percent. The Premium plan costs are as follows:
Premium: $12.99/month
Premium AI: $19.99/month
E-commerce Platforms
4. Etsy

Etsy is a well-known online marketplace that has become a popular platform for artists to sell their work, including AI-generated art. True to stay, Etsy isn't a dedicated AI art marketplace.
But it offers a wide range of product categories, art included. This makes it an excellent option for you as an AI artist to showcase your work to a large audience (check some of the listed AI images here).
To sell AI art on Etsy, you need to create a shop and list your artwork using high-quality images and detailed descriptions. You can either sell your art as a digital file or canvas.
Etsy offers various marketing tools, including app integrations and paid advertising. All these can help sellers reach a broader audience and boost sales.
Bear in mind that Etsy only allows handmade items made or designed by the seller and not anything that belongs to someone else. You also need to disclose that you're selling AI art to avoid buyer misinterpretation.
One challenge that you may face on Etsy is standing out among the vast array of art categories and styles available on the platform. However, with a well-crafted marketing strategy and a unique artistic style, you can successfully sell your work on Etsy and build a loyal customer base.
How Much Does It Cost to Sell on Etsy?
Etsy has three types of fees: listing fees, transaction fees, and payment processing fees.
Listing fees: $0.20 per listing
Transaction fee: 6.5 percent of the total order amount
Payment processing fees: Variable
5. eBay

eBay is among the most popular e-commerce platforms to sell AI art and almost anything else. Given that the platform attracts millions of buyers worldwide, selling your artwork there can be a viable option.
To sell AI art on eBay, you need to create listings with high-quality images and detailed descriptions of their artwork. eBay provides various tools and features to help artists market their work, such as promotional options and the ability to offer limited edition or one-of-a-kind pieces.
One thing about selling AI art on eBay is the potential for exposure to a massive customer base. Additionally, eBay provides seller protection and secure payment options to ensure a safe and reliable selling experience.
However, you have to know that competition on eBay can be fierce, as there are numerous artists and sellers offering a wide range of art styles (e.g. drawings, NFTs, photographs, prints, paintings) and other items. To stand out, you should focus on creating compelling listings, utilizing keywords and tags relevant to AI art, and showcasing the unique aspects of your AI-generated creations.
How Much Does It Cost To Sell on eBay?
eBay has various types of fees. The ones you need to know are insertion fees, final value fees, and basic fees for your category.
Insertion fees: You get up to 250 zero insertion fee listings every month, and then $0.3 per listing
Final value fees: This fee is a percentage of the total sale amount plus $0.30 per order (order means any number of items a buyer purchases with the same shipping method)
Basic fees: For art, the fee is 5 percent on the total amount of the sale
Social Media
6. Instagram
Instagram is one of the top visual platforms, making it a great choice if you want to sell AI art on social media. With over 2 billion active users, Instagram provides a visually-focused platform that's ideal for showcasing and promoting your AI-generated artwork.
To start selling AI art on Instagram, what you can do is create a dedicated business account or utilize their personal account to showcase your work. I would go with the first option because it gives you access to useful insights.
It would be wise to curate a visually appealing feed that highlights the unique aspects of your AI-generated art. High-quality images or videos of your artwork, along with engaging captions and relevant hashtags, can help you attract attention and gain the interest of potential buyers.
Instagram's features, such as Stories, IGTV, and Reels, enable you to create dynamic and interactive content to engage with your audience. You also have access to the "Shop" section that allows people to directly buy from your profile rather than visiting your online store somewhere else.
Some other Instagram selling strategies are to share behind-the-scenes footage of your AI art creation process and offer limited-time promotions or discounts to drive sales.
The advantage of selling AI art on Instagram is that you're able to directly engage with potential buyers and art enthusiasts through comments, direct messages, or even live video sessions. Also, you have more control over the items you want to sell.
Below is an example of an Instagram account selling AI art:
How Much Does It Cost to Sell on Instagram?
If you just have a business account and redirect users to an online store you have elsewhere, you get to sell for free on Instagram. The platform automatically deducts the selling fee if you use Instagram Shop (5 percent per shipment).
The fee is a flat $0.40 for shipments of $8 or lower. There are no payment processing fees when selling on Instagram.
7. Facebook
Facebook is yet another huge social media platform where you can sell AI art. If you want to sell AI art on Facebook, there are various features and tools available on the platform to utilize.
One option is to create a dedicated Facebook page or a group specifically for showcasing and selling AI art. This allows you to put together a feed that highlights your artwork.
Below are some AI art pages on Facebook:

On the page or group, you can also share updates and engage with followers. You'll need to gain their trust because buyers aren't fully protected when directly interacting and transacting with sellers on Facebook.
Facebook also offers a marketplace feature where you can list AI art for sale and reach more people. All you need to do is create detailed listings with high-quality images, descriptions, and pricing information.
Another effective way to sell AI art on Facebook, one that offers increased visibility, is through Facebook ads. In this case, you create targeted ad campaigns to reach specific demographics or interest groups that are likely to be interested in AI-generated artwork.
How Much Does It Cost to Sell on Facebook?
If you use a Facebook page or group and handle buyers in your own way, you won't have to pay anything to Facebook. Things are a bit different with Facebook Marketplace.
There are zero charges for listing an item on Facebook Marketplace. But there's a selling fee similar to Instagram, of 5 percent per shipment and $0.40 for shipments less than $8.
FAQs on AI Art Selling
Is AI-Generated Art Worth Anything?
Yes, AI art is worth money and you can sell yours. Some AI-generated art pieces have gained significant recognition and have been sold for substantial amounts at auctions and galleries.
There are many individuals already selling AI art online. People buy artificially-created artwork and it comes down to a few key points:
The buyers don't have time to create AI art
It's a requirement to have access to proper AI art generation tools (most of them require a subscription)
Some creators are simply good at creating high-quality and visually appealing AI art (something others may struggle to do)
How Do You Price AI Art?
Pricing AI art can be a subjective and complex process because it involves considering various factors. These factors include the uniqueness of the artwork, the artist's reputation, the complexity of the AI algorithm used, and the demand for AI-generated art in the market.
In my opinion, the platform you're selling on also matters. Some marketplaces don't allow you to go below a specified amount when pricing your items.
But you're free to sell your art at $5, $50, or $500, based on the factors I've mentioned. One thing you can do to quickly come up with prices is to check what other sellers on a platform are doing and then use their pricing style to guide yours.
Which Platforms Are the Best for Selling AI Art?
AI art marketplaces, e-commerce platforms, and social media sites offer distinct benefits and downsides when selling AI art.
You could go for a dedicated AI art marketplace and avoid the competition that prevails on popular e-commerce and social media sites. Or, you could go to the two latter types of platforms and have a chance at being seen by millions of different kinds of users.
My recommendation would be to try multiple types of platforms for selling AI art to find out the best one for your needs. You can even stick with two or three of them to protect your business and income.
Conclusion
Selling AI-generated art can be a challenging but rewarding process. With this list at hand, you no longer have to worry about where to sell your AI stock images, AI prompts, AI art prints, and other AI content.
While there are several dedicated AI art marketplaces available, you can also explore other platforms to sell your work, such as online marketplaces and social media platforms.
E-commerce websites like Etsy and eBay have millions of people who would potentially buy your AI art if it's good. They're there for one thing — to find a product they're looking for that compels them to remove their wallet.
Social media platforms like Instagram and Facebook can be helpful for promoting and selling AI-generated artwork, building a following, and engaging with your audience.
Safe to say, the choice of where to sell AI art depends on your goals, target audience, and preferences. You may also want to consider things like selling fees so you can keep more of your earnings!
Read also: Best Platforms for Selling Digital Products