7 Best Writing Assistant Software (Write Better)
As the demand for high-quality content continues to go up, the need for effective writing tools has grown too. Online writing assistants have emerged as valuable resources for individuals looking to improve their writing and be more productive.
What these digital assistant software tools do is that they help writers catch grammatical errors and then provide suggestions for sentence structure, word choice, and tone. All these abilities come from the advanced algorithms that these programs use. Even more recently, AI-based writing tools came out and they can do more, including generating new content and topic ideas.
In this article, we'll explore some of the best free writing assistants available in the market today as well as paid ones. You'll be able to find the top options that can help you, regardless of your proficiency level, achieve your writing goals. Read on to discover the details!
Disclaimer: Because the site is reader-supported, we may earn a commission if you use our affiliate links.
What Is the Best Writing Assistant?
Below are my picks for the top free and paid writing assistant programs to check out.
1. Grammarly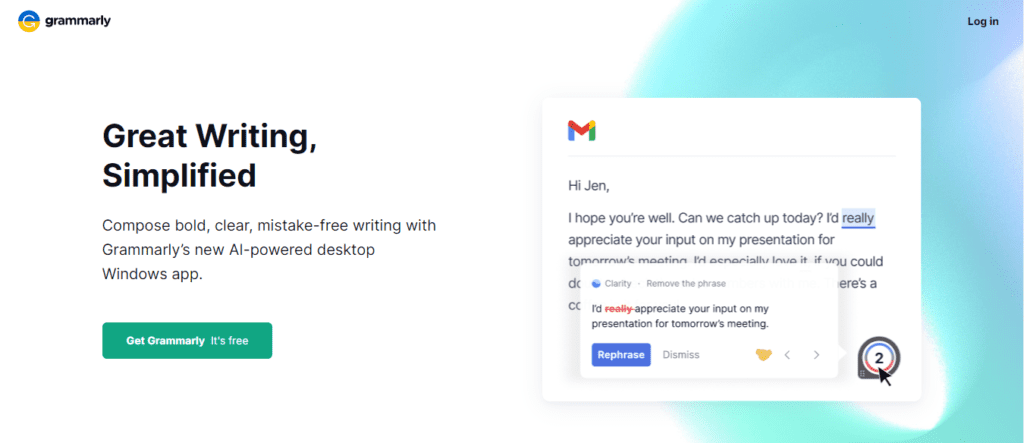 Grammarly is one of the most popular writing assistants that gives comprehensive feedback on your writing. You can use this advanced tool to check for spelling, grammar, and punctuation errors. All you do is copy and paste or upload a document to the tool's editor.
Grammarly is also known for its ability to provide personalized writing suggestions based on the text's context and tone. This way, you enhance the readability of your content. The writing assistant tool can also help you learn from your mistakes by simply explaining why a particular correction has been made.
Grammarly is available as a browser extension and as a standalone application. The good thing is that it's available for most devices. You're able to access Grammarly on Windows, MAC, iOS, and Android.
It has both a free and premium version. The premium version offers additional features such as advanced grammar checks, genre-specific writing suggestions, and plagiarism detection.
Top Features
Advanced grammar checker with recommendations on how to improve your writing skills
Sentence checker that handles issues like complicated structures, misplaced modifiers, and confusing delivery
Tone suggestions to help your reader resonate with you better
Readability score from 0 to 100 that rates your writing based on the sentence lengths and word count
Plagiarism checker to ensure content originality
Browser extension that allows you to use the tool anywhere online
Pricing
Grammarly is available for free with basic features while the premium plans have more to offer.

Free: $/month
Individual plans: $12/month (annual billing), $20/month (quarterly billing), $30/month (monthly billing)
Business: $15/month/user with a 3-user minimum
2. ProWritingAid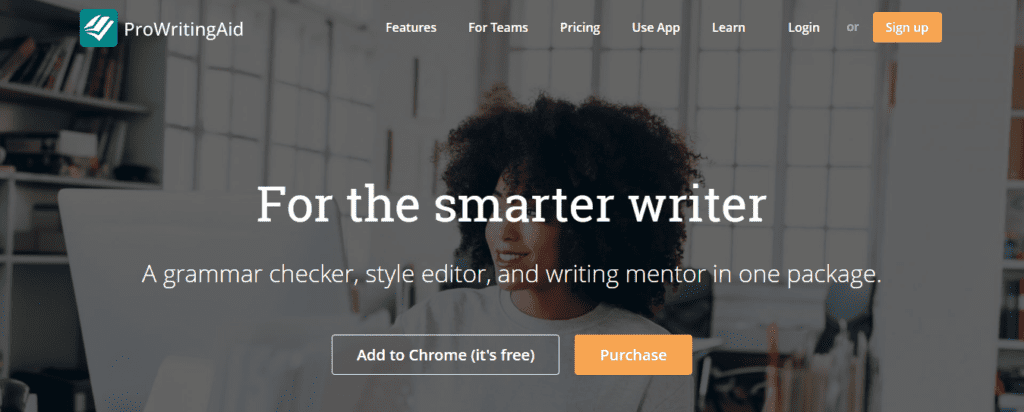 If you need another free writing assistant with a paid version that allows you to write better and learn from it, ProWritingAid may interest you. It works in a way similar to Grammarly.
This tool's focus is to help you express your ideas, stories, and expertise with confidence. In other words, you can publish your content without any worries after it passes through the ProWritingAid tool.
When using ProWritingAid, you'll see suggestions and explanations right on the software and incorporate the new corrections into your document. Keep in mind that ProWritingAid provides two types of advice and recommendations for your writing. These are AI-powered analysis that appears automatically and human expertise which is available as masterclasses.
Top Features
20 different writing reports that cover various aspects of writing, like passive voices, complex sentence structures, and more
Real-time grammar checker that comes with style checking and terminology management
Essay checker to save time correcting the grammar of essays
Plagiarism detection that compares your work against more than a billion web pages and other sources
Web extension and integrations with Google Docs, Microsoft Word, and more
Pricing
ProWriting Aid has a free plan with a limit of 500 words as well as paid options.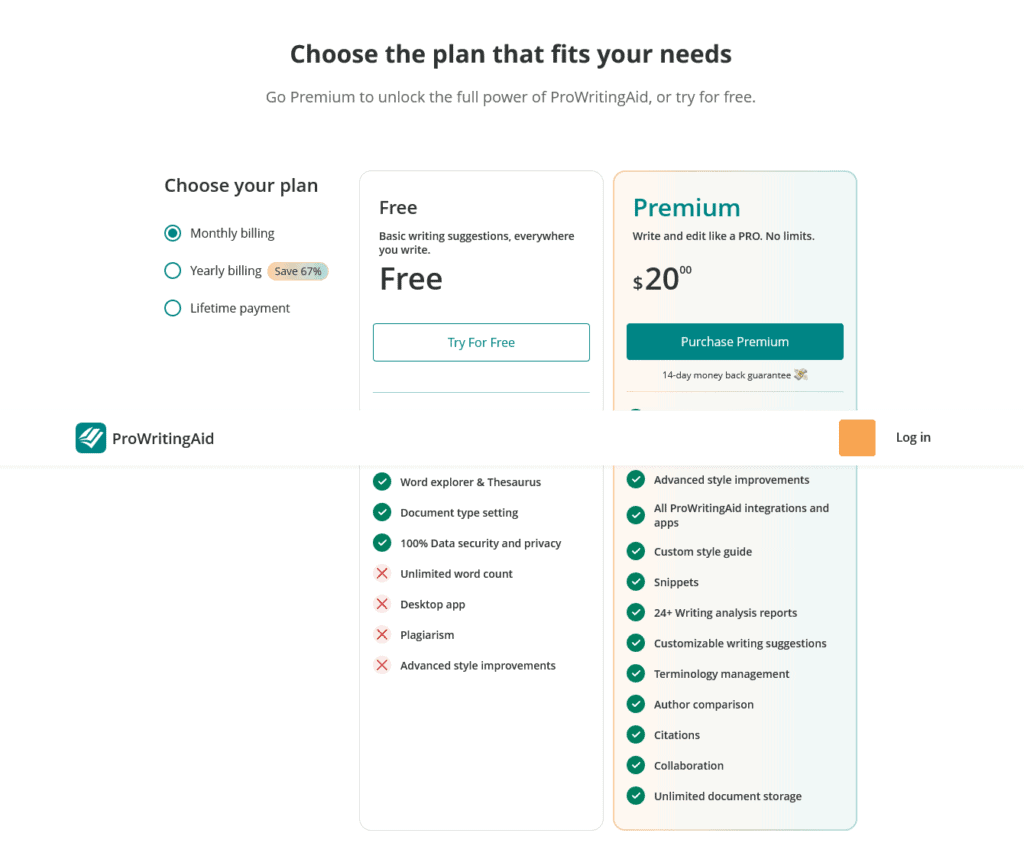 Free: $0/month
Premium: $20/month, $79/year, and $399 for life
Premium Plus: $30/month, $99/year, and $599 for life
3. Quillbot

Quillbot is a writing tool that can help you achieve several things with your content. Many people know it for paraphrasing abilities. It's among the top paraphrasers online with several modes for paraphrasing.
You can either use the standard mode or opt for something more creative or formal, depending on what you're writing. The tool changes your sentence structure and paragraphs without altering the original meanings.
Quillbot also has a grammar checker, although it doesn't use the advanced parameters of Grammarly. You can even ensure your content isn't copied anywhere online right on Quillbot.
Another Quillbot tool is the summarizer for turning lengthy pieces of text into bulleted lists with main points only. You may also find its translator useful for changing the language of your writing for a different audience.
Top Features
Rewording tool for articles and other texts with 7+ modes
Synonym slider to guide how much of alternative words or phrases you need
Tone changer
Plagiarism checking tool
Translator for ensuring your content targets any audience worldwide
Pricing
You can use Quillbot's free tools or pay for the premium version to access everything.

Quillbot Premium is priced as follows:
Annual: $4.17/month
Semi-Annual: $6.66/month
Monthly: $9.95/month
4. Ginger Software

Ginger Software is an assistant app for writers that offers a range of features such as grammar and spelling checks, sentence rephrasing, and translation services. It's a tool you may need if you're looking to boost the creativity and style of your writing.
Ginger Software's one outstanding feature is that it can analyze full sentences and provide carefully considered suggestions for enhancing their structures and meanings. This way, you'll be able to effectively communicate your thoughts and ideas and steer clear of common writing errors.
Moreover, Ginger Software offers a unique toolset for non-native English speakers. This includes translation as well as the ability to adjust the software's settings to match the user's native language. And so, the tool can be particularly useful for individuals learning English as a second language and who want to quickly boost their writing skills.
Top Features
Grammar and spelling correction that you can apply to your text just in a single click.
Paraphraser where Ginger's AI comes in to provide alternative versions to your wording and still pass the original concept to readers
Synonym finder with a rich library of words and expressions that can replace the ones you have in your writing
Mobile and desktop app, meaning you can use the tool on Android, iOS, as an Android keyboard, on macOS and Windows
Browser extension for Chome, Edge, and Safari
Pricing
Ginger Premium costs as shown below.
Monthly: $13.99
Quarterly: $33.57
Annual: $84
2 years: $120
There's special discounted pricing for learners and instructors.
5. Wordtune

If you're looking for an AI-powered writing companion that can understand what you need to pass across, Wordtune could be the tool for you. It goes beyond the basic grammar and writing assistants you may have seen online. This writing assistant uses advanced AI algorithms to help you add clarity and authenticity to your writing.
Wordtune mostly serves as a rephrasing tool that suggests a new way to express yourself through your content. You can change an entire paragraph or just specific parts or words.
Wordtune also enables you to write something in a foreign language like Arabic, French, and Korean. And so, if you're not a good English speaker, you can still use the tool in another popular language and get the rewrites in English. In other words, it's also a great translating tool.
Top Features
AI rewriter that can give a new look to your existing content of regular quality
Tone and length choices allow you to select how you need the rephrased version to be
Available as an online editor and extension to use the tool anywhere, including Google Docs, Gmail, and even Facebook
Pricing
You can use Wordtune as a free writing assistant or choose a paid option.

Free: $0/month
Plus: $24.99/month
Unlimited: $37.50/month
Business: Custom pricing
6. Jasper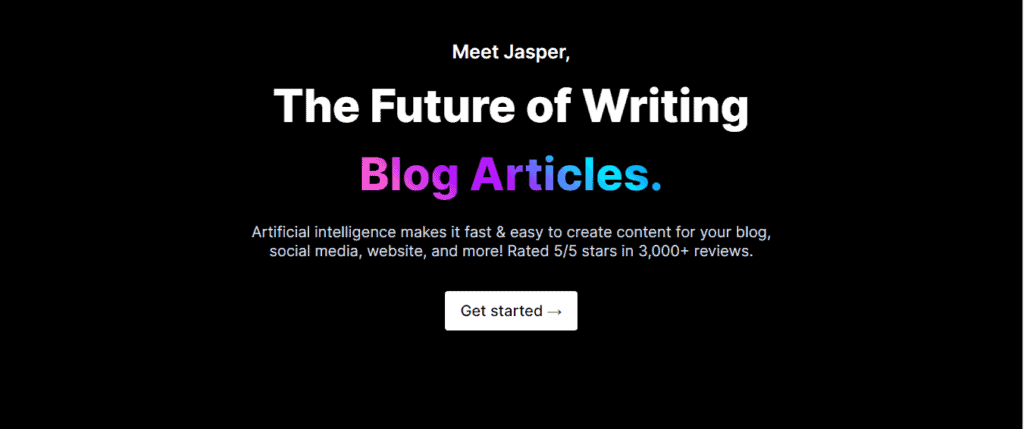 Jasper is yet another assistant for writing that can help you finish your work faster. The tool is AI-powered, meaning that it can work automatically when serving your writing needs.
Jasper can help you write new content from scratch. What happens is that you choose a template depending on what you need to write and then instruct it to write paragraphs. You can either command the tool to write from start to end or just type something and then allow it to provide completions to your sentences.
What's more, the tool can also work as a paraphraser. In this case, you input your content and then ask it to rephrase.
Jasper also has grammar-checking abilities and integrates with Grammarly. What's more, you can check how original the generated text is using its plagiarism-checking tool.
Top Features
AI-powered writing assistant that can write new content for you, whether lengthy blog content or short marketing copy
Dozens of templates that suit the writing of emails, ads, social media content, and landing pages, among others
Jasper Chat is an AI chatbot on Jasper that you can ask to improve your writing in any way you need, such as adding more keywords, improving clarity, or changing the length
SEO content writing tool for writing something that can rank on Google
Pricing
Jasper has a free trial with free words as well as subscription plans.

Creator: $49/month
Teams: $125/month
Business: Custom pricing
7. Linguix
Linguix is a free writing assistant that can help you with grammar checking. With this tool at hand, you're able to fix mistakes and typos, boost your writing, and be more productive.
Linguix can find errors in real time and with just a single click, you can accept corrections. It doesn't matter whether you want to filter out complex sentence structure, bad word choice, or anything else that affects readability.
The good thing about Linguix is that you can use it for languages other than English. For instance, it works well with texts in Spanish, French, and German.
Top Features
2,700 advanced grammar, spelling, and style suggestions
Database of 9 million typographical errors
Feedback scale of 0 to 100 with green (ready to publish) and red zone (requires work)
Browser extensions for Chrome, Firefox, Safari, Edge, Opera, and Brave
Integration with MS Word, MS Outlook, and Google Workspace
Pricing
There's a free plan plus two paid ones for individuals and teams of any size.

Free: $0/month
Pro: $15/month
Team: Custom pricing
What Is Writing Assistant Software?
A writing assistant is a program that's developed to help writers improve the quality and efficiency of their writing. It can help when it comes to numerous aspects of writing, including grammar and spelling, sentence structure, vocabulary, and style.
Many writing assistants often use artificial intelligence (AI) and machine learning algorithms to analyze text and provide suggestions for improvement. These tools can be used by web publishers, students, professionals, and anyone else who wants to write high-quality content.
Features of the Best Writing Assistant Software
Grammar and spelling checking: The best writing assistant software needs to have an advanced grammar and spelling checker that identifies and corrects different writing errors. This feature is among the top ones to look for to improve the quality of your content.
Sentence structure analysis: The software has to be able to analyze the structure of your sentences and provide suggestions on how to improve them. It's best if it can detect run-on sentences, sentence fragments, and other common sentence structure issues.
Style and tone suggestions: It also helps if the software can also provide recommendations on enhancing your writing style and tone. This includes things like word choice and overall content flow.
Vocabulary enrichment: A built-in thesaurus and dictionary would be a great addition to the tool you use. You get a chance to expand your vocabulary, choose more precise and impactful words, and avoid repetition of words and phrases.
Plagiarism checking: It's wise to pick a tool with a reliable plagiarism checker that can spot any instances of copied content. This feature is especially useful for web publishers and students who need to ensure that their work isn't plagiarized.
Language translation: The best writing assistant software for non-native English speakers is also one that can translate their writing into different languages. You may need such a feature if you're someone who writes in multiple languages or needs to translate content for a global readership.
Integrations with popular writing platforms: It helps if you can connect the software with popular writing platforms like Microsoft Word, Google Docs, and Scrivener. Such integrations make it easier to use the software and simplify your writing process.
Conclusion
As you've seen, there are lots of free writing assistant software online that you can readily use. If you need to take your writing game to the next level, all you need to do is upgrade to a paid option on the tool you're using if available.
Remember that these tools are not only helpful for creating good content but also for learning how to write better in the future. This way, you won't have to fully rely on them and will have fewer mistakes in your writing.