10 Best SEO Content Optimization Tools in 2023 (Tested)
Creating high-quality content is just the first step toward achieving online success. Given that there are over 600 million blogs existing on the Web today, a wise thing to do would be to optimize your content effectively.
Content optimization is a broader category of search engine optimization (SEO) that involves a strategic approach to fine-tuning your content to make it more discoverable, engaging, and search engine-friendly. This is how you'll truly stand out, reach your audience, and capture their attention.
Lucky for you, there's an array of powerful content optimizers available that can help streamline the whole process. That's what we're going to cover in this article: the best content optimization tools online.
It doesn't matter whether you're a writer, content marketer, or website owner. These tools have been tested to empower you to optimize your content easily and efficiently.
Reaching a wider audience starts here!
Read also: The Search Engine Optimization Guide for Beginners
What is Content Optimization?
Content optimization is the process of improving content to boost its visibility, relevance, and effectiveness in reaching and engaging the target audience. It's all about a set of practices that aim to enhance your search engine rankings, drive more organic traffic, and increase conversion rates.
Now, content optimization includes the following:
Keyword placement: Adding relevant keywords to your content in all the right places. This enables search engines to understand what your content is about and show it on search engine results pages (SERPs).
Content formatting: You'll need to make sure your content has properly organized headings, subheadings, and paragraphs. A clear structure makes it easy for users to find what they're looking for.
Readability check: Ensuring your content is written in a clear, concise, and error-free manner is crucial. Optimizing readability includes using simple language, avoiding jargon, and employing tools that analyze sentence length, word complexity, and overall readability score.
Internal and external linking: Internal links within your content guide readers to check out related and relevant pages within your website. If you include authoritative external links to credible sources, it further enhances the credibility and relevance of your content.
Image and multimedia optimization: You optimize images by compressing file sizes, using descriptive filenames, and adding alt tags that include the target keyword. Adding other multimedia elements like videos, infographics, and interactive content can give more value and enrich the user experience.
These content optimization practices can occur manually whereby you don't have to use any tool. But you'll spend more time, and effort, and likely miss some (if not a significant number of) key tweaks.
An SEO content optimization software is a tool that can help you fine-tune your content for search engines and users accurately and in a short time!
What Is the Best SEO Content Optimization Tool?
Below, you'll find the top free and paid SEO content optimization tools to boost your site rankings.
1. Surfer SEO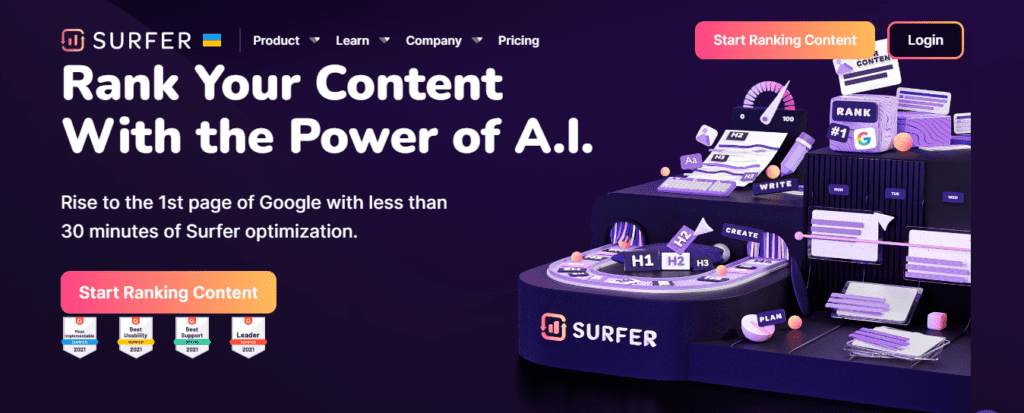 Surfer SEO is a content optimization checker and analysis tool that can help you achieve an SEO-optimized article in just 20 minutes. But how does Surfer SEO work when it comes to optimizing your content?
What happens is that this tool takes into account things like structure, word count, and keyword plus image usage. All this occurs in real time as you write.
The great thing is that Surfer integrates with Google Docs (if that's your preferred writing tool). You can also optimize existing content by uploading it on Surfer.
Surfer has an editor where you just enter the keywords you're targeting and it provides guidelines to follow about improving the content. What I liked is that Surfer offers even more than content optimization.
You can use it for researching keywords before you begin writing. There's even Keyword Surfer, its Chrome extension for finding keyword data on Google Search.
What's more interesting, Surfer has an AI writer that can help you generate text from scratch and keep your article at the required length. It naturally makes your content have the required keyword density and prevents the bad SEO habit of keyword stuffing.
You can select the tone of voice you need (such as auto SERP-based, conversational, or formal) and edit the generated outline. While this AI tool writes like humans, it still features an AI content detection system that you can turn on.
As if that's not enough, Surfer has a score that shows you how good your content is. You'll need to pay attention to this score. The best score starts in the green, which is 68 or more.
Features
Content Editor optimizes your written content
Content Planner finds relevant keywords to use
Surfer AI creates long-form content in minutes
Outline Builder generates outlines based on organic competition analysis
Content Audit provides a report on internal links, backlink opportunities, and overall content performance
Browser Extension to use Surfer in Google Docs and other platforms
WordPress Plugin that allows you to do the optimization right on WordPress
Pricing
Surfer has these plans for users.

Essential ($89/month)
Advanced ($179/month)
Max ($299/month)
Enterprise (Custom pricing)
There's also different pricing for some features and add-ons as well as a pay-as-you-go option. Find more details in my honest review of Surfer.
2. Growthbar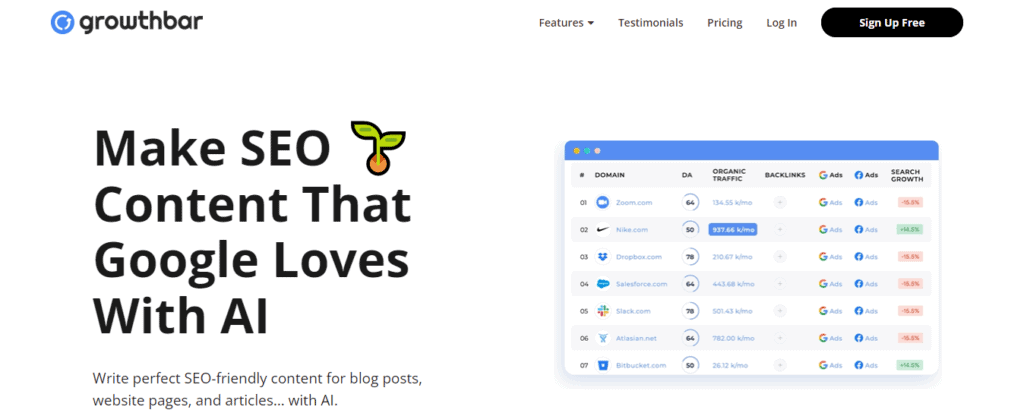 If you want to write and optimize content 10x faster to make it more SEO-friendly, GrowthBar is among the best optimization tools that may interest you. Over 6,000 people, including web publishers and agencies, use it in a bid to take the top spot in their niches.
This SEO writing tool can assist you and your team from when you're planning your content to the time it's ready for publication.
Similar to Surfer SEO, it's not limited when it comes to words. The tool can handle heavy word count and suggest the necessary changes to the text to make it rank higher.
How GrowthBar works is simple. It scans SERPs related to your topic and then creates an outline for you.
This outline contains all the needed sections of your blog post, including headings and keywords. You can then opt to generate an entire blog post using its AI capabilities.
If you have an existing piece of content that isn't performing as you need, GrowthBar can take care of that for you too. You just need to add the article and receive recommendations for improving it.
Features
Content optimizer with an AI writing assistant
1,500-word blog builder in just two minutes
Content planner with keyword suggestions and difficulty scores
Competitor analysis for keywords, backlinks, and ads
Pricing
GrowthBar has a 5-day free trial and the following pricing options.

Standard ($48/month)
Pro ($99/month)
Agency ($199/month)
3. Semrush's Content Optimization Tools

Semrush is a comprehensive software suite that contains a variety of SEO and content marketing tools to use. It includes keyword research tools, competitor analysis, backlink checkers, rank trackers, website SEO audits, and more.
In other words, you'll be able to access detailed keyword data (including monthly search volume, difficulty scores, search intent, and related keywords), discover backlink opportunities, and track keywords you rank for. You'll also know any technical SEO issues your site may have.
But let's look at Semrush's selection of content optimizers. First, you can use SEO Content Template which provides you with in-depth and well-researched briefs from any single keyword.
You can use these briefs to guide your content writing efforts. Every detail is based on data from the top 10 results for the keyword you entered.
No more worrying about which title, headings, subheadings, and meta description to add to your content. You can even know the most appropriate text length and number of backlinks you need to rank well.
The next Semrush content optimizer is SEO Writing Assistant. It helps you write unique and keyword-rich content and checks for readability, SEO, tone, and originality.
Semrush's SEO Writing Assistant is available as an add-on for Google Docs, WordPress, and Microsoft Word.
Features
Content brief builder for you or your writers
AI writing assistant
Various additional SEO tools to improve your search rankings
Pricing
Semrush has a free but limited version where you can use some of its tools. It also offers a trial on its paid plans.
Pro ($119.95/month)
Guru ($229.95/month)
Business ($449.95/month)
4. RankIQ

RankIQ is another great content optimization tool that suits bloggers, having been founded by a highly successful blogger. This tool can help you not only get SEO-optimized content but also find new untapped opportunities for ranking your website on the first page of Google SERPs.
One of the best advantages and reasons to try RankIQ is its ease of use. Most other SEO tools usually take days, weeks, or even months to learn how they work and fully utilize them.
RankIQ begins with helping you in finding the right keywords. It's in fact the first keyword research tool that has a keyword library handpicked by experts.
It doesn't matter what your niche is, whether food, beauty, pets or anything else. I also found that users are able to access keywords in sub-niches within the primary niche.
RankIQ focuses on highly relevant and low-competition keywords. You can see metrics like the competition score, annual traffic amounts, and the time expected for you to rank upon publishing.
You then need to just write your post with your selected keywords, put it into RankIQ's editor, and have a potentially top-performing post in around 30 minutes. It's also possible to do this optimization for your old posts.
Features
Keyword finder where you find preselected words and phrases for your niche
Its content analysis tool suggests topics according to Google
Title analyzer that grades and helps you create perfectly SEO'd post titles
Content optimizer with an SEO report that shows the content grade and suggested word count
Pricing
RankIQ only has one plan at the moment for its users. It costs $49.

5. NeuronWriter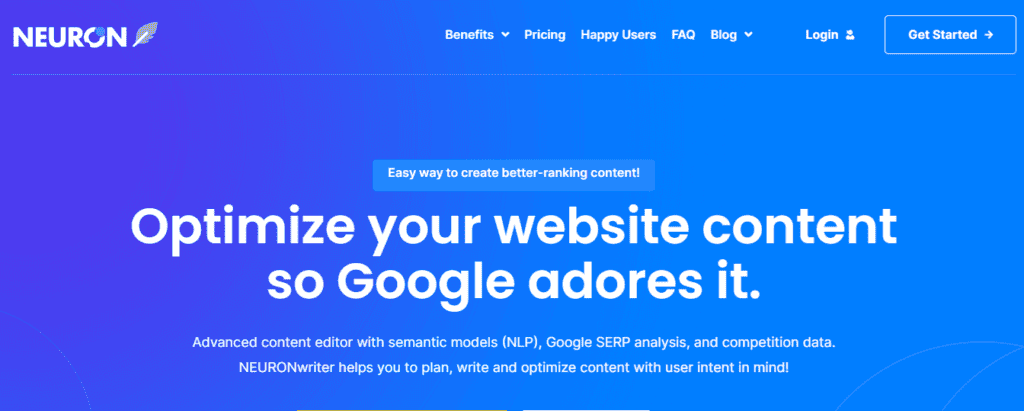 Next up on the list is NeuronWriter. This is one of the top content optimizers for semantic SEO. It comes with an advanced content editor that offers NLP-based recommendations for your content.
First of all, the tool suggests terms you need to include in your content based on what's working for others who've written about a topic. The tool also recommends headers and questions that can help boost your rankings.
NeuronWriter also provides ideas for your next content. In other words, the tool works to ensure that you become an authority on a given subject.
NeuronWriter Features
Competitor analysis to discover how best to approach content writing
Content score that compares your content against that of competitors
Advanced AI templates for quick content generation
Content idea generator
NeuronWriter Pricing
NeuronWriter has the following plans to pick from.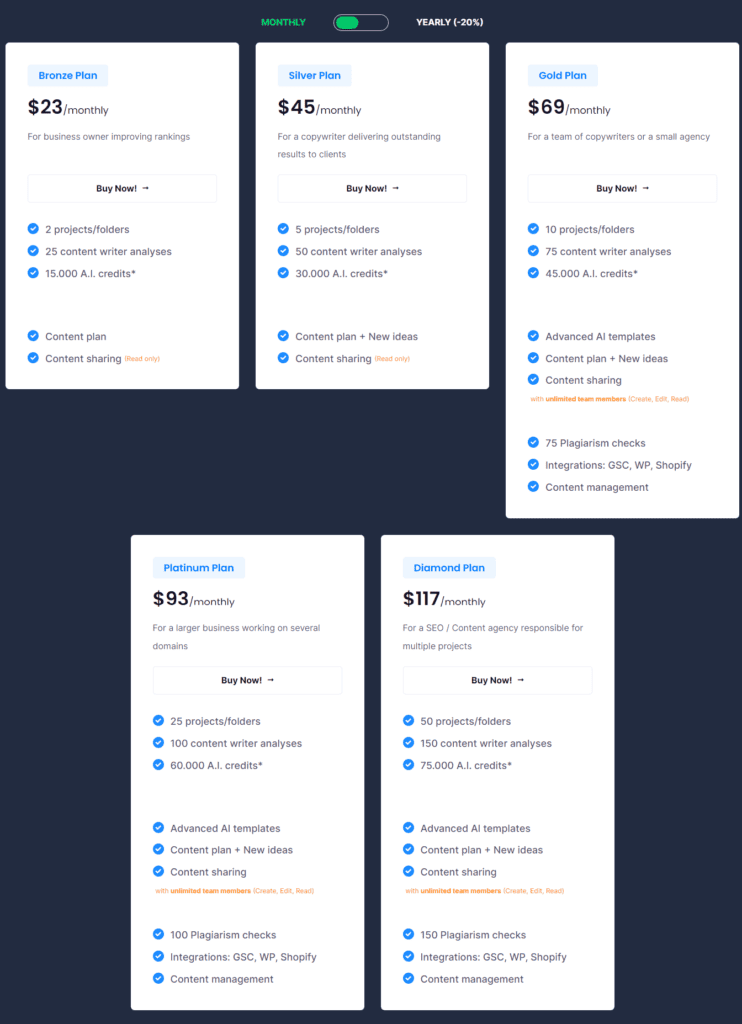 Bronze: $23/month
Silver: $45/month
Gold: $69/month
Platinum: $93/month
Diamond: $117/month
There's also currently a lifetime deal of $69 for NeuronWriter on AppSumo. Check it out. Besides that, here's a NeuronWriter review and details about NeuronWriter's free trial.
6. Dashword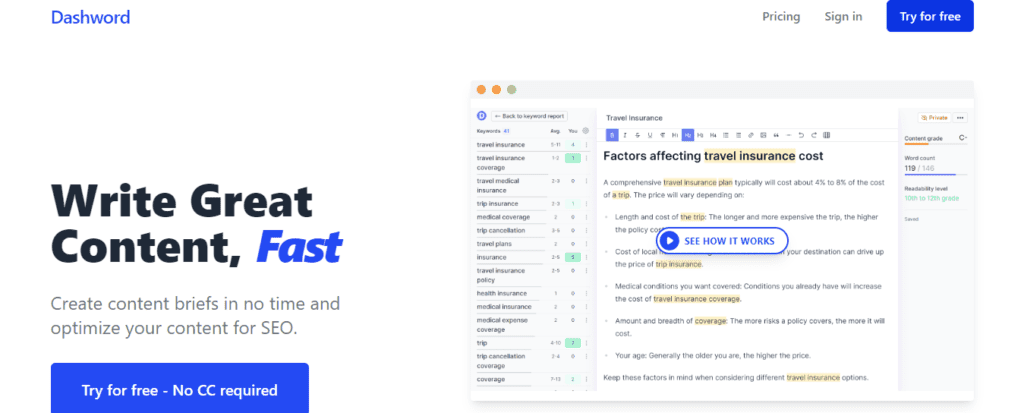 Another one of the best SEO content optimization tools to use is Dashword. If you want to go from ideas to content briefs to a ready-to-publish post in minutes, this tool may suit you.
With Dashword, you don't have to worry about not knowing what to write about. It can check all the competition in your niche and provide you with content ideas.
It shows you the keywords you need to chase, the frequently asked questions on Google and other search engines, and more. The tool also compiles all the information you need into a comprehensive outline.
If you have a team of writers, you don't need to open new tabs to begin sharing the briefs. You can do it with a single click right from the platform.
Another thing is that you'll access an AI-powered writer that can help you when you're stuck during writing. It's possible to also edit your previous articles with Dashword.
You can add them to the Dashword editor in just a few clicks. You'll then get a detailed report for each and optimize accordingly.
Features
Dashword's content brief builder cuts the time you need to research new blog posts
Content scoring indicates your optimization progress and whether your article is good to go
Content monitoring to identify underperforming web pages
Keyword rank tracker
Pricing
Dashword is available to try for free. It also has two paid plans.

Startup ($99/month)
Business ($349/month)
7. Frase

Frase is both an AI writer and SEO content optimization software. Using this tool enables you to achieve two things at once. You're able to write new articles and optimize them at the same time.
This tool takes into account the top search competitors to make sure your content has the best possible outline. It will also show you a variety of search metrics like domain ratings (DR), word count, and heading count of top posts.
Once you have a well-researched outline, you can use Frase to write the draft using keyword ideas it gives you. You get all the parts of your article put together, right from the intro to the headings and FAQs.
Something I love about this tool is that it doesn't fall short when it comes to accuracy (something lots of AI writer tools were struggling with). Frase only includes factual information that you can refer to from the search results of the topic you're writing about.
Features
An SEO research tool that analyzes the top web pages on SERPs
Competitor analysis to identify what you also need to put yourself in a position of ranking well
Comprehensive outline builder
SEO-focused AI writing tool
Team collaboration tool with project status settings for writers
Pricing
Frase has a 5-day free trial at $1 at the moment along with a few paid plans.

Solo ($14.99/month)
Basic ($44.99/month)
Team ($114.99/month)
8. Clearscope

Next on this list of the best SEO content optimization platforms is Clearscope. It's one of the top tools to help you understand what to write, how to go about it, and ways to maximize its performance on SERPs.
Clearscope's focus is to help you create content that fully aligns with the interests and pain points of the audience you're targeting. When you input your text into its editor, you'll be able to see the current word count and the suggested word count, plus its readability level.
It also shows you the most important terms you should include in the article as per the top-performing competitor posts already ranking on the first pages. A content grade of A+ means that you're on the right track.
Features
Custom content reports based on analyzing top content on Google
Content organizer to sort your content by type, the assigned writer, and current status
Google Docs integration
Clearscope WordPress Plugin that works with both Gutenberg and Classic editors
5 supported languages
Pricing
Clearscope is a bit more expensive than the other content optimization tools, starting at $170 monthly.

Essentials ($170/month)
Business (Custom pricing)
Enterprise (Custom pricing)
9. MarketMuse

MarketMuse is a content creation and SEO tool that works in a unique way. Its content optimizer provides you with feedback on the quality of your writing in real time.
You get a chance to measure the likelihood of your content ranking before you publish it. But that's not all which MarketMuse can help you with.
The tool can help you come up with a content strategy that suits your website. What happens is that its AI does an SEO audit of your site to help you know what keywords and topics you need to chase.
You won't have to worry about creating the wrong or non-applicable content. What this means is that your likelihood of creating quality content that Google likes is high if you have MarketMuse by your side.
MarketMuse also does a little more for you during the keyword research process compared to other tools. It organizes keywords into lists so it becomes easy for you to create topic clusters and build authority.
Features
Content planner that helps you go after the most applicable topics
Competition analyzer to discover what makes the top pages rank
Content brief generator that leaves nothing important out
ChatGPT integration
Pricing
MarketMuse has a free plan as well as premium subscriptions.

Free ($0/month)
Standard ($149/month)
Team ($399/month)
Premium (Custom pricing)
10. Grammarly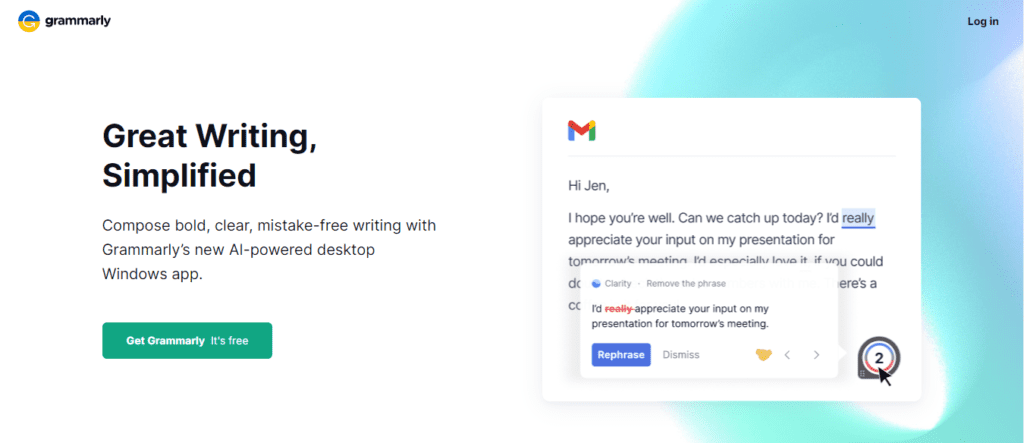 Grammarly is a popular writing assistant that can help you optimize your content for readability. It's known and praised for its grammar correction abilities to ensure that your writing is free of spelling and punctuation mistakes.
But that's not all, Grammarly can do. The tool recommends alternative words and sentence structures to improve the clarity of your content.
If you have long sentences in your writing, for instance, Grammarly will provide you with suggestions on breaking them down. If you act on the recommendations, your text becomes easier to read and understand.
The free version of Grammarly offers basic suggestions to eliminate any typos in your text. If you become a premium user, you unlock the tool's full writing assistance.
Plus, I have to mention the Grammarly browser extension for desktops that allows you to use the tool anywhere online. You get a chance to correct your written content instantly on Google Docs, Gmail, LinkedIn, and more.
Features
Readability checker
Sentence structure improver
Originality checker
Web browser extension
Pricing
You can either use Grammarly for free or get a premium subscription.

Free ($0/month)
Premium: Monthly ($30), Quarterly ($60), Annual ($144)
Business ($15/month/member)
Conclusion
It's evident that the best content optimization tools can help you create winning content and get organic traffic to your blog faster. You reduce the time you would spend doing this manually and get more time for other tasks within your business.
Remember, a good SEO content-optimizing tool is one that combines a variety of useful features. User-friendliness and accurate data are some great additions.
Also, it isn't just about optimizing your old blog posts. You'll always need to create new ones to continue providing value to your audience.
And that's why extras like outline builders and AI writing assistants in such tools can be a plus. You won't have to worry about where to get more content ideas in the future.
Now, don't forget to track your search engine rankings after optimizing content. Make sure you use Google Search Console and Google Analytics to monitor your positions and know your SEO performance.