Copy.ai Review 2023 (How Good Is This AI Generator?)
Copy.ai is an AI writing tool that promises to help you write better content faster. But does it really work that well?
I decided to do some research on this AI writer. And now, you're about to discover what I found out about the tool.
In this Copy.ai review, we'll dive into the features that Copy.ai offers and see how it compares to other similar tools on the market. You'll discover the pros and cons of using Copy.ai, so you can decide if it is the right tool for your content writing or copywriting needs!
Disclaimer: Because the site is reader-supported, we may earn a commission if you use our affiliate links.
Read also: Best AI Copywriting Software Tools
Copy.ai Review: Overview
What is Copy.ai and how can it help you?
What Is Copy.ai?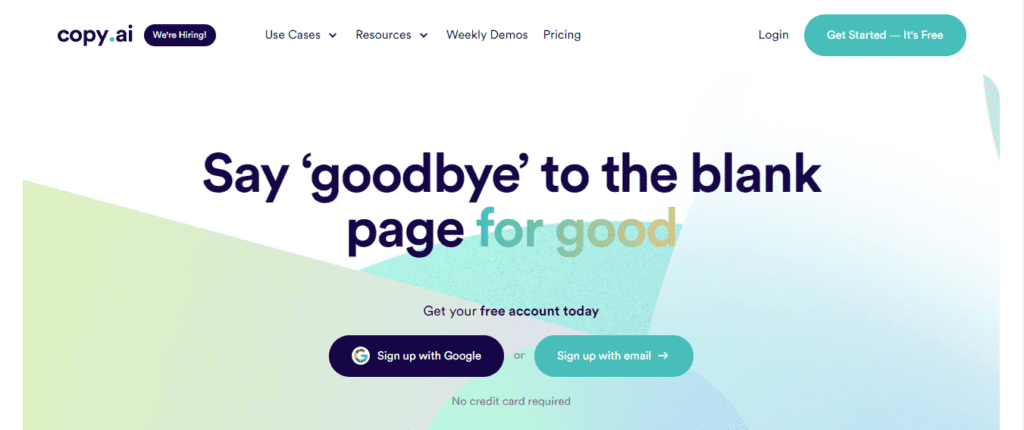 Copy.ai (or just Copy AI) is a tool that can help you write copy quickly using the power of artificial intelligence and natural language processing (NLP). It was founded in 2020 by Paul Yacoubian and Chris Lu.
Currently, over 1 million people use Copy.ai. This number includes individual professionals as well as teams.
The AI copywriting tool promises to generate content for users within seconds. This means that you can save time, improve the quality of your copy, and even enhance the conversion rates of your online marketing efforts.
How Does Copy.ai Work?
Copy.ai works by taking your input and then using its algorithms to generate new content based on what you've written. The idea is that by using artificial intelligence, Copy.ai can help you write content that is more accurate and concise or create more persuasive digital ad copy.
To use Copy.ai for content writing, you simply need to describe your writing project to the tool, give a bit of context, and then let the AI writing software do its job.
You can then go through the resulting text and polish it as you desire before publishing. The tool can learn from your preferences and improve its results over time.
Who Is Copy.ai Best for?
Copy.ai suits anyone whose job or online business involves the writing of marketing copy and other web content. For instance:
Copywriters: Ad copy like product descriptions
Social media managers: Social media posts such as LinkedIn ads and tweets
Blog writers: Blog titles, blog outlines, blog intros, and entire blog posts
Email marketers: Email subject lines and email copy
Freelancers: A variety of long-form or short-form content
Copy.ai Features
Let's explore all the features of Copy.ai.
1. 40+ AI Templates and Use Cases
Copy.ai is popular for its copyrighting abilities. This AI tool can help you write more accurate copy that can convert your readers on social media, your website, or any other online platform into real customers.
But Copy.ai also offers other prebuilt templates for texts other than marketing copy, including long-form content. The tool is great for writing website content like blog ideas, outlines, and paragraphs.
You won't have to start writing from scratch. Simply fill out a few details in just a few clicks for context and then let the AI generate.
Below is a list of the major categories of AI templates on Copy.ai:
Blog: Blog outline, blog intro, blog section, and full blog posts
Social media content: Social media bio, tips and knowledge sharing, event promotion, contests, and more
Email: Welcome email, discount email, recurring email newsletter, cold outreach email, and more
Fun: Song lyrics, short story, motivational quote, dating profile, and more
Website copy: Sales landing page and about us copy
Writing tool: The freestyle option to command Copy.ai to generate anything
General business: Job description, rejection letter, and more
Case study: Overview, problem statement, solution statement, and result statement
Video: Video script, YouTube video description, and more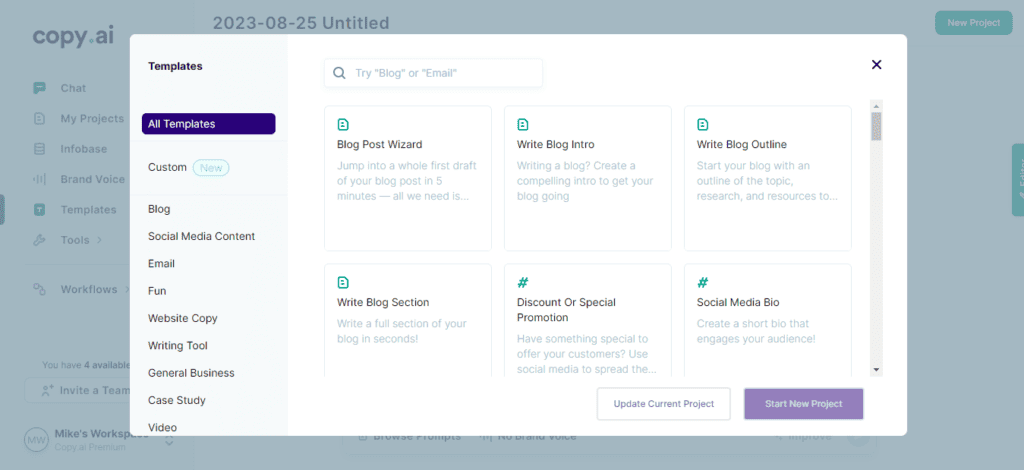 2. 5+ Tones
Copy.ai does not lack when it comes to the variations of available tones for your content. You can select tones such as:
Friendly
Professional
Bold
Witty
Persuasive
Each of these tones conveys a deeper message to the reader and can help you get the reaction you need from them. And so, it would help if you matched what you need to write with the most appropriate tone of voice.
For example, you can use "friendly" for a blog post, "professional" for social media posts, "bold" for case studies, "witty" for short stories, or "persuasive" for landing page copy.
What's more, you're allowed to enter your own tone if it's not listed on the dropdown when choosing a tone. For instance, you can use something like "sassy," "casual," or even "Elon Musk!"
3. 29+ Languages
Copy.ai supports languages other than English. Here are a few of the popular languages you can write in on Copy.ai:
French
Spanish
Portuguese
German
Italian
Danish
Dutch
You no longer need to worry if you're targeting a non-English speaking audience.
4. Chat by Copy.ai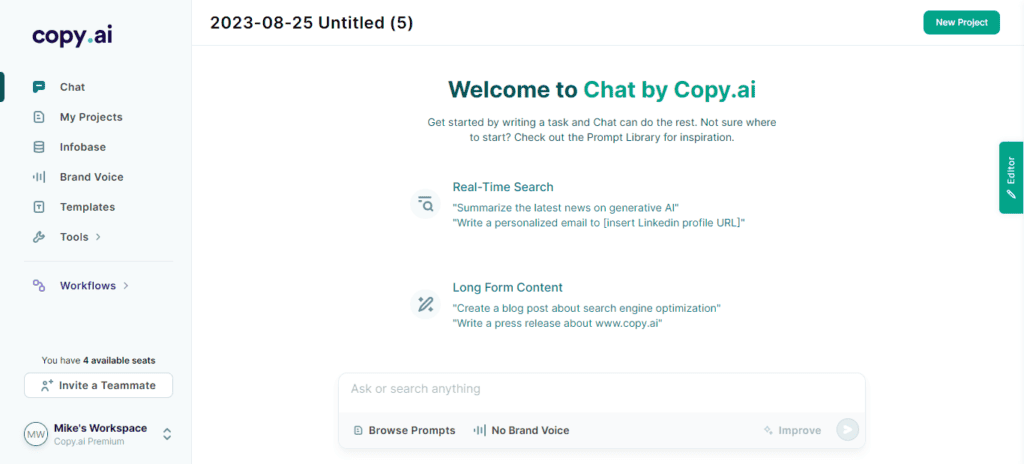 Chat by Copy.ai is Copy.ai's AI chat assistant that can do for you anything that the tool is capable of. It can instantly write sales copy, blog posts, and more just by you asking it.
For example, I asked Chat by Copy.ai to write a product description for a fictional product called "AI Copy Master."
The output is shared below:

Simply put, the product description copy I got was great and also of the right length. You can customize your input to let the AI chatbot create personalized text for your needs.
As another example, here's a video of Chat by Copy.ai being used to write a product description for an e-commerce product (from Copy.ai University):
As you can see, with Chat by AI, you don't even have to go to specific templates to write something. Just type your request in the chat and let it process!
5. Copy.ai Browser Extension

Copy.ai has a browser extension so that you can use the tool anywhere online as you browse. It's available for free on the Chrome Web Store. All you need to do is add it to your computer to access Copy.ai features on the go.
Copy.ai Review: Use Cases with Examples
Let's get into detail about Copy.ai's AI templates for content creation. In this Copy.ai review, I'll not test all the templates but rather the most important ones under the categories I listed before.
Copy.AI for Blogging
Are you interested to know how good Copy.ai can write an entire blog post for you? Let's find out!
Template: Blog Post Wizard
Using Blog Post Wizard, I wanted to write an article about "how to become a copywriter and chose a friendly tone.

The blog outline that Copy.ai generated for my blog post is shared below:
As you can see, Copy.ai generated a blog outline containing some headings that suit the topic, including the first heading and conclusion. Now, you can add more sections or even remove those you don't require.
The next step is to generate talking points. These are simply things you'll be talking about under various headings in your post.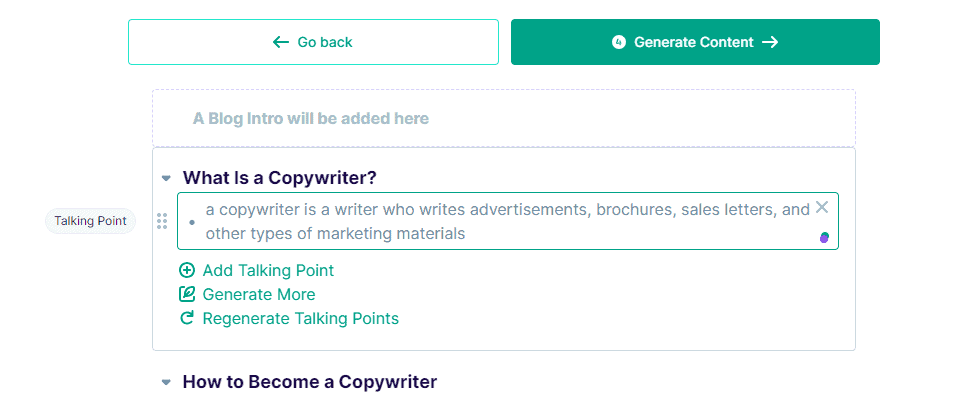 The last step here is to generate the content itself. Below is a screenshot of the blog intro and first paragraphs of the post that Copy.ai generated: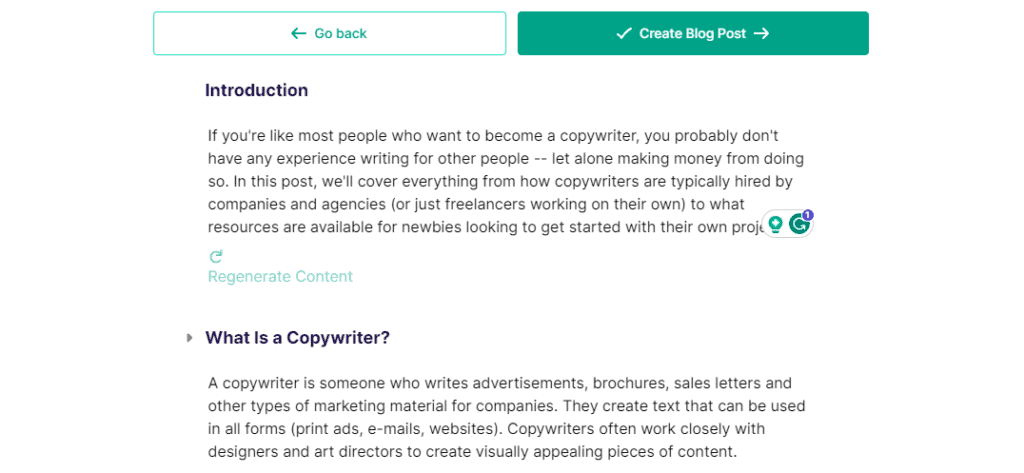 You can edit the content to remove the parts of it that you don't need or to add your own input as well. Copy.ai allows you to also regenerate content for any section of the generated post.
When you select the option that says to "create blog post," you're taken to the editor. Here, you can add various elements, structure your post, or even generate more text by pressing the tab button on your computer.

Copy.ai for Email Writing
If you struggle to come up with email content, Copy.ai has you covered too.
Template: Cold Outreach Email
If you've heard it before, personalizing your cold emails is essential for getting people to open them and generating more leads. So, I'm going to use Copy.ai's Cold Outreach Email template.
Below is how the template looks along with my input for the outreach email: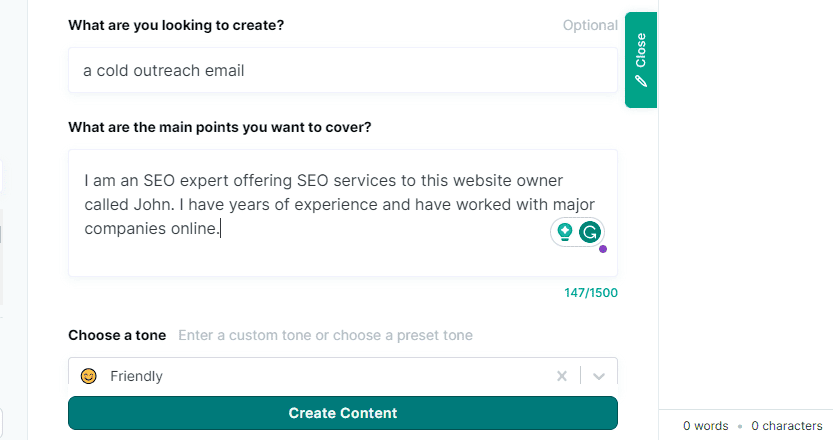 One of the output emails from Copy.ai is shown below:
I noticed that most of the information from my description is kind of repeated. But being detailed helps the AI writer create a better email in a format that you can simply copy and paste to send.
Copy.ai for Copywriting
So as you've noticed in this Copy.ai review, the AI writing software has the word "copy" in its brand name. So how good is Copy.ai at generating copy? You're about to discover!
Template: Sales Landing Page
This Copy.ai template is designed to maximize sales and conversions for your website. With this template, you can easily create a landing page that will capture visitors' attention and convert them into buyers.
Check my input below: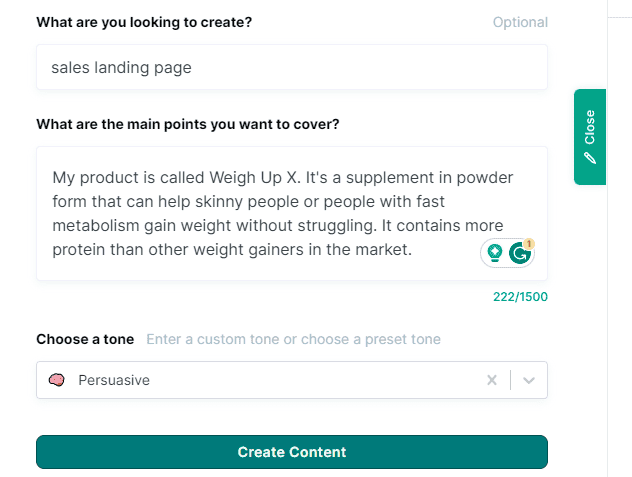 And the result is: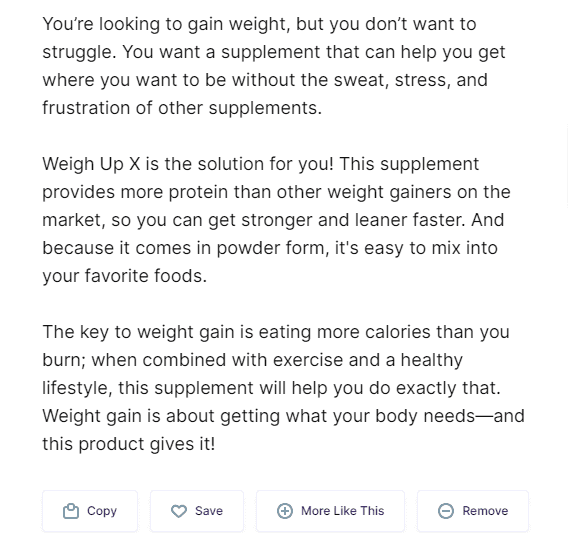 Quite impressive! This AI-generated copy would actually convince me to try the product. You can still edit any marketing content the tool creates, add more elements to it, and generate additional text for it in the editor.
Copy.ai Plans and Pricing
Now, how much does it cost to use Copy.ai? Is there a free plan?
Is Copy.ai Free?
You can use Copy.ai for free. But you have to keep in mind that your free account will have some limitations.
For instance, only you can access it and not any other team members. Also, you don't get predesigned templates that make it easy for you to write articles, sales copy, landing pages, cover letters, catchy email subject lines, or anything else you may need.
How Much Does Copy.ai Cost?
Copy.ai offers 2 plans. One of them is the free plan that doesn't cost a thing. The other one is a plan that you pay to use and comes with more features and higher limits.
There's a 7-day free trial on the pro plan. If you pay yearly, you save 25 percent.

Free ($0/month)
This plan costs $0/month.
1 user seat
Unlimited projects
Chat by Copy.ai
Pro ($49/month)
This plan starts from $49/month for unlimited words and more features that the Free plan doesn't have. The additional features include:
5 user seats
Unlimited brand voices
Pre-build prompt templates so you don't start from scratch
95+ languages
API Access
Enterprise (Custom pricing)
If you need unlimited user seats for your team, feel free to contact Copy.ai for the Enterprise plan. You'll get a custom price for it depending on your business needs.
Copy.ai Pros and Cons
Pros: What I like about Copy.ai
✔ A wide variety of templates for all sorts of copy
✔ Multiple languages, including most of the popular ones
✔ Available for free with no credit card requirement
✔ Free trial for 7 days on the Pro plan
Cons: What I don't like about Copy.ai
❌ Few plans or packages
❌ No built-in plagiarism checker
❌ Integrations are yet to be included
Copy.ai Alternatives
Just like any other tool, there are alternatives to this AI writing software for generating content. Let's go through some of the top AI writers similar to Copy.ai.
Jasper
Jasper is a great Copy.ai alternative when it comes to AI-generated content because of its high-quality outputs. This tool is among the first ones in the market and has attracted a lot of attention.
The thing about Jasper is that it can create long-form content like a blog post or short-form content like digital ad copy in seconds. It also features an AI chat assistant known as Jasper Chat that allows you to generate any content, from meta descriptions and blog titles for SEO to website copy and product descriptions for e-commerce.
Read the Jasper review here or check out my comparison of Jasper and Copy.ai
Copysmith
Copysmith is another AI writer tool that can create both long-form blog posts and marketing copy if you describe what you need in just a few words. It's one of the writing tools that use AI that I like because of its helpful Chrome extension.
In other words, you can instantly create new content from anywhere online. It doesn't matter if you're on Google Docs or WordPress.
Read the Copysmith review here
Quillbot
This is another AI writing assistant that's more known for its paraphrasing capabilities. It can help you rephrase long-form content like blog articles, essays, and research papers and even provide summarized versions in bullet points.
Quillbot features a plagiarism checker and grammar checker to ensure that you have unique and high-quality content. Its AI writer can end your writer's block and help you save time when you need to create content.
Copy.ai Review 2023: FAQs
Is Copy.ai free?
You can use Copy.ai for free to generate content. You don't need to enter any credit card details. While you can start any copywriting project with the free plan, there's a limit of 1 user seat.
If you need to remove these limits, you'll need to upgrade. The good thing is that Copy.ai lets you enjoy a 7-day free trial when it comes to Pro. You can test the paid plan and see how it works for you before making the purchase.
What are the benefits of using Copy.ai?
Generates copy quickly
Can improve the quality of your copy
Can enhance conversion rates
What is similar to Copy.ai?
Some other AI writing assistants, or Copy.ai alternatives, that you can check out are Jasper, Copysmith, and Quillbot. All of them have different features, plans, and prices. You may find that some are a bit more expensive than others but offer better features.
Copy.ai Review: Is It Worth It?
In general, I think Copy.ai is a great AI writing tool, especially if you're looking for a free option because of your budget or as a way to test such a tool. While it can't beat the creativity and personal experiences that human writers can provide in their content, the tool can help you when experiencing writer's block.
The templates are helpful for simplifying the content creation process and the tool is easy to use. I also like that there's no credit card required for the free version.
If you need more features, the paid plan option is reasonable, starting at $49/month. And don't forget, you get a free trial for the paid plan.
So yeah, I do recommend Copy.ai if you're looking for an AI writer or copywriting assistant tool to help with your content creation. Check it out today and see how you like it!