Surfer SEO Review 2023: Optimizing Your Content for Page 1
True to say, securing a spot on the first page of search engine results is a great achievement, especially when many others are competing to get there. A lot of content optimization tactics come into play if you want to be on page 1 of Google search for a competitive keyword.
Many times, you may not be able to optimize your content well unless you're equipped with a proper tool. Amidst the plethora of search engine optimization tools available, one name stands out for its data-backed and precision-focused approach: Surfer SEO.
Trust me, I've also been one to manually optimize my content to make sure it can rank. The result is that it ranks, but in most cases, not in the top positions I want it to be.
Between looking up potential keywords and adding them in the right places within your content, manual content optimization can consume a lot of time and you aren't guaranteed to succeed. I've grown to like automating as many tasks as possible and content optimization isn't to be left out.
With the Surfer SEO tool, you can spend a fraction of the time (20 minutes or less) making any blog post more SEO-friendly. I wrote this Surfer SEO review to help you understand what it can do, any limitations it may have, and more.
Follow along to discover all the details about this tool.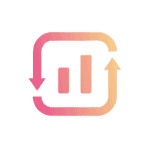 Surfer SEO Review 2023: Summary
Ease of use:
4.6 out of 5.0 stars4.6

Customer support:
4.8 out of 5.0 stars4.8

SEO features:
4.6 out of 5.0 stars4.6

Integrations:
4.8 out of 5.0 stars4.8

Security:
4.8 out of 5.0 stars4.8

Pricing:
4.2 out of 5.0 stars4.2

Overall rating:
4.6 out of 5.0 stars4.6


What Is Surfer SEO?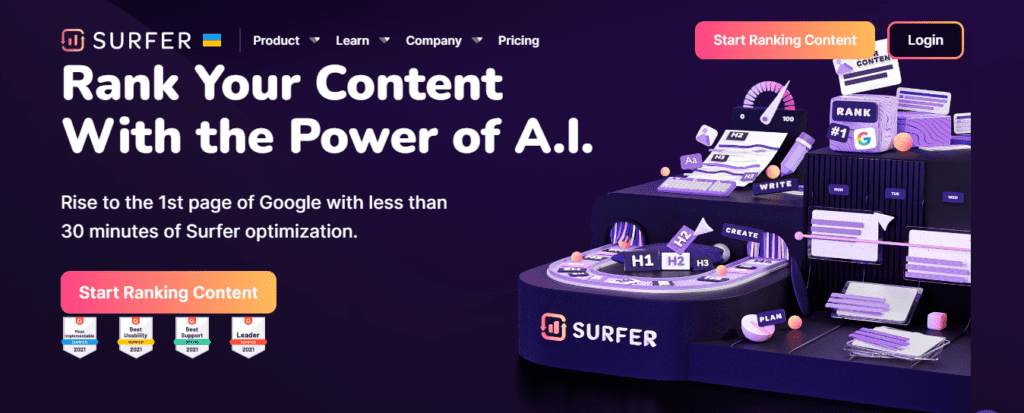 Surfer SEO is a comprehensive and data-driven SEO tool that can help content writers, digital marketers, and SEO professionals optimize website content for higher search engine rankings. It was founded in 2017 and grew to $7 million in annual recurring revenue in 3 years.
Surfer SEO does a lot for you. But if I can narrow down its features into 3 categories, they're as follows:
Content planning (planning your new content)
Content writing (creating new content)
Content optimization (improving existing content)
I'll go into detail about all these features in the later sections of this Surfer SEO review.
Here's a quick 3-minute explanation of Surfer SEO:
Read also: Top AI Tools for SEO
How Does Surfer SEO Work?
Surfer SEO works by utilizing advanced data analysis methods to evaluate various factors that contribute to the ranking of web pages on search engine results pages (SERPs). The idea is that the first pages of search results can provide insights into what you can do to get there too.
Below is a breakdown of how the tool works:
Data Collection and Analysis
It all begins with Surfer SEO collecting data from search engine result pages (SERPs) for a specific keyword or topic. The tool gathers information about the top-ranking pages, including their content, structure, backlinks, and more.
Surfer then analyzes this data to identify correlations and patterns among those top-performing pages. It looks for factors that can contribute to the pages' high rankings.
These factors can be numerous. But a few of them worth mentioning are keyword usage, content length, heading structure, and semantic relevance.
Content Evaluation
Surfer SEO also evaluates your content or the content you plan to create. It compares your content against the top-ranking pages to identify areas where your content may be lacking or where it can be improved.
The tool provides recommendations for optimizing your content based on its SERP analysis. This may include suggestions for incorporating specific keywords, adjusting the content structure, improving semantic relevance, and more.
Real-time Optimization Assistance
Surfer SEO features a content editor that offers real-time optimization suggestions as you create or edit your content. You'll notice it grading your content as you add or remove specific elements of it.
It becomes easier to implement the recommendations smoothly and ensure that your content aligns with the identified ranking factors for a specified keyword.
Features of Surfer SEO
When you create a Surfer account and log in, this is what it looks like: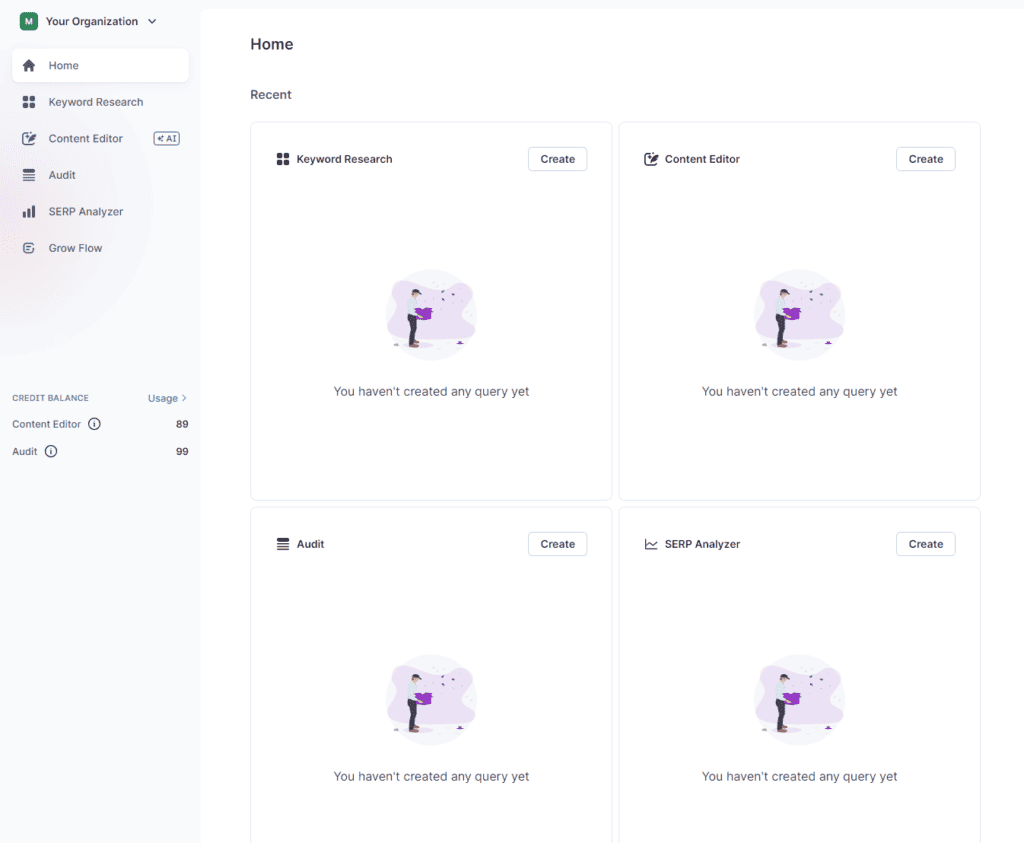 The top features of Surfer AI are:
Keyword Research: Find the right keywords from any random word or phrase by analyzing keyword data from Surfer, including volume, intent, and difficulty.
Content Editor: Use Surfer as your editor when creating new content, just like you would use Google Docs or MS Word
Outline Builder: Create content briefs that you can refer to when writing or that which you want your team of writers to follow
Surfer AI: Generate entire posts using the generative AI capabilities of Surfer.
Audit: Review your existing articles to know how likely they are to rank well by taking various on-page SEO elements into account.
SERP Analyzer: This feature breaks down details about your competitors by analyzing search result pages in your niche.
Grow Flow: Grow Flow takes your site into account and provides you with small and simple tasks to complete every week and improve your overall SEO performance.
How to Use Surfer SEO for Content Planning
Here's a step-by-step guide on how to effectively use Surfer content planner abilities.
1. Keyword Research
Let's begin with Surfer's keyword research tool. When you click on the button for keyword research, you'll be prompted to enter a keyword.
You just need to enter a random seed keyword or phrase so that Surfer can find information about it. You're able to either select results for the US or any other country.
For me, I went with the keyword "best keyword research tools." It took a short while for Surfer to process the request and show its fetched data.

Surfer will provide a variety of keyword clusters for the main term you input. These clusters are categorized by search intent. These are: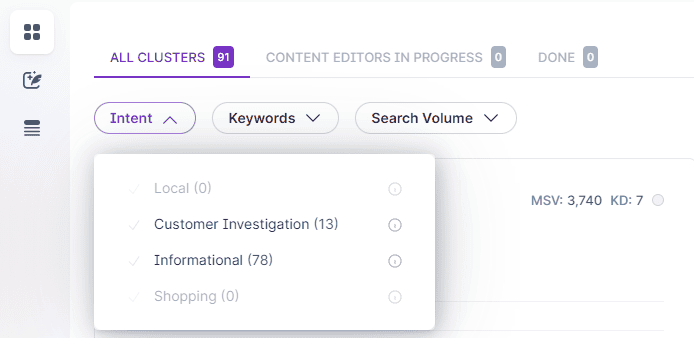 Local: The search query when users are looking for information, products, or services within a particular geographic area or location.
Customer investigation: A type of online search behavior where users are in the process of researching and gathering information (e.g. comparison or reviews) about a product, service, or topic before making a purchasing decision.
Informational: In this search intent, someone will be seeking information, answers, or solutions to their queries without necessarily intending to make a purchase or take any action.
Shopping: Here, users are actively looking to make a purchase.
Now, you can choose to only see keywords of a specific intent. You can also sort them by cluster range (number of items in one cluster) or search volume range. For each keyword in a cluster, you'll see the monthly search volume (MSV) and keyword difficulty (KD). You can export your keyword lists to use later.

How to Use Surfer for SEO Content Writing
When it comes to using Surfer SEO for creating content, you can choose from two options. These are either writing yourself or writing with the help of Surfer AI.
We'll begin with the option of creating the content yourself. In this case, you need to enter a keyword that you want to rank for, such as "best keyword research tools." Check below:

Once you input a seed keyword, Surfer will show you suggestions for additional keywords with the difficulties and volumes. These additional keywords can help boost your content keyword density.
Just click on the button that says to begin creating and let the tool process your request before you open the content editor.
2. Content Editor
This is how the content editor looks like when you launch it before you start writing. As you can see below, the content score is at 0.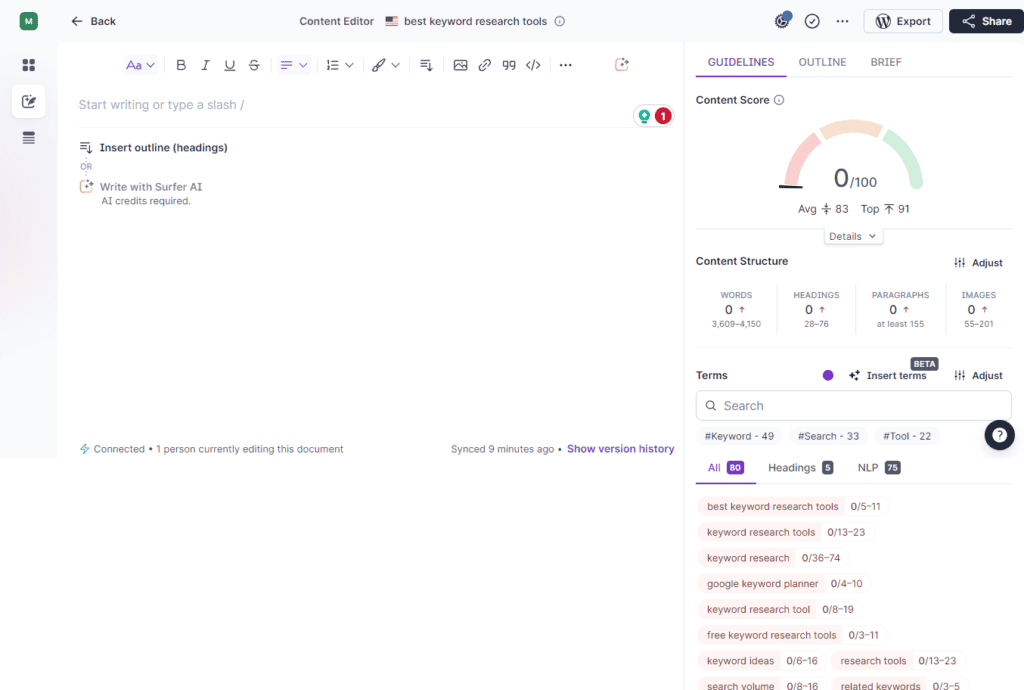 In the content editor, you can type the symbol "/" to select an element you need to insert. These include images, headings, lists, links, quotes, or codes.
As you type, you notice that the content metrics start to go up. These are the number of words, headings, paragraphs, and images you'll have added by far.
The content score will gradually go up as you include more of such elements into your content. If you remove something useful, it goes down.
What's more, the right bottom side of the content editor shows you the terms you need to include in the text and the recommended number of times. These are the words and phrases that the majority of other posts already ranking on the first page for your chosen keyword have in common.
Because I was writing about the best keyword research tools, Surfer suggested terms like "Google keyword planner," "keyword ideas," and "keyword difficulty."
You'll also find that Surfer has something called Terms Assistant that can automatically add the recommended terms to your article. You simply need to click on the button that says to "insert terms."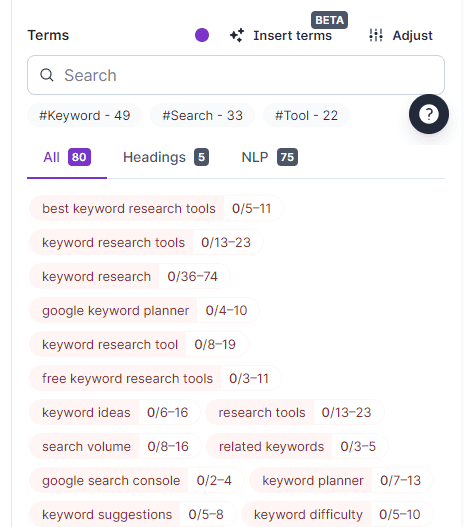 3. Outline Builder
Surfer SEO can provide you with a suggested content structure to guide your writing process. It gives you a broken-down version of how your content should look.
The outline consists of a title, headings, questions, and sections. This structure is informed by the analysis of top-ranking pages and ensures that your content follows a logical and engaging flow.
To access the outline, you need to go to the "Outline" section of the content editor. You'll be able to see what Surfer has generated. You just need to add the elements of the outline that you prefer, such as the titles and headings.
You're free to also select entire sections, that is, the title or heading along with the text (paragraphs) that follow below it. You can always edit these paragraphs according to your needs later on.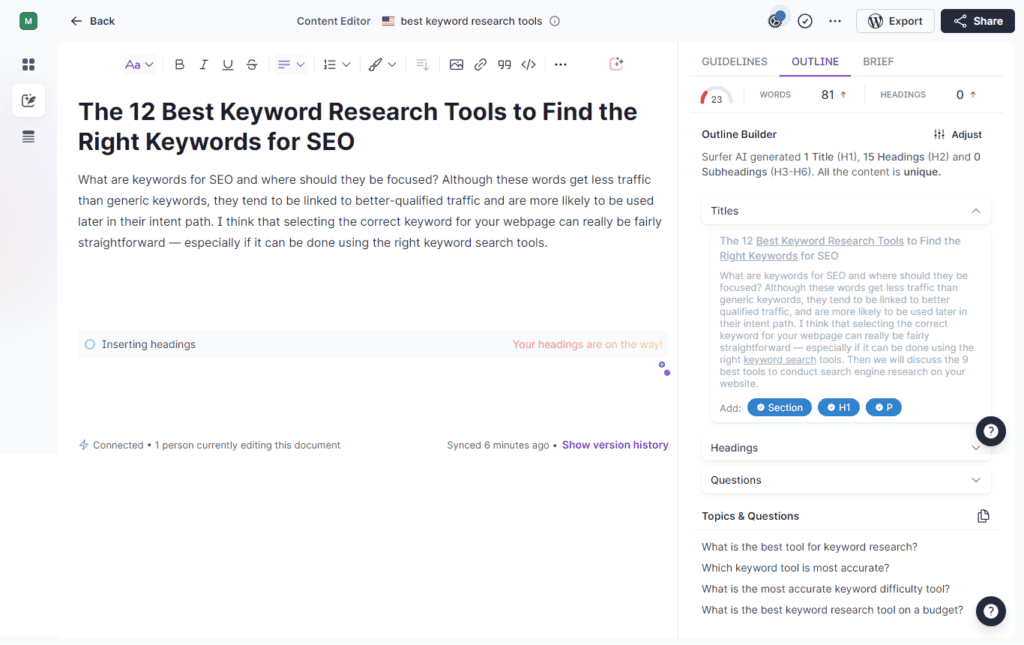 4. Surfer AI: The AI Writing Tool from Surfer

Who said you have to battle with writer's block alone?
You can use Surfer AI to generate text from scratch. In other words, you can get an entire blog post in minutes using the tool.
To use Surfer AI, when on Content Editor, enter your desired keyword. Choose the "Write with AI" option instead of "Write Yourself."
You can then select the tone of voice, such as bold, casual, conversational, dramatic, or formal. The default tone is called "Auto-SERP based" and will simulate the voice of SERPs for the chosen keyword.
It's possible to adjust the organic competitors too to let the AI craft the best article for your needs. You're able to review the outline and refine it accordingly.
Once Surfer AI finishes writing, you can edit the content and add or remove various elements while monitoring the real-time content score to meet your standards.
The whole thing takes less than an hour. You could be done in 20 minutes!
How to Use Surfer for Content Optimization
Surfer is mostly known as a content optimization tool for on-page SEO. What happens is that you can just go to the content editor and paste in a piece of text you've already written.
For example, I wanted to optimize existing content I had previously written about keyword research tools to see how it would score on Surfer.

Surfer gave me a score of 66/100. While this isn't a bad score, it's lower than the average score of the posts by competitors.
The average is 83/100 and the topmost score is 91/100. This means that my piece lacked specific elements.
And so, it would be difficult to get to the first page without making some changes. Surfer provided suggestions that I would have to implement.
I needed to increase:
Word count from 2,255 to 3,609 or more
Headings from 23 to 28 or more
Paragraphs from 65 to at least 155
Images from 0 to at least 55
Moving on to the terms I needed to insert. Below is a screenshot of the result: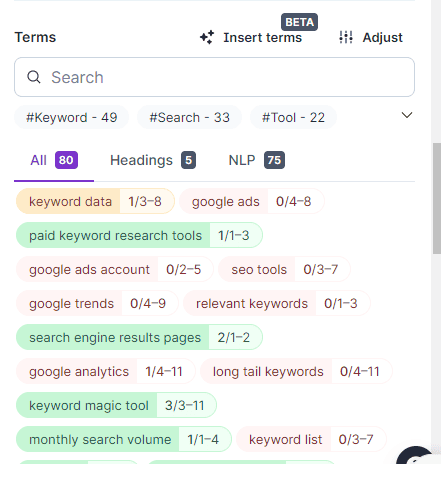 The green backgrounds mean I've done a good job because I'm in the optimal range. The orangish background means that I've added a particular keyword but not used enough of it.
Keywords in the pinkish backgrounds aren't used at all but they should be. In my opinion, you should strive to get as much green as possible for a higher score.
5. Audit
As if what I've already discussed about Surfer isn't enough, you can also inspect existing content pages using the Surfer SEO's audit tool. What happens is that you need to input the URL and the target keyword.

I decided to audit one of my published posts. The results are shown below:
However, there were still suggestions for improvement. The first suggestion was to add more internal links from the other topically relevant posts that Surfer detected.
If you click on "show internal links," you'll see the posts from which you can link to the audited post. Linking internally boosts the authority and improves the ranking ability of the linked page.

Next, I had to add some terms to the article, most of which appear on other pieces of content from sites already ranking.
The next suggestion is for the recommended word count:

There's even a graph of your word count compared to that of competitors on the first page.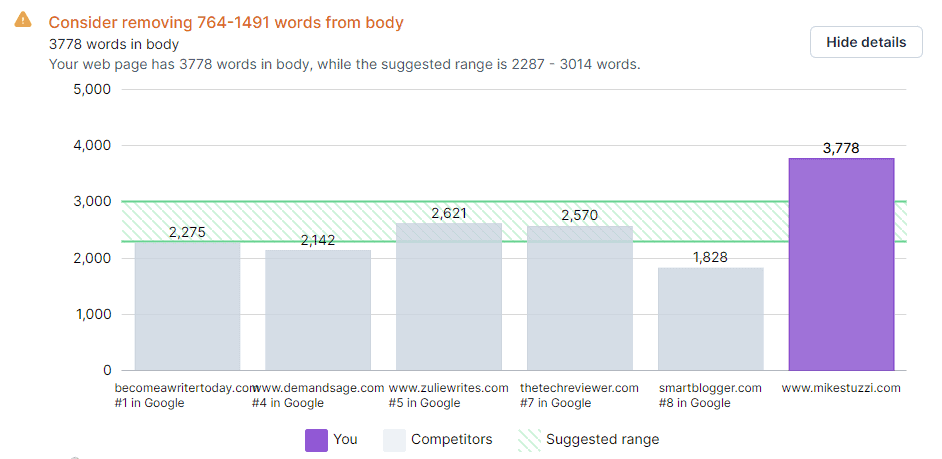 Moreover, Surfer shows audit results for the following:
Page structure: Page structure highlights how you've used headings like H1, H2s, paragraphs, and images in your content.
Title and meta description length: This result shows how many characters you've used in your meta tags and what's the recommended length.
Load time: You're able to know whether your page is fast enough to enhance user experience.
Missing common backlinks: These are the domains that link to at least 3 of the top 20 results.
6. SERP Analyzer
Surfer SERP analyzer is another tool on Surfer that can help you as an SEO professional or website owner analyze the SERPs for a given keyword or search term. Let's say I want to check the results pages for the best keyword research tools.

Surfer shows a body-word count graph for the top positions, as shared below: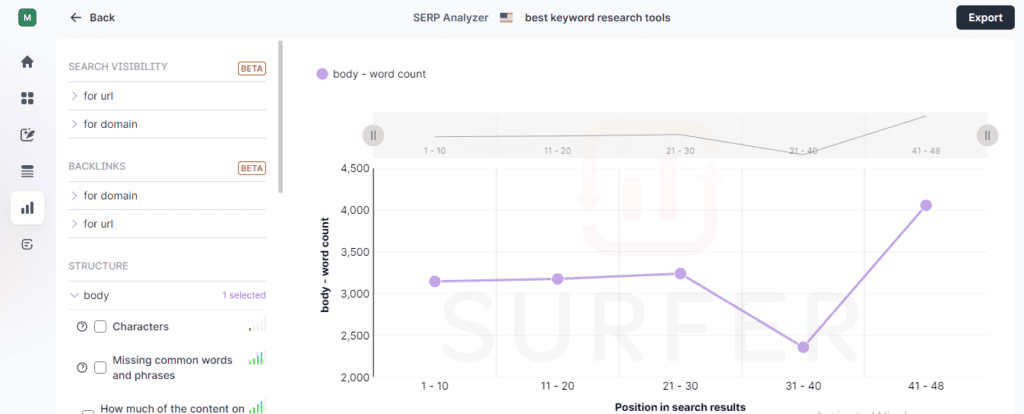 Below the graph, Surfer lists the top pages ranking for the keyword:

As you can see, the first page has a content score of 78. You can use such information to compare yourself with competitors and know the minimum or best content score needed to rank well too.
You just need the URL of your published post on the same topic for comparison. From there, optimize your content to match the competing ones.
Surfer SEO Integrations
Surfer SEO integrates with several tools and platforms to help your workflows. You won't have to switch between tabs when planning, writing, or optimizing content and get to do everything in one place.
7. Grow Flow
Update on Grow Flow: Grow Flow isn't available to new users anymore. But you can still enjoy other Surfer tools and boost your organic traffic using less effort.
Grow Flow refers to Surfer SEO's AI-powered growth management tool. You can launch this tool by connecting Surfer SEO and Google Search Console.
Linking Surfer with your Google Search Console account allows for the extracting of more keyword insights based on your site's current performance. All you need to do is sign in with Google and let it access your Search Console data.
Grow Flow provides you with small tasks that you can do now and then and improve your SEO game in the long run. You'll see activities such as:
Adding missing keywords
Incorporating internal links
New content suggestions
Backlink opportunities
You get weekly reports on your gains. These are the accomplished tasks. You can add more than 1 domain if you own multiple sites.
8. Surfer WordPress Plugin
Surfer SEO integrates with WordPress as well. This occurs through Surfer's plugin that you can install for free to automate tasks between Surfer and WordPress.
For example, you can export an article from Surfer's content editor to WordPress for publishing to a new or existing draft. Another way that this plugins works is by moving posts from WordPress to the content editor.
At the moment, the plugin supports the two basic WordPress editors and builders. These are Gutenberg and Classic Editor.
The plugin isn't guaranteed to work well if you use any other editor or theme that changes the Gutenberg or Classic editor structure. But you can try if you want.
9. Keyword Surfer
Keyword Surfer is a free Google Chrome extension. It's a popular keyword research tool with over 500,000 users.
The extension enables you to compile keyword ideas along search volume while using Google Search. Besides the search volume, other keyword metrics you can access on Surfer's Google Chrome extension are related terms.
You can export your collected keywords as a file in CSV format and access them anytime through your computer. What's more, you're able to view the estimated traffic from a selected country and the number of words in each SERP result using the extension.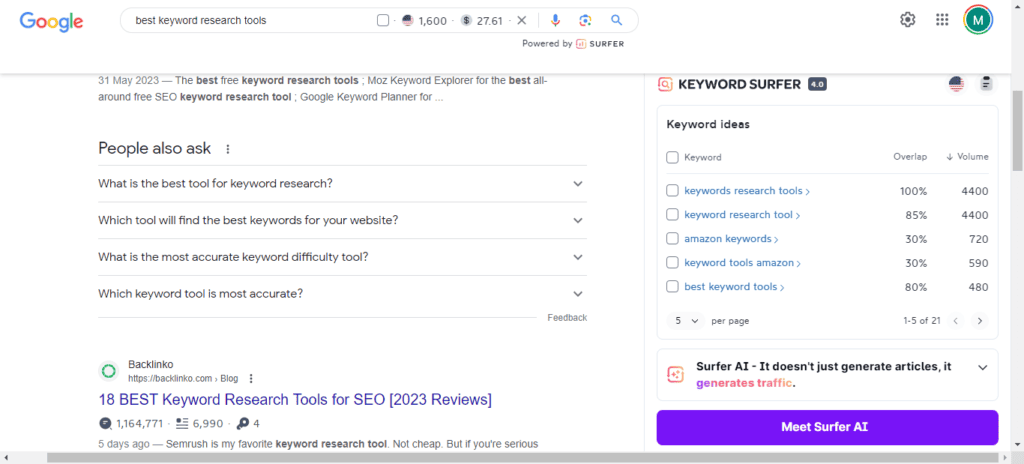 10. Surfer Google Docs Integration
If you didn't know, you can also use Surfer with Google Docs. If you're someone who finds Google Docs handy like me, this integration is helpful. The Surfer Google Docs extension is separate from Keyword Surfer (Surfer's keyword research tool extension that I've talked about).
This extension only works if you're on Google Docs. It will autoload Surfer on the right side of your desktop so you can enter the target keyword and enable the content editor tool.
It will just be like when you're on Surfer, except you'll be on Google Docs!
11. Integration with Jasper
Jasper is an AI tool for writing that uses natural language processing (NLP). You can add Surfer to Jasper if you're already using it for writing purposes. What happens is that for every piece of content, you generate using Jasper, Surfer analyzes it to ensure it's SEO-focused and ready to rank.
You can read more about Jasper and its best features in this Jasper review I wrote.
Surfer SEO Pricing
Is Surfer SEO Free?
No, Surfer SEO isn't free to use. You'll need to select one of its paid plans to use it. Also, there is no free trial at the moment.
How Much Does Surfer SEO Cost?
Surfer SEO has 4 plans that you can choose from, starting at $89 per month for Essential (the most affordable Surfer plan). The difference between Surfer's plans heavily lies in the monthly credits you get from each.
More information is below:
Essential ($89/month): 15 Content Editor credits and 2 organization seats
Advanced ($179/month): 45 Content Editor credits and 5 organization seats
Max ($299/month): 90 Content Editor credits and 10 organization seats
Enterprise (Custom pricing): Custom credits and unlimited seats

You can opt for the annual billing option to save more. Something worth noting is that some of Surfer's tools are add-ons and have separate pricing:
Surfer AI ($29/month)
Grow Flox ($9/month)
Audit ($49/month)
SERP Analyzer ($29/month)
White Label ($49/month)
API ($29/month)
The good news is that if you get a Max subscription, all these add-ons are availed to you at no extra cost.
Surfer SEO Pros and Cons
Now, let's talk about what I like and what I don't like about Surfer SEO.
What I Like about Surfer SEO
It features various writing and SEO tools put together
Several pricing plans that you can choose from depending on your content optimization frequency and needs
You can only pay for and access the add-ons that you require if not on the Max subscription
The suggestions from Surfer are based on data from SERPs and not randomly suggested
What I Don't Like about Surfer SEO
No free plan
It doesn't have a free trial either
While its content optimization tool is (among) the best, Surfer's keyword research abilities don't match those of SEO tools like Semrush
More expensive than some other tools like it in the market
Surfer SEO Alternatives
There are a few other tools that you can use instead of Surfer for keyword research and content optimization.
GrowthBar
GrowthBar is a Surfer alternative that I particularly like myself. It's great for creating SEO-optimized content even if you're a beginner.
The tool, just like Surfer, also features AI text generation capabilities for creating outlines, intro, and even full-length blog posts. The pricing starts at $29/month for its Standard plan.
RankIQ
RankIQ is yet another alternative to Surfer that aims to help you write posts that can rank on the first page and bring you organic traffic. One of the things I like about RankIQ is its vast library of selected keywords for any niche.
The tool is also great for writing optimized titles and blog outlines. RankIQ costs $49/month.
Outranking
Outranking can help you achieve exactly what it's called: outranking organic competitors. It suits teams focusing on on-page SEO and digital marketing in general.
Outranking's keyword clustering abilities are worth the mention as the tool can help you be an authority on a specified topic. The pricing starts at $69/month.
Below is a comparison table for the pricing of Surfer vs its alternatives:
| | | | |
| --- | --- | --- | --- |
| Surfer SEO | GrowthBar | RankIQ | Outranking |
| $89/month | $29/month | $49/month | $69/month |
| No free trial | 14-day free trial | No free trial | No free trial |
Read more Surfer (and Keyword Surfer) alternatives.
Surfer SEO Review: FAQs
What are the disadvantages of Surfer SEO?
Surfer SEO, as much as it's a useful SEO tool for writing and optimizing, doesn't lack some disadvantages. Some downsides of Surfer are that it doesn't have a free plan or trial period and is more expensive than some of its alternatives at the moment.
However, the tool provides unmatched value to its paid users that you can almost not find anywhere else. So, some may say it's worth it!
Is Surfer SEO better than Semrush?
Surfer SEO is better than Semrush when it comes to content planning, writing, and optimization. However, Semrush beats Surfer in terms of keyword research and competitor analysis.
Semrush also features various content marketing tools that Surfer lacks. All in all, if you need an assistant for creating SEO-optimized content, Surfer is the better option.
Check out this detailed Surfer SEO vs Semrush comparison.
What is the equivalent of Surfer SEO?
There are few tools out there that can come close to matching Surfer SEO's capabilities. But it all depends on your needs.
Since Surfer is a suite of several tools bundled together, you may find that another tool out there is better than it for a specific purpose. That being said, some great Surfer alternatives (offering some similar but not all of Surfer features) are GrowthBar, RankIQ, and Outranking.
Surfer SEO Review 2023: Conclusion
Hope you liked this Surfer SEO review. Surfer offers a variety of helpful tools to increase the chances of your content ranking well. All the tools on Surfer come in handy.
I would recommend Surfer SEO to any writer or web publisher who needs to avoid the guesswork and optimize content based on real SERP data. I've seen the magic it can do and know it can assist your SEO efforts too.
Remember, using Surfer alone for on-page SEO optimization doesn't guarantee that you'll be on the first page with more organic traffic. The reason is that Google has many other ranking factors beyond having SEO-optimized content.
Some quick examples are your site's backlink profile, your expertise or authority as a publisher (E-E-A-T), and website loading speed. So, I'd advise you to also pay attention to these factors to increase your likelihood of appearing on page 1 for specific keywords in your niche.