7 Best No Code App Builders (2023 List)
Want to delve into app development without coding knowledge? If you're looking for a no-code app builder, you've come to the right place.
In this blog post, you're going to learn about the best no-code platforms available this year. These platforms allow you to build web and mobile apps without any coding experience required. So whether you're a business owner or an entrepreneur, these app builders are perfect for you.
What Are the Best No Code App Builders?
Here's a list of the best app-building tools and platforms without coding.
1. Bubble (Best in General)
Bubble is among the best web app builders with no code. You can create an app in Bubble without writing a single line of code. Over 2 million people that don't have coding experience use it.
Bubble helps you develop powerful desktop and mobile web browser apps that are fully functional. This includes social networks, marketplaces, dashboards, and CRMs.
This platform also takes care of deployment and hosting for you. You won't have to worry about limits like the user count, traffic volume, and data storage.
Features of Bubble
No-code app development: Create web apps for desktop or mobile without knowledge of coding.
Responsive designs: Develop modern layouts and dynamic content for any browser that prospects, investors, and users will like.
App deployment and hosting: You won't need to deal with server maintenance and operations.
Integrations: You can use Bubble together with other platforms like Facebook, PayPal, Amazon, and more.
Marketplace: Find the best templates and plugins to use in your web app creation.
Collaboration tool: If you have a team, Bubble has the tools for real-time collaboration with others.
Bubble Pricing
Bubble has both free and paid plans.

Free ($0/month)
Core platform features
Bubble branding
Community support
Personal ($29/month)
Core platform features plus API
Custom domain
Email support
Professional ($129/month)
3 units of server capacity
2 app editors
2 development versions
Production ($529/month)
10 units of server capacity
15 app editors
20 development versions
Remember, the prices go down a bit if you choose annual and not monthly billing.
2. Appy Pie (Best for Ease of Use)
Appy Pie is an excellent no-code Android and iPhone app builder that's perfect for anyone who doesn't have any coding experience. The platform is simple and easy to use.
You can create a web or mobile app in minutes, without any headaches. It's also possible to convert your website into an app using Appy Pie.
This no-code development platform also comes with workflow automation. You can enable as many integrations as you need to make your app creation process seamless.
Moreover, you don't need to worry about hosting or maintenance. Appy Pie takes care of that for you. Appy Pie also gives you a chance to monetize your Android app using ads.
Features of Appy Pie
Drag and drop app builder: Easily select and insert the features you want to see in your app.
Easy integration with other web services: Integrate Appy Pie with Twitter, Mailchimp, Slack, and more.
Website builder: Appy Pie also comes with website building capabilities.
Chatbot builder: Build a chatbot for improved customer service.
Workflow automation: Integrate apps and automate repetitive tasks.
Appy Pie App Builder Pricing
Appy Pie App Builder has the following plans:

Basic ($16/app/month)
Supports Android platform
Google Play app distribution
500 app downloads
5,000 monthly push notifications
Gold ($36/app/month)
Support Android platform
Premium features
Google Play App distribution
1,000 app downloads
10,000 monthly push notifications
Platinum ($60/app/month)
Supports Android and iOS platforms
Premium features
Google Play and App Store distribution
2,000 app downloads
25,000 monthly push notifications
Enterprise (custom)
All features
Dedicated account manager and data security officer
and more!
There's a free 7-day trial on Appy Pie, meaning you can cancel when you want.
3. App Institute (Best for Business Apps)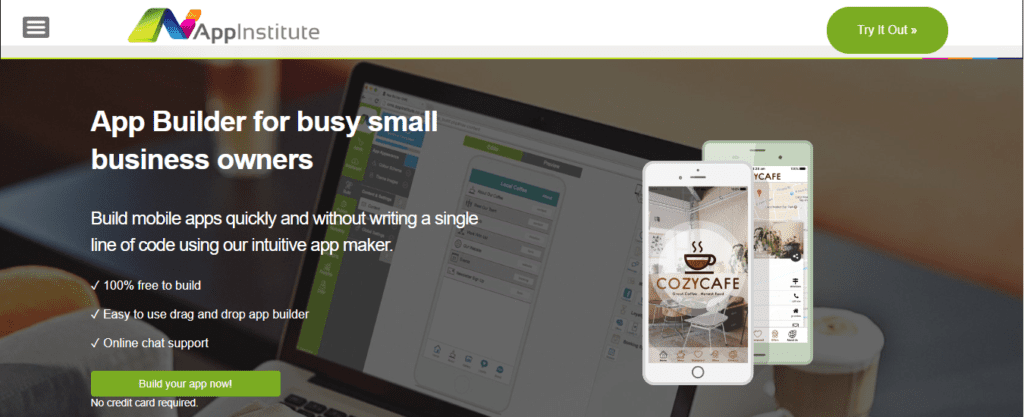 App Institute is an app builder without coding that's perfect for small businesses. It comes with a wide range of templates that you can use to quickly create an app for your brand, whether a restaurant, takeaway, or any other.
So, you don't need any special app development or programming skills to use this platform. All you need to do is pick a template with preloaded features, brand your app, customize features and other information, and publish it.
App Institute also makes it easy to track your mobile app's performance. The platform comes with analytics so you can see how many people are using your app and what features they're using the most. This is important because it allows you to improve your app over time.
Features of App Institute
Simple app builder: Drag and drop items you want your app to have.
Brand control: Use consistent brand colors from your website or Facebook page.
GEO listings: Enable users to easily add and search places, things, and businesses.
Push notifications: Notify users about discounts and deals depending on their location and timezone.
Social media integration: Users can check your social pages without leaving the app.
App Institute Pricing

Business Lite ($69/month)
Progressive web app, Android app, and iOS app
100 active monthly users
25 monthly push notifications
Business Extra ($109/month)
Progressive web app, Android app, iOS app, iPad app
50 monthly push notifications
500 active monthly users
Business Unlimited ($139/month)
All app platforms
Unlimited push notifications
Unlimited monthly active users
Reseller (400/month)
This plan comes with all you need to begin selling unlimited apps to small businesses and make money.
4. Quickbase (Best for Complex Projects)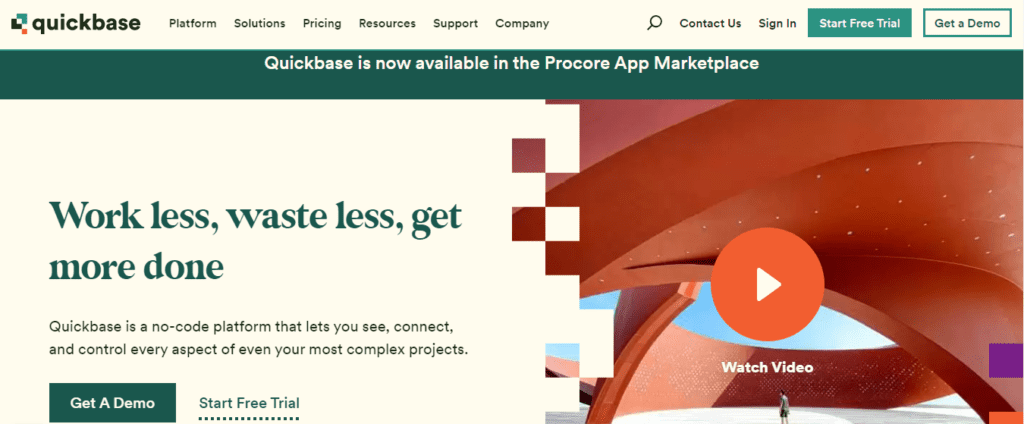 Quickbase is a no-code platform that's perfect for businesses with complex projects. It can work for various industries like construction, manufacturing, and marketing, just to name a few. Quickbase offers a wide range of features that allow you and your team to manage app projects without worrying about development, deployment, and maintenance.
You can use Quickbase to automate tasks, track data, and manage workflows. The platform also makes it easy to integrate with other business tools, such as Quickbooks, Zendesk, and Bill.com.
Quickbase is a bit more expensive than other no-code platforms but it's worth the investment if you need a platform that can handle complex projects.
Features of Quickbase
No-code app development for complex projects: Handle big projects quickly and easily.
Numerous use cases: Includes use cases like project management, process improvement, CRM, and sales management.
Easy integrations: Quickly connect Quickbase with other services and accounts to unite your data.
Multiple building options: Do it yourself or have the Quickbase team or someone else do it.
Data management: Access reports with ease to get better insight into your operations.
Quickbase Pricing

Team (Starts at $600/month)
Up to 50 customizable business apps
Workflow automation
Mobile-ready apps
Flexible licensing option
Business (Starts at $2,000/month)
Up to 100 customizable business apps
Everything in Team
Audit logs
Mobile offline
Enterprise (Custom)
This is a plan with custom features to suit your needs.
5. Adalo (Best for Startups)

Adalo is a no-code platform that makes it easy to create and manage mobile apps. It suits you if you're creating an app as a start-up idea, a side hustle, or are doing it for others. It's also perfect for businesses of all sizes, from small businesses to enterprises.
Adalo offers a wide range of features that allow you to quickly make visually appealing apps. You can choose from their expert-designed components or create your own. This means that you're in total control of how you want your app to look.
Features of Adalo
Over 25 drag and drop components: Insert well-designed building blocks like lists, forms, and payments to make your app interface.
Set up dynamic actions: Link your app pages with customizable animations.
Create and connect database: Set up your app's database with spreadsheets and track all user data.
Adalo Pricing
Adalo has a free option as well as other affordable plans.

Free ($0/month)
1 app editor
3,000 monthly app actions
200 records per app
Starter ($45/month)
1 published app
1 app editor
10,000 monthly app actions
Professional ($65/month)
2 published apps
5 app editors
30,000 monthly app actions
Team ($200/month)
5 published apps
10 app editors
100,000 monthly app actions
6. AppGyver (Best for Multiple App Platforms)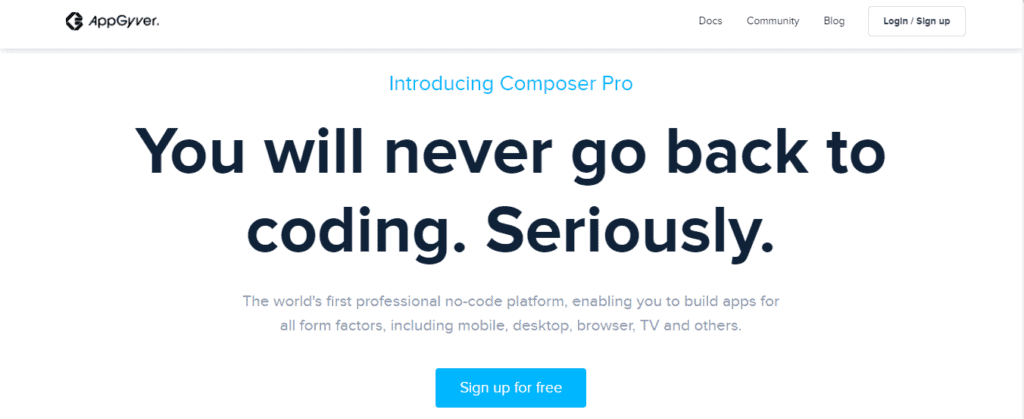 This is one of the best free no-code app builders suitable for multiple types of apps. AppGyver can build mobile, desktop, browser, and TV apps, among others.
It allows you to create an app once and run it on multiple platforms. You won't need a particular operating system to build an app for a specific device.
The platform has an intuitive drag-and-drop interface that makes it easy to develop apps without code. Appgyver also makes it easy to for you add your own integrations and ensure all systems work together.
Features of AppGyver
Multiple app platforms: Create an app without coding once and use it on mobile, desktop, browser, TV, and more.
Hundreds of logic functions: Add math, engineering, array operations, and other functions by drag and drop.
500+ building blocks: Choose from a wide range of components for a functional and effective app.
Debugging tools: Identify errors without much effort.
AppGyver Pricing
Appgyver is free to use at the moment.
7. AppSheet (Best for Turning Data into an App)
AppSheet, or Google AppSheet, is a no-code platform designed for any-sized businesses. It's a perfect option if you want to quickly develop a rich app or an automated process without learning how to code.
AppSheet allows you to turn your data into apps with the help of its "no-code" approach. You simply connect the data, define how it will be used, and make changes as you like. You can customize the UX, features, and branding of your app.
There are numerous templates on AppSheet to use. You're also able to use role-based security and usage reports to manage users.
Features of AppSheet
App from data: Convert information from your cloud-based spreadsheets and databases into apps without writing a line of code.
Customizable app templates: Choose from a whole library of app use cases like Simple Inventory, Field Delivery, and Client Expenses.
Automate workflows: Create bots to help you finish manual tasks faster while focusing on other important things.
App sharing and collaboration: Share your app with others for feedback and work with remote teams.
AppSheet Pricing

Starter ($5/user/month)
Basic application and automation features
Connect to spreadsheets and cloud file storage providers
Core (10/user/month)
Advanced application and automation features
Connect to spreadsheets and cloud file storage providers
Application security controls
Email support
Enterprise Standard (Custom)
Advanced application and automation features
Connect to spreadsheets, cloud file storage, cloud databases, APIs, and SaaS services
Application security and team management controls
Priority customer support
Enterprise Plus (Custom)
Advanced application and automation features
Connect to spreadsheets, cloud file storage, cloud databases, APIs, SaaS services, and enterprise data services
Enhanced application security and team management, and governance controls
Priority customer support
Conclusion
There are a number of great no-code app builders available to help you create the app of your dreams without learning to code. Because most of them offer a free trial or free plan, you can try them out before committing to a paid subscription.
Having given you each platform's features and pricing, you can easily decide which platform is best for your needs. Don't forget to have fun building your app!