9 Best Plagiarism Checkers of 2023 (Accurate Plagiarism Removers)
Are you a writer, content creator, professional, or student that holds originality in high regard when it comes to writing? If so, you're about to learn about the best plagiarism checkers and removers to use online.
Publishing or submitting original content is crucial to ensure you keep your authenticity. This means no plagiarism in what you write. Luckily, there are many great plagiarism checkers out there that can help you make sure your work is 100 percent original.
In this blog post, we will discuss the best plagiarism checkers of this year. These tools will help you scan your work for any instances of plagiarism and remove them quickly and easily.
Disclaimer: Because the site is reader-supported, we may earn a commission if you use our affiliate links.
Read also: Best AI Writing Tools (Write Faster)
What Is the Best Plagiarism Checker?
Here are my top options when it comes to plagiarism checkers and removers online today.
1. Grammarly (Best in General)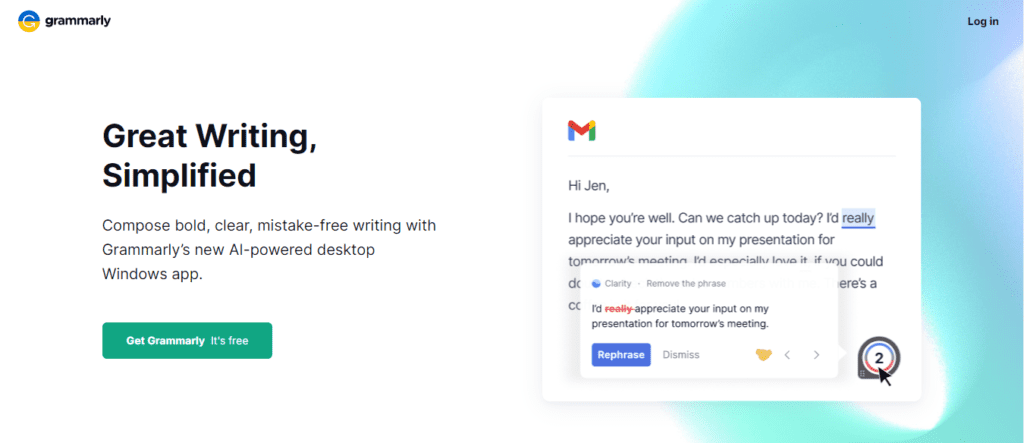 Grammarly is among the best plagiarism checkers available today. This tool is great for content creators, students, and professionals who want to make sure their work is free of plagiarism.
Grammarly scans your work for any instances of plagiarism and provides you with a report so you can see where any copied content may have come from. You can then make the necessary changes to ensure your work is completely original.
Grammarly is also a great option when it comes to spelling and grammar checks. You can take your writing to a whole new level if you use this tool correctly.
Pricing
Grammarly has a free version for checking grammar but you have to purchase a plan to use the plagiarism feature. Here are the plans:

Premium: You can choose a monthly ($30), quarterly ($60), or annual ($144) individual plan
Business: $15/month/member billed annually with a 3-member minimum
2. ProWritingAid (Best for Content Writers)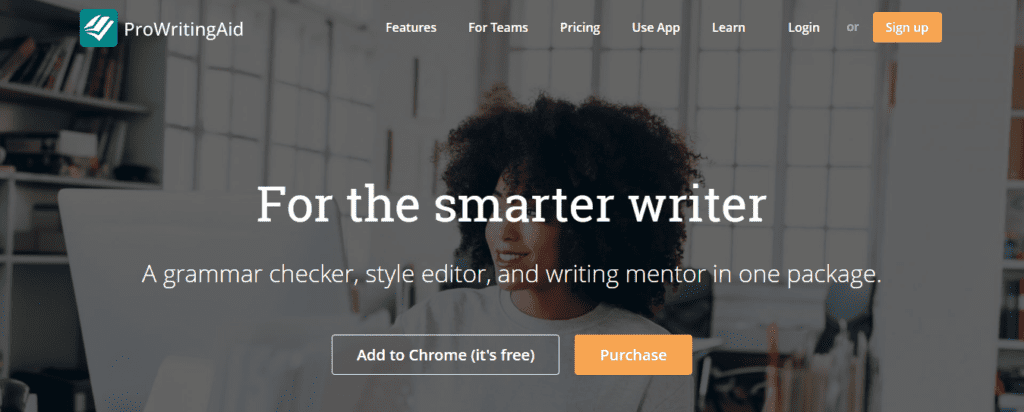 This is another great tool for plagiarism checking with several other features. You can use ProWritingAid to compare your work with many others available online, whether it's a blog post, essay, or any other written content.
When you paste your work into its editor, ProWritingAid will give you a report on plagiarism, among other reports. You can even use it with MS Word if you prefer.
Besides plagiarism checking, you can use ProWritingAid to improve the grammar and style of your work. There are over 20 different reports to use on the tool.
Pricing
There's a free and premium version of ProWritingAid. The free version will only give you access to basic features.
Premium costs $30/month and includes plagiarism checks. There's also separate pricing for the plagiarism remover alone.

$10: 10 checks
$40: 100 checks
$120: 500 checks
$200: 1,000 checks
3. Quillbot (Best for Paraphrasing)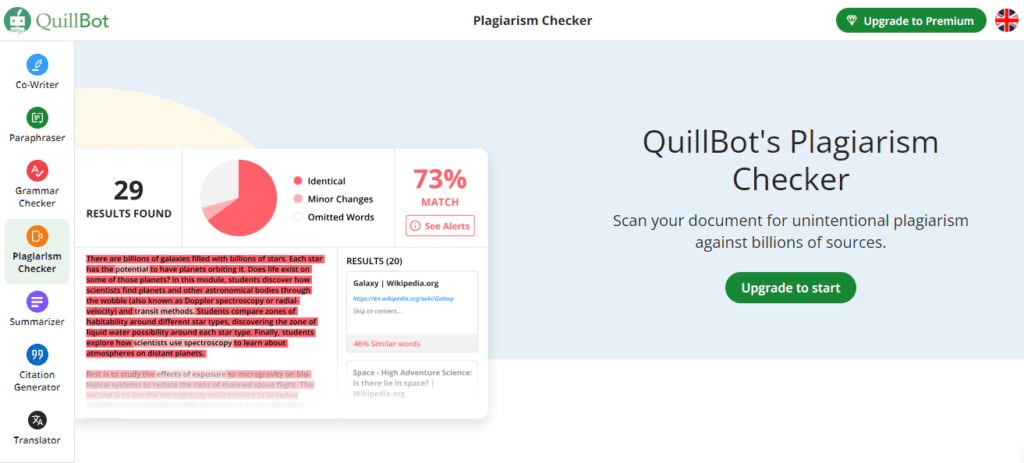 Quillbot is a well-known rewording tool for paragraphs that also features a mentionable plagiarism remover. In other words, you can restructure any content and pass it through an originality checker in one place without switching tools.
Quillbot shows you the matching percentage and the number of sources found. It can detect copied content from any Internet publication as well as books, research papers, academic papers, or news sources.
You're able to see which areas are duplicated. Quillbot makes it easy for you to act on it right away.
Another thing I like about Quillbot, as covered in my honest Quillbot plagiarism checker review, is its set of free writing tools. For instance, the paraphrasing feature is free with two of the modes, Standard and Fluency.
Other modes are available too, along with a grammar checker, summarizer, citation generator, and translator. The Quillbot Chrome extension allows you to access the tool anywhere on the Web.
Pricing
One thing to note about Quillbot is that many of its tools are free, but the plagiarism feature is only available to paid users. Quillbot premium is priced as follows:
Annual: $4.17/month billed annually
Semi-Annual: $6.66/month billed semi-annually
Monthly: $9.95/month billed monthly
4. Copyscape (Best for Website Owners)

Copyscape is another excellent plagiarism checker that can be used to check your work for any instances of copied content. This tool allows you to enter the website URL of your written content for scanning.
Copyscape will then show you any results that match the content you submitted. You can then review these results and add originality to your work.
As if that's not enough, you can also get alerts of people plagiarising your work using Copyscape. Copysentry is Copyscape's feature for finding people who have stolen your writing online.
You'll get an email as soon as the tool spots plagiarism in your work. I would describe this as convenience at its best.
Pricing
Copyscape has a free version that allows you to check your pages for plagiarism. It offers just the basic features.
If you need advanced features like copying and pasting, uploading documents, and entire site checks, there's the Premium plan:
$19.95/month with up to 10 pages
$1/month for any additional page up to 500 pages
You can also buy Premium credits starting from $5.

5. Quetext (Best for Writers)

If you need another reliable plagiarism checker online, Quetext may interest you. Quetext is a great tool for writers, content marketers, and students as well.
This plagiarism checker has a simple interface that makes it easy to use. Just paste your text into the Quetext editor, click the button that says to check for plagiarism, and get results in just a few minutes if not seconds.
Quetext also offers an advanced search feature for finding plagiarism. You can use this feature to check for plagiarism in specific sources.
Quetext also enables you to correct other writing issues like spelling. You're free to even use it to build citations.
Pricing
Quetext has a free version and pro versions. The free version only allows you to check 2,500 words (or 5 pages) while the paid plans exceed this limit.

Pro Basic: $9.99/month with a limit of 200 pages or 100,000 words
Pro Plus: $19.99/month with a limit of 500 pages or 250,000 word
Pro Organization: $49.99 with a limit of 1,000 pages and 500,000 words
6. Turnitin (Best for Students)

Turnitin is a popular plagiarism checker for students and teachers around the globe. This tool can be used to check essays, papers, and any other written work for plagiarism.
Turnitin will show you any similarities between your essay, research paper, or report and the content from its huge database. There's a similarity score that gives you an idea of how much of your text matches various sources.
You can then edit your work to remove any detected plagiarism.
Pricing
At the moment, Turnitin doesn't offer individual license purchases to users. It has to be an institution like a school or university that buys Turnitin plagiarism detection services.
7. Small SEO Tools (Best for Multiple Document Formats)

Small SEO Tools is a website with various SEO tools, including a plagiarism detector. It matches your writings against billions of web pages on the Internet.
You can use this plagiarism-checking tool for numerous document formats like .dox, .txt, .rtf, and more. It's also possible to check plagiarism in your content through a site URL.
There's an automatic paraphrasing feature that can help you change the text that appears on other online sources. The article rewriter is another great resource for making your content unique.
Pricing
Small SEO Tools plagiarism detector has free and paid options. You can paste up to 1,000 words at no cost and get a plagiarism report.
The prices of the paid versions, also ad-free, depend on how many words you want to check. They also come with extra features like paraphrasing, in-depth search, and additional user seats.

Basic: starts at $9.80 for 25,000 words
Classic: starts at $24.50 for 62,500 words
Enterprise: starts at $29.80 for 90,000 words
8. Duplichecker (Best for Multiple Languages)

Duplichecker is another SEO-focused website that offers plagiarism detection online. Users simply need to enter their text in the Duplichecker editor, upload a file, or paste a webpage URL they want to check.
Aside from English, this plagiarism remover offers several other languages like Spanish, French, and Portuguese. The report you get shows you the percentage of plagiarism versus uniqueness.
What I like about Duplichecker is that you have the option to make your text unique right away. Duplichecker also has tools for grammar checks, backlink checks, and keyword suggestions for ranking on search engines.
Pricing
The free Duplichecker version allows for 1,000 words per check. You can upgrade to get more benefits like more user seats.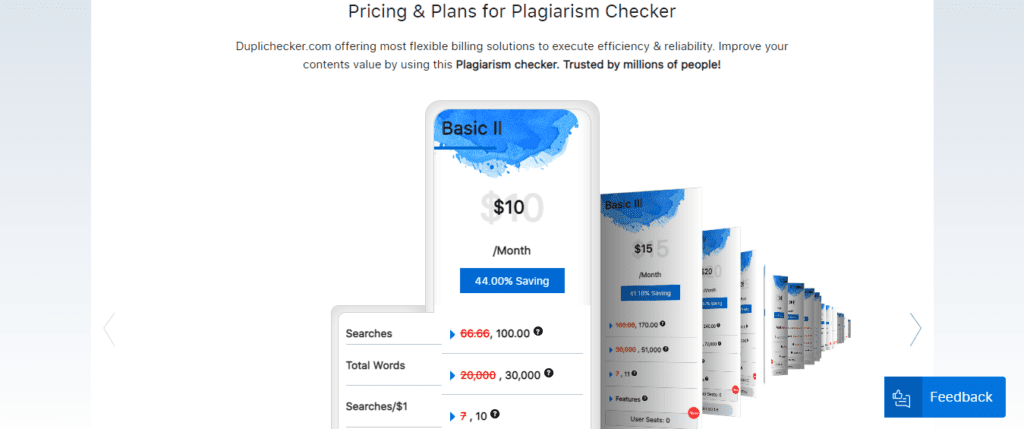 Basic: Starting at $10/month for 30,000 words
Pro: Starting at $55/month for 239,000 words
Institute: Starting at $105/month for 630,000 words
Enterprise: Starting $155/month for 930,000 words
Custom plan
9. Unicheck (Best for Educators)

Unicheck is among the best plagiarism removers that suit learners and educators. It can automatically check text and compare it with many Internet resources, institution libraries, and other databases.
Many academic institutions and businesses around the world use it. You can use Unicheck and get an originality report within minutes.
You'll be able to see the amount of borrowed text as it highlights all matching text, quotes, and references. Users can access the reports anytime and even receive alerts about suspicious papers.
Pricing
There's a free option on Unicheck with limited features and a maximum of 200 words. If you need more than that, there are other paid plans:

Personal and Business plan: Starts from $5 for 20 pages
Essential, Support Plus, and Enterprise: Custom quote and suits K-12 and higher education
Best Plagiarism Checkers Comparison Table
| | | |
| --- | --- | --- |
| Plagiarism Checker | The Overall Score | Is It Free to Use? |
| 1. Grammarly | 4.8 out of 5.0 stars | No |
| 2. ProWritingAid | 4.6 out of 5.0 stars | No |
| 3. Quillbot | 4.4 out of 5.0 stars | No |
| 4. Copyscape | 4.2 out of 5.0 stars | Yes (limited) |
| 5. Quetext | 4.2 out of 5.0 stars | Yes (limited) |
| 6. Turnitin | 4.0 out of 5.0 stars | Yes (students) |
| 7. Small SEO Tools | 3.8 out of 5.0 stars | Yes (limited) |
| 8. Duplichecker | 3.6 out of 5.0 stars | Yes (limited) |
| 9. Unicheck | 3.6 out of 5.0 stars | Yes (limited) |
Conclusion
So, these are the best plagiarism checkers for students, writers, and professionals that can help you detect copied content. With any of these tools, you can be sure to only publish or submit original and well-written articles, copies, or essays.
Choose the one that suits your needs and budget to get started. Other than that, you can try the ones with free versions or trial periods to test them out before committing to a paid plan.