7 Best Inventory Management Software for Small Businesses (2023 List)
Do you need software to manage inventory? If you are a small business owner, then you know that inventory management can be a huge challenge.
There are so many different software options on the market. It can be difficult to decide which one is right for your business.
This blog post lists the best inventory management software for small businesses and what each one does. So whether you are looking for an inventory management system that is cloud-based or desktop-based, we have you covered!
Which Software Is Best for Inventory Management?
Here are my top choices of software solutions for inventory management.
1. Freshbooks (Best in General)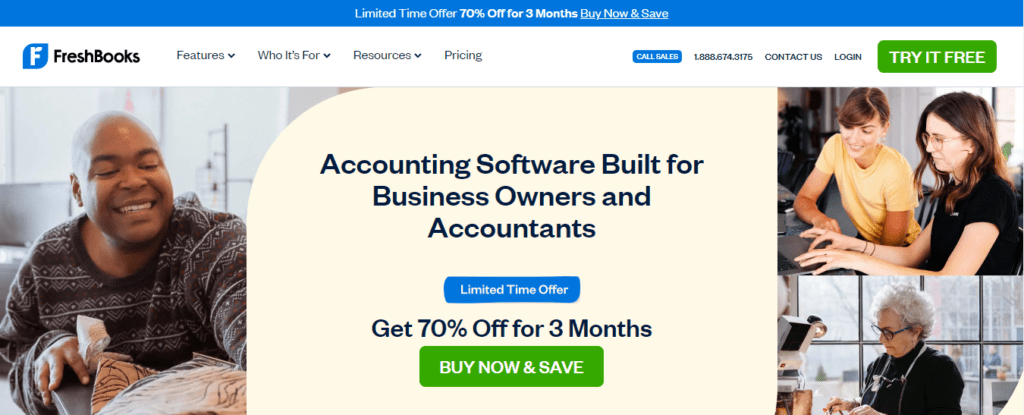 Freshbooks is among the best software for small business inventory management that is cloud-based. It has over 30 million users around the world, including freelancers, self-employed professionals, and small business owners.
This secure accounting and invoicing software tool allows you to grow your business with its competitive features. With Freshbooks, you can keep track of inventory levels, create and send invoices, manage projects, and accept payments. You get a free trial with no credit card requirement so that you can explore its features before committing to a paid plan.
Freshbooks Features
Integration abilities: Freshbooks works with over 100 partner apps like Hurdlr, Income Importer, and Squarespace.
Financial reporting: Readily available small business financial reports like profit and loss.
Estimating software: Create and send estimates that your clients can access online.
Invoice generator: Get customizable and professional-looking invoices with simple clicks.
Time tracking: Know how much time you spend on clients and projects.
Team collaboration: Work with your team in completing tasks and increasing productivity.
Mobile app: Freshbooks mobile accounting app is available to use wherever you are.
Pros and Cons
Pros
You can track inventory levels and set reorder points
The software integrates with your other business systems
It's cloud-based, so you can access it from anywhere
You can easily turn estimates into invoices
Cons
User and client limits on plans
Usability issues for larger businesses and teams
Freshbook mobile app needs work
Freshbooks Pricing

Lite: $4.50/month with 5 billable clients
Plus: $7.50/month with 50 billable clients
Premium: $15.00/month with unlimited billable clients
Select: Custom pricing
2. Zoho Inventory (Best for E-commerce Businesses)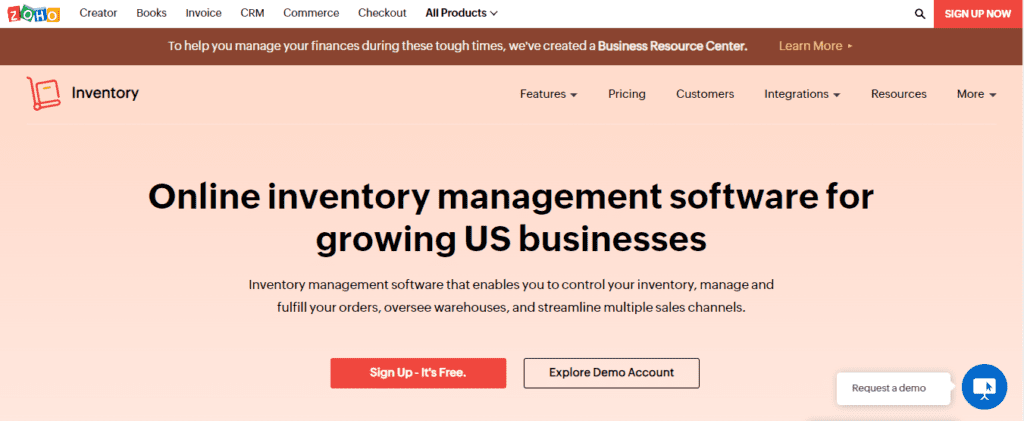 Running an e-commerce business? If so, Zoho might interest you. This small business inventory management software has a smart and customizable system suitable for growing an online business.
It's comprehensive and lets you automate and streamline your inventory operations. With Zoho Inventory, you can track inventory levels, get real-time alerts on low stock, generate invoices, and more. It makes it possible to send invoices in your customers' language and currency.
Zoho Inventory Features
Inventory management: Automate inventory management with barcode and QR code scanning, inventory reports, and real-time alerts.
Invoicing: Create invoices in your customers' preferred language and currency.
Multi-location inventory: Manage inventory across multiple locations with real-time synchronization.
Online warehouse management system: Get a bird's-eye view of your warehouse operations with Zoho Inventory software.
Shipping: Print package slips and shipment orders and automate shipping tasks with Zoho Inventory's shipping integrations.
Pros and Cons
Pros
Automates inventory operations
Offers real-time inventory alerts
Generates invoices in multiple languages and currencies
Cons
Complex user interface
Limited customization abilities for complex operations
Limited support and training
Zoho Inventory Pricing

Free: $0/oraganization/month for up to 50 monthly orders
Standard: $59/organization/month billed annually for up to 1,500 monthly orders
Professional: $99/organization/month billed annually for up to 7,500 monthly orders
Premium: $159/organization/month billed annually for up to 15,000 monthly orders
Elite: $239/organization/month billed annually for up to 25,000 monthly orders
3. Lightspeed POS Inventory Management Software (Best for Retailers)

Among the best cloud-based small business software to manage online and in-store inventory is Lightspeed. This tool works well for retailers and restaurant owners. You can unite all your channels in one with its inventory management system.
Lightspeed also has a built-in e-commerce platform that lets you sell online and in-store. You get a chance to manage your inventory from one platform and accept payments through various channels. Lightspeed integrates with accounting software like QuickBooks and Xero, so you can sync your inventory data.
Lightspeed Features
Inventory management: Track inventory levels and SKUs with Lightspeed's inventory management system.
E-commerce platform: With Lightspeed's e-commerce platform, you can sell to local customers as well as online-only shoppers from other locations.
Multiple location feature: Manage purchases from more than one location.
Manage products and prices: Lightspeed has a product import tool and bulk price changes abilities across your channels.
Built-in purchase orders: Order new inventory quickly.
Pros and Cons
Pros
Unites inventory management for all channels
Has an e-commerce platform
Integrates with accounting software
Cons
More expensive than other options
Limited options for payment processing
Not very user-friendly
Lightspeed Pricing

Lean: $89/month
Standard: $149/month
Advanced: $269/month
Enterprise: Get a quote from Lightspeed
4. Sortly (Best for Simplicity)

Sortly is one of the simplest inventory management software for small businesses to use. It can work for you no matter the type of business you run.
Sortly helps you keep track of your products and stock levels anywhere and anytime. It allows you to include your team and control the members that can do or see specific things.
With Sortly, you can create an inventory with photos, barcodes, and product details like price and quantity. You can also add custom tags and notes to make your search easier.
Sortly Features
Item tracking: Use QR labels or barcodes to scan and update items.
Stock tracking: Get email and in-app alerts on low stocks.
Custom reports: Generate PDF or CSV reports by filtering and sorting your data.
Controlled access to users: Add others and control who does and sees what.
Multiple devices: Use your computer, tablet, iOS, or Android to manage inventory.
Pros and Cons
Pros
Very simple inventory management software
Can be used for any type of business
Inventory with product photos and details
Cons
Limited features and integrations
Lacks direct sales to online customers
Not suitable for businesses with large inventory counts
Sortly Pricing
Free: $0/month with 1 user license
Advanced: $29/month billed yearly with 3 user licenses
Ultra: $71/month billed yearly with 5 user licenses
Enterprise: Custom with 10+ user licenses
5. Veeqo (Best for Multiple Sales Channels)
Speaking of the best software to manage inventory, Veeqo is a great all-in-one e-commerce solution. Veeqo's inventory management tool enables you to control your entire inventory and accurately track stock. It doesn't matter how many sales channels or warehouses you have.
Veeqo Features
Inventory control and tracking: Always have eyes on inventory across all your channels and warehouses.
Integration with other popular platforms: Over 21 direct integrations including Amazon, WooCommerce, and Shopify are available to effectively manage inventory and run your business.
Access to important reports: Get inventory, sales, and fulfillment reports anytime.
Forecasting abilities: Predict high-sales periods and best-selling items based on previous data.
Low stock level alerts: You get a chance to monitor stock levels and receive daily email updates.
Pros and Cons
Pros
Integrates with multiple sales platforms
Offers automatic inventory sync across all channels and warehouses
Generates vital reports for analysis
Cons
Technical challenges
Huge product catalogs take time to set up initially
Customer service needs work
Veeqo Pricing

Accelerator: £150(or $180)/month
High Growth: £195(or $235)/month
Premium:£250(or $300)/month
6. inFlow Inventory (Best for Stock Monitoring)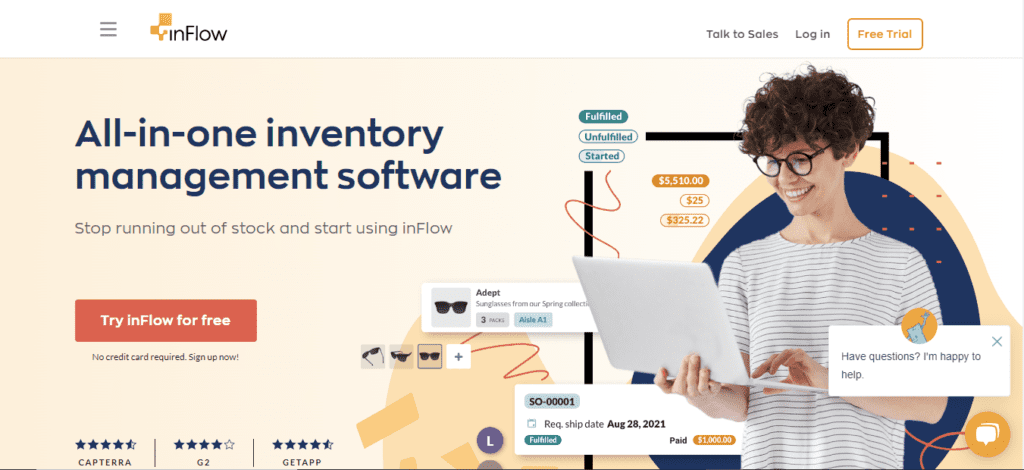 inFlow Inventory is a small business inventory management software designed for selling. It can help you know what items are in stock, where they are, and when you need more of them. This means that you won't miss a sale because you ran out of stock.
You can track sales and purchases in one place using inFlow. Orders can be fulfilled through your mobile device.
inFlow Inventory Features
Efficient order management: Automatically generate purchase orders when inventory is running low.
Tracks inventory in multiple locations: You can keep track of inventory in multiple warehouses and locations.
Inventory forecasting: Helps you predict inventory needs based on sales history.
Barcode system: Automatically generate new SKUs and barcode labels for your products.
Advanced reporting: Get insights into your business with 35+ reports that fall under sales, purchasing, and inventory.
Pros and Cons
Pros
Designed specifically for e-commerce businesses
Automatically generates purchase orders when inventory is low
Tracks inventory in multiple locations such as offices and warehouses
Cons
Lacks some features of more comprehensive inventory management software
More expensive than some other options
inFlow Inventory Pricing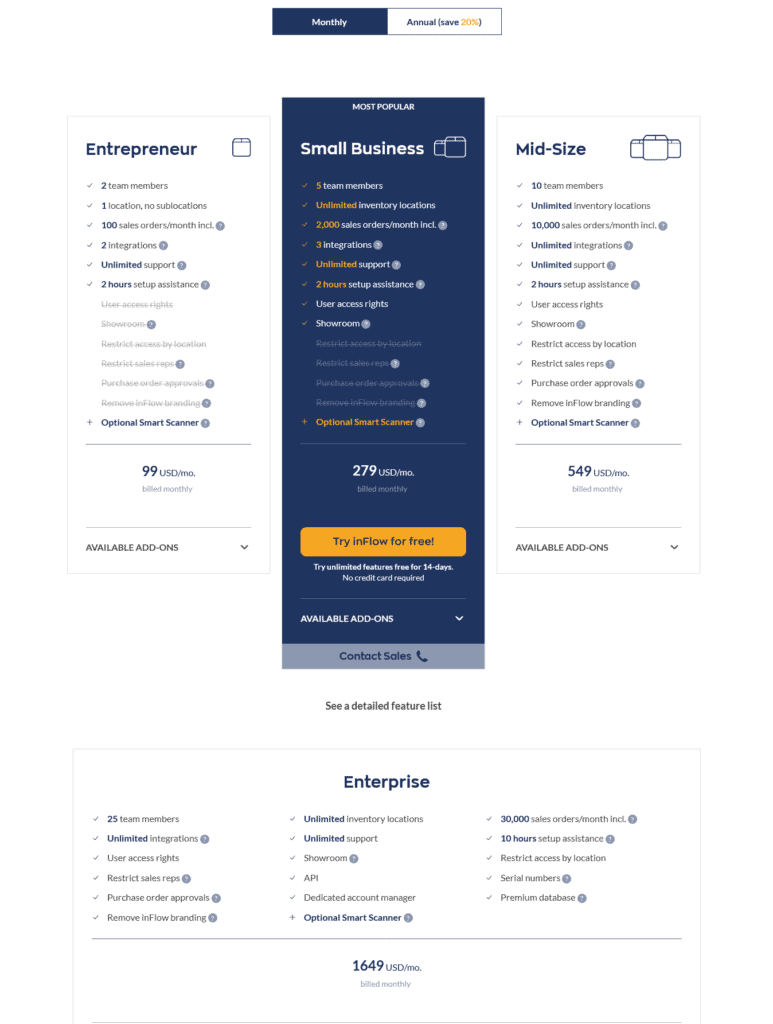 Entrepreneur: $99/month with 2 team members and allows up to 100 monthly sales orders
Small business: $279/month with 5 team members and allows up to 2,000 monthly sales orders
Mid-size: $549/month with 10 team members and allows up to 10,000 monthly sales orders
Enterprise: $1,649/month with 25 team members and allows up to 30,000 sales orders
7. Ordoro (Best for Dropshipping)

If you need an inventory management tool for smooth online business fulfillment, Ordoro is one of the best options. On top of inventory management, Ordoro comes with other features including kitting, supplier management, and online dropshipping to run your business like a pro.
It integrates with various shopping carts, marketplaces, shipping carriers, fulfillment services, and more. Among these platforms that are integrable with Ordoro is Shopify, Etsy, WooCommerce, FBA, and FedEx. You can also connect Ordoro to your own custom-built website or marketplace.
Ordoro Features
Inventory sync: Automatically updates inventory levels across all your connected sales channels.
Supplier management: Keep track of inventory coming in from different suppliers.
Dropshipping features: Easy to set up your products and vendors and begin dropshipping within minutes.
Easy automation: Make your shipping workflow as smooth-running as possible.
Advanced analytics: Monitor your metrics and understand your performance.
Pros and Cons
Pros
Fulfillment automation for online businesses
Integrates with many e-commerce platforms and shipping carriers
Supplier management and inventory sync features
Cons
Quite expensive for larger businesses
No reselling features
Ordoro Pricing
Ordoro is available for free and supports one user. There are paid plans too.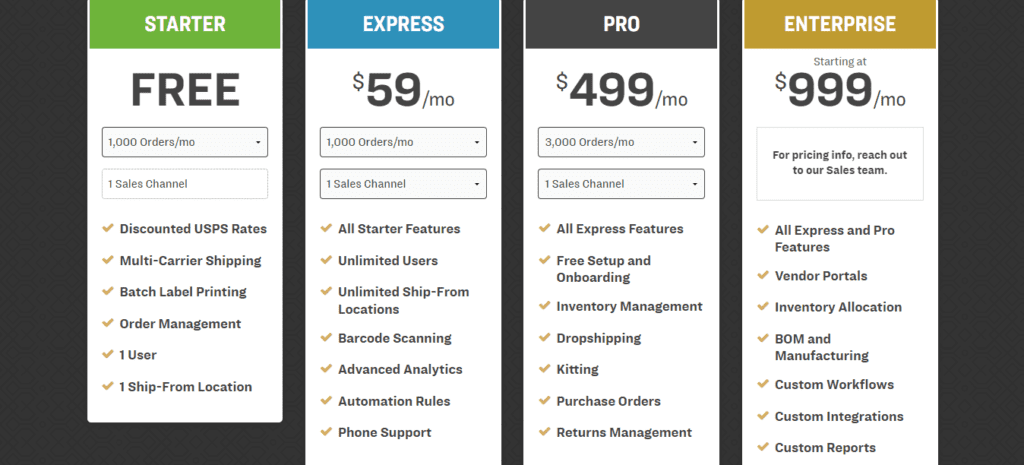 Starter: $0/month
Express: $59/month
Pro: $499/month
Enterprise: $999/month
You can also get a custom price by selecting the number of orders and sales channels.
Conclusion
There's a lot to consider when choosing the best inventory management software for your small business. But don't worry, we've done the hard work for you.
You can pick any of the mentioned tools and start managing your inventory quickly and easily. It depends on things like the size of your business and your budget.