Jasper.ai vs Copy.ai: Ultimate 2023 Comparison
Can't decide which is the better AI writing software for you, between Jasper.ai and Copy.ai? To say the truth, there are numerous options out there when it comes to content creation tools.
These two are among the most popular ones that are available online. In this article, we will compare Jasper.ai vs Copy.ai to help you decide which one is the best for you.
Both of these tools are great for creating high-quality content, but they have their own unique strengths and weaknesses. Maybe you want to go after the option that suits your budget, has specific features, offers a free version, or other factors. So, let's take a closer look at each tool to see how they compare!
Disclaimer: Because the site is reader supported, we may earn a commission if you use our affiliate links.
Read also:
Jasper.ai vs Copy.ai: Overview
We'll start with the general information about these two AI-powered writing assistants.
What Is Jasper.ai?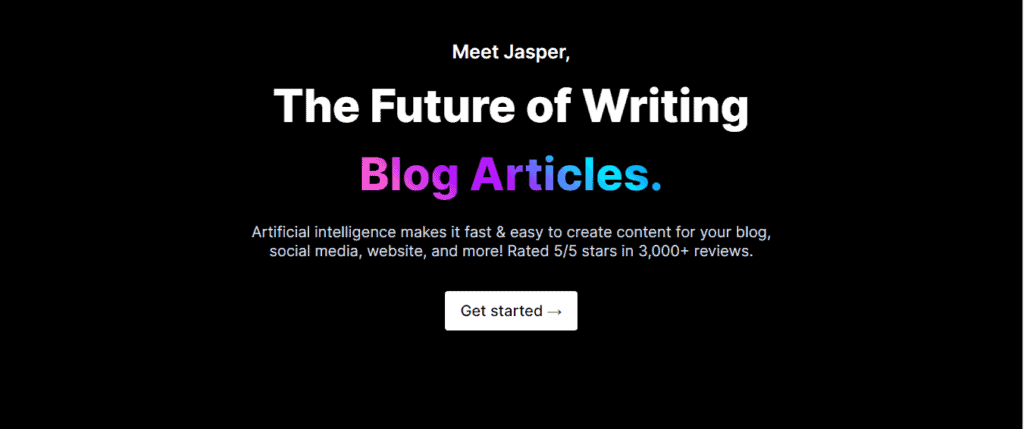 Jasper.ai, once called Jarvis, is an AI-based writing tool that uses artificial intelligence to help you write long-form content faster. It promises to be the first AI-powered all-in-one writing assistant that can help you with everything from coming up with ideas to editing and publishing your content.
Jasper.ai is a new tool on the market, but it's already receiving rave reviews from users. The tool was founded around the year 2020 and has acquired over 50,000 users, including content marketers from big brands like HubSpot.
Here are some things Jasper can write:
Blog posts or articles
Press releases
Product descriptions
Ads
Creative stories, making it one of the best AI story generators so far
What Is Copy.ai?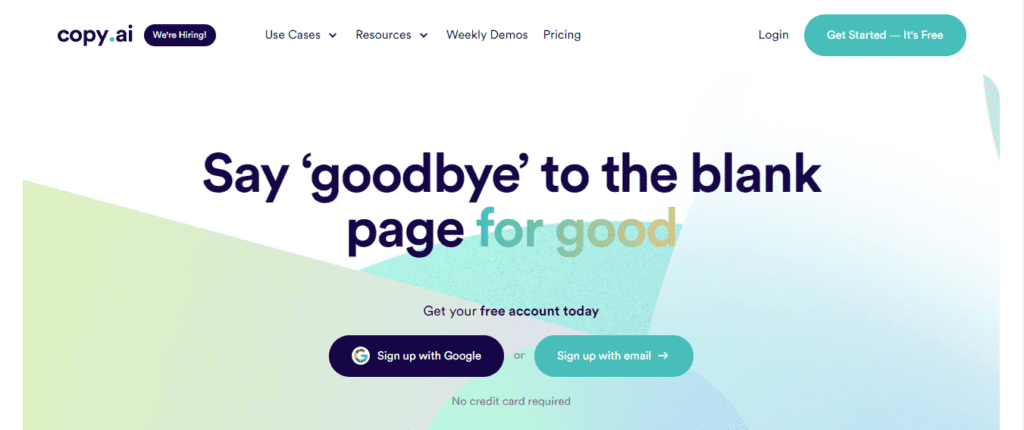 Copy.ai is a content generation tool that serves the purpose of assisting users in creating copy quickly. Just like Jasper, it uses artificial intelligence too to research and write content for you so you can focus on other aspects of running your online business.
Copy.ai also came to be in 2020 and has since attracted a million plus users. Professionals and teams from well-established brands like Microsoft have tried it.
Here are some things Copy.ai can write:
Ads
Emails
Social media posts
E-commerce copy
Website copy
How Do They Work?
Jasper.ai and Copy.ai are similar in that both are AI-powered content generators. This means that you enter some text in their respective editors for context to let the tools understand the kind of content you need.
Once you do that, the tools will generate content for your project. It usually takes seconds to get a few sentences written. You just need to keep instructing the tool you use to provide more text while getting rid of the parts you don't need.
Jasper.ai vs Copy.ai: Features
Let's move on to the differences and also similarities in features between these two tools.
The Features of Jasper
Starting with Jasper, here come its greatest features:
Long-form writing: Jasper has a plan called Boss Mode that's made for longer pieces like detailed blog posts, guides, etc. If you need help with writing such content, this tool can come in handy.
Brainstorming: The software has a brainstorming feature to help you come up with ideas for your next project. You can get help with generating topics, headlines, and even subheadings for your blog posts, outlines for your video scripts, and more.
50+ templates: Jasper offers over 50 templates for different types of content, including blog content and ad copy like descriptions and social media captions.
25+ languages: Jasper.ai works in over 25 languages, which is amazing. This means that no matter what language you speak, there's a high chance this tool can assist you with writing in it. Some examples are French, German, and Chinese.
Plagiarism checker tool: Jasper has a plagiarism checker that checks your content against billions of web pages to ensure it's original.
Integrations: Jasper integrates with popular tools like Grammarly and Surfer SEO. This makes it easier for you to check errors in your content and tailor it for search engines.
The Features of Copy.ai
Next below are Copy.ai's most notable features:
Copywriting generator tool: Inside Copy.ai are various mini-tools such as product description generator, email subject generator, and bio generator.
90+ content types: This tool can help you write around 90 types of content, which is more than what Jasper offers.
25+ languages: Just like Jasper, Copy.ai also supports over 25 languages, including all the widely-spoken ones.
Browser extension: There's a Copy.ai browser extension you can use to get content ideas and resources as you surf the web.
Verdict: Which Has Better Features?
Even though Jasper.ai has fewer listed use cases and templates, it's better than Copy.ai in generating longer content like articles. Copy.ai works well if you need shorter texts or copy such as social media posts.
Jasper.ai also integrates with a couple of other tools and platforms, something Copy.ai hasn't done at the moment. However, Copy.ai has a browser extension and enables you to use the editor anywhere online.
All in all, my opinion after researching and testing both tools' features is that Jasper.ai is better as you can use it for long-form content. Copy.ai can be more useful in writing copy.
Jasper.ai vs Copy.ai: Ease of Use
The next thing I'll be discussing is how easy it is to use each tool.
How Easy Is Jasper.ai To Use?
Jasper.ai has a clean and straightforward interface that's not overwhelming, even for first-time users. The editor is also user-friendly as you can see all the options on the side panel. You can access these anytime you want to make changes to your content.
There are also numerous webinars and guides that show you how to get the best out of Jasper right on the platform. You can as well ask the community, join a live Q&A call or inquire with support if you have questions.
How Easy Is Copy.ai To Use?
Copy.ai also has an easily understandable interface with an editor of similar quality. The side panel shows all the available options, which you can use to customize your content.
Feel free to check out the Help Center section for answers to common queries. The other idea is to chat with the support team directly via email.
Verdict: Which Is Easier To Use?
Both Jasper.ai and Copy.ai have user-friendly interfaces that are easy to navigate. The editors are also intuitive, so you won't have a hard time starting projects and editing them.
Jasper.ai vs Copy.ai: Plans and Pricing
Let's compare the packages each tool has along with the costs of using them.
How Much Is Jasper.ai?
Before going to the paid plans, it's worth noting that Jasper.ai offers 10,000 words to new users for free. You can use this advantage to test the tool and see if it suits you.
The paid options are as follows:
Starter: Starts from $29/month for 20,000 words.
Boss Mode: Starts from $59/month for 50,000 words monthly and up to 5 users.
Business: Custom option starting at $499/month for custom words and more users.
How Much Is Copy.ai?
Copy.ai has two plans, including a free one where users don't pay anything to use.
Free: $0/month for 2,000 words monthly and 1 user seat.
Pro: Starts from $49/month for 40,000 words and 5 user seats.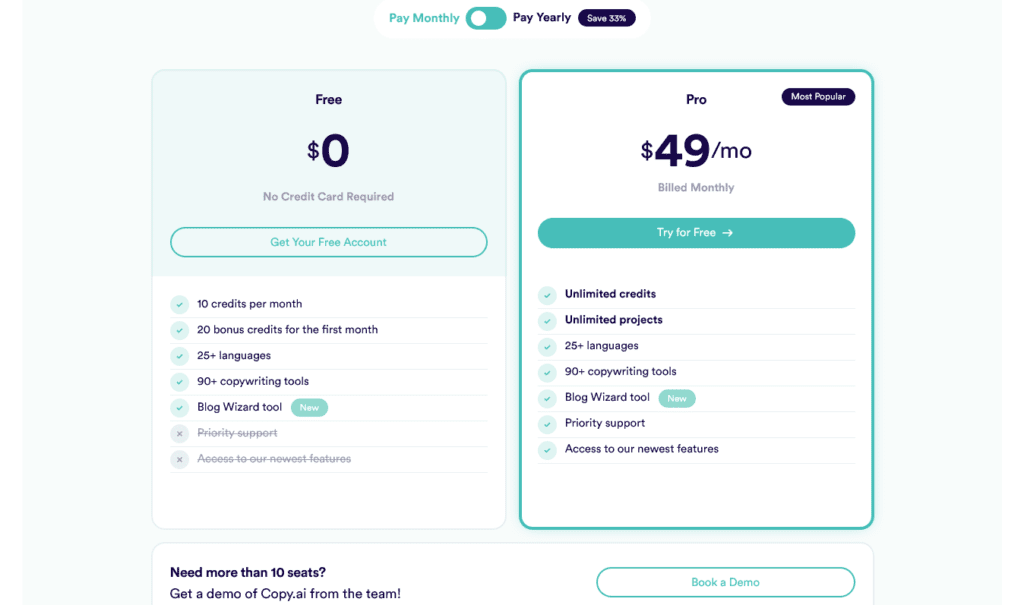 Verdict: Which Is More Affordable?
Pricing-wise, Jasper is cheaper if you choose its lowest plan, Starter. However, Copy.ai is cheaper than Boss Mode (needed for full Jasper features) and you get unlimited words with the Pro plan, which also has all of Copy.ai's features.
Copy.ai also has a free plan that you can use month after month. For Jasper, you get a 5-day free trial with 10,000 words but you'll need to upgrade sooner rather than later.
Jasper.ai vs Copy.ai: Pros and Cons
Here, we'll compare the different advantages and disadvantages of the tools.
Jasper.ai Pros and Cons
Supports long-form content
Multiple languages
5-day free trial
No free version
Integrates with helpful tools like Grammarly and Surfer SEO
Copy.ai Pros and Cons
Good for copywriting and has lots of templates
Multiple languages
Free plan for non-paying users
No integration with other popular tools
FAQs
Which is better, Jarvis (now Jasper) or Copy.ai?
Jasper.ai is a better AI writing assistant for longer types of content like blog posts. Copy.ai is best-suited for writing sales copy. Both are useful content generators that can help you come up with lots of ideas, outlines, and texts for your projects.
What is the difference between Jasper and Copy.ai?
The main differences between Jasper.ai and Copy.ai are the types of content they're good at, pricing, and features. Jasper is better for long-form content while Copy is ideal for sales copy. In terms of pricing, Jasper has a free trial while Copy has a free plan that's usable month after month.
Is Jasper or Copy.ai cheaper?
Jasper is cheaper if you're only looking at the starting prices on paid plans. The Copy.ai Pro plan begins from $49 a month. Jasper's Starter starts at $29 a month while Boss Mode costs $59 monthly.
If you need full features on Jasper, you'll need Boss Mode, which is more expensive than Copy.ai's Pro plan which also comes with full Copy.ai features.
Jasper.ai vs Copy.ai: Which One Is Better?
The final verdict is that Jasper.ai is a better tool overall, but Copy.ai isn't too far behind. If you're looking for something to help with your long-form content, then Jasper should be your go-to pick. However, if you need assistance with copywriting, Copy.ai would be more useful.
Remember, you can try both tools for free first before committing to either of them. Who knows, maybe you'll like and stick with them both!