Dot Card vs Popl (Honest Review)
So, you're just about to join the world of modern networking and don't which digital business card to choose. Maybe you've tried different solutions before and are exploring new ones. In this Dot Card vs Popl review, you'll get all the answers you seek.
Since 2022, I've actively tried and reviewed different electronic business card options. This is on top of doing extensive research online to find out about other people's experiences with various digital cards available today.
I have a separate article that lists all the top-rated digital business cards that you could use. But in this case, we're comparing Dot Card and Popl. So, if you're looking for a review of Dot Card and how it compares to options like Popl, one of the most powerful networking tools, you've come to the right place.
Want to try Popl right away?
If you're in a hurry, I can confidently tell you that Popl is what I would suggest you go for at the moment. You can explore what it offers right away HERE.
Now, shall we begin?
Disclaimer: Because the site is reader-supported, we may earn a commission if you use our affiliate links.
Dot Card vs Popl: Overview
Let's first look at the general information about Dot Card and Popl.
Dot Card Summary
Dot cards are digital business cards that can take your networking to the next level. These cards, alongside numerous other devices for networking, are offered on the dot. platform.
What happens is that you create a dot.Profile with all your information, customize it as needed, and link a device of your choice to it.
When sharing your contact details, you'll need the dot.device. It will open up your profile on dot., such that the user can save your information for later use.
Popl Summary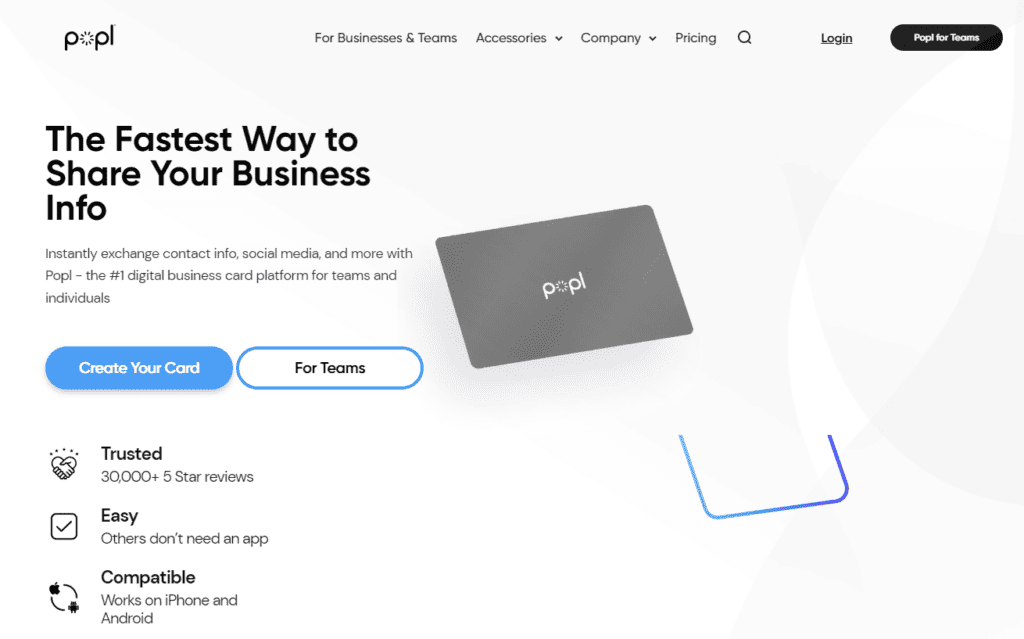 Popl is among the top virtual business card apps that give you a quick way to share your professional or business information. It offers a variety of products that can serve both individuals as well as teams of people working together toward getting more leads and connections. In other words, it doesn't matter if you're working alone or managing dozens or hundreds of others.
One of the reasons I like Popl is that it has over 30,000 5-star reviews. In fact, it's trusted by people working with the world's most prominent brands, like Uber, Tesla, and Salesforce.
The company was founded in 2019 but had sold more than 700,000 units and topped over $2.7 million in sales by mid-2021. What all this means is that you can't go wrong when it comes to networking if you have Popl by your side.
Getting started with Popl is simple. You just need to get a Popl product that you like to network with, get the Popl up and sign up, and then activate the product by linking it to your profile. From there, you can begin sharing your info without worries.
You can read more about Popl here.
Dot Card vs Popl: Features
Now, we move on to what each of these digital business card platforms offers.
Dot Card Features
To review Dot Card properly, I went ahead and set up a profile to see what my virtual card would look like. I'll share a screenshot below: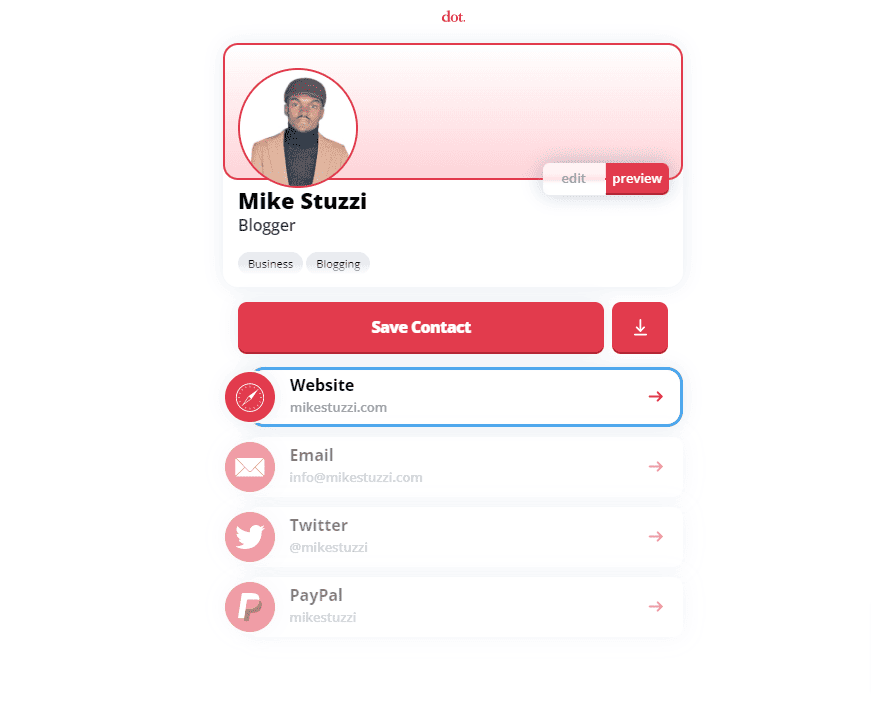 While I've not filled out all the details, dot. allows you to add the following:
Profile photo and cover photo
Name and bio (headline, work, location, education, skills)
Contact information (website, email, phone number)
Social links (Twitter, Instagram, Facebook)
Payment links (PayPal, Venmo, CashApp)
Music links (Spotify, SoundCloud, Apple Music)
Productivity links (Calendly, Notion, Google Drive)
Basically, you can have everything that's necessary for your brand on your profile. Also, your dot.Profile can come in multiple colors. I chose red for the example above but you can get one that's yellow, green, blue, black, etc. As if that's not enough you can set your profile to be bright (default), dim, or dark and even pick an icon style (how you need the icons to appear).
Now, I noticed one thing about dot. Even though you get a unique profile link in the format, dot.cards/username, this URL will, by default, direct you to the topmost link listed on your digital business card profile.
In my case, it redirected to my site. You can drag up a social link like your Twitter or any other if you want it to be the one that people with your dot.Profile link visit.
Dot Card also gives you another way to share your profile. Besides just sending the link to someone, you get a QR code that people can scan. You can save it as an image and share it online. When someone chooses to save your contact info, they're prompted to download it as a VCF file.
Popl Features
Now, I have to tell you that Popl offers a few things that Dot Card doesn't. Let's first check out my hastily put-together Popl digital business card profile: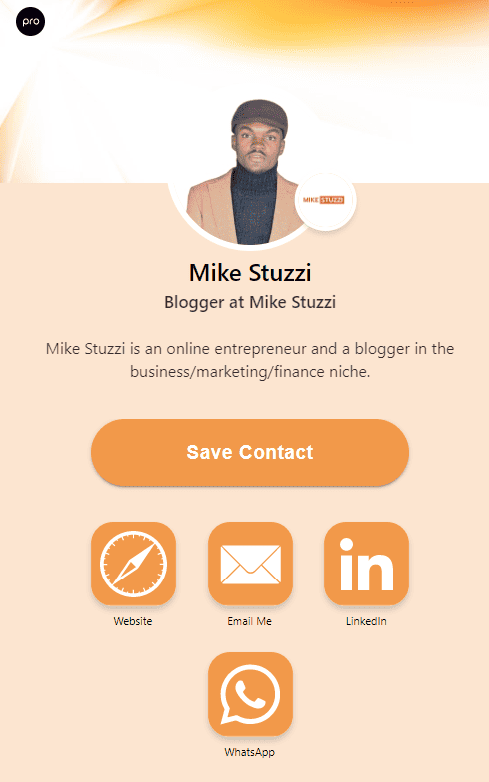 A wide variety of info
Popl offers more fields where you can enter your information when compared to Dot card. Besides the basic information, social media, payments, music media, and your site, you can add over 50 other links. You can even insert a custom link of your choice.
Popl gives you a chance to even include a text section, files, videos, and a dropdown of items. In other words, you can put every information possible on your Popl profile.
As for the design, Popl allows you to select from a variety of card colors or choose a custom color.
Multiple ways to share
You also get a custom QR code, called a PopCode, aside from your profile's custom URL. You can even add your logo in the middle of this QR.
Now, things get even more interesting.
Popl has two options for how people can interact with your digital business card profile link. You can set either "lead capture" or "direct." Lead capture means that anyone visiting your URL will see a form pop up asking them to share their own info with you. If they do, you'll be able to access their details from your account.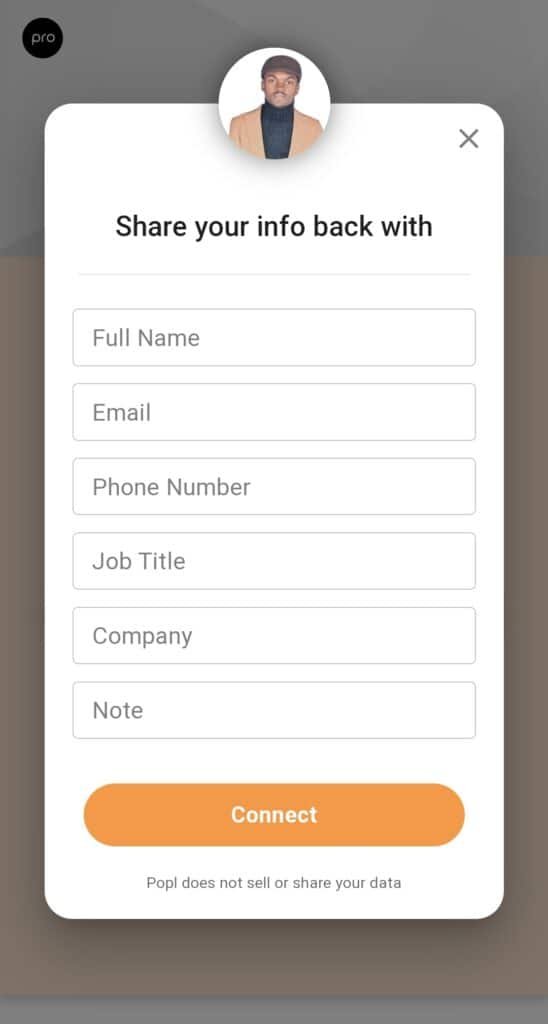 Direct, on the other hand, will redirect the person to a link you've set, such as your website.
Popl doesn't stop there. There's a virtual background feature that enables you to generate a virtual background containing your info along with your PopCode. You'll be able to download this image and add it to Zoom so people can check you out during meetings.
Below is an example: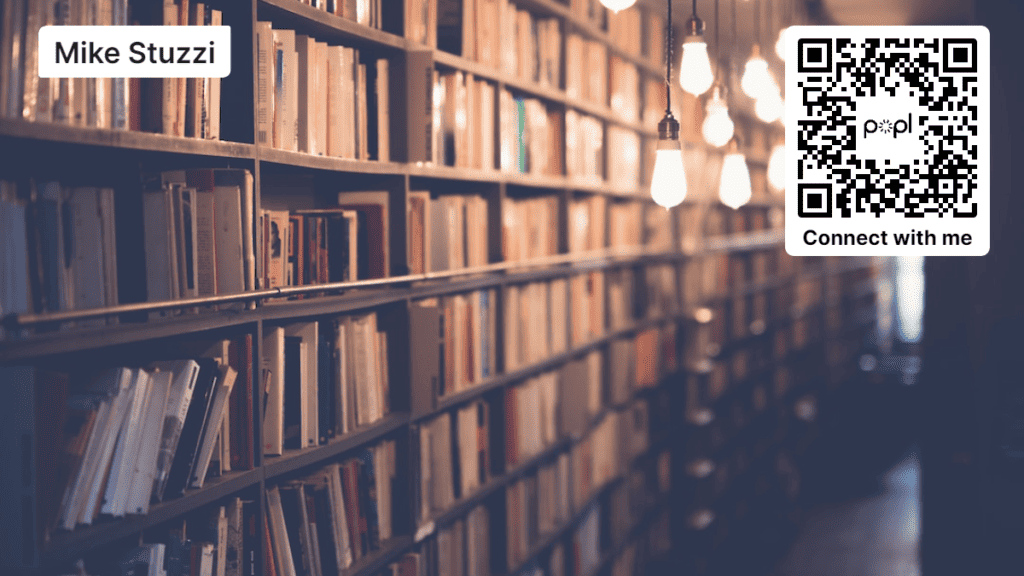 Popl also gives you an email signature that has your name, profile picture, title, QR, and a link to your digital business card.
Automatic follow-up
It's easy to forget to reach out once you've connected with someone. Popl can automatically send all your new leads a message.
You just need to provide the text you need them to receive in their emails after the connection. You can also do it manually right on your Popl account.
Insights
Who wouldn't want to know how they're performing in their networking game? Popl doesn't keep any of that from you. Right on your dashboard, you can view your generated leads, link taps, card views, contacts downloaded, and more.
If you're running a team, it's possible to check the top-performing members. If each member has more than one Popl product, you can see which ones were used the most.
Integrations
No one has to manually export contact details from Popl to another platform. Popl allows you to integrate it with other systems you're already using. This could be Salesforce, Hubspot, Zoho, or any other. With the Zapier integration, you can link more than 5,000 different apps.
Dot Card vs Popl: Products
Let's see what products Dot Card and Popl offer. These are the NFC-enabled devices that you'll have to buy so that you can easily share your info in real life, besides online networking.
NFC technology works in such a way that it makes information-sharing simple as you just need to put two compatible devices close to each other. What you do is just activate the NFC product to your profile from the platform you're using and then just tap it onto someone's smartphone. That's it — they'll be able to view your digital business card on their browser!
Dot Products
dot.devices come in three forms:
dot.card: an NFC business card that contains a QR code
dot.classic: a dom-shaped tag with a protective outer layer that you can stick at the back of your phone
dot.thin: a thinner phone tag for a more low-profile look
Popl Products
With Popl, you can find a wide range of NFC-based items for networking. Some of them are:
Popl cards: smart cards that you can carry anywhere
Metal Popl cards: premium carbon steel smart business cards that are well polished as well as those made of gold (24K)
Popl PhoneCard: tags that you embed at the back of your phone
Wristbands: wouldn't it be cool to have someone tap their phone on your wrist, for instance when your hands are busy?
Popl also has the option to request a custom-made product. This is where you can pick a specific color and add customizations like your brand logo or cherished artwork.
Dot Card vs Popl: Pricing
Dot Card standard products cost $20 each. You can also buy them as bundles or get a custom product that is priced differently. Popl, on the other hand, offers different prices for each of its products.
What's more, Dot Card doesn't have a subscription while Popl does. While you can be a free Popl user, paying subscribers can create more than one card, enjoy the team features, monitor analytics, and more.
Here are the Popl plans:
Free: $0/month
Pro: $7.99/month
Pro+: $14.99/month
Teams: Dynamic pricing
Dot Card vs Popl Review: Verdict
Hope you enjoyed my Dot Card review where I compared it with Popl.
As you can see, Dot Card and Popl have some similarities as well as differences. They both allow you to create a digital business card with all your primary and secondary details. They both offer custom QR codes to allow sharing by scanning.
But Popl stands out in many ways. It allows you to fully customize your profile, get insights into your performance, and integrate with other tools. Safe to say, Popl is the better option if you need more features and access to data about how your networking is going. You can even manage a team's networking strategy with the help of Popl.
Dot Card is the more affordable option. It could suit you if you have a low budget for getting an NFC-enabled product to facilitate in-person networking. But you'll miss out on the things Popl offers.
I'd recommend Popl if you need the best results, which is; more leads, customers, clients, business partners, or whoever else you're looking to connect with!